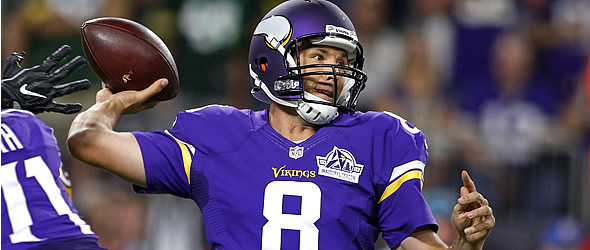 Sam Bradford's injury history will have fantasy owners looking elsewhere at the QB position.


You can question his arm strength, his decision making, his mobility, and certainly his ability to stay healthy, but there is no doubt that Sam Bradford has excelled in the business of football.

No other quarterback in the history of the NFL has made more money while producing mediocre numbers than the former first overall pick from Oklahoma. In seven NFL seasons spread between the Rams, Eagles, and Vikings, Bradford has yet to post a winning record, throw for more than 4000 yards in a season, or top more than 21 touchdown passes - all while earning multiple high-dollar contracts laden with guaranteed money.

The one area in which Bradford has succeeded on the field is in his accuracy and his ability to complete passes at a high level. Bradford set the NFL single-season record for completions in 2016 with an impressive 71.6% mark on 552 pass attempts (Drew Brees would break the record in 2017) and was on pace to break his own mark in 2017 before knee injuries forced him to end the year after two games.

Knee injuries are nothing new to Bradford and will likely continue to haunt him for the remainder of his career. The former Viking managed to play a full 16-game slate just twice since 2010, bringing into doubt the probability of him playing a full season in 2018 for the Arizona Cardinals.

Despite his mediocre numbers, the addition of Bradford is a positive for the skill position players in both the passing and run game for the Cardinals. David Johnson is a stud and will likely finish as a top 10 fantasy running back regardless of who is under center, simply because of his skill level and the usage he receives both on the ground and in the air. But with a serviceable quarterback, particularly one like Bradford who is skilled and the check down and passes to running backs out of the backfield, Johnson should be a lock for a top-five pick in drafts this summer regardless of format. However, if Bradford's degenerative knees continue their recent streak of failing and fellow free agent signee Mike Glennon is the starting quarterback in Arizona, the likelihood of Johnson finishing as a top-5 player is anything but a lock.

Another big winner in the Sam Bradford signing is Larry Fitzgerald, a future first-ballot Hall of Famer who is chasing history as the No.3 ranked player in NFL history in both receptions and receiving yards. There is no chance that Fitz will catch Jerry Rice in catches and no way for him to close the 7000 yardage gap, but Fitzgerald is well within reach of Tony Gonzalez for second in both categories.

Fitzgerald is no longer able to make plays deep downfield, but his elite hands, body control, and ability to get open make him the perfect target for a quarterback like Bradford. In 2016, only Brock Osweiler posted a lower yard-per-catch average than Sammy check-down, as Bradford peppered Stefon Diggs and Adam Theilen with underneath passes.

No other player has caught more passes in the NFL over the past two seasons than Fitzgerald, a trend that will likely continue in 2018.

Addressing a sub-par offensive line via free agency and the draft will be a primary focus for general manager Steve Keim and the Cardinals front office. According to ProFootballFocus, only the Houston Texans had a worse offensive line in 2017, as seven different Cardinals allowed a sack last year. If Keim does not find answers to this problem, it will be another short season for Bradford, one of the least mobile quarterbacks in the league.