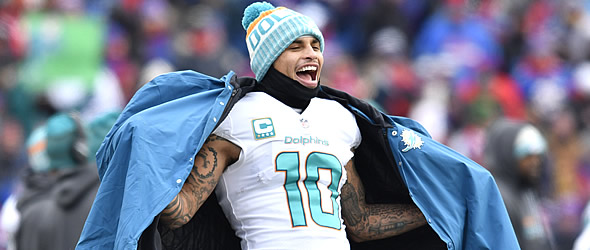 Kenny Stills is shaping up to be a nice value target late in fantasy drats regardless of format.


Fantasy football championships are often won from the production of unsexy late round picks who produce well beyond their draft capital. After the 10th round, when the excitement of the draft is starting to wear off, and the mental fatigue for tired and often inebriated owners kicks in is where I like to find difference makers for my team.

By the 10th round, most owners have already drafted a starting roster and are looking to build depth at the wide receiving and running back positions. Upside picks with high ceilings and low floors are the choice of many owners at this stage in the draft, while other more conservative players being the process of judging when a run on defenses might occur.

While I do advocate looking for home run upside picks after the 10th round, I do believe some owners make the mistake of passing on less sexy players with high floors to the detriment of their team. Having a solid veteran wide receiver with 100 target potential on your bench provides excellent depth should a starting WR get injured, and trading a No.3 wide receiver who produces No.2 stats in three WR leagues is not difficult once the season progresses.

One of my favorite late-round veteran wide receivers to target in 2018 is Kenny Stills of the Miami Dolphins, a former 2013 fifth-round pick out of Oklahoma who enters the season on the heels of back-to-back solid fantasy production.

After two solid seasons with the Saints as a favorite deep threat of Drew Brees, Stills joined the Dolphins as a free agent in 2015 and quickly became a favorite of the Miami coaching staff. Injuries limited Stills' production in his first season with Miami, however, the versatile wide receiver played all 32 games over the past two seasons, with a combined 186 targets for 1573 yards and 15 touchdowns. Despite an ADP well outside No.3 wide receiver range, Stills finished as the No. 28 wide receiver in 2016 and the No. 34 wide receiver last year.

A popular trend in the fantasy community is to identify teams with a void in targets as a result of offseason transactions. Although predicting touchdowns is a difficult task and often an exercise in futility, projecting volume in the passing game with the available weapons is a more sound approach. In the case of the Dolphins, Jarvis Landry leaving the Dolphins for a lucrative deal in Cleveland and Julius Thomas leaving the teams as an offseason cut presents an opening of 213 targets from last season.

Thomas' 62 targets will most likely be absorbed by whoever is the primary pass-catching tight end, whether that turns out to be rookie Mike Gesicki or veteran A.J. Derby. Landry's 161 targets are another matter, with the likelihood of those targets getting dispersed among the wide receiving corps of DeVante Parker, Danny Amendola, Albert Wilson, and Stills.

The glamor pick and the favorite among fantasy analysts is fourth-year wide receiver Parker, a 6-3, 212lb former first-round pick who has all the physical tools to be an elite receiver in the league. The other favorite to consume a vast majority of Landry's targets is Amendola, a 32-year-old vet who will assume Landry's role in the slot in Adam Gase's offense.

Parker will no doubt receive his fair share of looks from Ryan Tannehill, and it is very possible that he will lead the team in receiving touchdowns. But the probability of Amendola, an oft-injured 33 year-old receiver, who has managed to play a full 16-game season just twice in nine years, seems a bit of a stretch to garner the type of volume Landry received last year.

My money is on Stills increasing to around 125 targets as the quiet and unassuming receiving option in the Miami passing game. With one extra target per game based on his efficiency over the past two seasons, Stills would finish with 121 targets/66 catches for 971 yards and 7 touchdowns. Should Stills increase his subpar catch percentage from 55.2% to a more respectable 59%, his numbers will jump to 71 catches for 1042 yards and eight touchdowns, making him a low-end number two wide receiver in 12-team formats, and an absolute steal at his current FantasyPros.com ECR as the 46th ranked wide receiver.

Even if you do not buy into the possibility of Stills increasing his volume or catch rate from last season, he is still valued at a discount based on his ECR rank compared to how he finished last season. Stills presents excellent draft equity with a solid floor and attractive ceiling, and a player that I will target in all of my drafts regardless of format.