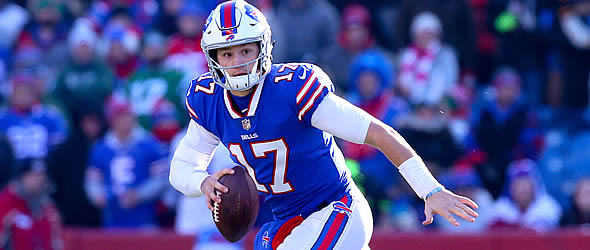 With a little experience under his belt Josh Allen should have better efficiency in 2019.
QB Josh Allen
(2018 QB Rank - No.21, 21.2 FPts/G)
The Bills used the seventh pick of the 2018 NFL Draft on Josh Allen, the big-armed quarterback from the University of Wyoming known for impressive athleticism for a big man, and a cannon for an arm that is rivaled only by Patrick Mahomes.
Allen flashed his brilliance at times with the Wyoming Cowboys in the Mountain West Conference. He also flashed questionable decision making and a penchant for holding on to the ball too long.
Not surprisingly, Allen threw for more interceptions than touchdowns, while completing just 53% of his passes for a rookie. But he did provide a ton of fantasy value for owners willing to deal with the negative plays, with 631 rushing yards and eight rushing touchdowns.
Don't let his 21st overall finish in fantasy points per game fool you. Allen finished the final five games of the 2018 season as the No.1 QB with 28.8 fantasy points per game, two full points per game higher than Patrick Mahomes.
When you consider the additions at wide receiver, with Cole Beasley providing an outlet over the middle and John Brown joining Robert Foster as a legit deep threat, you could make a case for Allen being one of the better fantasy values this season based on his late-round draft cost.
RB LeSean McCoy
(2018 RB Rank - No.51, 6.7 FPts/G)
To say that 2018 was a disappointment for Shady McCoy would be a gross understatement. The former fantasy stud dealt with offseason domestic issues and was limited to just 14 games due to injury.
His 6.7 fantasy points per game were the worst of his career and the first time since his rookie campaign in which he failed to post double-digit FPts/G. At age 31, McCoy is getting up there in age for running backs, and the best is certainly behind him. However, should he make the roster and not be a trade or cap casualty, Shady could be one of the better late-round running back options.
The Bills have the most talent at wide receiver since the departure of Robert Woods and Sammy Watkins, and Josh Allen's rushing ability will make it difficult for defenses to zero in on McCoy.
McCoy is a high-risk, high-reward player with a sizable range of outcomes that could include RB2 production, or he could be released in favor of third-round pick Devin Singletary.
RB Frank Gore
(2018 RB Rank - No.53, 6.5 FPts/G)
The ageless one continues to defy logic by playing running back at the ripe old age of 36. In just 14 games, Gore rushed for 722 yards on 156 carries, for a respectable 4.6 per carry average in his final year with the Dolphins.
It is difficult to project much fantasy success for Gore as a member of the Bills in 2019, a team with LeSean McCoy and T.J. Yeldon looking to share touches with third-round pick Devin Singletary.
It would not surprise us to see Singletary emerge as the back to own in Buffalo this season, but we have bet against Gore in the past, and he always seems to surprise.
Clearly, the running back of the future for the Bills, third-round pick Devin Singletary joins a Buffalo backfield filled with two running backs with the combined age of 67 years in Frank Gore and LeSean McCoy.
As a junior At Florida Atlantic, Singletary scored 22 rushing touchdowns in just 12 games, finishing his illustrious college career with 66 rushing touchdowns in 36 games. As a sophomore in 2017, Singletary led the nation in rushing touchdowns with 32, a whopping nine more touchdowns than the second player finisher, Rashaad Penny of San Diego State.
Despite his slight stature at 5'7", 203 pounds, Singletary is a stud prospect and will eventually get a chance to shine with the Bills. The question is, when will that opportunity come, as he enters camp behind McCoy, Gore, and T.J. Yeldon.
WR Zay Jones
(2018 WR Rank - No.52, 6.7 FPts/G)
Jones took an impressive jump in production from his rookie season to his sophomore campaign, posting 56 catches for 652 yards and seven touchdowns on 102 targets. The problem is he failed to post a single game of 100 receiving yards, and he reached double figures in fantasy points just four times last year.
The Bills added depth at the position with the addition of Cole Beasley and John Brown, and the emergence of Robert Foster last year could also lead to fewer targets for Jones in 2019. Although they will likely throw more this season than they did last year as the 31st ranked passing offense, there is not a ton of volume to go around on the Bills and Jones might be the third or fourth option in the passing game.
WR John Brown
(2018 WR Rank - No.57, 6.7 FPts/G)
In just one season with the Ravens, Brown caught only 42 passes for 715 yards and five touchdowns on 97 targets from the combination of Joe Flacco and Lamar Jackson. Despite the inadequate production for fantasy numbers, it was a good sign to see Brown play in his first full season since 2014, and he set a career-high with a YPC average of 17.0.
As one of four options in a passing game that does not project to have a ton of volume, Brown will likely be more of a target in non-PPR formats that PPR. But owners looking for a home run option may want to consider a flyer on Brown, as he is one of the better deep threats in the league and few quarterbacks possess a better deep ball arm than Josh Allen.
WR Cole Beasley
(2018 WR Rank - No.80, 5.3 FPts/G)
Beasley had very little fantasy value as the underneath option for Dak Prescott in the Cowboys' offense. It is somewhat difficult to see how his prospects have improved for fantasy purposes as a member of the Bills, a team that threw the second-fewest passes in 2018. Perhaps injuries could open the door for Beasley to find some value in deep PPR formats, but entering the draft season, he is not someone who should garner much consideration in drafts in standard 12-team leagues.
WR Robert Foster
(2018 WR Rank - No. 78, 5.5 FPts/G)
Foster emerged out of nowhere last season to become a favorite deep ball target for fellow rookie, Josh Allen. The former undrafted player from Alabama posted three double-digit games from Week 10 on, including a seven-catch, 104-yard game against the Lions Week 15.
His breakout end to the season ignited the belief that he would enter 2019 as the number one wide receiver for the Bills. However, the additions of John Brown and Cole Beasley somewhat quelled that narrative, and early training camp reports of Foster running with the second team, behind Brown and Beasley, add more question marks regarding the second-year wide receivers fantasy prospects for 2019.