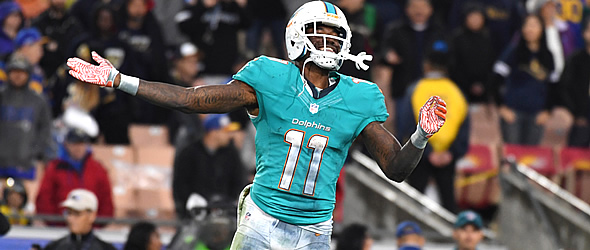 Unfulfilled Potential: DeVante Parker has just two receiving touchdowns in his last 24 games.
QB Ryan Fitzpatrick
(2018 QB Rank - No.28, 26.8 FPts/G)
The Fitzmagic tour makes a stop in South Beach this season as Miami appears to be going full dolphin tank on the 2019 campaign. Although it seems the team has their sights set on the first overall pick in what could be a strong QB class in 2020, there is more than a few players on the roster who garner fantasy consideration.
In eight games last year, Fitzpatrick ranked behind only Patrick Mahomes in fantasy points per game. The journeyman gunslinger started off white hot with three games of 400 plus yards and at least three touchdowns, only to fizzle out and lose the starting job to Jameis Winston.
There is a reason why Fitzpatrick is on his eighth team in 14 years. Fitzpatrick tends to throw into tight windows and force plays, often resulting in turnovers galore and eventual benching.
With quarterback being the deepest position in fantasy football, Fitzpatrick will not likely be owned in standard one-QB leagues. But he will present a positive effect on his receivers like DeVante Parker and Kenny Stills, as no other QB in the past five years has targeted wide receivers more than Fitzpatrick.
RB Kenyan Drake
(2018 RB Rank - No.31, 9.7 FPts/G)
The most significant boost to Kenyan Drake's fantasy value this offseason came with the departure of former head coach Adam Gase, the supposed offensive genius who opted to give geriatric tailback Frank Gore more carries than Drake despite the latter's clear superior talent.
We don't know how the new coaching regime under Brian Flores will handle their running backs. Hopefully spending the previous few seasons game planning against Drake will give Flores insight into the skill set the fourth-year running back possesses.
Drake should garner more consideration in PPR formats based on the fact that he secured 53 of his 73 targets for 477 yards and five touchdowns last season compared to only 120 carries. However, he does still carry value as a high-floor pick in non-PPR leagues based on his career-high nine total touchdowns in 2018.
Second round player Kalen Ballage will likely assume the Frank Gore, early-down role in the offense and will most likely garner at least 120 carries. But negative game scripts based on the poor Miami defense should work in favor of Drake, especially as a receiver out of the backfield.
RB Kalen Ballage
(2018 RB Rank - No.93, 3.1 FPts/G)
The departure of Frank Gore to Buffalo presumably opens the door for Ballage to become the early down and short-yardage tailback for the Dolphins in 2019, with Kenyon Drake splitting carries and working as the primary receiving back for Ryan Fitzpatrick or Josh Rosen.
Of the two, Ballage is the better draft day bargain and more of a value compared to Drake, however, Drake's explosiveness and receiving prowess give him a higher ceiling.
At 6'1", 230 pounds, Ballage is a beast of a man and fast for his size. However, he does not excel at making quick cuts in space and is not a skilled receiver at this point in his pro career.
WR DeVante Parker
(2018 WR Rank - No.124, 3.4 FPts/G)
It goes without saying that Parker has not lived up to his first-round draft cost in his four seasons with the Dolphins. The former Louisville Cardinal has just two receiving touchdowns in his last 24 games and has never posted more than 750 yards in any season.
Instead of cutting Parker loose, the team signed him to a two-year, $10 million contract this season. If you are going to phone in the year with the hope of tanking for Tuoa, it makes sense to give a gun-slinging quarterback like Ryan Fitzpatrick a big-bodied wide receiver like Parker who can stretch the field and win contested balls.
While many fantasy owners have been burned by Parker in the past and won't touch him with a ten-foot pole, if you are in a deep league with ample bench space, taking a flier on Parker in the last few rounds is worth the risk.
WR Kenny Stills
(2018 WR Rank - No.64, 6.1 FPts/G)
The addition of Ryan Fitzpatrick to the Miami passing game is going to be a big plus for the wide receiving corps of Kenny Stills, DeVante Parker, and Albert Wilson. Not only is Fitzpatrick a far superior passer to Ryan Tannehill, but he also targets wide receivers at a higher rate than any QB in the league.
For this reason, it is likely that one of the three wideouts in the tandem will emerge as a fantasy weapon worthy of rostering. Figuring out who that player will be is not an easy task, as Stills and Parker are skilled downfield threats, while Wilson is a shifty underneath option with game-breaking speed and elusiveness.
Stills has been the most consistent of the three over the past few seasons and owns a significant advantage in the touchdown column. Despite this fact, Parker's upside and size give him a higher ceiling for owners looking for a home run play.
WR Albert Wilson
(2018 WR Rank - No.25, 9.2 FPts/G)
In seven games last season before leaving with a season-ending hip injury, Albert Wilson appeared to be on a breakout course in his first season with Miami. The former Kansas City Chief posted three double-digit performances, including six catches for 155 yards and two scores against the Bears.
Of the three wide receivers who may garner fantasy value for the Dolphins in 2019, Wilson projects to be the best value in PPR formats based on his likelihood of leading the team in targets out of the slot.
Wilson is continuing to recover from a severe hip injury but appears to be on track to return to the field Week 1 when the Dolphins host the Ravens.
TE Mike Gesicki
(2018 TE Rank - No.89, 1.4 FPts/G)
Mike Gesicki proved the conventional narrative that rookie tight ends do not do well in the NFL. With just 22 receptions for 202 yards and zero touchdowns in 14 games, the former second-round pick out of Penn State was missing in action last year.
It is possible that Gesicki could see an uptick in production as the poor man's version of Rob Gronkowski in the new offense run by former New England Patriot offensive coordinator Chad O'Shea. It is also possible that he continues to have zero fantasy value and gets benched in favor of Dwayne Allen or A.J. Derby.