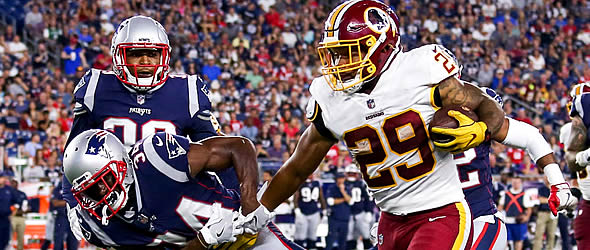 Guice has some training camp hurdles to overcome and could be overvalued by fantasy owners.
The Washington Redskins entered the 2019 draft looking to draft their quarterback of the future after Alex Smith suffered what many believe is a career-ending leg injury in 2018. Some draft prognosticators had the Redskins trading up with the Giants to take Ohio State quarterback Dwayne Haskins. Instead, the Giants used that pick on Daniel Jones, and Haskins fell to Washington at 15th overall.
Haskins is thought to be the best pure passer in the 2019 draft after throwing for nearly 5000 yards and 50 touchdowns in 14 games with the Buckeyes. In addition to tossing just eight interceptions, Haskins completed 70% of his passes while leading Ohio State to a 13-1 record and a Rose Bowl victory over Washington.
The starting quarterback position is up in the air with Washington, as veterans Colt McCoy and Case Keenum will battle Haskins for the starting job Week 1. Haskins is the most talented of the three and possesses the biggest arm, but it may be smart of the Redskins coaching staff to ease him into action.
For fantasy purposes, the lack of clarity on who will be the opening day starter relegates Haskins to a wait and see player and a waiver wire pickup in all but the deepest of two-quarterback leagues.
A knee injury in the 2018 preseason cost Derrius Guice his entire rookie campaign. The former second-round pick of the 2018 NFL draft spent the offseason rehabbing his torn ACL and appears to be on pace to start the 2019 season.
The problem for Guice is the Redskins signed veteran tailback Adrian Peterson to a contract extension after AD filled in admirably last season in Guice's stead. The team also used a four round pick on Stanford running back Bryce Love, and third-down specialist Chris Thompson is still on the roster.
Presumably, the team will slowly work Guice into a rotation with Peterson to begin the season, with Thompson or Love working in on third down. Should Guice impress and show he is the better option, one would assume that Jay Gruden would adjust his workload accordingly. However, it is possible that the Redskins will utilize a committee approach similar to what the Eagles have used over the past few seasons, which would limit the value of both Guice and Peterson.
There is no doubting Guice's talent, and he is a far superior pass catcher when compared to Peterson. But the lack of clear touches makes him a boom or bust pick at a point in the draft where more safe options can be found.
RB Adrian Peterson
(2018 RB Rank - No. 20, 10.8 FPts/G)
Age is just a number when you are a physical freak of nature like Adrian Peterson. After getting cast aside by the Saints and then a quick 10-game stint with the Cardinals, Peterson found a home with the Redskins last season after Derrius Guice suffered a season-ending knee injury in the preseason.
The ageless one rushed for just over 1000 yards and seven touchdowns on 251 carries, while adding 200 yards and a touchdown on 20 receptions through the air. His 10.8 fantasy points per game placed him 20th among running backs, just a tenth of a point behind Nick Chubb and Kerryon Johnson. AD scored more rushing touchdowns than Ezekiel Elliott and caught more passes for more yards than Marlon Mack, Chris Carson, and Lamar Miller.
The Redskins rewarded Peterson with a two-year contract that will pay him just over $5 million over the next two seasons. It is conceivable that the team could cut Peterson with a limited cap hit should Guice blow up, but all indications point to a committee approach on first down with Peterson and Guice both getting work to start the year.
WR Josh Doctson
(2018 WR Rank - No. 100, 4.3 FPts/G)
Doctson enters the 2019 season atop the Washington Redskins depth chart despite posting back-to-back mediocre seasons in 2017 and 2018. The fact that Doctson is currently the WR1 for the Redskins is more of an indictment on the state of the franchise than the actual fantasy value of the player.
To say that the former first-round pick in the 2016 NFL Draft has been a disappointment would be an understatement, as Doctson has just eight receiving touchdowns in 32 career games. Not only has he failed to live up to his billing as a monster in the red zone, but his inability to stay healthy has also handcuffed the team throughout the last three seasons.
With that said, someone in Washington will need to catch passes from Dwayne Haskins or Case Keenum, opening the door for Doctson to possibly post some big games this season. Figuring out when those big games will come is the problem, making Doctson more of a best ball flier.
WR Trey Quinn
(2018 WR Rank - No. 50, 6.8 FPts/G)
Injuries cut short the rookie campaign of Trey Quinn to just two games in 2018. Yet in those two games, Quinn flashed some skill with nine catches for 75 yards and a touchdown on ten targets.
As the all-time record holder for receptions in the history of high school football, Quinn is a talented player who didn't get much love in the 2018 NFL Draft despite regularly outplaying his teammate Courtland Sutton at SMU.
Assuming Quinn takes over as the primary slot receiver with Jamison Crowder no longer with the team, Quinn could be an excellent final round pick in PPR formats. Although the Redskins will likely struggle on offense, the volume could make Quinn a sneaky option for 75 catches this year.
WR Paul Richardson
(2018 WR Rank - No. 104, 3.9 FPts/G)
The Redskins inexplicably signed Richardson, a mostly unproven player, to a lucrative $40 million five-year contract in 2018, including a whopping $16 million guaranteed. Hampered by injuries, Richardson managed just 20 receptions for 262 yards and two touchdowns last season.
Although he technically enters the season as the No.2 wide receiver, projecting more than 80 targets in what could be a very bad offense makes Richardson someone to avoid this season outside of deep 14-team leagues.
TE Jordan Reed
(2018 TE Rank - No. 19, 5.2 FPts/G)
It may surprise some fantasy owners to learn that Jordan Reed actually played in 13 games last season, just one fewer than the most games he has ever played in an NFL campaign.
Although the former elite fantasy tight end disappointed with just 54 catches for 558 yards and two touchdowns, he could end up being the best friend of rookie quarterback Dwayne Haskins in what projects to be a terrible Washington offense.
The beauty of drafting Reed this season as opposed to years past is the fact that you will not need to spend much draft capital to land him, especially for those owners looking to stream the position anyway. Reed has the ability to finish as a top 12 TE, with top-five upside should he and Haskins connect in the red zone.