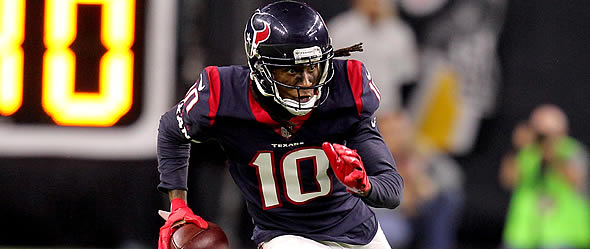 Will Nuk go down a similar path like Beckham or shine under the up-tempo offense in Arizona?


Shock. Disbelief. Highway Robbery.

Those were a few words, and a few unfit for publication, uttered by fantasy football writers and fans when news broke that the Houston Texans traded all-pro wide receiver, DeAndre Hopkins, to the Cardinals for David Johnson and a second-round pick.

General Manager Steve Keim and the Cardinals clearly seem to be the lopsided winner in the deal, as they were able to ship Johnson and his bloated salary to the Texans for arguably the top wide receiver in the game.

Keim appears poised to make Kenyon Drake the starting running back for the team after Drake starred last season when Johnson looked slow and ineffective.

Which begs the question, why on Earth would Bill O達rien trade his top player away for an expensive running back who appears to be past his prime? Sure, the Texans needed a running back after Carlos Hyde passed on a reportedly lowball offer.

But why, Johnson? Why not Melvin Gordon?

There are rumors of strive between O達rien and Hopkins. There are also theories on Hopkins wanting a new deal that the Texans did not want to provide.

We may never know the truth. What we do know is the Cardinals passing game added a stud wide receiver, and Bill O達rien should not be the head coach and de facto general manager.

From a fantasy perspective, Hopkins goes from a familiar system under O達rien to a spread offense focused on up-tempo plays under head coach Kliff Kingsbury and second-year quarterback Kyler Murray.

The offense is designed for quick passes, spreading the ball out quickly to playmakers, and utilizing Kyler Murray痴 above-average arm and running ability. Larry Fitzgerald and Christian Kirk shared an even target share, with the veteran owning a slight advantage in targets of 102 to 98.

Conversely, only Michael Thomas saw more targets than Hopkins last season (Through Week 16), as Hopkins posted his sixth-consecutive season of at least 150 targets. Hopkins has always been a target monster, with a whopping 192 in 2015 and 174 in 2017, and will no doubt be the top target for Murray in 2020.

The question, is will Hopkins get enough volume in his new offense, and will he gel with his new quarterback to make him a top-5 WR owners have come to expect?

We all thought Odell Beckham Jr. would shine in Cleveland, with a presumed upgrade at QB and the loaded Browns offense to give him more single coverage. Instead, OBJ turned out to be one of the biggest busts in the drafts last the No.40 WR in fantasy points per game.

Will Nuk go down a similar path like Beckham or will he shine under the up-tempo offense in Arizona? Will his volume go down with Murray spreading the ball around to Kirk and Fitzgerald, or will Kingsbury design his offense to feature Nuk at a volume level Hopkins enjoyed in Houston?

The uncertainty around Hopkins makes him somewhat of a risk to take as the No.2 wide receiver behind Michael Thomas. However, he could be a steal in the second round should the pieces fall in place for him in Arizona.

David Johnson痴 fantasy value jumped up significantly with the trade when you consider he was for all intents and purposes benched in Arizona last season and looked like he would be stuck behind Drake again in 2020.

Perhaps a change of scenery will give the former fantasy stud a shot in the arm and rejuvenate his career. The Texans could still draft a running back or two in the draft, and Duke Johnson is under contract until 2022.

Despite these issues, Johnson jumps back onto the fantasy radar as a low-end No.2 running back with high risk and high upside. O達rien risked a ton to bring in Johnson, and the veteran running back has a ton to prove.