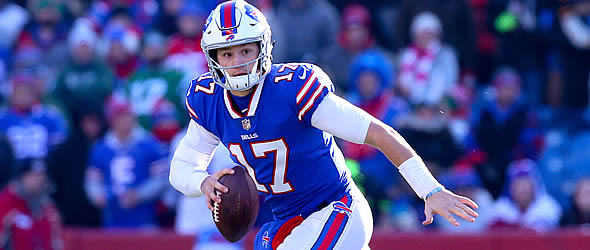 QB Josh Allen
(2019 QB Rank - 15, 21.2 FPts/G)
Allen avoided the proverbial sophomore slump in 2019 by improving on his passing efficiency by six percentage points while throwing three fewer interceptions despite nearly 100 more pass attempts. Although his passing touchdown total of 20 was tied with Kyler Murray for the fewest for quarterbacks who played 16 games. His nine rushing touchdowns were the most at the position, and his 510 rushing yards helped compensate for the lack of passing production.
Very few fantasy quarterbacks carry as much hype as Allen as he enters his third year. A continued incremental in pass efficiency to a most 62% and a volume increase to just over 500 pass attempts would put him in line for a top-5 season, assuming he continues to run and be among the league leaders in rushing touchdowns.
Another thing to like about Allen is the addition of Stefon Diggs to the receiving corps of John Brown and Cole Beasley. Diggs is one of the most polished route runners in the NFL and should give Allen a valuable weapon to lean on outside.
Based on total fantasy points scored, Allen already entered the top-10 at the position, scoring more points than Jared Goff, Aaron Rodgers, Philip Rivers, and Tom Brady. If he can continue to improve his efficiency while adding a similar level of production on the ground, he should be in line for at least a top 10 finish this season with top 5 upside.
RB Devin Singletary
(2019 RB Rank - No.28, 10.1 FPts/G)
Singletary made the most of his opportunities as a rookie last season, with a 5.1 rushing average on 151 attempts and four total touchdowns. His 10.1 points per game we better than a long list of high profile backs, including Le'Veon Bell, David Montgomery, David Johnson, Sony Michel, and Carlos Hyde.

Despite his strong performance, the Bills front office clearly does not envision the 5'7", 203-pound running back as someone who could be a three-down back. Buffalo chose rookie Zack Moss in the third round of the 2020 NFL draft, presumably to take over the workload left by the departed Frank Gore. Moss projects to share carries with Singletary, and at 223 pounds, will likely be used in short-yardage and goal line carries.

The signing of Moss does temper the hype that Singletary garnered once Frank Gore left the team for the Jets. In addition, Josh Allen will continue to be a threat to take touches and touchdowns in the red zone, limiting the ceiling for a player like Singletary. Perhaps an uptick in the passing game could help boost the lack of red zone production for Singletary, with 1000 total yards and six touchdowns well within the realm of possibility.

RB Zack Moss
(2019 WR Rank - NA)
Moss turned an impressive senior season with the Utah Utes into a third-round selection in the 2020 draft. The 5'9", 223-pound tailback rushed for 1416 yards and 15 touchdowns while showing his versatility with 28 receptions for 388 yards and a pair of scores in the passing game.
Moss has the size and ability to be a three-down back, yet he does not likely have the opportunity with Devin Singletary slated to be the primary back for the Bills. Singletary ran well as a rookie and will have a sizable advantage with minimal training camp for Moss to get comfortable.
Yet Moss's size makes him a candidate for valuable carries inside the five-yard line, making him a nice late-round bench stash. Should Singletary get injured and Moss be given more of a workload, he could end up being one of the steals of your fantasy draft.
WR Stefon Diggs
(2019 WR Rank – No.13, 10.3 FPts/G)
Diggs is one of the most polished route runners in the NFL and excellent after the catch. He projects to be the number one wide receiver for Josh Allen after joining the Bills via trade this offseason, giving Allen three excellent targets along with John Brown and Cole Beasley.
For fantasy purposes, Diggs has never really lived up to his potential to be a stud fantasy wide receiver, with zero seasons of 10 or more touchdowns, and the fact that he has never been able to play a full-16 game campaign. The talent is there, but the production is somewhat hit or miss, and he has not been the most consistent player at the position (17th in consistency in 2018, minimum 8 games played).
Diggs now joins an offense that is focused on being run-first, with Josh Allen throwing the fewest passes of all quarterbacks who played in a full 16 games in 2019.
Volume is going to be hard to find for Diggs, as Allen already has a rapport with Brown and Beasley, and the team is once again going to lean on their ground game and defense. There will be a few big games here or there, but expecting him to be a top-24 WR may be a stretch.
WR John Brown
(2019 WR Rank - No. 29, 9.5 FPts/G)
Brown's first season with the Bills resulted in career-highs in targets, receptions, and receiving yards. He nearly tied his career mark in fantasy points per game that he set back when he was a member of the Arizona Cardinals in 2015.
The Bills enter the 2020 season as the odds-on favorite to win the AFC East, although the late addition of Cam Newton to the Patriots could make that a little more difficult. From a real-life standpoint, the Bills are a better team heading into this season with the offseason addition of Stefon Diggs from the Vikings. Diggs immediately gives quarterback Josh Allen another wide receiving weapon on the outside, with Beasley working the middle of the field and Brown working as the primary downfield threat.
With more mouths to feed, Brown will likely not match the 115 targets he garnered last year, but the addition of Diggs should allow for Brown to work opposite of the No.2 cornerback on the defense, and presumably could make for more one-on-one coverage.
It would not surprise us to see Brown's volume go down with the addition of Diggs. However, his efficiency could go up along with his yards per target.
WR Cole Beasley
(2019 WR Rank - No. 46, 7.6 FPts/G)
Beasley's first season with the Bills was a success on many levels. Not only did the former Cowboy set career marks in targets, receptions, and receiving touchdowns, he helped his new team reach the playoffs while Dallas failed to make the postseason.
Beasley was not the most consistent performer, as evident to his 67th overall consistency score on our FFtoday.com consistency tool (8 games minimum, start 3WRs). But he did deliver solid performance as a streaming option in certain matchups, and he should continue to be a decent low-end flex option in full PPR formats despite the addition of Stefon Diggs.
TE Dawson Knox
(2019 TE Rank - No. 43, 3.4 FPts/G)
The Bills ranked 25th overall in fantasy points scored by tight ends last season, as the offense is not built around tight ends running a ton of routes. Rookie Dawson Knox posted 28 catches for 388 yards and a pair of scores on 50 targets in his rookie season.
With the addition of Stefon Diggs to the offense, it is hard to see how Knox owners can expect to see more volume or production this year. Avoid the Bills tight ends if possible.