QB Cam Newton
(2019 QB Rank Ė N/A)
The Tom Brady era in New England is officially over. Initially, it appeared as though Bill Belichick was going to start the season with Jarred Stidham at quarterback, a 24-year old with four pass attempts in his young career.
Instead, Belichick made a wise move of adding Cam Newton to the roster on a very team-friendly ďprove itĒ deal for a mere $1.7 million. The deal looks like a smart move for both the player and the team, as Newton has a shot to prove his worth to other teams for a potential long term deal, and the Patriots get a massive upgrade at QB and donít have to commit a ton of money or cap space.
From a fantasy perspective, Newton is a far more exciting option than Stidham, while also increasing the value of the other skill position players in the offense. The last time we saw Newton play at least 14 games was 2018 as a member of the Panthers. Although he was suffering from an injured shoulder at the time, he managed to finish as the No.7 ranked QB in FPts/G.
When healthy, Newton has always produced QB1 numbers due to the rushing production he provides. He has never rushed for fewer than four touchdowns, and he will likely add another 300 to 500 rushing yards.
Considering the fact that the Patriots have little to lose by running Newton, it would not surprise us to see him used in design runs around the goal line. If his shoulder is healed and he can complete over 60% of his passes, Newton could be a nice late-round QB with a ton of upside.
RB Sony Michel
(2019 RB Rank - No.38, 8.9 FPts/G)
To say that Sony Michel suffered a sophomore slump would be an understatement. The former first-round pick out of Georgia managed just 3.7 yards per carry and failed to reach 1000 yards, despite earning 247 rushing attempts. He continues to be a non-factor in the passing game because of James White, and Damien Harris or Lamar Miller could be in line for more carries should Michel continue to negatively regress.
On the positive side, he is just 25 years old, and the addition of the Cam Newton and the threat of QB runs could help open running lanes for Michel. On the negative side, the Patriots added veteran Lamar Miller to the backfield stable, possibly indicating that Michel (foot) may not be ready at the start of the season.
RB James White
(2019 RB Rank - No.41, 8.5 FPts/G)
We would not blame fantasy owners who take a hard pass on most New England Patriots this season, as the absence of Tom Brady under center for the first time in two decades presents a massive question mark on the offense.
The addition of Cam Newton does make players like White more attractive than had the team rolled with Stidham, yet we donít know how well Newton will gel with this new offense, especially without a full offseason and training camp to build rapport.
The evolution of Newton leaning on Christian McCaffrey in the passing game while in Carolina bodes well for Whiteís value in PPR. Newton connected on just under 100 passes with CMC in 2018, proving naysayers wrong who doubted his ability to throw to running backs in the flat.
White will likely be a non-factor for most standard leagues, but his ability to post nearly 80 targets in the passing game could make him a low-end flex in PPR.
The Patriots signed 29-year-old Lamar Miller to a one-year deal to add depth to a running back stable that includes Sony Michel, Rex Burkhead, and Damien Harris. Miller missed the entire 2019 season after sustaining an ACL and MCL tear in the preseason.
Like the addition of Cam Newton, this is a low-risk move by the team as the Patriots embark on a new era without Tom Brady under center. At 29 years of age, Miller is already likely past his prime and will prove to be more of a valuable real life player than a fantasy option.
We donít know how much Damien Harris will play into the mix, and James White and Sony Michel (if healthy) have their roles defined in the offense.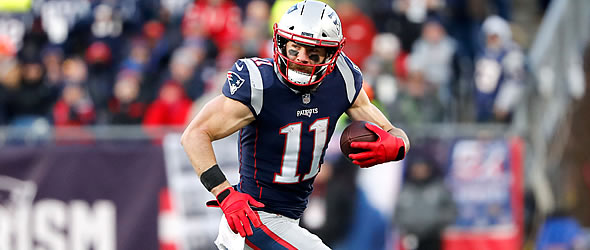 WR Julian Edelman
(2019 WR Rank - No.30, 9.4 FPts/G)
Edelman enters uncharted waters as a professional football player now that his Bosom Buddy, Tom Brady, migrated south to join the Tampa Bay Bucs. Without the comfort level of Brady and the rapport they have developed over the years, Edelman may see steep declines in his efficiency.

On the positive side, there are not many options for Cam Newton to throw to other than Edelman and James White, which could lead to a large target share for each player.

Edelman did post the most receiving yards of his career and hit 150 or more targets for the second time, which is a good sign for anyone wondering if he has lost anything at age 34.

If you play in a full PPR league, Edelman should still put up solid volume numbers, even if he does see a downgrade in efficiency. In standard leagues, he does not carry as much value.

WR Mohamed Sanu
(2019 WR Rank - No.94, 5.3 FPts/G)
An ankle injury limited Sanuís time with the Patriots in 2019 after the team acquired the veteran wide receiver from the Falcons. In eight games, San caught 26-of-47 targets for 207 yards and touchdown.
According to the teamís training staff, the 31-year-old veteran is fully healed and ready to contribute in 2020. Unfortunately, the first ballot hall of fame quarterback that Sanu played with the last time he was on the field is now a Tampa Bay Buccaneer.
The addition of Cam Newton does make receivers like Sanu and NíKeal Harry more attractive than before when it appeared as though the team planned on rolling with Jarred Stidham. But the volume that Sanu needs to be fantasy relevant will not likely be there, making him a player to avoid in all but the deepest of drafts.
WR NíKeal Harry
(2019 TE Rank - No.99, 3.9 FPts/G)
Injuries plagued Harry in his rookie season, leaving the former first-round pick with just seven games from Week 11 through the teamís wild card loss at home to the Titans. Harry clearly did not have a rapport with Tom Brady, as the two continually were off their timing routes.
Perhaps a new start with a new quarterback will help Harry with his timing and confidence, and maybe he will have a stronger rapport with Newton.
From a fantasy perspective, it is difficult to envision how Harry will have much value as the No.3 wide receiver on a team that will likely look to run the ball and play defense. Although Cam Newton does have a history of making big bodied receivers like Harry fantasy relevant (Devin Funchess), the team still projects to be a run-heavy offense.