QB Dwayne Haskins
(2019 QB Rank - No.34, 11.8 FPts/G)
The Redskins turned to Haskins as the full-time starter Week 8 of the 2019 regular season. The former first-round pick from Ohio State went on to deliver what you would expect of a rookie quarterback thrust into the starting role on a bad offense, with a completion percentage of under 60% and as many interceptions as touchdown passes.
Haskins led the Redskins to a pair of wins in his eight starts, including an impressive 29-21 win on the road over the Carolina Panthers.
The jury is out on whether or not Haskins will be the long-term solution at quarterback for Washington. The team has a new coaching staff with head coach Ron Rivera and offensive coordinator Scott Turner.
From a fantasy perspective, Haskins should not be considered an option in anything other than deep superflex leagues, as there are far better options at the position.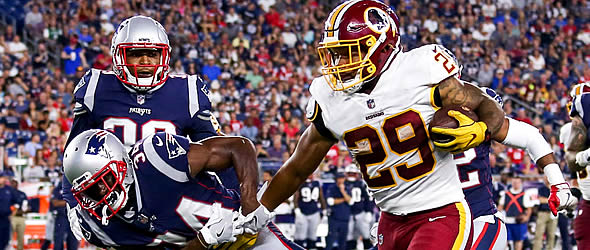 RB Derrius Guice
(2019 RB Rank - No.27, 10.1 FPts/G)
There is no doubt that Derrius Guice is a talented running back who has the skillset to be a starter in the NFL. There are, however, more than a few reasons why fantasy owners should be concerned when drafting the former LSU Tiger.
First and foremost are his injury history and his inability to stay on the field. Guice suffered a season-ending knee injury in his rookie season, only to follow up with a meniscus tear in his other knee at the start of 2019. He would then suffer a season-ending grade 2 MCL strain against the Packers in Week 14 against the Packers.
Another concern is the fact that veteran Adrian Peterson continues to hang around and produce solid numbers, and the Redskins added an impressive rookie in Antonio Gibson in the 2020 NFL draft.
When on the field, Guice delivered mixed results. His 5.8 YPC average looks impressive, but most of that came on a few big runs against the Panthers, a team that was missing three starting defensive linemen. In his other found games of at least seven carries, Guice failed to top more than 42 rushing yards.
It makes sense that the Redskins will give Guice a chance to be the starter based on the high draft capital used on him back in 2018. However, he comes with a ton of risk and could be a bust once again if his body breaks down.
RB Adrian Peterson
(2019 RB Rank - No.37, 8.9 FPts/G)
Peterson and Frank Gore continue to lead the geriatric running back party or players who should have retired but who cannot seem to give up the game. At age 35, Peterson once again looks to be a thorn in the side of Derrius Guice truthers, despite the fact that he has barely averaged more than four yards per carry over the past two seasons.
If Peterson does make the squad and is not a training camp cut, look for him to share the first and second down role with Guice. Rookie Antonio Gibson from Memphis is a talented back who could also eat into the carry load of each player, and free agent signees Peyton Barber and J.D. McKissic are also in the mix.
It would not surprise us to see the Redskins backfield become a wasteland of no value and something that owners may want to avoid altogether.
WR Terry McLaurin
(2019 WR Rank - No. 26, 9.6 FPts/G)
McLaurin was the one bright spot on an otherwise dreadful 2019 Washington Redskins team. The former Buckeye caught 58 balls for 919 yards and seven touchdowns in just 14 games, including an impressive 5/125/1 debut against the Eagles.
He enters the 2020 season as the No.1 receiving option for the Redskins and a favorite low-end No.2 WR for fantasy owners. His 32% target share among Washington wideouts is exactly what you want in a fantasy player, and his 12 red zone targets also led the team.
Surprisingly, he fared better when Case Keenum was under center and not his former teammate from Ohio State. McLaurin's worst games came in a stretch from Week 8 to Week 14 when Haskins was the starting QB. The decline is more of an indictment on Haskins' poor play than McLaurin's, but it is something to consider when you draft this summer.
WR Steven Sims
(2019 WR Rank - No.76, 5.3 FPts/G)
After a slow start to the season, rookie Steven Sims came on late for the Redskins with 16 catches for 190 yards and four touchdowns on 29 targets in the team's final three games of the season. Of those 29 targets, seven were in the red zone, and three resulted in a touchdown.
The team did not do much in free agency or the draft to bolster their receiving corps outside of the selection of WR Antonio Gandy-Golden in the fourth round. On paper, Sims looks to be the No.2 receiving option on the team, albeit on a bad offense with a second-year quarterback who struggled as a rookie.
The volume does not project to be there for Sims to be anything more than a low-end WR3, but an injury to McLaurin could open the door and make Sims a late-round sleeper.
TE Jeremy Sprinkle
(2019 TE Rank - No.5, 8.5 FPts/G)
Vernon Davis and Jordan Reed are no longer on the team, opening the door for a new tight end to emerge as the go-to tight end option for Dwayne Haskins. On paper, none of the options on the depth chart look very appealing.
Only the Bears, Patriots, Steelers, and Jags scored fewer fantasy points at the tight end position, and no Redskins tight end posted more than 62 receiving yards in any game last year. Perhaps this will change with the new coaching staff. But until we know more and have a clear picture of who will start, it makes sense to avoid all tight ends in Washington this year.