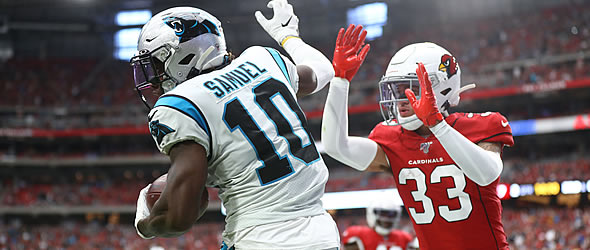 The Washington Football team has been active this free-agent period with the addition of journeyman quarterback Ryan Fitzpatrick signing a bridge, one-year deal to presumably be the team's starting quarterback in 2021.

The team also made a splash with the addition of wide receiver Curtis Samuel to a three-year deal, reuniting Samuel with his former head coach Ron Rivera and college teammate Terry McLaurin.

With Samuel and McLaurin working alongside tight end Logan Thomas in the passing game and Antonio Gibson and J.D. McKissic sharing time in the backfield, the Football Team has some nice fantasy pieces that could bring value to rosters this fall.

Offensive coordinator Scott Turner and head coach Ron Rivera know Samuel well and should have a good idea of how to maximize his talents.

The problem is a decent percentage of Samuel's value came running the ball (41-200-2), as only Robert Woods has more rushing yards by a wide receiver over the past two seasons. Will Samuel get enough work on the ground to supplement not being the number one or even number two target in the passing game?

Also, the Panthers' new coaching staff in 2020 made the correct move to make Samuel the team's primary slot weapon, with just over 70% of his targets coming from the slot.

If Samuel is used in the slot and Cam Sims or Antonio Gandy-Golden line up outside, Samuel's projected value will be much higher than as an outside receiver.

Last season Samuel caught 77 passes for 851 yards and three touchdowns for the Panthers while adding 200 yards and two rushing touchdowns on the ground. 1,051 total yards and five touchdowns is an excellent stat line for a high-end No.3 fantasy wide receiver.

The only question is will Samuel get 41 carries in the new offense, and if not, will his touchdown production in the passing game offset his loss of rushing stats? That answer lies in the pass attempts Ryan Fitzpatrick has and if he continues to target Thomas at the same rate as Alex Smith and Dwayne Haskins.

As of now, Samuel projects to be more of a nice upgrade to Washington's passing offense than someone who may take a considerable leap in production for fantasy managers.