QB Tua Tagovailoa
(2020 QB Rank Ė No.20, 20.3 FPts/G)
Itís Tua time in South Beach now that Fiztmagic has joined the Washington Football Team on a one-year deal. The former first-round pick out of Alabama will get an entire offseason of reps with the No.1ís on the Dolphins offense, something he did not get last season with Fitzpatrick sharing the reps and COVID-19 shortening the off-season.
For someone as decorated as Tua, it is surprising how little respect he seems to get in fantasy circles and with NFL evaluators. Sure, he managed just 11 passing touchdowns and 1814 yards in ten games as a rookie - pedestrian numbers by any measure.
But considering the circumstances in which he entered the NFL, it is not a shock that he did not have a monster rookie season. Also, it does not help that Justin Herbert did so well as a rookie by comparison.
Unlike the Jets, who left Sam Darnold hanging out to dry with no skill position supporting players and a below-average offensive line, the Dolphins have given Tua every opportunity to succeed with the addition of free-agent wide receiver Will Fuller and the first-round selection of Jaylen Waddle.
From a pure fantasy standpoint, Tua is likely to go well outside the top-12 at the position, making him more of a streaming option and someone to target in two-quarterback leagues. With matchups against the Patriots and Bills, he is someone you should avoid on draft day based on his early streaming matchups. However, he does have games against the Raiders, Jags, Falcons, and Texans after that rough start.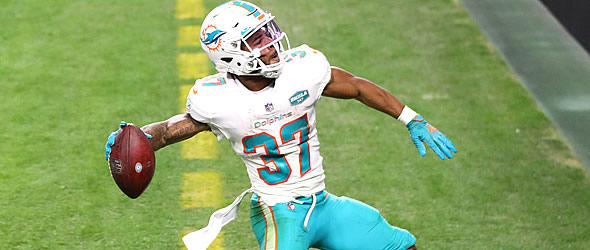 RB Myles Gaskin
(2020 RB Rank - No.12, 14.8 FPts/G)
James Robinson was the unanimous breakout running back candidate of 2020 after finishing as the No.8 running back in fantasy as an undrafted rookie from Illinois State. Not far behind Robinson was second-year back Myles Gaskin, who averaged an impressive 14.8 fantasy points per game, which was better than Josh Jacobs, Austin Ekeler, Chris Carson, Antonio Gibson, and even Ezekiel Elliott.
Unlike Robinson, who now has the share snaps with Travis Etienne, the Dolphins did not add high caliber running back to the backfield, leaving Gaskin to once again be the primary tailback.
At just over 200 pounds, Gaskin does not possess the size of a prototypical every-down back, but his excellent receiving skills and usage in the passing game make him an excellent target as a low-end No.2 running back, especially in PPR.
WR DeVante Parker
(2020 WR Rank - No.43 19.6 FPts/G)
After four disappointing seasons to start his career, Parker finally came through with a monster campaign in 2019 in which he topped 1200 reaching yards and set a career-mark for touchdown receptions.
That breakout season vaulted Parker up into mid-round status last season, with Parker posting an ADP of 6.07 according to Fantasy Football Calculator.
Injuries and a poor rapport with Tua Tagovailoa dropped Parker from a No.6 finish in 2019 to No.43 last year.
Parkerís breakout buddy Ryan Fitzpatrick is now on the Washington Football team, and the Dolphins front office added Will Fuller and Jaylen Waddle to the mix. While the talent is still there, and he will undoubtedly have a few big games, it isn't easy to project Parker to return to his 2019 levels, making him more of a WR 3 in most formats.
WR Will Fuller
(2020 WR Rank - No.6, 14.8 FPts/G)
It may surprise some fantasy owners to learn that in 11 games last season for the Texans, Will Fuller averaged more fantasy points than his former teammate DeAndre Hopkins and fantasy darlings DK Metcalf and Justin Jefferson.
He had five games of 100-plus receiving yards and a touchdown in all but four of his performances before having his season cut short by a PED suspension.
Now that he is on a new team and does not have the benefit of playing with Deshaun Watson, Fuller is currently ranked well below how he finished last season and well behind Hopkins, Metcalf, and Jefferson - three players likely to go in the second round of most drafts.
It also doesnít help Fullerís value that he is going to miss the first game of the year while serving the final game of his PED suspension.
However, the upside of monster games from Fuller is still there despite his change in teams, especially with opposing defenses forced to account for DeVante Parker and Jaylen Waddle. For this reason, he likely is more attractive in best ball. However, he still is an excellent option as a WR3, especially in plus matchups against weak opponents on the schedule like Jacksonville, Cincinnati, and his former team.
The Dolphins used the sixth overall pick in the 2021 NFL draft to take wide receiver, Jaylen Waddle from the University of Alabama. Nagging leg injuries forced Waddle to miss half of the season last year, while fellow first-round pick DeVonta Smith went nuclear on opponents en route to winning the Heisman Trophy.
A comparison of the two players based on a college production is no contest, as Smith had more receiving touchdowns last year than Waddle had in three seasons with the Crimson Tide.
Yet it was Waddle who went higher than Smith in the draft due to his larger frame and elite bust/speed metrics.
Most rookie wide receivers not named Justin Jefferson struggle in their first season as they get acclimated to the speed of the NFL. We anticipate this could be the case with Waddle, especially as the likely third receiving option for Tua behind DeVante Parker and Will Fuller.
If you use a late-round pick on Waddle, do so with the intention of being patient. Miami starts with a pair of tough matchups against the Patriots and Bills, two teams with top 10 defenses. Waddle will likely start slowly, but he could be a nice play in late-September and October with matchups against the Raiders, Jags, and Falcons.
TE Mike Gesicki
(2020 TE Rank - No.8, 8.9 FPts/G)
Gesicki posted career-highs across the board in 2020, including receptions, yards, and touchdowns, in route to a top-8 finish in fantasy points per game.
While finishing eighth at any position sounds impressive, most people who owned Gesicki last year would likely say they were not very happy with his production. Ten of Gesickiís performances resulted in fewer than ten fantasy points, and the former Penn State star went eight -straight games without a touchdown.
As we head into 2021, Gesicki has more competition for targets in the passing offense with the addition of veteran WR Will Fuller and the first-round selection of WR Jaylen Waddle.
We still have Gesicki ranked as a top-10 tight end, and he will likely finish as a TE1 again in 2021. However, he could see a reduction in targets, and he will continue to be inconsistent as the No. 3 or No.4 receiving option for Tua.