Cam Newton
(2020 QB Rank - No.23, 18.0 FPts/G)
A Covid-shortened preseason set Cam Newton back in his first season with the Patriots, as the former Carolina Panther star could not get acclimated to Josh McDaniels' scheme early in the season. To make matters worse, a Newton was set back further in-season after testing positive for the virus.
On a positive note, Newton scored 12 rushing touchdowns in 15 games, just two shy of his career mark set as a rookie back in 2011. He also completed just over 65% of his passes for only the second time in his ten-year NFL career.
Unfortunately, he managed just eight touchdown passes while throwing ten interceptions. Even with the most rushing TDs among QBs, Newton's paltry passing numbers left him outside of the top 20 at the position.
Newton enters 2021 as the likely starter, but it would not surprise us to see first-round pick, Mac Jones, take over the reins at some point in the season. Jones is the QB of the future, and Bill Belichick will not hesitate to put Jones in the lineup if he feels the rookie is ready.
From a fantasy perspective, the short leash and the subpar passing totals make Newton someone avoid in one-QB leagues. However, the team did add Jonnu Smith and Hunter Henry, along with Nelson Agholor and Kendrick Bourne, giving Newton and Jones a much deeper skill-position corps than in 2020.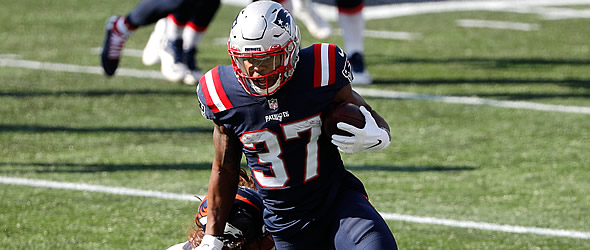 RB Damien Harris
(2020 RB Rank - No.40, 8.9 FPts/G)
After spending most of his 2019 rookie season on the bench or inactive, Harris shined last season with nearly 700 rushing yards and a pair of rushing touchdowns in ten games. The former third-round pick from Alabama effectively took over the lead role from Sony Michel and enters camp as the likely starter for Bill Belichick and the Patriots.
Unfortunately, the team still has James White on the roster to work as the primary pass-catching back, and Cam Newton will likely be used heavily around the goal line. Both of those facts limit the upside of Harris jumping into RB1 status, and rookie Rhamondre Stevenson is a beast of a man who could also take some short-yard carries.
Look for Harris to get around 200 to 230 touches and post around 1000 combined yards. If Jones takes over at QB, Harris should get more carries work in the red and green zone.
RB James White
(2020 RB Rank - No.60, 6.6 FPts/G)
White is the perfect example of a player who is better for real-life football than fantasy. As the pass-catching back under Tom Brady, White excelled with 14.6 and 10.9 fantasy points per game in 2018 and 2019, respectively.

But with Cam Newton under center, White caught just 49 passes for a career-worst 375 yards. He is still a vital part of the team's plans, but he is the third or fourth rushing option and no longer has one of the best ever throwing him the ball.

Unless you play in a deep full PPR league, White should be avoided on draft day.
WR Nelson Agholor
(2020 WR Rank - No.40, 10.1 FPts/G)
Agholor bet on himself with a one-year show-me deal with the Raiders in 2019 after five up and down seasons with the Eagles. The former first-round pick from USC turned out to be the best receiver on the Raiders, with 896 yards and eight touchdowns. He bested his yard-per-reception average by nearly seven yards and parlayed his impressive performance into a two-year, $22 million deal in New England.
Agholor projects to be the No.1 wide receiver opposite of Jakobi Meyers now that Julian Edelman retired. While being the No.1 WR on a team sounds excellent, not all WR1's are equal, especially on a low-volume passing attack with two high-priced tight ends.
Only the Ravens threw for fewer yards than New England did in 2020, and Patriots wide receivers combined for just four receiving touchdowns last year.
Agholor will have value at times, but he will likely not receive consistent volume that would make him a top-36 and a weekly start.
WR Jakobi Meyers
(2020 WR Rank - No.59, 8.6 FPts/G)
Meyers flashed some brilliance in his sophomore season with three games of over ten targets and two 100-yard performances. With first-round bust N'Keal Harry not living up to his draft stock, Meyers became the top receiving option for Cam Newton and the sole Patriot pass-catcher worthy of starting on fantasy rosters despite not catching a single touchdown on 59 receptions for 729 yards.
Meyers will likely line up opposite of free-agent addition Nelson Agholor with Kendrick Bourne working in on three-WR sets.
Volume could be an issue for Meyers and all of the wideouts on the Patriots, as the team invested heavily with tight ends Hunter Henry and Jonnu Smith, and only the Ravens threw fewer times than New England in 2020.
This is a run-first offense with a running QB and a pair of talented pass-catching tight ends. Not exactly the recipe for success for any WR, especially average talents like Meyers and Agholor.
TE Jonnu Smith
(2020 TE Rank - No.10, 8.6 FPts/G)
Smith dynasty managers cheered for joy when Smith landed a monster $50 million deal with New England this offseason, presumably to become the starting tight end in an offense void of skill position players.
Those same managers cringed a few days later when the Patriots signed another tight end (Hunter Henry) to a $37.4 million deal.
The duo of tight ends in New England has Pats fans dreaming of a Gronk/Aaron Hernandez reunion with those two former studs finished one and three respectively in 2011. While that sounds like a great option, Tom Brady is not coming back to the team, and Smith and Henry lack the physical tools to do what Gronk and Hernandez did.
The reality is the Pats signed two of the best tight ends in free agency and effectively killed both of their value for fantasy purposes. If one gets hurt, the other will have starting value, but having two great tight ends in a run-first offense is not a formula for fantasy success.
TE Hunter Henry
(2020 TE Rank - No.13, 8.2 FPts/G)
Henry joined the Patriots this offseason with a three-year, $37.4 million deal after four seasons with the Chargers. As a rookie, he exploded for eight reaching touchdowns in just 13 games, leading some to believe he would join Kelce in the pantheon of elite tight ends.
That did not happen.
Henry never caught more than five touchdowns in a season despite being a talented red zone option, and he has yet to play in an entire season.
Add in the fact that Henry joins fellow free agent Jonnu Smith, and you have the makings of a guy who is going to disappoint fantasy managers who think he can return to his rookie form.