The "Big Boards"




8/25/09



Since most of America is in front of the computer at work (or looking for work) more than we care to be, late August and early September can serve as a reminder of what it is like to live. For me, there are few times during the year I look forward to more than my money league drafts. Being on the cusp of building a championship team and outwitting your opponents is a feeling hard to describe, but one worth experiencing for the sheer excitement and exhilaration it can produce.

However, that feeling of adrenaline shooting through your veins can come to a quick halt if you don't feel like the most prepared owner in your league on draft day. Even though many fantasy owners play just for bragging rights, the goal for money leaguers and non-money leaguers alike is the same: win. In my experience, winning starts in the offseason with preparation, continues at the draft when you can calmly select value over need, which carries over nicely into the season when it is time to make a trade or two. Ideally, all of this lands you firmly in the playoffs with an above-average chance to claim the league championship.

As I mentioned before, "value" in drafting is key. Need has to outweigh value on occasion, but for the most part, it can't hurt to take the best player left on the board. And it is with both need and value in mind that I present my "Big Board" in your attempt to earn both the respect and envy of your fellow fantasy leaguers in 2009.

Before I get to the boards, though, I would like to forewarn each of my readers about the player's rankings and subsequent place on the board. I will push a player down my board if I cannot trust him to stay healthy all season. If you take the time to tear down each position I provide below, you will notice that I don't follow the point totals or averages to a tee. Outside of trust issues, I will push a player down my board – despite a higher average or overall point total – if I believe he will simply be more consistent throughout the season or if his playoff schedule appears treacherous – no, I don't claim to see the future, but history tells us that defenses like Baltimore, Minnesota and Pittsburgh will end more fantasy championship dreams than they help. All too often, fantasy owners and even the so-called "experts" get tied into the final fantasy point totals. Don't get me wrong, I want all my players to have 300+ points at the end of the season. But as the old saying goes, "It's not about the destination, it's about the journey"; if my RB1 gives me seven spectacular performances along with six duds during the regular season, there's a fairly decent chance I may end up 7-6. I don't want that and neither should you.

Note: I increased the size of my board from 100 from a year ago to 175 so 12-team league owners could have a reference tool that included 2 QBs, 4-5 RBs, 4-5 WRs, 1-2 TEs, a K and a defensive unit. Also, this year, I added in the bye weeks and the same color coding that I used in my previous PSAs to designate poor, neutral and advantageous matchups during Weeks 14-16.

Here is the scoring system that I used to rank the players:

Without further ado, the "Big Board" for owners in PPR leagues…



Undoubtedly, many of you are likely shocked by the overall point difference between Jones-Drew and Peterson. Try to think of it this way: Brian Westbrook led most PPR leagues in scoring in 2007 despite missing a game and lacking an elite WR option to take the focus away from him, which in part led to his career-high 90 receptions. Jones-Drew is the same kind of all-purpose back, is a better short-yardage and red zone rusher and has missed just one game in three years. Considering Pocket Hercules' highest-touch season was last year with 235, it becomes a bit frightening to think what he could do with 300 behind a better and healthier offensive line AND a receiver in Torry Holt, who - while he is on the downside of his career - represents the best receiver the Jags have started since the days of Jimmy Smith and Keenan McCardell. I believe 2,000+ total yards and 15-16 TDs is achievable for him this season.

Jackson-Forte-Gore should spark a lively debate as well. In the end, it comes down to the amount of work I believe Jackson will receive in the passing game. I don't foresee another 90-catch season in his future, but 70-80 is a possibility since he is the best receiver the Rams have. No one will argue that St. Louis is in a rebuilding phase this year, but it does have the makings of a good run-blocking line, so Jackson should be able to sport some nice rushing totals when the Rams are close to their opponent and add some solid production in the passing game when the team falls a score or two behind. He's also the first example on this board of how a top RB can be a high first-round lock in PPR and a borderline first-round pick in non-PPR (more on that below). Forte is like Jackson in a lot of ways, but probably won't see quite the same number of passes Jackson will, which is why he falls just short of the Rams' RB here. Gore should be in for his highest workload since 2006, but doesn't seem to have the knack for the end zone quite like Forte or the receiving upside Jackson does. Quite honestly, though, I could make a strong argument for any one of these backs over the other two.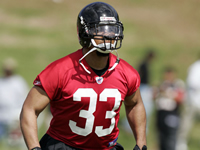 Michael Turner: PPR victim.
Let's skip all the way down to two of PPR's biggest victims: Turner and DeAngelo Williams. Go ahead and believe Turner is a lock for a repeat of 2008 if you want, because I don't. There were seven games last season in which Turner averaged more than 4.0 yards per carry. Five of those teams (Detroit, Green Bay, Kansas City, Oakland and St. Louis) aren't on the Falcons' 2009 schedule, and all five finished 26th or worse in terms of rushing yardage allowed per game. Add in the fact that despite his gaudy numbers from a season ago, he still finished behind a part-time back (MJD) and another one who missed two games (Westbrook) in PPR leagues. As for Williams, he is a good receiving back, but the Panthers - up to now - haven't chosen to feature that part of his game yet. Unfortunately, four of the five opponents I mentioned for Turner above were also on Williams' schedule last year but are not on the slate for this season. Because Williams will run against a more difficult schedule in 2009, he is going to need Jonathan Stewart to be an injury liability for most of the season, since a healthy Stewart probably eats up at least another 160-170 carries, leaving D-Will to make his attempt at recapturing fantasy glory again this year on 230-250 carries. I, for one, don't count on certain players getting hurt (unless they have an overwhelming history of such a thing), but for Williams to come anywhere close to his 2008 standards, he will need Stewart to miss substantial time. Furthermore, over the last 30+ years, only Clinton Portis followed one 5.5 YPC season with another. Williams is an elite talent, but a 100-200 yard drop in total yards and a 7-8 TD decrease should be expected. If that is production is acceptable for you in the middle of the first round, by all means, go get him.
Lynch is an intriguing player to me in the fourth round. I'm typically not all that thrilled about having a player on my roster that I KNOW won't be able to play for me for three games, but if you can get past that, rarely can an owner find a RB2 in the fourth round they can count on for 20 touches per game. For owners of Steve Smith a season ago that went on to win their league title, you understand that a short suspension at the beginning of the season is not the worst thing in the world if the player you are waiting on can be a vital part of the foundation of your fantasy team.
I've cooled ever so slightly on Ray Rice because Willis McGahee will probably steal more snaps than he should, but in a PPR league, I would not have any qualms about the second-year back serving as my RB2. The same goes for Ward, who I can't foresee stealing goal line duties away from Earnest Graham. With that said, he has 40-50 catch upside, so even if he only scores 5-6 times, he should be a solid and consistent RB2 producer.
I don't need the Brandon Marshall headache this season. Injured players who don't get their way and want out of town have a tendency of carrying that onto the field with them, with Chad Ochocinco circa 2008 being the latest example. (Child please!) Give me all the young upside backs (Brown, McCoy, Bradshaw, Mendenhall), Harvin and a couple of mid-level TE1ís before him.
I probably have Kevin Faulk too low here, but with another capable pass-catching back like Fred Taylor on the roster, it's hard for me to see another 58-catch, 161-touch season out of him again in 2009. On the other hand, I feel like Breaston could be over-ranked here because he would be the most likely of the Arizona WRs to suffer in the catch department if/when the Cardinals decide to balance out their run-pass ratio a bit more. I would have liked to place Hixon a lot higher than his current spot, but I see too much competition in the Giants' deep-ball receiving ranks to go too crazy over him. Mario Manningham could easily steal some of his potential downfield targets as could rookie Ramses Barden. Fellow rookie Hakeem Nicks will also need work, but in the end, I have to believe Steve Smith is Manning's most trusted target. In PPR, that means a lot...
Now, the "Big Board for non-PPR owners, (with the only scoring change being the obvious drop of a point per reception).

Unlike the PPR rankings above, I believe it is more of personal preference at the top between Peterson and Jones-Drew in non-PPR. I prefer MJD because he is capable of a 100-yard game on the ground or through the air, not to mention multiple scores. However, Vikings HC Brad Childress has noted during training camp how much Peterson has improved in the passing game. In the end, though, I think Chester Taylor and Percy Harvin pick away at Peterson's touches just enough to leave him #2 overall.
In non-PPR leagues, consistency is even harder to find at RB than in PPR, due to loss of the potential fantasy points per game that come as a result of the backs catching passes. Thus, it is even more important to grab the RBs who are dual-threats AND their team's #1 option in the red zone. I believe my top five reflects that. Moving on, I placed Slaton just above Chris Johnson because of the injury risks that I believe both Chris Brown and Arian Foster are. If they both break down, Slaton's value skyrockets to #3 overall, ahead of LT.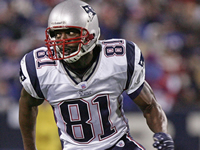 Randy Moss: 17+ TDs in '09?
I have Moss as my #1 overall WR this year and would be shocked if he can't deliver in that regard. Moss is the only WR in league history to have THREE seasons of 17 or more receiving TDs; I wouldn't doubt if he makes it four. I'm amazed that some sites have him as low as fourth as he is essentially the team's deep threat AND #1 red zone option.
The next subset brings me to the four high-end RBs that I'm a bit leery of for one reason or another (Brown, Turner, Jackson, Williams). Entering his second season after ACL surgery, Brown really only needs the coaching staff to realize that Ricky Williams doesn't need to be getting significant carries anymore to justify his spot on this list. This is about as high as you are going to see Brown on any draft list, but if the Dolphins commit to him as I think they will, I have no problem leaving him where I have him. Turner is a polarizing player for many owners, some of which have him as a clear #1 overall pick in non-PPR leagues. I just don't see it - he will perform like a #1 overall pick in some weeks, but since he is a one-trick pony (no receiving numbers to speak of), he is apt to give his owners 5-6 clunkers over the course of the year. To me, that is too many for a potential top-five pick. Jackson is a dual-threat and his team's best red zone option, but I have a bad feeling he will be more inconsistent than Turner because his supporting cast is the worst of any player in the top 10. I'm more than happy to take him in PPR because he will probably post 60-70 receptions (which will make him a much more consistent back in that format), but I'd just as soon pass on him in the first round of non-PPR leagues. Williams is an exceptional all-around talent with a good offensive line in a run-heavy offense. His biggest issues are the presence of Jonathan Stewart, a line that has no quality depth behind its starting five, a schedule that is brutal at the end of the season and a defense that isn't going to be as good as it was a season ago, which - with a healthy Stewart - will cut his rushing attempts. I'm a big fan of D-Will, but there are an awful lot of things that need to go right for him (again) to come anywhere close to his first-place finish in 2008.
While most people rank Fitzgerald and Andre Johnson 1-2 at WR, I think they are clearly 3-4 at best. Boldin was the man in Arizona for most of last season until succumbing to injury late in the season, allowing Fitzgerald to absolutely go crazy in the postseason. However, Fitzgerald is a downright consistent fantasy performer, making it hard to pass on him after Moss. The only think that concerns me about Johnson is the health of Schaub. If his QB finally gives us a 16-game season, AJ may give us a season for the fantasy record books. However, until Schaub gives us that full season, I'm not going to hand Johnson a #1 ranking because I am not someone who believes Dan Orlovsky is going to step in for five games and allow Johnson to consistently produce as if nothing happened to the starting QB. Conversely, Iím a bit more confident in Matt Leinartís ability to maintain Fitzgerald and Boldinís consistency if Warner was to go down for any length of time.
In fantasy, my definition for a WR2 or RB2 is someone who can produce like a WR1 or RB1, but is inconsistent enough to the point where an owner can't count on him in the same way he/she would a WR1 or RB1. That brings me to Chad Ochocinco, who for several years gave his owners average production at best for a few games at a time only to give us about 3-4 dynamite games to boost up his final numbers. As maddening as that can be for an owner, it isn't often to find a fantasy No.2 at any position that can single-handedly win games for his owners. In other words, DONíT take Ochocinco if you want WR1 numbers almost every week. DO take him if you can pair him up with a Fitzgerald-type and live with a few dreadful performances over the course of the season.
Unlike previous years where I could take him as a RB2 in the late fourth round, I'm not sure I want any part of Reggie Bush this season in non-PPR leagues. Offseason knee surgery and his inability to stay on the field all season have pretty much soured me on him as a non-PPR asset. Headed in the other direction in the fantasy stock market is Berrian, who is one of my latest big risers. His new QB has long been able to make a team's deep threat a viable fantasy property and Berrian should be no different.
I'm guessing the biggest question readers will have in the fifth round area (49-60) is: Why is Houshmandzadeh is so low and Harvin so high? I don't think there is much doubt T.J. will be the lead dog in the Seahawks' passing game, but I am not encouraged about the questions concerning his supporting cast. Will LT Walter Jones miss substantial time? Does a potential absence of Jones mean we'll see Hasselbeck get injured again? (Starting C Chris Spencer is already out indefinitely.) These questions - along with the new run-heavy offense of OC Greg Knapp should mean lower overall numbers for Housh. Harvin, on the other hand, is having plays installed into the offense just to get him touches...when is the last time anyone could say that about a rookie WR? I'm thinking he will still last until the seventh round in most 12-team leagues, but I would say he is a pretty good bet to live up to my high billing.
Donald Brown and LeSean McCoy are receiving plenty of hype already, so I'll focus on Shonn Greene, another rookie who I think will be a pleasant surprise for his owners. The Jets' plan for him is to use him in a role similar to that of a younger Marion Barber in which he gets to pound away at a tired defense in the fourth quarter. I suspect he will quickly become the goal-line back as well, so if you can live with next-to-no production from him in the passing game, the Jetsí rookie should be a solid flex/RB3 play.
Much like Harvin, Chris Henry doesn't appear to have a certain role cemented in the Bengals' offense outside of "big-play WR". I don't need to tell you though that very few nickel corners can cover "Slim", so while his snaps and catches may be limited, he could be one of the best WR3 selections an owner can make in a non-PPR league this season.
I would really like to give Felix Jones a higher ranking, but I have this unshakable feeling he won't make it through the season once again. If you don't have that same feeling, feel free to move him up into the 6-7 round area.
Some may find my grouping of Daniels, Miller and Davis odd in the 128-130 pick area. If Daniels could keep his current level of production up and combine that with his rookie year of scoring touchdowns (5), I'd be all for moving him up into John Carlson territory. On the other hand, Miller's production can only go up in my mind as the Raiders' passing game improves, slowly but surely. Every year, Vernon Davis is supposed to realize his vast talent but never seems to reach expectations. As he enters his fourth season, Davis is just now getting acclimated to the first offensive philosophy that suits his game since he's been a Niner. He's only one year removed from a 52-catch, four-TD season (14 games), so it isn't as if he hasn't produced already. With an OC that wants to get him the ball and an offense that needs him to produce, this has to be the year Davis steps forward or he probably never will.
Kickers
Hey, kickers are people too. Quite honestly, it seems everyone has their own take on where kickers should be selected. I personally think if a Rob Bironas is sitting out there to be had and you are comfortable with your bench players at the other positions, why not take a kicker who will probably be an every-week starter for you? To be quite honest, does your 15th round pick at WR, RB or TE stand a better chance at making it to Week 2 than your kicker? It's doubtful.
With that said, kickers really should only be considered in the final two rounds, depending on your leagueís drafting requirements. (For example, I have played in leagues where all owners are required to draft two defenses. If you have already selected the Steelersí defense, there is a good chance your #2 defense wonít be staying around very long.) As for what I look for, I usually target kickers with 50-yard power in their legs on teams with strong running games and good defenses that I feel wonít produce in the red zone for one reason or another. Obviously, some of my top picks below donít fit all the criteria, but Bironas is an obvious example from a season ago that shows there is some merit to that philosophy.

I'll be back next week with some updates to the Big Boards before we turn this space into more of a strategy/observation column to get you through the season. In the meantime, don't hesitate to e-mail me with any questions or suggestions if there is something that you feel would make the "Big Board" an even better drafting tool.
And with that, good luck in your drafts!