This is the second in a series of pre-season articles that will provide you with in-depth analysis of key injuries for the off-season and their resultant implications on fantasy football. This information comes straight from my perspective as a Physical Therapist and Athletic Trainer for ten years. Over this time, I have seen almost all the injuries that can happen in this violent sport on the college level and how to treat them. Hopefully, this gives you a little more insight on certain injuries and what to expect. This week I will recap the running back position.
Player: Marion Barber
Injury: Dislocated 5th Toe
Games Missed in 2008: 1
Healing Time: Approximately 4 weeks; healed now
Impact on the Field: This injury is not the real issue here. The real concern is Barber's inability to handle a full load. Because of his desire to initiate contact, he also leaves himself susceptible to ferocious hits and the increased likelihood of injuries. The dislocation of his toe is well-healed by now and has not prevented him from training for the upcoming season. But, because he is unlikely to stay healthy, look for Felix Jones to take away some carries. I think Dallas envisions a similar situation as when Julius Jones was there. They are looking for someone to take the early carries and then have Barber wear-down the opponent as the game goes on. Those of you who have Barber in a dynasty format will watch his value go down because of this scenario. He should still keep his goal-line duties but becomes another better than average option for the platoon systems that are becoming more prevalent around the league.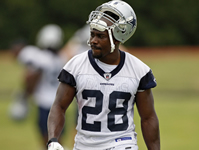 Felix Jones: Looking to shed the injury bug this season.
Player: Felix Jones
Injury: Big Toe Dislocation/Turf Toe
Games Missed in 2008: 11
Healing Time: 12-16 weeks
Impact on the Field: Must be something in the water with toe injuries in Texas. When one injures the big toe, it can be a devastating injury. The big toe is responsible for the push-off phase of running and controls the initial descent of the foot and body once it hits the ground. It is also of the utmost importance in planting, cutting and any weight shifts that must occur with changing direction. Felix Jones had surgery to re-stabilize the ruptured ligamentous structure of the big toe. He is back on the practice field and has regained his explosiveness. I would expect that this injury is fully healed now that this injury is approximately 6 months old. As I stated above, I expect the Dallas backfield situation to change. Felix Jones is someone that I think will be a bit of a sleeper because he has tremendous talent in a good offensive system. He will be a nice option later in your draft. The problem with him is that his ceiling is limited because of the presence of Barber and the expected split in carries. There is nothing worse than having a timeshare system and owning the running back that does not get goal-line carries. However, he is a good receiving back and is a threat for long touchdowns because of his speed.

Player: Brian Westbrook
Injury: Arthroscopic surgery to his knee; ?high ankle sprain; removal of bone spurs
Healing Time: 6-8 weeks
Games Missed in 2008: 2
Impact on the Field: He is always banged up, but for the most part, plays the majority of the season. He has had problems with his knees for years now. He has had multiple "clean up" surgical procedures on his knees secondary to all the wear and tear he has endured. He is someone who is going to need a knee replacement in 20 years due to all the injuries to his knees. I would bet my life savings that he misses a few games next year because of swelling in his knees. That is what caused him to miss time the last few years and I am sure he will miss more because of it. Because the cartilage in his knees is compromised, there is bone exposure to each surface resulting in a chronic inflammation. He also has a high ankle sprain that is limiting his mobility and causing pain. The high ankle sprain can heal in 3 months so he has plenty of time to get this injury taken care of and it is not one that will linger. Once it is healed, it is healed. Lastly, he recently underwent removal of bone spurs in his ankle. This is also of the clean-up variety similar to the knee procedure. Removal of bone spurs is a benign procedure. No big deal. But, these injuries are starting to add up. His age is a concern and he is now 30 years old, but I would take the gamble on him that he is again very productive. The Eagles have an excellent offensive line and have threats on the outside and at TE in Brent Celek to keep the defenses honest against the pass. Westbrook is far too talented to not be a big part of the offense. Just know he will miss some games.
Player: Steven Jackson
Injury: Torn Groin
Healing Time: Healed
Games Missed in 2008: 4
Impact on the Field: Jackson should be fully healed by this time of the year. Torn groin muscles can take 8-12 weeks to fully heal because they are critical to allow for cutting and maximal speed required by the running back position. Jackson has been one who is constantly "dinged up". I was once told long ago from one of my mentors that athletes who did not train hard enough exposed themselves to minor strains and sprains. It has been speculated that he is one of those athletes and resultantly always misses a few games due to injury. The other factor to consider here is his running style. He is a big, tall guy and his upright style allows him to take on more contact and thus exposing himself to more hits from opposing defenders. The Rams are in full rebuild mode but are looking to be competitive enough to attract a potential buyer to be the new owner of the franchise. Jackson will be the centerpiece of the offense and will be given every opportunity to excel. Jackson is a player that I believe will be very motivated to play this year and I think you will see him fully healed and rather well prepared for the upcoming season due to some of the front office changes. Look for him to be one of the top 5 backs this year.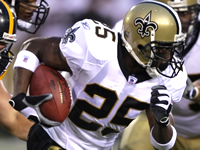 Reggie Bush's knee surface resembles a waffle iron.
Player: Reggie Bush
Injury: Microfracture surgery of the knee
Healing Time: 6-8 months
Games Missed in 2008: 6
Impact on the Field: Bush's whole career so far has been plagued by injury and lack of production that was expected from his illustrious college days. Some could say that the expectation level was too high and unrealistic. But, with the type of talent that was displayed at USC, one would expect more. His knee surface probably looks like a waffle iron instead of a smooth, round surface like it should. He unfortunately has had multiple surgeries which have exposed the two bony surfaces because his cartilage has been shredded. Over time, the two bones rub against each other causing a divot in one of the bones. Thus, microfracture surgery is performed which means that a surgeon digs deeper in the bone to make it bleed and hopefully cause regeneration of the joint surface and cartilage. Bush can still be productive but the days of him being a superstar are probably gone. He will be sharing carries and can still be a threat, but I am not sure he will get enough carries as a running back to warrant the value if drafted in the early rounds.
Player: Rashard Mendenhall
Injury: Broken Scapula
Games Missed in 2008:
Healing Time: 8-12 weeks; healed now
Impact on the Field: Do not sleep on this guy. He was one vicious hit from Ray Lewis to making a major contribution to the Steelers' offense. Willie Parker is in his last year of his contract and can never stay healthy. Therefore, the potential is there for Mendenhaal to make a big splash. The injury that he suffered is kind of freaky. Basically, the right hit at the right time occurred to get that bone to break. He has been present at the Steelers' training facility since the off-season began and has been able to train fully. I am expecting that he takes the majority of the goal-line carries and by mid-season becomes the lead back.
Player: Darren McFadden
Injury: Turf Toe
Games Missed in 2008: 3
Healing Time: 8 weeks
Impact on the Field: As I stated in my explanation with Felix Jone's injury, this can be a miserable injury to endure. The problem that occurred with Mcfadden is that he tried his best to play through the injury and it just can't be done successfully. One is an awkward twist away from causing more damage and pain to the joint which means that playing football is very difficult. He also has had ample time to heal and looks fluid and smooth in OTA's. The beat reporters for the Raiders think he is going to take the job away from Justin Fargas and I also would anticipate that. You should really see his explosion on display this season.
Player: Willis McGahee
Injury: Knee surgery for cartilage clean-up; ankle pain
Games Missed in 2008: 2
Healing Time: 1 month
Impact on the Field: One unlucky hit in the fourth quarter of the NCAA championship game did this career an injustice. He was set for superstardom. He was 225 pounds and ran a 4.4 forty. He had it all as a running back. The tear of his ACL and resultant numerous surgeries after that initial injury, has left his knee a mess. That unfortunate twist of the knee caused him numerous complications and shortened his career. That knee has never been right. He came back and has been productive, but that extra gear was never recaptured. Now, he is in jeopardy of losing his job to Ray Rice. Rice has put on weight and is much faster than Mcgahee and can do it all as an every down player. I am sure Mcgahee will still get his carries, but he can't stay healthy and he is not as talented as Rice. Mcgahee should be viewed as no better than a fourth fantasy rb. The upside is just not there.
Player: Laurence Maroney
Injury: Broken shoulder
Games Missed in 2008: 13
Healing Time: 12-16 weeks
Impact on the Field: Tough to say exactly what happened here. As stated in previous articles, you have no idea what injury really occurs up there in New England. A broken shoulder is a broad term and can have various prognostications. The fact that he missed the entire season after week 3 indicates that it was probably severe. His age is on his side and I am sure he is fully healed by now. The question remains though, what is his role? He was drafted because he was a perfect fit for their scheme. He is fast enough to take it the distance on any carry and physical enough to bang inside. Injuries have been the only concern. It seems that New England, like everyone else, will be heavily reliant on a platoon system. Maroney can't be counted on as a lead fantasy back. Buyer beware.
Player: Matt Forte
Injury: Hamstring pull
Games Missed in 2008: 0
Healing Time: 2-4 weeks
Impact on the Field: Absolutely zero. This injury happened at the right time. He will get all the treatment he needs and will be 100% by the time training camp opens. He is a hard worker and will be tough to keep off the field or weight-room for that matter over the next few weeks. But, he will be fine and will warrant enough touches to continue as a #1 back in the Bear offense.
Player: Joseph Addai
Injury: Arthroscopic knee surgery
Games Missed in 2008: 0
Healing Time: 2-4 weeks
Impact on the Field: This injury came out of nowhere. Addai must have been having knee pain resulting from a torn meniscus and needed surgery to remove the tear. He will be fine by the start of training camp and this injury should have no impact on his availability for the start of the season. He also may find himself in some sort of time share when he does return. The Colts drafted Donald Brown with their first pick and people have speculated that he is the heir apparent to the running back throne of the Colt offense. Brown is a hard worker and does possess some skills, but I think this train needs to slow down. Addai has been very productive when healthy. I believe he is the more valuable back now and will prove to be as the season goes on. Addai has been a goal line threat and will continue to get the majority of the carries because he is bigger than Brown. I am going the other way on this one and I like Addai to have a bounce back year.