This pre-season series will provide you with in-depth analysis of key injuries and their resultant implications on fantasy football. This information comes straight from my perspective as a Physical Therapist and collegiate Athletic Trainer of ten years. Over that time, I have seen and treated almost every injury that can occur in this violent sport. Hopefully this piece gives you a little more insight into the anatomy of an injury.
---
Now it's time to review the running back position. As always happens in the preseason, so many changes, injuries, and additions to a team's backfield create a muddled situation. In this article, I'll analyze the injury aspects of these running back scenarios.
Player: Steven Jackson
Injury: Disc surgery/discectomy
Healing Time: 12-16 weeks

Impact on the Field: Steven Jackson has supposedly had back pain for a few years now. He exacerbated the injury last year and it caused him to miss a few games with some lingering pain. He decided to address the problem in the off-season and underwent a discectomy. With this injury, a piece of disc ends up "bulging" on a nerve root, which causes pain and potential issues in the leg, including numbness or tingling. Back surgeries are never simple and almost always come with some level of deterioration, particularly in NFL players that engage in constant contact. This injury should heal enough in three to four months to allow Jackson to resume his workouts in preparation for the upcoming season. It will also allow Jackson to play with considerably less pain. I have never been a big Jackson fan because he is constantly "dinged up" due to his running style. He is a big guy who plays to contact, which can lead to an increased frequency of injury. He always is overvalued and I believe he will be again this year. The Rams are still the Rams even with a new young quarterback. They lack skill position players and an offensive line, which should limit Jackson's scoring chances.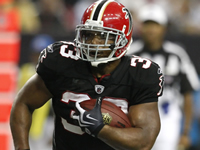 Many fantasy owners are expecting a bounce-back season from "The Burner."

Player:

Michael Turner


Injury:

High ankle sprain


Healing Time:

6-8 weeks



Impact on the Field:

The dreaded high ankle sprain took a good chunk of Turner's 2009 season. Throw in the mismanagement of the injury by the Falcon training staff and you end up with a lost year. A high ankle sprain occurs where the lower leg meets the foot. The two shinbones are splayed apart ripping the ligament that attaches them. Because the foot's force against the ground is transmitted through that joint, this injury takes a while to heal. Turner has reportedly been working out and is supposedly in much better shape than he was at the beginning of last year. I absolutely love Turner this year and expect a big bounce-back season. The Falcons offense is very good, and Turner gets the majority of carries in addition to all the goal-line chances. Turner will be a top 3 running back this year.


Player: DeAngelo Williams
Injury: Ankle sprain
Healing Time: 2-4 weeks

Impact on the Field: This is a minor ankle injury. It can be painful enough to cause a player to miss some time though, which is what happened with Williams. He is completely healthy now and will again share the load with Jonathan Stewart (see below). His injury is not the problem; Stewart's talent is the concern. If one of these two guys ever got hurt for an extended time, the other one would be a top 5 back. As is, they split the carries and both put up stats good enough for a RB2/RB3.

Player: Jonathan Stewart
Injury: Achilles surgery
Healing Time: 6-8 weeks

Impact on the Field: Stewart had surgery to clean up scar tissue around his Achilles tendon. When one has Achilles tendonitis, a great deal of scar tissue and inflammation can build up. Surgery removes the irritation and allows the tendon to heal. Stewart has had numerous injuries to his feet and is a bit more injury-prone than Williams, though equally as talented. As I stated above, if one were to ever get hurt, the other would become a star.

Player: Kevin Smith
Injury: ACL reconstruction
Healing Time: 6 months

Impact on the Field: Smith tore his ACL and had surgery to repair the torn ligament. ACL surgeries these days are very routine, as is the rehab. But Smith will likely start the 2010 season on the PUP list. He was not the fastest guy to begin with, and I doubt this will affect his speed. His biggest problem is the drafting of Jahvid Best. He is fast and was drafted to add a speed component to the Lions running game. With Smith likely to start the season on the injury list, Best will have every opportunity to steal the show. I really like the Lions offense and believe that they all will be very undervalued this year.

Player: Matt Forte
Injury: Arthroscopic knee surgery
Healing Time: 2-6 weeks

Impact on the Field: Forte had his knee scoped in the off-season to remove loose cartilage and probably to clean up a torn meniscus, which is the shock absorber in the knee. All reports confirm that this was a pretty simple procedure. The surgery has had little impact on his ability to prepare for the upcoming season, and I bet he'll be healthier than he was at the start of last season. The bigger problem for Forte is that the Bears added Chester Taylor to share carries and Mike Martz to run the offense. Martz is not a big fan of running the ball and, with Jay Cutler as a quarterback, I can't see him reversing that trend.

Player: Ronnie Brown
Injury: Lisfranc injury
Healing Time: 6 months

Impact on the Field: Ronnie Brown injured his midfoot in Week 8 last season. He had surgery shortly thereafter, which turned out to be a very good decision. This injury takes a long time to heal. Brown is going to be 29 this season and has already endured a number of major surgical procedures. Brown has stated that he is 80% healed, but, as I've stated before, a big issue with lower leg injuries is that a player can't train for the upcoming season because he is busy rehabbing the injury.