This pre-season series will provide you with in-depth analysis of key injuries and their resultant implications on fantasy football. This information comes straight from my perspective as a Physical Therapist and collegiate Athletic Trainer of ten years. Over that time, I have seen and treated almost every injury that can occur in this violent sport. Hopefully this piece gives you a little more insight into the anatomy of an injury.
---
Player: Brandon Marshall
Injury: Labral tear in hip
Healing Time: 12 weeks
Impact on the field: Marshall had a busy off-season. He was traded to Miami and subsequently underwent the same surgery he had last year on his other hip. Because there was some wear and tear in his hips, some of the cartilage become frayed and needed surgery. This surgery is very similar to what is done to a damaged knee, but it's a little more complicated because of the shape of the hip joint. That is why the duration of missed time is longer. Fortunately for Marshall owners and fans, this will have minimal impact on his numbers this upcoming season. All of the young athletes who have undergone this procedure have not had any problem getting back to their prior level of play. The Dolphins are looking to throw more with Chad Henne under center, and Marshall should really benefit from the move to a more aggressive offense.
Player: T.J. Houshmandzadeh / Devery Henderson
Injury: Hernia surgery
Healing Time: 12 weeks
Impact on the field: This is a new injury for "Anatomy of an Injury," a little different than the typical sports hernia. With a true hernia, tissue that supports the small intestine can become loose or tear, which causes the intestines to drop down in the abdominal cavity and cause pain and pressure on nerve bundles from the point of injury down to the groin. It can mimic a groin strain and become quite painful. Surgery to repair the laxity relieves that pain. Housh can no longer create separation on his own and has a brand new offense to learn and a declining quarterback throwing him the ball. All that, and I still like him as a sleeper. If Hasselbeck can stay healthy and Golden Tate brings some speed to the Seahawks offense, then Housh may be able to exploit the underneath coverage. As far as Henderson goes, he is no more than a fourth wide receiver and is too inconsistent to start on a week-to-week basis.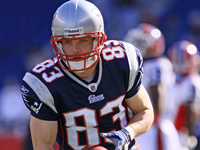 Welker's ACL injury leaves his status for Week 1 in doubt .

Player:

Wes Welker


Injury:

ACL repair, RC tear


Healing Time:

6 months–???


Impact on the field:

Welker got a double whammy when he tore his ACL, which required reconstruction, and also damaged his rotator cuff. I'm assuming that the shoulder surgery was not to fix the rotator cuff, but rather to debride it. This means that they shaved it down, which is a much quicker fix than a full repair. The shoulder injury should be just about healed and will not limit him from playing in September. However, the ACL reconstruction could and probably will limit him. It will mean six months of recovery time once August begins. Most of the time, it takes skill position players longer to return to full function. It's not out of the realm of possibility that Welker will be back for Week 1. But there is no way he will have his normal quickness that soon. He might still be productive, but the smart thing to do is stay away from him in fantasy redraft leagues because he will probably start the season on the PUP list.

Player: Demaryius Thomas
Injury: Foot fracture
Healing Time: Healed
Impact on the field: Thomas was drafted to replace Brandon Marshall. "Foot fracture" is very vague and I am not sure exactly what bone was broken. A fracture in the foot can be very tedious and time-consuming in regard to healing time. As of the release of this article, Thomas has resumed running and sprinting at OTAs. The fact that he has started practicing so soon before the start of the season indicates that he is fully healed. Otherwise, the team would not have rushed him back to activity. Thomas will be placed in a great position and could very well start right away. If that happens, he could put up WR3 stats immediately. Someone has to catch the ball in Denver, and the head coach likes to feed his best players the ball. I think Thomas will have a very nice rookie season as long as Quinn or Orton—and not Tebow—is under center.

Player: Hakeem Nicks
Injury: Toe surgery
Healing Time: Healed
Impact on the field: Typically, toe surgeries can be a big deal and much hindrance to a player's performance. Fortunately for Nicks owners, this injury is healed and will not affect his ability to perform in OTAs. I really like Nicks this year. He is the most talented receiver on the Giants, and Eli has a tendency to lock on to one wide receiver. Last year it was Steve Smith. This year the more talented Nicks will receive all the attention.

Player: Donald Driver
Injury: Bilateral knee scope
Healing Time: 3–6 weeks
Impact on the field: Everyone is already talking about the demise of Donald Driver. He is old. He is slow. He was terrible down the stretch. Greg Jennings is so much better. All of this is not necessarily wrong. But let's slow it down a little. Just because someone has a minor knee scope does not mean their career is over. Driver's very solid career is coming to an end, but he will still steal enough catches from Jennings to be a nuisance to his fantasy production. Jermichael Finley is the next big star for the Packers, and if Driver were to ever miss any time, James Jones would be the next wideout to step up.