9/11/07
As we all know Hindsight is 20/20. This weekly column is devoted to learning from common mistakes and serves as FFToday's "Fantasy Football Confessional."
---
Welcome to the Aftermath of Week One—a time for people to overreact with jubilance or despair. Personally, my level of optimism regarding my teams comes around week 4 or 5 because week one is always filled with surprises. Whether these shockers stem from the honest-to-goodness unexpected or things we saw coming, but should have been ignored is the real question.
I'll tell you one thing, the Indianapolis Cover 2 was generous to only one player in my fantasy leagues—TE Eric Johnson—and that was obviously by design. Here's the aftermath of my first week in the FFTOC. If you aren't familiar with the league concept and rules, look here.


FFTOC Update
Pos
Player
Pts
Comments
QB
D. Brees
8.04
A dreadful performance. I probably picked what will be his worst game.
RB
R. Bush
4.5
Ditto…
RB
W. McGahee
11.1
Nothing like Musa Smith's 3rd career TD in 5 years to happen tonight.
WR
M. Harrison
14.3
Not bad, but an extra few yards and it could have been two scores.
WR
T. Owens
20.2
At least one of my studs had a game worthy of the moniker.
WR
S. Holmes
12.6
A respectable effort, but I'm sure he'll have better games this year.
TE
R. McMichael
2.4
A disappointing performance for McMichael and the Rams.
K
J. Nedney
8.0
Solid effort.
DEF
Steelers
19.0
This was a gimmee…
Total
100.5
Think I'm wondering why I didn't pick Manning and Addai? You're right.

Last year I made the finals and my strategy was to simply use the "brand name" players early, and then filter in the breakout players and unearthed gems as the season continues. As usual for the past four seasons, I have little trouble spotting a good match up for a defense. My biggest issue is avoiding the poor performance—I tend to hit on 1-2 players who underachieve. This week it was Brees and Bush—which will be especially costly for me because they will surely have much bigger games in future weeks, which means I may have cost myself two good weeks at these positions. On the bright side, it's only the opener…

Let's move on to the week one files of 20/20 Hindsight.

Adrian Peterson Looked Like A Stud—I've been skeptical of Peterson throughout the preseason. If you didn't know my take has been that Peterson has unbelievable natural talent, but he doesn't run with patience. I said he'd have some big games and excite owners, but he'll also be a heartbreaker several times this year.

This week, Peterson owners are riding high as the former Sooner showed off his explosiveness, balance, and power with 103 yards on 19 carries and a Run Forrest, Run, 60-yard scoring reception. While 11 of his runs were either behind the guard or up the middle, 5 of these gains were for less than 4 yards. His biggest gains were on the edge of the defense where he didn't have to display as much patience in the hole. Even NBC Sports and former Steeler, Jerome Bettis, commented on Peterson's lack of patience. Despite the take that Bettis and I share, I have to say it was exciting to watch AD in his debut.

Lesson Learned: Nothing really to learn just yet if you know Peterson or the Vikings, but in case you don't: 1) The Vikings have an excellent offensive line. 2) The Falcons are an undersized front seven. 3) Peterson has great raw talent. 4) I'm still waiting to see Peterson take what the defense gives him between the tackles on a consistent basis.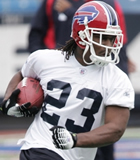 Marshawn Lynch Looked Like A Stud—Here's the rookie back who I thought was the best all-around rookie at the position at this stage. Although Lynch averaged less than 3 yards per carry in the preseason, he had 19 carries for 90 yards, 2 receptions for 9 yards, and a very strong scoring run of 23 yards that included him powering through the 3rd level of the defense to get his six.
The Broncos were a pretty good defensive unit, better than the Falcons, and they limited JP Losman to a mere 97 yards through the air. This does mean they took away the passing attack and made the Bills try to beat them on the ground. Plus Lynch only had 4 attempts between the tackles and was less successful than the Vikings rookie. Nevertheless, the Bronco front 7 is a better unit than Atlanta…
Lesson Learned: Don't give too much credence to preseason performances! I can certainly do so. In this case, I think the fact Lynch performed well against Denver is a good sign for things to come. It was a rough start for the Bills offense, but there is reason for optimism in future weeks.


Chris Brown Would Blow Up The Jaguars Defense—Brown, the 2nd banana to Lendale White, had 19 carries for 175 yards against a stout, Jags front seven in a 13-10 victory. If you follow the Titans, you know that Brown is kind of like former Viking RB Robert Smith, a long strider with good acceleration who is capable of ripping off big gains when there is a hole to hit.
The problem with Brown thus far in his career has been the ability to put together two halves of great production within the same game. A few years ago Brown had more than a few 100-yard first halves, but didn't return to the game due to injury. He's also a bit suspect as a short yardage runner. Today, Brown had no problem finishing what he started and had the kind of effort the Titans hoped from him years ago.
Lesson Learned: The reason lesson here is not to sleep on the Titans offensive line. We often forget that they paved for the way for Travis Henry to have a quality 2006. Even Lendale White had nearly 4 yards per carry and several of his runs were short yardage or goal line runs where a gain of 3 yards or less is still considered a productive carry. Center Kevin Mawae isn't over the hill yet, and Benji Olsen is a quality lineman, too. The Titans generally have very strong play at the line of scrimmage on both sides of the ball and it appears they are making a return to prominence.

The Titans Would Shut Down The Jaguars Ground Game—Didn't the Gut Check mention last week the Titans would have a better defense than many would expect? If not, the fact he put two defenders on his All-Gut Check team was a definite statement. Tennessee limited Fred Taylor, Maurice Jones Drew, and the mobile David Garrard to 72 yards on the ground. The only touchdown was a 55-yard pass where the speedy rookie John Broussard snuck past the secondary.
Lesson Learned: I'm not sure whether the Titans were that good or the Jags were this rusty. Remember, Garrard has mostly played in the 2nd quarter against second tier defenses when he "beat out" Byron Leftwich in training camp. I realize Leftwich looked bad, but 17/30 for 204 yards and a score against one of the worst pass defenses in 2006 isn't that impressive. This should lead one to wonder just how bad the Titans will be. When all-world LB Keith Bulluck only has 3 tackles with all I mentioned here, you know the Titans defense stepped up as a unit. If there's anything to take from this game that you can use immediately, it is the fact you shouldn't draft more than 1 team defense when you can find surprises on the waiver wire—Tennessee might just be one of those sleeper units.


Randy Moss And The Patriots Were Sandbagging Us—Although I mentioned this as a possibility last week, guess what I did in a dynasty league where I had to choose between Moss and Stallworth? You guessed it. I chose the 19 yards on one catch over the 187 and a score on 9 receptions.
Lesson Learned: Randy Moss is a great receiver who played in sub par situations for the past three seasons. He isn't a great all around route runner, but the things that are his strengths make him as dangerous as any receiver in football. Since he runs a limited number of routes and is a veteran of the league, practice really isn't as important. And the hamstring issues? Well, Bill Belicheck is about as forthcoming as the CIA when it comes to the status of his players and anything else for that matter (And to think I wrote this before the NFL confirmed they had to take action against the Pats for spying on the Jets).
Funny how much he fumed over Matt Schaub starting for the Falcons last year when he expected Vick. I guess after watching Moss rip a hole bigger than the one's in Coach Belicheck's sleeveless sweatshirts, it only had to do with the fact the Pats CIA director didn't think of it first.
Clinton Portis Would Be Ready For The Season—Miami's defense is no pushover and Portis logged 17 carries for 98 yards and a touch to Ladell Betts' 59 yards on the same number attempts. Case closed? Probably not for Betts supporters and Portis detractors, but I'm convinced.
Lesson Learned: Portis said all along that he could have played with the tendonitis if it were the regular season, but why would he? The same reasons the Chargers won't play LT or the Niners rested Gore after he hurt his hand—they want to give Portis a chance to heal fully so he could be the back we all know he's capable of being for the Redskins. Can you say draft day steal? You might not be now, but it looks like a possibility 6-7 weeks from now.
Lee Evans Would Gain 5 Yards Receiving—Evans was limited to 2 receptions for a nickel's worth of yardage versus the Broncos in their last-second loss. One of the more dangerous young receivers in football had no room to operate.
Lesson Learned: Here's a lesson we've known in Athens Georgia for many years…Two-thirds of the earth is covered by water and one-third by Champ Bailey! Don't overreact, Evans will get his—the season is young. But this is why Evans is better as a #2 WR if you were able to land him there. Meanwhile pick up a guy like Derrick Mason who is possibly lounging on your waiver wire—Mason will provide consistent numbers as a #3 WR if you need to shore up your depth.

Nagging Feelings—Week 2
I think the Saints are going to rebound in a big way versus a banged up Tampa squad. I think Drew Brees and Reggie Bush produce with a vengeance. More importantly, I think the New Orleans offensive line will be awake.
There were two match ups last weekend that seemed like ugly games between two mediocre teams, but I think the numbers were deceiving for both. The first was the Eagles-Packers tilt—a contest featuring two strong defenses. Look for Favre and McNabb to produce more in coming weeks. Favre needs Vernand Morency to return to the lineup and produce despite the fact he had a great effort to keep his team in this game. McNabb just needs to stay healthy.
The other game was the Raiders-Lions contest. The Raiders offense looked much better this year. I know the Lions defense is nothing special, but the Raiders were more consistent in their execution than the last two seasons. The play calling was definitely better than the Bed and Breakfast Offense of OC Tom Walsh (good term Nestrick, had to lift it from you) and LaMont Jordan and Ronald Curry looked like they are ready for big seasons. Both are players who can gain yardage after the catch and Coach Lane Kiffin's offense is getting these two players into space. Denver will be a bigger test defensively, in week three they'll match up with Cleveland. The Lions face Minnesota and I would say their defense is not quite as talented as the Raiders.
I know Derrick Ward is the waiver wire flavor of the week, but if you can't get him and Droughns is gone you might want to keep an eye on Ahmad Bradshaw. The rookie out of Marshall had 193 yards on kick returns Sunday night and I believe he'll get chances to spell Ward here an there. Don't add him unless you are really in a deep dynasty league with a luxury pick, but watch the box scores or Giants games to see how much work he gets.
Look for LB Karlos Dansby to finally break out this year. Ken Whisenhunt and company is the staff that finally knows how to use this speedy hitter on blitz situations. Last night, a Dansby created havoc with a sack and forced fumble in the first half.
Antwaan Randle El. Fluke or find? He sure looked like a find in the preseason through the opener. With teams concentrating on Santana Moss and Chris Cooley the former Steeler could be poised for a nice season—700-900 yards and a half dozen scores. Not as promising as his week one suggests, but surely good enough to add him to your roster if in need of additional WR depth. Remember, Campbell is still developing and the Redskins are still a run-first offense.