9/25/07
As we all know Hindsight is 20/20. This weekly column is devoted to learning from common mistakes and serves as FFToday's "Fantasy Football Confessional."
---
FFTOC Update
Pos
Player
Pts
Comments
QB
M. Hasselbeck
27.82
I originally had Peyton Manning, but decided you keep testing the bad pass defense until they show otherwise. Thanks Cincinnati!
RB
L. Jordan
21.3
Thanks Cleveland rush defense!
RB
S. Alexander
10.8
100 yards…little else. Feels like a wasted week to use him.
WR
R. Wayne
8.4
Labeling this a disappointing game says it all about Wayne…
WR
D. Branch
13.7
Respectable
WR
W. Welker
6.9
A td would have made this respectable, no dice.
TE
O. Daniels
5.6
Ditto.
K
J. Reed
12.0
Why I have good karma with kickers is beyond me…I barely respect them.
DEF
Vikings
4.0
Go figure, KC's offense was good enough this week, thanks D. Bowe.
Total
110.52
Enough to keep me in a solid standing at this stage of the season.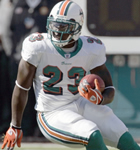 When The Chiefs Traded Trent Green They Threw In Larry Johnson's Stats: Did you see Ronnie Brown Sunday? If it weren't for the fact Cam Cameron started the season with a rotation that included Jesse Chatman you might have thought the former San Diego offensive coordinator brought LT's stats with him, too. Brown had over 100 rushing and 99 receiving in a loss to the Jets, displaying good acceleration and a decisive running style all day.
The problem with Brown in the past has been the fact this decisiveness has been conspicuously absent at times throughout his career. You can say Brown's past problems came from running behind an immature offensive line or the a journeyman quarterback that opposing defenses would rather force to beat them. But sometimes we focus too much on the individual components of an offense and not how it all works together. Trent Green's consistent play has helped the offense click and forced defenses to play a more balanced scheme against the Dolphins.
In the past two years, Kansas City experienced difficult turnover to its offensive line with the loss of Willie Roaf and Will Shields but Green's presence (at least in 2005) helped keep the running game on track. In 2006, Damon Huard performed beyond expectation with Green out and the Chiefs were still able to maintain enough balance on offense to help Larry Johnson. With Green in Miami, that balance has also appeared to left the Chiefs for the sunny environs of South Beach.
Lesson Learned: The presence of a veteran quarterback not only shores up the passing game, but it also makes running the ball easier. Just look at the Tampa Bay Buccaneers with the addition of Jeff Garcia. When a quarterback consistently makes good decisions that keep the offense in second or third and short situations, the offense has more success running the football.
Brandon Marshall Would Imitate T.O. Against A Solid Jacksonville Defense: Is this a coming out party for the second-year receiver who posted 133 yards on 7 catches, including a 49-yard reception? While the presence of Javon Walker mitigates some of the excitement, Marshall has looked good in the first three games of the '07 season. Keep in mind he did it against one of the better defenses in the NFL.
What makes Marshall an exciting, young prospect is his concentration, toughness after the catch, and his size. He's not the speediest receiver, but he can make big plays because he gains separation with his physical style of play. The former defensive back out of Central Florida certainly looks like another big-bodied, small school prospect we saw years ago with the 49ers. Look at the film clip in the margin on the right and tell me this doesn't look like what we see from T.O.
Lesson Learned: If you are trying to upgrade your receiving corps, but don't have enough to get a big-name player, take your chances on Marshall. He already has three more receptions than he did all last year. Here's what I wrote about Marshall two years ago (insert link) in my publication the 2006 Rookie Scouting Portfolio

Kurt Warner Would Jump-Start The Cardinals Passing Game: Okay, you're Ken Whisenhunt and you have a pro bowl caliber runner, two pro bowl caliber receivers, an improving offensive line, and a defense capable of sustained excellence. But what you don't have is a quarterback who stays calm in the pocket despite the fact you are still in the game versus an elite football team, a team you happen to know so well that you have a great shot at beating them with proper execution of the game plan. Isn't it obvious what you do with Matt Leinart after Steelers are forcing the QB to regress?
Kurt Warner may not be what he was, but just two years ago he was one of the most productive yardage QBs in fantasy football. He had more 300-yard games than any fantasy starter in 2006 despite missing games during the year. Last year, Denny Green felt the pressure to start his prized rookie signal caller. Honestly, I don't think he did Matt Leinart many favors, but the Heisman Trophy winner looked promising enough to make fans forget that Warner got shafted a bit.
This year, the Cardinals have a coach who recognizes he has a player in Warner who can keep the chains moving and who stands tough in the pocket. I know that sounds funny to say, because Warner has a history of dropping his eyes a bit and looking at the offensive line, but the analysis is overblown. The real deal has been that Warner was the lame duck in front of 1st round picks both in Arizona and New York.
Lesson Learned: ESPN's Chris Mortenson reported on Monday Night Countdown that Warner is going to be rotated into the starting offense, but I think that means the veteran has a chance to take the job and run with it if the Cardinals go on a winning streak under Warner's production. The lesson to learn here isn't about Warner or Leinart, but that there will always be a capable fantasy starter who will become a waiver wire commodity during the season due to injury or poor play. Last year it was Jeff Garcia. This year it could be Warner. If so, Fitzgerald and Boldin will make the most of their opportunities because the ball will actually be in their general vicinity.
Earnest Graham Could Have 2 Scores And 9 Yards Per Carry With Cadillac Still Available: Are you kidding me, Earnest Graham? The commentators easily mistook him for Cadillac Williams with the way he was breaking through the line and finishing runs, but it was indeed the former Fun N' Gun RB at Florida who seemed at best a career back up. Jon Gruden has said after the game he'll continue to incorporate Graham into the rotation of backs in the coming weeks. Does this spell the beginning of an RBBC in Tampa?
In Oakland Gruden had Charlie Garner, Tyrone Wheatley, and Zack Crockett. As the offensive coordinator in Philly, he gave Ricky Watters fits because he tried to incorporate a younger Garner into the mix while Watters was still at the top of his game. Still I'm more inclined to view what Gruden said as a move to give Cadillac a bit more of a break to keep him fresh. Graham doesn't have Williams' speed and vision, but his ability to finish runs will help him get positive yardage.
Lesson Learned: What I saw from Graham's big runs were defenders who gave up too early or missed tackles. Think of Graham as an east coast version of Marcel Shipp—a player who could produce if Williams winds up in the training room, but won't beat out Cadillac otherwise. That means I'd consider adding Graham to your team if desperate for a bye week starter who will get some looks in the coming weeks. Otherwise, don't get too excited.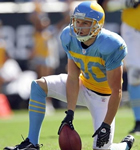 That Arena League Team In Philly Not Owned By Jaws And Bon Jovi Would Light Up The Lions: No folks, that wasn't the Philadelphia Soul it was the 1930s version of the Eagles uniforms bombing the Lions back to The Great Depression. Like I said last week, Philly's receivers were not catching the ball but they would be fine once that was corrected.
On another note, Keith Olbermann's The Worst Man In The NFL segment is the worst football-related segment on network television. Doesn't Olbermann have something better to discuss than the Eagles' uniforms? I want hard-hitting news, not fashion advice from a guy who is probably dressed by a staff of production assistants. And that red telephone prop was straight out of the 50s.
Lesson One: When a quarterback hits his receivers more times than not and they drop the ball don't blame it on his knee.
Lesson Two: Donovan McNabb thrives with his back against the wall. We first saw this when the fans booed him on draft day because the Eagles didn't pick Ricky Williams, but he proceeded to shut them up for a few seasons. Then he played out of his mind on a broken foot. Rush Limbaugh mouths off about McNabb and next thing you know, Limbaugh's career is almost gets flushed down the toilet along with his illegal prescription medication while McNabb thrives. Then there's last week's HBO interview. The way I look at it, don't back McNabb into a corner.
Stephen Jackson Would Miss Time This Year: 370-f/carries. Preseason darling. Orlando Pace out for the year. Linehan gets desperate and pounds Jackson into the Bucs for a beating. Torn Groin. Brian Leonard? What did I tell you all off-season?
Lesson Learned: Take the 370-f/carries seriously and read what I wrote about Brian Leonard, you might want to pick him off the waiver wire if you didn't draft him as I advised all preseason. I don't see him ripping up the Cowboys, but Derrick Ward wasn't bad against them so stranger things could happen.
Dwayne Bowe Would Make Me Eat My Words Last Week: Since I just wrote a big "I told you so," to all the irate Stephen Jackson owners who called me ignorant (I only had one—and honestly, like I really could predict he'd get hurt) for saying he'd get hurt, here's me eating my words last week about Dwayne Bowe, the rookie receiver who took over a 4th QTR drive to win the game for the Chiefs. I loved Bowe coming out of school—he's a terror in the open field—but I thought his late start in camp would put him behind for the rest of the year. With Kennison out, I think Bowe has a real shot to stick in the lineup even when Eddie returns in a few weeks.
Lesson Learned: You never really know how a rookie will respond in his first year. It's a big roll of the dice. Funny enough after I said Bowe probably wouldn't make a huge impact, I started him last week! In my defense, my 3rd option at receiver was Jerry Porter, Dennis Northcutt, and Matt Jones….

Nagging Feelings—Week 4
Bob Costas using the words homeboy or calling 30 Rockefeller Center, 30 Rock after bragging about contributing large sums of money to his alma mater is just a small reason this guy is out of touch with the fan base watching his show. He hates fantasy football folks. While I respect anyone who doesn't like or get fantasy football his on-air disdain for the hobby is foolish. He was once such a respected sports host, but he's riding the wave of his career and has been reduced to a puppet hawking corporate products every two minutes. I see why David Letterman and Howard Stern hated working for NBC, and Don Imus was right at home. Don't you get the feeling Bob Costas will be our father's version of Lorne Green, Andy Rooney, and Alex Trebek selling predatory insurance policies on television commercials 15 years from now? If we all stop watching, maybe we can hasten this career opportunity.
Two weeks ago I wrote about Vince Young's skills and how the NFL scouting/personnel community regarded him with extreme caution because they were more concerned with the individual components of his game and not accepting the fact that the sum of its parts are terrific. I've also long-talked about NFL management and personnel evaluators covering their behinds with player evaluation. Although I study hundreds of hours of film a year without the need to justify spending millions on a player, it may seem reasonable to discount my take. But consider the fact Bill Parcells just said the exact same thing about Vince Young last night…this is also the same guy who took Marion Barber in the 4th round and knew right away he had a player.
Another thing about Young and my tongue-in-cheek bold prediction about being immune Madden Curse, I have another factor supporting this point, LaDainian Tomlinson. It was the Chargers RB whom EA Sports wanted for the cover of Madden 2007, but he turned it down. Look at LT's season thus far—maybe it is not who is on the cover, but who is first selected for the cover. Yes, a subtle difference. Let's see how it plays out…
With three weeks in the books, here are my playoff teams by Division:
AFC North: Steelers, Ravens
AFC East: Patriots
AFC West: Broncos
AFC South: Colts, Titans
NFC North: Packers, Bears
NFC South: Bucs
NFC East: Cowboys, Eagles
NFC West: Cardinals

The Steelers are obvious. Mike Tomlin in my opinion did the smartest thing a new head coach of an established team could do, which is follow the axiom if it ain't broke don't fix it. Tomlin kept Dick LeBeau and let him run the 3-4 defense, and brought in Bruce Arians to add a bit more octane to the offense while retaining its roots on the ground. The Ravens defense and Kyle Boller's improvement will allow Baltimore to at least back into a playoff spot.
The Patriots are dominant with a big-play passing game and the odds-on favorite to return to the Super Bowl Champion Coronation game, otherwise known as the AFC Conference Championship. This team is loaded on offense and this takes an unbelievable amount of pressure off a good defense. The Jets are well coached, and I think even if Kellen Clemens has to sub for Pennington they will be dangerous, but not good enough.
I think Denver gets in because I don't believe San Diego will climb out of their hole in enough time. The Colts are still the class of the AFC South, but I think Tennessee's defensive line could cause problems for Manning. You can tell after week two they got confidence beating up on Peyton Manning, which Tennessee did more of in previous years. Look what they did to Drew Brees last night. Plus did you see the stat on Monday Night Football? Jeff Fisher is 43-2 in road games with a 4th quarter lead—only Lombardi is better. If there's a team that could upset Indy in the playoffs, Vince Young's playmaking skills, Tennessee's strong running game, and the Titans defense have a shot.
Brett Favre is playing as good as ever and their defense is excellent. If they can get a running back, they're my dark horse candidates for the Super Bowl. I think Lovie Smith comes to his senses and allows Brian Griese to lead the Bears offense. If this happens, I think the Bears make the playoffs once again. If you're a Bernard Berrian and Muhsin Muhammad owner, rejoice—they will have some decent games soon.
The Cowboys are the class of the conference, but the Eagles have a shot if Donovan McNabb stays healthy and keeps putting coats of glue on his wide receivers' hands prior to each game. Both are balanced teams on each side of the ball, but Dallas is the one team that could stay on pace in a scoring contest with the AFC's elite.
If Kurt Warner plays like he did against Baltimore, I think Ken Whisenhunt puts enough of an "AFC mentality" into this squad to win the division. The Cardinals defense has the players to wreak havoc if the offense can get an early lead, control the clock, and allow Darnell Dockett, Karlos Dansby, Bertrand Berry, and Adrian Wilson blitz at will.
And I like the Bucs because Jeff Garcia does enough to keep them in the game and the defense is still capable of big plays. I'm waiting for Carolina to beat a decent NFL team before I make them the team to beat in this division.
Well, another 200-plus, point week in the league I mentioned last week. This time I faced the owner of a team who inspired the idea of the Crank Score. He actually scored the third-highest weekly total in our league's 6-year history. The highest two scores were my totals last week and now this week. Of course, he beat me for the championship four years ago by the slimmest of margins and I've never won one with my squad. But I'm off to a good start…


Jutpackers
Out To Lunch
Player
Pts
Player
Pts
D. McNabb QB
36.85
B. Favre QB 
34.05
L. Jordan RB 
24.5
F. Gore RB 
6.1
C. Portis RB 
18.7
B. Westbrook RB 
44.9
T. Holt WR 
8.8
B. Berrian WR 
10.3
R. Wayne WR 
10.4
C. Johnson WR 
22.2
R. Williams WR 
41.4
R. Moss WR 
27.6
K. Winslow TE 
11.8
J. Shockey TE 
10.4
M. Crosby K 
6.5
J. Feely K 
8.5
N. Barnett LB 
10
K. Bulluck LB
16
C. Greenway LB 
10
P. Willis LB
7
A. Kampman DL 
4
P. Kerney DL
1
L. Little DL
4
O. Umenyiora DL
4.5
C. Hope DB
2.5
S. Jones DB
14.5
G. Wilson DB
7
A. Wilson DB 
12
Total
196.5
Total
219.1
Then there was a heartbreaker for the FFToday team owned by Mike MacGregor and with me buying the groceries for our head coach. Nothing like losing by 13 yards:
FFToday
Homegrown Sports
Player
Pts
Player
Pts
Garcia, Jeff TBB QB
7.85
Young, Vince TEN QB
22.3
Brown, Chris TEN RB
9.6
Jackson, Steven STL RB
22.3
Portis, Clinton WAS RB
21.7
Jordan, Lamont OAK RB
30.3
Branch, Deion SEA WR
19.7
Bruce, Isaac STL WR
4.4
Driver, Donald GBP WR
29.6
Houshmandzadeh, T.J. CIN WR
39.4
Gates, Antonio SDC TE
27.3
Miller, Heath PIT TE
12.2
Nedney, Joe SFO PK
11
Stover, Matt BAL PK
16
Turk, Matt HOU PN
9.67
Larson, Kyle CIN PN
13.75
Dockett, Darnell ARI DT
17
Holliday, Vonnie MIA DT
12
Young, Bryant SFO DE
1
Taylor, Jason MIA DE
6
Fujita, Scott NOS LB
17
Brackett, Gary IND LB
27
Morgan, Dan CAR LB
20
Peterson, Julian SEA LB
15
Williams, DJ DEN LB
17
Peterson, Mike JAC LB
3
Huff, Michael OAK S
14
Harper, Roman NOS S
9
Wilson, Adrian ARI S
25
Williams, Roy DAL S
16
Total
247.42
Total:
248.65
Now at 0-3, we may be playing for a right to Darren McFadden, Ray Rice, or Brian Brohm. Too bad my acquisition of Bryant Young cost us our first victory. It might be a long season here in this dynasty league.
Good luck this week and see you in week 4!