The Weekly Gut Check - Vol. 122
Breakout Wide Receivers: A Profile
6/19/08



The "Gut Feeling" is often synonymous with a sense of desperation resulting from a lack of preparation. The Gut Check is a huge proponent of studying the numbers, but there's a point where one can place too much emphasis on the wrong information. This can result in the undervaluing or overlooking a player's potential. Therefore, The Weekly Gut Check is devoted to examining the frame of reference behind certain number-driven guidelines that fantasy football owners use to make decisions.

Although The Weekly Gut Check doesn't claim to be psychic, he does believe that he can dispel certain numbers biases and help you make the best choices for your team. We'll keep a running tally of The Weekly Gut Check's insights. This way you can gauge his views as something to seriously consider, or at least seriously consider running the opposite way as fast as you can!


---
For the past four seasons (2004, 2005, 2006, and 2007) I have done FFToday's version of the 3rd Year WR Breakout Theory, but that's not really the best name for the process I'm using to determine breakout candidates at the position. What I'm actually doing is creating a profile based on various stats to create players with the highest probability to have a 150-fantasy point season, which last year (and most seasons) is at least a top-15 effort.

Determining breakout candidates at WR is so important for a fantasy owner because the turnover for starting quality positions from year to year is too high to ignore. From 2005-2007 an average of 15 new players made the top 36 receivers in each of those seasons and only 40% of the receivers had consecutive seasons in the top-12. Any information that can help you identify strong candidates for starting quality spots can make a difference.

Here are the performance profile criteria for breakout receiver candidates:

85% of the sampled breakout receivers achieved this feat between years 2-5 of their NFL career.

81% had at least 41 receptions

78% had at least 2 touchdowns

71% had at least 400 receiving yards.

An average of five receivers per year attains breakout status.

So how did I do with last year's list of candidates who were statistical qualifiers?

2007 Breakout Candidates
Player
Team
G
GS
Target
Rec
Yds
TD
FPts
FPts/G
Rank
Comment
Reggie Brown
PHI
16
14
112
61
780
4
105.6
6.6
38th
No more high hopes. He's a tease. A solid, #4 WR.
Jerricho Cotchery
NYJ
15
15
127
82
1,129
2
128.7
8.6
25th
I said no better than 82 catches in 2007.
Braylon Edwards
CLE
16
16
153
80
1,289
16
224.9
14.1
3rd
Made my top 4 '07 breakout candidates.
Mark Clayton
BAL
16
12
89
48
531
0
53.1
3.3
77th
Injuries and McNair's plummet derailed his 2007.
Bernard Berrian
CHI
16
16
128
70
948
5
125.1
7.8
26th
Solid #3 WR as predicted.
Deion Branch
SEA
11
11
85
49
661
4
90.1
8.2
48th
Injuries hurt his season, but average was decent.
Arnaz Battle
SF
16
15
104
50
600
5
96.4
6.0
43rd
As predicted, not quite ready for prime time.
Matt Jones
JAC
12
0
50
24
317
4
55.7
4.6
74th
I must have mistook him for Reggie WilliamsÖ
Greg Jennings
GB
13
13
84
53
920
12
164.0
12.6
12th
He didn't fall just short. He came up big.
Vincent Jackson
SD
16
16
80
41
623
3
80.3
5.0
53rd
45 rec-close; 915 yds-nope; and 10 TDs-nope.
Kevin Curtis
PHI
16
16
134
77
1,110
6
147.0
9.2
17th
Inconsistent weekly, but totals were nice.
Calvin Johnson
DET
15
10
95
48
756
4
110.8
7.4
36th
Not bad for a rookie who got hurt.
Santonio Holmes
PIT
13
13
85
52
942
8
143.9
11.1
18th
I said he'd be close: 143.9 fpts equals close.
Donte Stallworth
NE
16
9
74
46
697
3
88.9
5.6
49th
Mistaken identity again. This time with Welker.
Overall, flip a coin —7/14—which was about the same rate as last year. But the players who didn't meet the statistical profile that I added from my own subjective analysis actually amounted to a 60% success rate. Go figure. Still, every year this approach is identifying between three and six starting quality receivers who are mid-to-late round picks that will outplay higher valued receivers by season's end.

One thing the receivers on this list who made the top 20 have in common is two of three conditions: excellent quarterback play, a fantasy starter as a complementary receiver, and/or a fantasy starter at running back.


*Stallworth was my pick, but you can see the logic with Brady-Moss complementing the second receiver.
*Westbrook's receiving totals put him in the top 36 among receivers as well. So he was a top starter in both categories.

The exceptions in the top 20 were Roddy White and Brandon Marshall, but neither met the statistical profile for a breakout candidate heading into 2007.

So who meets the breakout profile for 2008? Here's a preliminary list of 18 receivers who meet the initial criteria.


2008 Breakout Candidates
2007 Rank/Player
Team
GP
GS
Target
Rec
Yds
TD
FPts
FPts/G
25. Jerricho Cotchery
NYJ
15
15
127
82
1,129
2
128.7
8.6
24. Dwayne Bowe
KC
16
15
117
70
995
5
129.5
8.1
26. Bernard Berrian
CHI
16
16
128
70
948
5
125.1
7.8
36. Kevin Walter
HOU
16
15
106
65
800
4
107.0
6.7
38. Reggie Brown
PHI
16
14
112
61
780
4
105.6
6.6
50. Justin Gage
TEN
16
8
85
55
750
2
87.0
5.4
45. Roydell Williams
TEN
16
14
94
55
719
4
94.2
5.9
44. Ronald Curry
OAK
16
13
97
55
717
4
95.8
6.0
52. Bobby Wade
MIN
16
12
83
54
654
3
82.5
5.2
58. Michael Jenkins
ATL
15
5
74
53
532
4
77.2
5.1
34. Patrick Crayton
DAL
15
13
81
50
697
7
111.7
7.4
27. Nate Burleson
SEA
16
11
95
50
694
9
123.8
7.7
43. Arnaz Battle
SF
16
15
104
50
600
5
96.4
6.0
35. Calvin Johnson
DET
15
10
95
48
756
4
110.8
7.4
54. James Jones
GB
16
8
80
47
676
2
79.6
5.0
68. Bryant Johnson
SF
16
7
87
45
525
2
64.5
4.0
65. Ernest Wilford
MIA
16
14
74
45
518
3
69.8
4.4
53. Vincent Jackson
SD
16
16
80
41
623
3
80.3
5.0
The first knockout factor is likelihood of starting in 2008. Kevin Walter filled in admirably after rookie Jacoby Jones was lost to injury, but itís easy to imagine Jones coming back and taking the job outright. At best, Walter will share time as the #2 WR as long as Jones remains healthy.

Roydell Williams is coming off an ankle injury after gaining the trust of Vince Young, but heíll be fighting for a starting job against the elite physical talent but raw pass catching skills of Paul Williams and the elite pass catching but (historically) poorly conditioned Mike Williams. Throw in veteran Justin McCareins and itís going to be too close to call.

Bobby Wade will be competing with Sidney Rice and the second-year receiver from USC just missed this list.

Michael Jenkins is currently behind second-year receiver Laurent Robinson on the depth chart. If Brian Finneran returns to form and rookie Harry Douglas is a sneaky good player who will develop quickly. So Atlanta is another cloudy situation.

James Jones is a talent, but so are Greg Jennings and Donald Driver.

Shaun McDonald is a player I wiped off the list before we even started because itís unlikely he beats out Roy Williams or Calvin Johnson.

Arnaz Battle seems like a good candidate, but the addition of Bryant Johnson and Isaac Bruce tempers my enthusiasm. I also believe second-year player, Jason Hill has more upside than any of the players I just mentioned. Battle, a former QB who thrives on his athleticism still falls behind the curve on route running also.

Another former QB-turned-WR is Patrick Crayton. I actually like Craytonís skill more than Battle and he certainly has the top-notch QB-RB-WR combo with Romo-Barber-Owens in the fold, but throw in Jason Witten and I donít see how the ball can get spread around with enough frequency for Crayton to statistically reach the next level.

Jerricho Cotchery continues to straddle the edge between quality starter and breakout receiver, but his problems remain the same: he needs a more dynamic quarterback and heís more of a Keenan McCardell to Laveranues Colesí Jimmy Smith. I said last year that I couldnít see him catching more than 82 passes and he hit that ceiling to that exact number. Heís a good pick for your team as a #3 WR, but donít expect anything more.

That narrows the field to nine receivers, plus four players I added based on their talent, standing on the depth chart, and team situation. I believe these 13 receivers have a strong chance of breaking into the top 36 in 2008.

And The Winners Are...
2007 Rank/Player
Team
GP
GS
Target
Rec
Yds
TD
FPts
FPts/G
24. Dwayne Bowe
KC
16
15
117
70
995
5
129.5
8.1
26. Bernard Berrian
MIN
16
16
128
70
948
5
125.1
7.8
38. Reggie Brown
PHI
16
14
112
61
780
4
105.6
6.6
50. Justin Gage
TEN
16
8
85
55
750
2
87.0
5.4
44. Ronald Curry
OAK
16
13
97
55
717
4
95.8
6.0
27. Nate Burleson
SEA
16
11
95
50
694
9
123.8
7.7
35. Calvin Johnson
DET
15
10
95
48
756
4
110.8
7.4
68. Bryant Johnson
SF
16
7
87
45
525
2
64.5
4.0
65. Ernest Wilford
MIA
16
14
74
45
518
3
69.8
4.4
53. Vincent Jackson
SD
16
16
80
41
623
3
80.3
5.0
28. Reggie Williams
JAC
15
6
60
38
629
10
123.7
8.2
60. Anthony Gonzalez
IND
13
9
52
37
576
3
75.6
5.8
69. Sidney Rice
MIN
13
4
53
31
396
4
63.6
4.9
On The List, But Will Not Catch Fire (Projected top 36-48) — Receivers with the skills to break out, but a lot has to go right that hasn't yet.

Vincent Jackson, San Diego: Definitely a physical talent and the duo of Tomlinson and Gates make Jackson an enticing breakout candidate. He also came to life in the playoffs, but this was the second time in a season Jackson faced the Titans, Colts, and Patriots. Then again he saw the AFC West twice a year and his stats werenít significantly better in the second game. What concerns me is Phillip Riverís injury and Chris Chambers as the current #1 receiver. I just donít see enough passes coming Jacksonís way in 2008 unless Tomlinson or Gates donít recover sufficiently from their 2007 injuries. I think he fits in well as a projected ďfirst off the benchĒ player in a 3 or 4 receiver lineup.

Ronald Curry, Oakland: Curry and Justin Gage have very similar numbers. The difference to me is JaMarcus Russell and Vince Young. Russell can become a good quarterback, but I donít believe heís going to pull a Daunte Culpepper and become a fantasy stud in year two after virtually no time on the field in year one. The most encourage thing about Curry is he remained healthy. He had six games in 2007 that a fantasy owner would be satisfied from a starting option. I just donít see him building on that total this year. They have some players with explosive potential: Darren McFadden, Javon Walker, Justin Fargas, and Michael Bush, but itís still going to be up to Russell and I think Curry could up his number of quality performances to 8 games. Thatís enough to consider Curry decent depth, but not an every week starter.

Sidney Rice, Minnesota: Rice is this yearís ever popular, ďreceiver that intrigues fantasy owners,Ē and for good reasons. He too had a Second Half Wonder stretch run in 2007 and he possesses the athleticism to be a primary receiver along the lines of a Javon Walker at his best. The Vikings ground game certain gives Rice and the Vikings receiving corps opportunities to excel. But the theme of the developing quarterback continues with Rice. Tarvaris Jackson was a Second Half Wonder at QB, and the addition of Bernard Berrian makes it very reasonable that Minnesota can make the jump to becoming a balanced offense with multiple fantasy starters in the fold. Jackson only saw 25 attempts five times last year. Vince Young, who wasnít that much better than Jackson in a disappointing year, saw 25 attempts seven times. Kurt Warner had 11 games with 25 attempts. Why 25 attempts? Because when you look at the top five signal callers last year each only had a handful of games with less than 25 attempts: Tom Brady (0); Tony Romo (2); Peyton Manning (2); Drew Brees (1); Derek Anderson (2). You canít have multiple receivers breaking out on one team if the quarterback isnít dropping back to throw at least 25 times a game. I believe Berrian will be the primary target in the passing game when they arenít running All Day.

Ernest Wilford, Miami: Initial reports out of Dolphins camp are that Wilford is easily the best receiver on the team. That doesnít mean they donít reserve high hopes for Tedd Ginn, Jr., but the guy who will move the chains in the passing game is most likely Wilford. The Virginia Tech alum has decent build up speed, but heís like a poor manís version of Marques Colston. Whatís intriguing is the connection between Bill Parcells and Sean Payton. And it is possible they see Wilford as this type of player, too. Iím an unabashed fan of John Beck. He took a lot of heat in the offseason, but I believe heíll be one of the most improved players in the NFL in 2008. I expect Wilford to exceed his 2005 season totals of 41 receptions, 681 yards, and 7 scores. I think 60 catches, 800 yards, and 5 scores is reasonable.

Quality Starters, But Donít Go Overboard (Projected top 25-36) ó Good situation, but one prominent factor holds them back.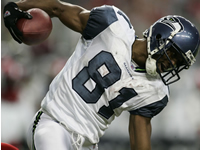 Nate Burleson could become Hasselbeck's favorite target in'08.
Nate Burleson, Seattle: Maybe itís just me, but I snoozed on the fact that Burleson was pretty strong from weeks 13-17 last year. He had four games over 10 points. At the same time, all but one of his decent games was against some weaker defensive units: Cincinnati, Arizona (twice), New Orleans, Philadelphia, and Atlanta. Yet Deion Branch has struggled to stay healthy in Seattle and Bobby Engram is in the unenviable position of trying to get more money at a point in his career where most NFL types believe heís too close to the end. The Auburn Alumni Association of Ben Obomanu and Courtney Taylor have some promise, but that does give Burleson a chance to be the Seahawks starter and a fantasy starter. With a ground game that has struggled recently, I believe even with the addition of Julius Jones that Mike Holmgren will lean on Matt Hasselbeck more than ever. Burleson is a solid kick return specialist, so he can run after the catch. After a 1006-yard, 9-TD season in 2003 (he technically broke out already), he has not returned to prominence as expected. Since his career has an up and down track record and heís technically the third receiver on the Seattle depth chart, Iím at best cautiously optimistic.

Anthony Gonzalez, Indianapolis: Gonzalez had three big games in the regular season and as solid outing in the divisional playoff versus the Chargers. The popular notion is that the second-year receiver is more suited for the slot, but Marvin Harrison is beginning to worry me. His 247-yard 2007 in five games clearly shows the knee injury was bothering him all year. There hasnít been much news about Harrisonís recovery and at age 35, knees are difficult body parts to bounce back from that kind of trauma. If Harrison is ready to go, then I would draft Gonzalez later than most of the receivers I already mentioned, but if there are question marks the Buckeye creeps up the list.

Reggie Brown, Eagles: If you can toss aide any hope that Reggie Brown will turn into a primary receiver for the Eagles, heís a player fantasy owners should feel alright with as a low-end starter. Let those owners with a penchant for rookies get excited about DeSean Jackson. The receiving corps will continue to be about Kevin Curtis, Brown, and Jason Avant. Jackson will get his chances, but the two receivers to have in Philly are #1 Westbrook and #1A Curtis. Brown isnít exciting, but you can do a lot worse than 800 yards and 6-8 scores. Thatís what I anticipate if Mr. Glass (what our FFToday Board Members are beginning to call him) can stay healthy for at least 14 games.

Justin Gage, Tennessee: Gage was featured as a Second Half Wonder and itís conceivable he could average a full point to two points higher per game in 2008, because he only scored twice last year. I believe the return of Mike Heimerdinger will benefit the red zone offense. Gage has the physical stature and athleticism to be a strong target in this area and with a full season of work with Vince Young behind him, I believe he should triple is touchdown total from 2007. If he maintains the same yardage total and scores six times, heís at 139 fantasy points. Considering the fact that Justin McCariens is well-known for looking good in practice then dropping balls in games, I think Gage will be the most reliable guy in Tennessee. I donít see him breaking the top 15, but with a more diversified offense that includes TE Alge Crumpler and rookie Chris Johnson, Gage could break the top 20 if everything clicks. It should go well enough in Tennessee that Gage is a solid #3 WR for most fantasy rosters.

Bryant Johnson, San Francisco: I can envision Johnson as a quality starter now that heís in Mike Martzís offense and the favorite to be the 49ers #2 receiver. But this is an interesting depth chart in San Francisco that makes this situation far from solidified. Arnaz Battle is a talent who might be able to put it all together due to the strides heís made thus far. I believe Isaac Bruce has another 1000-yard season in him. Ashley Lelie has the talent, but he has underachieved. And Jason Hill could be better than all of them soon enough. Still this amounts to a lot of ifsóJohnson is the best combination of here and now talent and remaining upside in this corps. I think a Mike Furrey-esque/Shaun McDonald-type season is within reasonable expectations (80-90 catches, 1000-yards, 5-6 scores). The problem is who will be throwing him the ball? Considering that none of these players I listed as quality starters will be valued this way on draft day, you should be able to snag Bryant as your 4th receiver off the board in many leagues.
Teasing Moments of Excellence (Projected top 16-24) ó Flashes of dominance are there, but wire-to-wire production hasnít happened yet.

Bernard Berrian, Minnesota: His production continues to improve with each passing year and he should benefit from the Vikings ground game and offensive line. Rex Grossman jokes aside, the Bears hope for the future had moments of excellence. If Tarvaris Jackson can demonstrate better downfield accuracy and decision making, Berrian could be in for a 1200-yard season and double digit scores. Jackson did have three 60-yard touchdown passes last year and thatís Berrianís strength. I just canít bring myself to pick him as an elite receiver. I think most value conscious owners who want Berrian will have to accept the fact heíll be a low end #2 WR on most draft boards due to the potential hype.

Reggie Williams, Jacksonville: I picked the wrong Jaguar last year. Although Williams had 15 fewer receptions and only 14 more yards than he did in 2006, his 10 scores valued him into the conscious of most fantasy owners in 2007. Now that they found a quarterback in David Garrard, I see Jacksonville continuing with what worked for them. One of those successes was Williams who should see more opportunities with Jerry Porter opposite him. As long as Porter plays disciplined footballóa fair ďifĒ for the former Raideróthen Williams could be in for a huge year. The problem for me is that Williams is not a multi-dimensional receiving threat. Heís a solid possession receiver with red zone skills. Heís not a burner, although he can get yardage after the catch. I believe the receiver with the most upside is second-year player Mike Walker, who is healthy. If he has the type of preseason he did in last yearís camp, thereís a chance heíll be cutting into Porter and/or Williamís time. Thereís enough promise on this Jags depth chart that I believe Williams will be good, but not great.

Breakouts Du Jour (Top 15) ó Multi-dimensional threats with enough surrounding talent to join the upper echelon.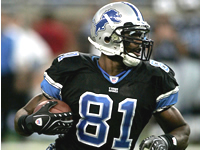 Waldman: "Calvin Johnson is a 1000-yard 8 score player, easy."


Calvin Johnson, Lions: Itís scary good to think that Johnsonís rookie year felt like a disappointment with 48 grabs, 756 yards, and 4 scoresógood enough for 35th overall among receivers. Heís a do-it-all player: after the catch skills, will go across the middle, leap over you, run by you, etc. With Roy Williams on one side, my ROY candidate Kevin Smith manning the ground game, and Kitna the beneficiary of a play action game that results from Smithís production, Iím think Calvin Johnson is a 1000-yard 8 score player, easy. In fact put me down for 1100 and 8 scores, minimum. Think Iím clueless? Johnson averaged nearly 16 yards per catch. Remember he was banged up and Mike Martz spread the ball around to McDonald (79-943-6) and Furrey (61-664-3). I realize coach Marinelli hopes to distribute most of those 140 touches for 1611 yards and 9 scores to the ground game in 2007, but itís reasonable to me that Johnson gets another 350 yards and 4 scores out of the deal.



Dwayne Bowe, Chiefs: Bowe was not only productive, but he had some clutch moments as a rookie with pedestrian QB production and a leaky ground game. With Larry Johnson returning, Tony Gonzalez still pumping out excellent seasons, and Brodie Croyle making strides, I think Bowe is in for a 80-catch, 1100-yard, and 8-score season. Heís not as freakishly gifted as Calvin Johnson, but he faces easier defenses twice a year and with the exception of T.O. might already be the most powerful runner after the catch in the league. What impressed me was his ability to get deep. He had two scores over 30 yards in length. Iím also a fan of Devard Darling, who showed a little something with the Ravens down the stretch. Darling has the skills to gain 600-800 yards and get deep. Donít mistake the Chiefs for an offensive juggernaut this year, but they will be better and Bowe will lead the way.