The Weekly Gut Check - Vol. 131
The Preseason All-Gut Check Team
8/21/08



The "Gut Feeling" is often synonymous with a sense of desperation resulting from a lack of preparation. The Gut Check is a huge proponent of studying the numbers, but there's a point where one can place too much emphasis on the wrong information. This can result in the undervaluing or overlooking a player's potential. Therefore, The Weekly Gut Check is devoted to examining the frame of reference behind certain number-driven guidelines that fantasy football owners use to make decisions.

Although The Weekly Gut Check doesn't claim to be psychic, he does believe that he can dispel certain numbers biases and help you make the best choices for your team. We'll keep a running tally of The Weekly Gut Check's insights. This way you can gauge his views as something to seriously consider, or at least seriously consider running the opposite way as fast as you can!


---
This week I get to write one of my favorite fantasy football columns of the year, my sleeper picks for the 2008 season. There are so many fantasy scribes in the media the term Sleeper isn't what it used to be. I chose to define sleepers as players who aren't front-runners on draft day, but often lead the way in box scores when it's all said and done. The Preseason All-Gut Check Team is a squad comprised of mid-to-late round players or potential waiver wire picks that could benefit your fantasy team in 2008. Preseason All-Gut Check alumni include a host of future stars not expected to be as good as they were in that year (2005, 2006, and 2007).

Here's how the '07 All-Gut Check roster performed. The rankings are based on total fantasy points:


2007 All-Gut Check Team
Pos
1st Team
Rk
Comments
2nd Team
Rk
Comments
QB
Matt Schuab
24
Missed 5 games and I missed, too.
Alex Smith
47
I apologize.
RB
LenDale White
14
Not bad on a torn meniscus.
LaMont Jordan
41
Injury derailed a strong start.
RB
Vernand Morency
80
I slept on Ryan Grant.
Najeh Davenport
34
Not bad for a back up, butÖ
WR
Santonio Holmes
18
Lead NFL in yards per catch.
David Boston
UR
Never again.
WR
Kevin Curtis
17
Moments of excellence.
Roydell Williams
45
Bye week option.
WR
Mark Clayton
77
Injury derailed his season.
Wes Welker
11
Much better than I expected.
TE
Daniel Graham
33
I slept on Tony Scheffler.
Eric Johnson
24
Hence, Jeremy Shockey in '08.
Pos
1st Team
Rk
Comments
2nd Team
Rk
Comments
DE
Tamba Hali
21
7.5 sacks and a quality DE2.
Antwan Odom
60
8 sacks, FA signed with Bengals
DT
Warren Sapp
61
On a lounger with his yappy dog.
Travis Johnson
97
Springer moment with Trent Green.
LB
A.J. Hawk
44
Depth unless in a 4-LB league
Chad Greenway
28
Low-end LB2.
LB
Patrick Willis
1
Predicted a Vilma-like rookie year.
Karlos Dansby
17
Quality starter.
CB
Walt Harris
66
Nope.
Nick Harper
34
Missed 2 games, slept on Cortland Finnegan.
S
Sean Considine
UR
Maybe this yearÖ
D. Whitner
72
Nada.

I went 10-for-26 last year (.384). That percentage could get Vince Lombardi canned, but it's a sterling stat for someone taking cuts at some curveballs and sliders. If you were looking for WR and LB sleepers, I was the right place to go. But I was pretty sorry in the secondary and at quarterback.

This year I'm continuing to go deep with most of my picks. These are players you will either pick in the second half of your draft or as a free agent off waivers, but I believe they have the skills and at least a glimmer of an opportunity to make fantasy owners happy.


2008 All-Gut Check Team
Pos
1st Team
Comments
2nd Team
Comments
QB
Jason Campbell
Zorn will help him take a step forward.
Trent Edwards
Short drop, quick release system will be a great fit.
RB
Chris Perry
Power, speed, and hands. Durability is key.
Andre Hall
Vision, balance, and hands. A very sneaky good late pick.
RB
Ricky Williams
Out to prove him self correct.
Ray Rice
The Rookie Scouting Portfolio's #2 RB.
WR
Robert Meachem
Work ethic + physical talent = production.
Jason Hill
Learning from Isaac Bruce and unsung due to Morgan.
WR
Derek Hagan
The light has come on and they have a QB.
Kevin Walter
Ed McCaffery? Maybe, but year two with Schaub = points.
WR
Josh Morgan
2008's Colston? Looks conceivable.
Eddie Royal
Makes you wonder about VaTech's QB Sean Glennon
TE
Ben Utecht
Late round pick could be a nice starter.
Kellen Davis
I love this guy's skills and he's making noise in camp.
Pos
1st Team
Comments
2nd Team
Comments
DE
Jevon Kearse
With the Titan's d-line, he'll rebound.
Ray Edwards
The same reason as the Titans. Minny's d-line is tough.
DT
Amobi Okoye
Most improved Texan according to Kubiak.
John McCargo
Stroud is going to help McCargo fulfill his promise.
LB
Curtis Lofton
An example of the Falcons GM's skill.
Channing Crowder
Right place, right timeÖenough skill?
LB
D'Qwell Jackson
The skills are thereÖ
Jerod Mayo
He's no Patrick Willis, but who is?
CB
Brandon Flowers
A good tackler in a tackling scheme.
Eric Wright
Will he continue to get tested? I think soÖ
S
Michael Huff
Takes the FS position and he'll step up.
Reggie Nelson
A great playmaker on the rise.



Quarterbacks



Jason Campbell (1st Team): Matt Schaub is becoming the perennial ďgood pickĒ player, but Campbell continues to improve incrementally each time I see him. His surrounding skill talent is loaded, too. I like his sneaky-good, 59.9% completion percentage with more scores than picks in his second season. He is also used to switching offensive system at least once a year and although this may seem like a poor argument in his favor, Campbell clearly doesnít seem to pout over the change. Heís quietly going about the business of becoming a better player and heís doing what he should against vanilla defenses in the preseason Ė playing efficient football. Santana Moss and Antwaan Randle El may not be the prototypical west coast receivers that Washington hopes they drafted in Devin Thomas and Malcolm Kelly, but both have excellent skills with the ball in their hands. Chris Cooley and Fred Davis are nifty, too. If youíre from the school of drafting quarterbacks late and playing the match ups, Iíd recommend Campbell as the guy you pair with a QB you take a bit earlier. Itís possible Campbell could hae some strong efforts in non-division match ups where teams arenít as familiar with him.

Trent Edwards (2nd Team): Fantasy owners arenít necessarily down on Edwards, but they donít have high expectations for the second-year quarterback out of Stanford, either. I think people are giving him a short shrift: he was a Second Half Wonder as a rookie and one of those games, an impressive 4th quarter effort during a Cleveland blizzard, depressed the stats commensurate with his performance. The Bills defense should improve because they have been drafting effectively towards this side of the ball and the addition of DT Marcus Stroud paired with up and coming DT John McCargo will give the Bills offense even more opportunities to see the football. Remember, the Bills only allowed more than 20 points in four games last year. Schonertís short-drop passing game (a system he learned carrying the clipboard for Boomer Esiason in Cincinnati) is a very good fit for Trent Edwards and the Bills offense, because Edwards is accurate, decisive, and will have more opportunities to progress with his receivers if he can get into a rhythm. Plus, a short drop system lulls the opposing defense into a rhythm that can make them more susceptible to big plays.



Running Backs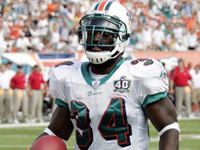 Ricky has at least one fan.

Ricky Williams (1st Team): I donít care what you say, Iím a fan and last year I added him to any dynasty squad I could spare the roster space. We all have obstacles in life. Most people have lower profile lives and their issues arenít as magnified (note I didnít say less difficult). If youíre waiting for Williams to screw up, youíre associating him with talents such as Koren Robinson, William Green, or David Boston who werenít able to get past their obstacles and return to prominence as football players. Has anyone considered that many of the people who get into trouble with drugs or other off-field problems often have mental health issues that arenít being diagnosed? Itís often how it works Ė not always, but often. What I like about Williams is it didnít take until he turned 35 or 40, went completely broke, and lost everything and everyone around him to figure out he needed help. What I love about Williamsí fantasy prospects is that he has rededicated himself to the game. He has regained his optimal playing weight and looks like the back he once was. I hope he shuts everyone up.

Chris Perry (1st Team): Perry was the second back off the board in 2004 Ė selected two picks after Steven Jackson and ahead of Kevin Jones, Tatum Bell, Greg Jones , and Michael Turner. Other than Turner, who was a small school back that lacked the ďpedigree,Ē there was a good reason only Jackson was selected ahead of Perry. The Michigan product has good hands, demonstrates nice acceleration, and has power. His injuries were flukes. Muscle strains and pulls are often due to poor training and conditioning, which Perry didnít have. The former first round pick is playing well in camp and pushing incumbent starter Rudi Johnson for the gig and Johnson isnít doing himself any favors by sitting out most of the summerís festivities. Look for Perry to split time with Kenny Watson (and maybe Johnson if he can get on the field) and take it outright with some good performances early.

Ray Rice (2nd Team): Heís my second-rated back in the Rookie Scouting Portfolio for good reason: vision, quickness, stamina, and yards after contact skills. Iíve been talking about him all spring and summer. If you believe Willis McGaheeís career isnít coming to an end as Baltimoreís starter in 2008, youíre in denial. There are a whole of people in denial right now, but itís changing with each Ray Rice carry.

Andre Hall (2nd team): Some Denver beat writers are saying Hall is the best runner on the depth chart Ė and he was even with Ryan Torain in the backfield. The New England Patriots reportedly had a third-round grade on the University of South Florida star. Halll was my 10th-rated back in the 2006 RSP. He definitely showed a little something last year. As a Selvin Young owner I would prefer to see Hall on the bench, but I donít believe itís going to happen. Hall is too savvy a player with good receiving skills to collect dust.



Wide Receivers



Derek Hagan (1st Team): Another RSP fave is catching everything in camp and beat out free agent acquisition Ernest Wilford. Listen folks, Wilford was good enough to command a look from other teams and I doubt Miami brought him in to be a bench player. I think they werenít confident that Hagan was going to improve and thatís exactly what the Arizona State Wildcat had to do in order to beat out Wilford under a new regime that brought in the Jacksonville receiver. Pennington is not a deep ball thrower, and Hagan has been making possession receiver type of plays. I think a 60-catch, 800-yards, 5-score season is realistic for Hagan.

Robert Meachem (1st Team): I didnít like Meachem as much as other rookie evaluators because he didnít catch the football cleanly at Tennessee on a regular basis. What has changed for me since then is heís working hard to fulfill his potential and his performance in the preseason shows heís catching footballs that were more difficult for him to do in the past. I would still like to see him go over the middle, but heís doing enough for me to consider him late.

Josh Morgan (1st Team): Yep, I rated Morgan in the 2008 RSP. Nope, he wasnít in my top 20 receivers. Why? Morgan didnít show consistency as a route runner and catcher of the football. He demonstrated excellent athleticism and I detail him beating All-American CB Aquib Talib like a drum in last yearís Orange Bowl, but he was raw. This is something that was said about Morgan by the Niners staff, but heís apparently learning fast and established a good rapport with J.T. OíSullivan, the leading candidate to start in San Francisco. Morgan is big, fast, and has been very consistent with tracking the deep ball in camp.

Jason Hill (2nd Team): The 49er that has been the forgotten man in camp due to Morganís bullet train ascent has been second year receiver Jason Hill. Long term, I think Hill can be one of the better receivers in the league. Mike Martz reportedly raved about Hill in OTAs and Hill hasnít disappointed in the preseason either. Hill reminded me of Isaac Bruce and he gets a great opportunity to study under the veteran who represents the ceiling of his potential. Its entirely possible Hill could perform like a #3 fantasy WR as the Ninersí third receiver.

Kevin Walter (2nd Team): Ed McCaffrey? Could be. McCaffrey bounced from the 49ers to the Giants before finding a home in Denver and excelling in Kubiakís offense. Walter sat behind a few good receivers in Cincinnati from 2003-2005 and got 800 yards in his first extended time as a starter in 2007. McCaffrey didnít break 800 yards until his seventh season. At 6-3, 221-lbs., Walter has decent running skills after the catch. He was used occasionally on the end around last year with moderate success. I think itís possible for him to repeat is 2007 stats.

Eddie Royal (2nd Team): Another Virginia Tech product (believe me when I tell you that Hokie QB Sean Glennon is not on the top of my list of pro prospects, especially after seeing Royal, Morgan, and Clowney play this off season) that is impressing early. Royal scored an 81 on my evaluations, which is the equivalent of a player with starting potential that can contribute part-time early in his career. Royal catches the ball in traffic well and displays top-shelf leaping ability and acceleration. He is an explosive player. He didnít the ball well with his hands, block effectively, nor demonstrate skills to beat press coverage as a collegian. With Brandon Marshall likely gone for the first month, Royal may get a chance as a primary receiver for Jay Cutler early.



Tight Ends



Ben Utecht (1st Team): An Indianapolis understudy, Utecht should be a good addition for Carson Palmer. I believe he can make up for the absence of Chris Henry in the redzone. Heís going extremely late in most drafts and thatís a bargain for a guy I believe will have 500 yards and five scores. I was going to say eight scores, but I just saw an update during the Giants-Browns game that says Chris Henry is reportedly close to resigning with Cincy.

Kellen Davis (2nd Team): Davis was one of my favorite players in the 2007 rookie class. Hereís what I said about him in the summary section of the 2008 RSP:



Davis is regarded as a raw prospect that might actually be switched to defensive end because he was a situational edge rusher for the Spartans. I watched him play both positions and while he demonstrated a good first step and the ability to get to the passer on defense, I think his hands, footwork, body control, and ability to release off the line make him a potential Pro Bowl tight end. This is the one player at this position I would draft in the mid-to-late rounds and hold onto for a couple of years in a dynasty league.



Based on a camp where Ron Turner and his teammates Desmond Clark and Greg Olsen have been effusive with their praise, Davis is right on track to be a starting TE of the future. With Clark getting hurt on Monday and the Bears using Kyle Orton to direct a short passing game, Davisí future could come sooner than many expect. Donít snooze on Davis.



Defensive Ends



Jevon Kearse (1st Team): He might be a situational player, but the Titans finally rebuilt their defensive line in recent years Ė something they didnít have when Kearse left the first time. Now, Kearse gets to operate on a stacked line with two Pro Bowl quality players Ė Kyle Vanden Bosch and Albert Haynesworth. If Antwaan Odom and Travis LaBoy can combine for 8 sacks, I think Kearse has a good shot of equality that number himself, even as a part-time starter.

Ray Edwards (2nd Team): Playing opposite free agent acquisition Jared Allen and alongside two strong defensive tackles, Edwards has the potential to have an 8-10 sack season just because opposing offensive lines will have enough concerns to deal with in Minny.



Defensive Tackles



Amobi Okoye (1st Team): He was the youngest player ever drafted in the history of the NFL. Okoye turned down an Ivy League education to play big-time football at Louisville. With youth, brains, and first round ability on his side, Okoye should become a force in short order, especially with a unit featuring Mario Williams and DeMeco Ryans.

John McCargo (2nd Team): Like Okoye, he was a dominant force in college. With Marcus Stroud, Aaron Schobel, and Paul Posluszny surrounding him, McCargo should use his tremendous strength and quickness to be a big-time factor up the middle.



Linebackers



Curtis Lofton (1st Team): DT Grady Jackson is serviceable enough to help Lofton be a bigger impact player than many might expect, because he can give Lofton more room to make plays without linemen in his face. Heís not a big-time athlete, but he has a strong on-field presence and IQ. Keith Brooking and Michael Boley might take away tackles, but the MLB is generally the stat-getter in a 4-3 defense.
DíQwell Jackson (1st Team): The pounding Cleveland took Monday Night notwithstanding, Jackson should benefit from the presence of Shaun Rogers, who, was not on the field this week. Jackson will get even more plays funneled his way with Rogers and a 100-tackle season isnít out of the question.

Channing Crowder (2nd Team): With Zach Thomas out of the picture, Crowder has his shot to be the leading tackler for the Dolphins. Heís not a great athlete, but neither was Thomas. But the feeling out of Miami is that Crowder might just be a guy bridging the gap until the Parcells regime can find a better MLB via free agency or the draft. Still, itís obvious the Dolphins think Crowder has shown enough to at least make a case for 2009. Either way, I expect good stats even if he doesnít endear himself.

Jerod Mayo (2nd Team): He edges out Keith Rivers for this spot because he should get his fair share of tackles as an ILB in the 3-4. Plus, the Bengals seem to have horrible luck with their linebacker draft picks (Odell Thurman and David Pollack). The Patriots should use Mayo to the best of his ability.



Cornerbacks



Brandon Flowers (1st Team): Flowers is a good tackler and heís in a good situation with Kansas Cityís Cover 2 defensive scheme. If you remember, Rhonde Barber was a top tier fantasy corner due to this system. If the Chiefs offense fails to make strides with its QB situation, the defense could be on the field a lot and that spells more opportunities for a guy like Flowers.

Eric Wright (2nd Team): I swear I picked him prior to the Monday preseason game. Wright is a talented young CB who will have to replace Leigh Bodden as the primary cover corner in this defense. I like this as a fantasy owner for a few reasons. One, I donít see the Browns taking too great a leap up the defensive rankings. Two, Bodden led all corners in fantasy-friendly stats so Wright stands to gain the most. Three, Wright will get tested because heís young and still relatively inexperienced.



Safeties



Michael Huff (1st Team): Huff was moved from strong safety to free safety. This is generally a death knell for decent fantasy stats, but Huff is a strong athlete who should also benefit from the addition of DeAngelo Hall. Huff should be able to roam a bit more in the defensive backfield and this could help him see not only an increase in tackles, but also more interceptions. I doubt he becomes a top-10 safety, but he can become a viable starter.

Reggie Nelson (2nd Team): Hereís a real ball-hawking defender. Nelson has great skills and the Jaguars are excited about his ability to become a superstar. Although heís also a free safety, heís also a nice late round reach for fantasy greatness.

This is my third update to my rankings. The projections are for a 12-team league and a starting lineup of 1 QB, 2 RB, 3 WR, and 1 TE lineup with FFToday default scoring. In order to remain conscious of space and formatting, I will only list the top 32 QBs, RBs, and TEs and the top 50 WRs. I had a number of e-mail requests for me to provide projections for other scoring systems, but I will not have the time to do more than this type of league. I suggest you register for a MyFFToday account (it's free), input your league scoring system, and use your scoring system to run the numbers from the Crank Score Calculator to get the raw data. Then use the previous articles as a guide to calculate the simplified new Crank Score.
| | |
| --- | --- |
| Tier Color Codes | |
| Elite | |
| Primary Starters | |
| Secondary Starters | |
| Tertiary Starters (WR) | |
| Primary Back ups | |
| Secondary Back ups | |
| Flier/Waiver Wire | |
The tier color codes are my way of grouping the players by specific ranges in Crank Score. Once can see the codes have some mathematical logic, but it is still a subjective delineation on my part. One could argue that there are only two elite backs or there is seven to twelve elite receivers depending on how one looks at the impact of the Crank Score attributed to the positions. Again, this is a limited list of players. There are far more flier/waiver wire picks for my personal draft list. The players in bold reflect changes from last week and there are significant changes – some bigger than others.
Ranking Changes
Brett Favre moves up again, but not due to his performance as much as he appears healthy and hasnít lost anything with his arm. The adjustment to the offense is a bit overrated. The hardest part about playing quarterback is recognizing what the defense is doing and acting upon it. I doubt thereís much Favre hasnít seen.
Chris Perry rockets up the charts because I believe heíll beat out Rudi Johnson. It doesnít mean you pick him before Johnson until thereís an official, strong indicator of this change, but you do recognize heís a great mid-to-late round pick.
Derek Anderson drops a few spots, but itís because I like Roethlisberger and Palmer more. Aaron Rodgers drops because if heís getting hit that much after two preseason games, then I think heís in major trouble to start the year. It means one of two things: the line is playing poorly and/or heís not making quick decisions.
Antonio Bryant is making plays and could be separating himself from Maurice Stovall and Michael Clayton.