Highlighting a few key risers and fallers, the Dynasty Dashboard assists in keeping you on top of player valuation changes as they are developing. Further, a deep sleeper or largely overlooked player worthy of consideration for a spot on your roster will also be identified each week. Keep an eye on the dashboard and drive your team toward dynasty league success.



Accelerating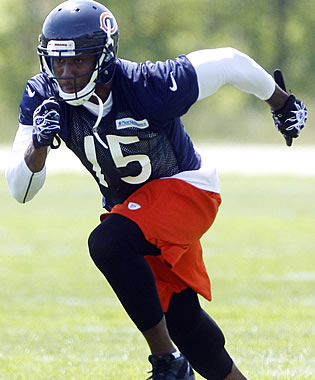 Cutler is locked into Marshall - 56 targets in five games.

Brandon Marshall - For some strange reason, when I pause to evaluate the Bears WR situation through five weeks this season, I canít help but have a visual pop into my head of Jan Brady whining, ďMarshall, Marshall, Marshall.Ē The amount of attention the veteran receiver is getting in the teamís aerial assault should be enough to make the other Chicago receivers jealous. Cutler chucks the rock in Marshallís direction seemingly nonstop. Tight coverage, double coverage, it simply doesnít matter. Cutler has an incredible level of trust for Marshall and it is clear the two have great on-field chemistry with one another. Marshall is tied for 4th in the NFL with a whopping 56 targets through 5 games. Second in targets for the Bears is Alshon Jeffery with only 23. What is interesting is that Marshall has been targeted on a league-leading 32.9% of all of his teamís designed pass plays. Cutler is very clearly locked into his top WR at this point.

Admittedly, only a couple of months ago, I was not as high on Marshall as many others may have been. I thought the move to Chicago increased his value, but only in a small manner. However, the way that things have unfolded to this point has made me reexamine my position. While the season isnít even one-third of the way completed, Marshall is the obvious big dog in the receiving corps. He is positioned to get a steady diet of looks from Cutler while the other receivers will have to fight for the remaining scraps. The team isnít going to have to put up big passing stats in order for the former Dolphins wideout to get his. Marshall owners should be excited about how things have worked out for their stud WR.

Tony Gonzalez - Despite being one of the all-time greats at his position, Tony Gonzalezís advanced age kept him a good way down dynasty rankings boards in the preseason. Modest slippage in production the last few years didnít help his cause either. His long-term value dipped substantially, but even his short-term value was in question with it appearing very unlikely that he would be able to keep up, statistically, with the likes of Gronkowski, Graham, Hernandez and a few others this season. Well, in case you werenít aware, it is Gonzalez that is leading all TEs in receptions and receiving yards at this juncture of the season. He has 39 catches for 388 yards and 4 TDs. Not too bad for a guy that most, including yours truly, were starting to write off as too old.

Frankly, all of the key elements of the Atlanta passing game are all worthy of being upgraded from wherever they may have been situated in dynasty rankings during the preseason. The Falcons are no longer a team that is looking to lean heavily on the ground game and Michael Turner. Make no mistake about it, they are an elite passing team. Matt Ryan has blossomed into a special QB and he has two elite WRs and one of the greatest TEs to ever play the game catching passes for him. Dirk Koetter, the teamís new offensive coordinator, has done a great job of utilizing his unitís weapons.

The receiving pie appears big enough to feed all three of White, Jones and Gonzalez going forward, yet I would expect the veteran TEís production to cool a bit from the hot start. Still, if he is able to remain largely healthy, it is looking like Gonzalez could make a real push for his first 1,000-yard campaign since 2008. With defenses focused so heavily on White and Jones, Gonzalez should continue to get plenty of targets. He is a great short-term solution at TE for a playoff-caliber dynasty team. It is possible that this will be the final year of his phenomenal career, but it is shaping up to be a great one.



Downshifting



Philip Rivers - Having Vincent Jackson and a healthy/younger Antonio Gates to rely on as his primary options, Phillip Rivers was a mid-range dynasty QB1. Jackson provided Rivers an elite downfield threat. He stretched the field and repeatedly won jump balls on behalf of his QB. Gates was a matchup nightmare at the TE position for San Diegoís opposition. His big body, soft hands and athleticism made him a nearly impossible to cover at times. Unfortunately for Rivers, he doesnít have the same level of weaponry to work with these days. Jackson now plays for Tampa Bay and it is looking more and more like nagging injuries and age are catching up with Gates. Malcom Floyd and Robert Meachem are decent players, yet I donít believe that either of them have skill sets necessary to elevate the play and production of their QB. Jackson, along with Gates in his prime, provided Rivers with distinct advantages in specific aspects of the passing game that he simply doesnít have any longer.

Dynasty owners that have Rivers as their outright QB1 right now likely arenít feeling so great about their situation at the position. While his stock is not tanking, it has edged downward in the last several weeks. Rivers is no longer a 2nd or 3rd tier dynasty QB but is instead now in the mix with players like Romo, Vick and even Flacco. Serving in a quarterback-by-committee platoon or as a top-shelf backup, Rivers can help dynasty teams this year and beyond. However, if you are penciling him in as your unquestioned starter week-in and week-out, then you are more often than not losing the battle at QB in your head-to-head matchups. The return of Vincent Brown in a few weeks should upgrade the WR position for the Bolts, but probably only modestly.

Fred Jackson - The 49ers have a dominant defense, so if anyone expected Jackson to post more than merely pedestrian numbers against them in Week 5, they were being quite optimistic. Unfortunately, he didnít even reach pedestrian-level stats, being held to 34 yards from scrimmage and 0 TDs. Sadly, this sort of production is not too far off of what Jackson has averaged in his 3 games played this year. Spraining his knee midway through Week 1ís tussle against the Jets, Jackson simply hasnít been able to get things on track this season. With only 128 total yards from scrimmage and no TDs, his dynasty stock is falling at a brisk pace.

Ultimately, it is more than the slow start and potentially lingering injury that has me worried about Jackson moving forward. First, his advanced age at his position is a legitimate reason for concern. Some may not realize it, but Jackson is already 31 years old and will be 32 not too long after the Superbowl is decided this season. RBs in their 30ís are on shaky ground. The next issue for Jackson is the emergence of C.J. Spiller. While Jackson was out with the aforementioned knee injury, Spiller was exceptional. He was electric whenever he got the ball in space, consistently making big plays. In the past two weeks, this duo has split the workload at RB, with Jackson receiving a few more touches than Spiller. Yet, despite the recent divvying of duties being slightly in Jacksonís favor, I believe it is only a matter of time before Spiller is leading the way in the Buffalo backfield, particularly once/if the Bills are out of the playoff hunt.



Spotted in the High Beams



Rueben Randle - In Week 3 it was Ramses Barden that stepped up at WR for the Giants. Injuries to Hakeem Nicks and Domenik Hixon allowed Barden the opportunity to see the field much more than he previously had, and Barden performed admirably. He registered 9 receptions for 138 yards. In Week 5, Randle's number was called to fill in for injured players ahead of him on the depth chart. This time it was Nicks and Barden sidelined by injury. Given his first significant workload, Randle came through with 6 grabs for 82 yards. The rookie undeniably had a very good game and showed the world a glimpse of why the Giants spent a 2nd round pick on him in the last draft.

Going forward, it might be easy for some to become overly enthusiastic about the first-year WR out of LSU. Randle has NFL size and skills, and he has now shown he can produce when given the opportunity. However, while I think there are more than enough reasons to be excited about him in the long run, people should temper their expectations for the remainder of 2012. Once Nicks is back on the field, Randle's role will be greatly diminished compared to what we saw last week. Further, Barden's return will muddy the water even more. Randle is talented, so he is a great player to own for the long haul, in my view, but patience is going to be necessary as the Giants have quality depth at the WR positions and it may take him some time to establish a consistent, significant role for the team.