Bold Predictions
Fearless Forecasting from a Modest Fantasy Writer
9/7/09

One of the most fun aspects of fantasy football is trying to predict what will happen before it actually does, and applying those prognostications to your team to get a better result. Instead of making a few general predictions I'd like to go position by position and make one bold prediction (or more) that I feel strongly about. More than likely they will not all come true but if you can pick a couple that you like and apply them to your draft or team you may just end up with an advantage over some of your more conservative league mates. Without further ado I present to you my bold predictions for the 2009-2010 season.
1. The Indianapolis Colts Will Miss The Playoffs And Win Less Than 10 Games
This one isnít really fantasy related but I wanted to throw it in there anyway. For six straight years the Colts have won 12+ games but that streak will come to an end this season. Here is my reasoning:
New Coach: When youíre on a consistent, winning, team and you change head coaches itís bound to have a negative effect, if only in a small way. Tony Dungy was one of the best coaches in the game and even though the team is familiar with current head coach Jim Caldwell, you have to think it will take time for the players to adjust to the nuances of a new regime.
No Marvin Harrison: Granted, Harrison did not play a large role in 2008 but this will be the first year Manning has been without his security blanket. You just donít replace chemistry like that overnight. His departure also hurts the overall depth of the receivers leaving the Colts to count on untested players to step up and contribute.
Kicker Questions: In fantasy, kickers are usually an afterthought but in the NFL they can win or lose several games a year. Adam Vinatieri had hip and knee surgery this offseason and may show lingering effects, or worse the Colts may have to rely on a less proven kicker if Vinatieri canít go.
Offensive Line Questions: The Colts ranked 31st on the ground last year and much of that had to do with the performance of the offensive line. Depth is lacking on this unit and one major injury could be a disaster for the offense. So far this preseason the line has been inconsistent, even against lesser talent.
Defensive Questions: The Colts have been more known for their offense but their defense has been solid the past 5 years. They have a new d:coordinator, a new scheme to get used to, and already a rash of injuries to deal with. A good chunk of their secondary, including superstar Bob Sanders has been hurt this pre:season and most of the injuries are the of the type that may linger throughout the year. It is well known that without Sanders, the defense, especially the run defense is considerably worse.
Other Teams Catching Up: Part of the reason the Colts have won so much recently is the lack of talent in their division. This year, the other three teams in the AFC South have made upgrades while the Colts have basically remained the same. I see closer games within the division this season and would not be surprised if the Colts split with Houston, Jacksonville, and Tennessee.
Stagnancy: Have the Colts made any big free agent signings or trades to impact their team? Yes, they still have Manning which always gives them a chance, but they are aging in key areas and are relying more and more on young, inexperienced players to make big contributions. A few of them might come through but I believe this is the year it falls apart for Indianapolis and it may take awhile for them to get back on top.
2. Pierre Thomas Will Finish AS A Top 7 Running Back
The range of predictions on Thomas is huge; many think he will be a top 15 back because of his situation while others feel he wonít crack the top 20 because of various factors including the Saints propensity to pass. His recent knee injury appears minor and may scare some fantasy owners but I still believe Thomas will finish as a top 7 running back for several reasons.
Competition: Thomas has to compete for touches with Reggie Bush and Mike Bell. Bush, as everyone knows is injury prone and not an every down back, even when healthy. His prior knee injuries may cause the Saints to limit his playing time so he can contribute all year long. Mike Bell is the other threat to steal carries but has bounced around the league, being cut by several teams for not being in shape and has never proven to be a viable back in this league. Bell has looked good this preseason but at this point he is not anything more than a spot player who may get 4-5 touches a game. Look for Thomas to received around 18 rushes including goal line looks, and will be targeted a few more times in the passing game. If and when Bush misses time, these numbers will obviously increase with Bell receiving more looks as well.
Offensive Power: Outside of a 30-7 loss at Carolina the Saints averaged 30 points a game last year and never scored less than 20. This means they will never have to abandon the run game, allowing Thomas to contribute on 3 downs, all 4 quarters. Thomas should get at minimum, 5 trips to the red zone a game. There are going to be very few times when you see defenses put eight men in the box against these Saints. Not only do they have an elite quarterback in Brees and an elite receiver in Colston, but they also have a solid possession guy in Lance Moore, a tight end with big play ability in Shockey, and real burners to stretch the field in Henderson and Meachem. Thomas should have nice open lanes to run through as defenses focus on stopping the big play through the air.
Defensive Woes: The Saints defense should be improved this year because of what they did in the draft and through free agency acquisitions, but nobody will jump to compare them to the Steel Curtain anytime soon. I fully expect most Saints games to be shootouts and therefore Thomas should benefit greatly from the team always being in ďattack modeĒ.
Extras: Thomas reported to camp in great shape, adding muscle to his frame and declaring he was ready to take on a full load. He has the motivation, desire, fresh legs and now the opportunity to showcase his skills. He knows the offense and can be dangerous between and outside the tackles, as well as through the air. The Saints will still be a pass-first team but with a little more commitment to the run and a wide-open offense I predict Thomas to average a touchdown and 100 total yards a game.

3. Danny Ware Will Be This Yearís Mid Season Running Back Gem
Each year a backup running back emerges from obscurity to the forefront of the fantasy world. Weíve seen guys like Samkon Gado, Ryan Grant, Peyton Hillis, and Earnest Graham go from rise from obscurity to become a fantasy stud, if only for a few weeks. This year I believe that guy will be Giants running back Danny Ware. With Derrick Ward gone and rookie Andre Brown declared out for the year with a ruptured left Achilles' tendon, Ware is locked in as the Giants #3 back. Ahead of him is fantasy stud and big bruiser Brandon Jacobs who is one of the leagueís most productive backs. The smaller but shiftier Ahmad Bradshaw looks to take over the role Ward played last year. If both backs ahead of Ware stay healthy and are productive Ware probably wonít see much more than occasional mop up duty, but I donít think this is how it will play out. Itís difficult to predict injuries but Jacobs clearly takes (and gives) a lot of punishment. He missed three full games and pieces of others due to injury last year and his workload is projected to increase this year. There is only so much pounding a body can take and unless the Giants commit to keeping him fresh (no indication they will) I see Jacobs missing at least as much time this years as he did in 2008.
Bradshaw doesnít have the body type to be an every down back. Ware (6í, 230 lbs) is a combination of the two backs in front of him, displaying power and burst, giving him the makeup of a complete back. If Bradshaw is forced to step into a larger role Iím not so sure he can stand up to the challenge and take the pounding, thus opening the door for Ware, especially on the goal line. All Giant RBs have the benefit of running behind one of the leagueís best offensive lines and reside on a team committed to the run. Ware averaged 4.5 yards per carry this preseason and has capable hands out of the backfield. I believe Ware, at some point this season, will get his shot and put up RB #2 numbers and be a nice addition to your fantasy backfield.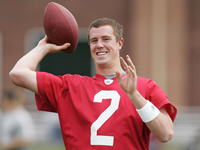 Matt Ryan: Ready to become a fantasy elite QB?
4. Matt Ryan Will Finish As A Top 5 Fantasy Quarterback
Itís rare that a quarterback so young can make such a big impact in the league and in fantasy football but Matt Ryan has done so. Letís take a look at some reasons why I think he will make the jump to elite fantasy QB status.
Weapons: Roddy White is a borderline elite receiver who is only getting better, has youth on his side, and has the chemistry with Ryan to bolt the QB into the top five.
The name Tony Gonzalez pretty much speaks for itself. Heís still in great shape, hungry for a winning season, and remains one of the best pass-catching tight ends in the game.
Michael Turner does not contribute much directly to Ryanís stats but after a monster year defenses have to respect the run game and bring safeties up in run support, leaving receivers single covered downfield. A strong ground attack is a quarterbackís best friendÖ even a fantasy quarterback..
Jerious Norwood is supposed to get more touches this year and a lot of those targets should come in the form of screen, swing, and check down passes. Norwood has the wheels to take it to the house each time he gets his hands on the ball and those 3 yard passes that turn into 60-yard gains look good on the QB stat sheet.
The underrated and no-name offensive line play well together, return all five starters, and were 5th best in the league last year in giving up sacks.
Experience: Most quarterbacks say the difference between year one and two in the NFL is like night and day. Last year Ryan had little freedom in play-calling and had limited options in terms of controlling the offense. This year he will better understand defensive fronts and manipulate the offense to attack accordingly. Donít forget, one of Ryanís greatest attributes coming out of college was his football smarts, which should be utilized to its full extent this season. In limited action this Ryan seems to have good control of the offense and is poised for a prime year.
Extras: While the Atlanta defense is much improved it is still not elite and if you look at the Falcons schedule they are certainly playing a number of high-powered offenses (New England, New Orleans (twice), Carolina (twice), N.Y Giants, & Philadelphia). I see a lot of shootouts this year and very few games where the Falcons will just be running out the clock in the second half. They face their share of tough defenses but few have the personnel to cover two elite receiving options while still playing hard against the run. Ryan should have a lot of opportunities to air it out this year as Atlanta opens up the playbook allowing their franchise player to live up to the hype.
5. Chris Simms Will Be Fantasy Relevant By Mid Season
There are a number of factors that lead me to believe Chris Simms will be on top of everyoneís waiver wire pick up list after a few weeks into the regular season. Kyle Orton is nowhere near an elite talent. To be fair, Simms is not elite either but I believe has more upside than Orton and has yet to be given a real shot at being a full time starter since his spleen injury a few years ago. Orton will start at QB and be forced to throw due to the lack of defense in Denver and because of McDanielís propensity to pass. I donít see Orton and his 58% completion percentage flourishing in this role and with consecutive games against New England, San Diego, Baltimore, and Pittsburgh, a tough early schedule may land Orton on the bench. I see them being 3-5 at best after eight games and Orton, for good reason or not, will be the scapegoat. At that point, Simms will be given the reigns for the remainder of the year. With a great line and adequate weapons Simms could have some big fantasy games down the stretch, especially since heíll be asked to throw a good amount.

I know you are thinking ďwhat makes Simms more likely to succeed than Orton?Ē Itís a fair question and really I have no perfect answer other than a real lack of faith in Ortonís skills and a strong belief that Simms is a talented QB (remember, this a BOLD prediction article). The scouting report on Simms has a strong arm, great size, good vision, good mechanics and excellent accuracy but a tendency to make bad throws when being pressured. I believe Denverís best weapon on offense may be their line giving Simms time to go through his reads and make great throws. His recent injury (sprained ankle) should not hold him out more than another week or two. He may not carry a fantasy team for a whole season but I believe he will be a great addition later in the year and put up high end #2 QB numbers for most of the second half.

6. No Major Shakeup In The Top 12 Fantasy Receivers
Saying things will remain the same usually isnít taken as a bold prediction. In the fantasy football world, however, change occurs so much that when things stay the same from one year to the next its a big anomaly. As FFtoday writer Joe Kilroy recently pointed out, there were 7 changes in the top 10 from two years ago to last year and that has been the norm over the past decade. This year, however, I believe it is even more imperative to grab two of the top 12 wideouts because I believe the top 12 will stay intact. Sure, there will be a little flip-flopping within the group but in my opinion 11 of 12 receivers will be the same as last year. My only exception is Marques Colston rejoining the top 12, replacing Antonio Bryant.
When I look down the list of the top 12 I see a lot of talent, but I also see little or no drop off or change in situation that would cause any of these receivers to fall down the ranks. In fact many of them are entering the year with an improved situation including Randy Moss, Calvin Johnson, Roddy White, and Anquan Boldin. What makes me even more confident in this prediction is the lack of elite talent below the top 12. There will certainly be guys that move up, perhaps even 10 or more spots, but I donít see a single receiver that has the combination of talent and situation to move in amongst the elite. Among that group are over the hill veterans (Driver, Mason, Coles, Bruce, Ward), possession guys (Welker, Walter, Cotchery, Moore), and up and comers (Hester, Gonzalez, Breaston, Ginn), but none of them have the combination of elite skill, big play ability, consistency, and frequency of looks that I believe it will make them an elite fantasy receiver. This year, let others try to find those mid-round gems while you lock up two top 12 guys in the first 4 rounds and be confident that youíll have a clear advantage at the position.
7. Randy McMichael Will Finish As A Top 10 Fantasy Tight End
As every good fantasy player knows a key to success is finding those late-round gems or waiver wire pickups to help you win a few games or carry you for a span during the year. While no tight end is going to carry a whole team I believe you can find one in McMichael that will make a fantasy impact but only cost you a final round pick or just a waiver wire pick up.

After an early season injury cut short his 2008 campaign many people have forgotten just how good McMichael was just a short time ago. He posted 60+ catches for three straight years in Miami while consistently being a top 7 fantasy tight end. His first year with the Rams was less productive but much of that had to do with the offensive scheme and some minor injuries.

This year McMichael has fresh legs and feels physically better than he has in a long time. And hey, what do you know? Itís a contract year! At 30 years old, McMichael is looking for one more lucrative contact to close out his career. The Rams are now running a west coast offense and McMichael should benefit with short, quick passes and redzone looks. The other Rams receivers are young and inexperienced making McMichael a big, attractive target over the middle for Bulger. Donnie Avery has returned from this foot injury and should provide McMichael more room, as defenses must protect against the deep ball. Defenses may be preoccupied with all-pro Steven Jackson, thus giving the tight end even more freedom for opportunities. Finally, the Rams may be better than last year but expect them to be behind in a good amount of their games, allowing Bulger to have 30+ attempts allowing McMichael the chance to be a top ten fantasy tight end.
8. San Diego Will Finish As The #1 Fantasy Defense
The Chargers will finish as the #1 fantasy defense, making them an excellent value for where they are being drafted.
Schedule: Take a look at the majority of offenses the Chargers play and one word comes to mind; unimpressed. With matchups against Oakland twice, the Chiefs twice, and Denver twice these are teams that have a few playmakers, but wonít be confused with the top offenses in the league. Also on the schedule are the Dolphins, Ravens, Browns, and Titans, all with relatively conservative, run-first offenses that typically donít post a lot of points. Even some of the better offenses they play have real vulnerabilities; the Giants (lack of WR options) the Steelers (below average offensive line), and the Bengals (offensive line ditto).
Talent: The Bolts have elite talents on all levels of their defense. Jamal Williams and Luis Castillo anchor the line; 2 big bodies who can collapse the pocket and allow the linebackers more freedom to move in space. At linebacker you have Shawne Merriman returning who, when healthy, is one of the best in the game at getting to the quarterback and creating big plays. The Chargers used their 1st round pick this year on Larry English who is versatile enough to lineup on the line or as a linebacker and has the power and pass rushing skills to contribute right away. Donít forget Shaun Phillips, who is above average at the linebacker position. In the secondary, Antonio Cromartie and Quentin Jammer make up one of the best starting corner duos in the league. Both have good size and athleticism and have shown the ability to create turnovers and big plays. At safety Eric Weddle is a solid starter that led all defensive backs in tackles last year and will only get better entering his third season.
History: Iím not usually one to base future performance on past history but just two seasons ago the Chargers were a top 3 fantasy defense with relatively the same team. Struck with injuries and a couple underperformers the defense regressed in Ď08 but a return to health and weak opponents within the division should vault the Bolts atop the team defensive stats by the end of í09.