High Risk, High Reward Players in your Draft




8/25/11



As any fantasy football veteran knows, the decisions you make during your draft often make or break your entire season. Almost every round we ask ourselves; "should I take a chance on this guy?" or, "is this guy too risky to take here?" So many factors go into whether a player will have a good season or not, but with certain players there is a substantial risk involved right off the bat. In the following piece I will look at a handful of players who all have varying amounts of risk and compare that gamble to the potential reward.

Note: ADP based on 10-team standard scoring league.




(ADP: 1.07)





Risk:

Vick was a fantasy monster last season, but injuries forced him to miss all or parts of five games. He is also now on the wrong side of 30, and his playing style leaves him vulnerable to many big hits. The Eagles have tinkered with their offensive line, but it remains to be seen how good they will really be. Teams will also certainly be game-planning for Vick this year, unlike most of last year where he was somewhat of a surprise. For a player that you invest a first-round pick in, do you really want a guy with the body of a quarterback who dives, jumps, spins, and takes vicious hits on a consistent basis like a running back?



Reward:

If Vick does play every game and comes close to the pace he was on last year, we could witness all sorts of fantasy records being broken. With the weapons he has at his disposal (Jackson, Maclin, McCoy, Celek, Avant) and his unreal natural talent, Vick could very well put up a 4000-yard passing, 1000-yard rushing, 40- touchdown year. If he comes close to this, he will single-handedly win you games and perhaps even fantasy league titles. A healthy Vick will almost ensure that your team is in every game, every week.



Buy or Sell:

I would certainly not take Vick before any of the top five RBs (which is where he often does go in many drafts I've seen), but after the top five picks, he is a buy. Even if he does miss a few games, there are few other players that display his explosive scoring ability on a consistent basis. Take him after the top five and feel confident that he will be among the top scorers each week, even if you have to hold your breath on every snap he takes.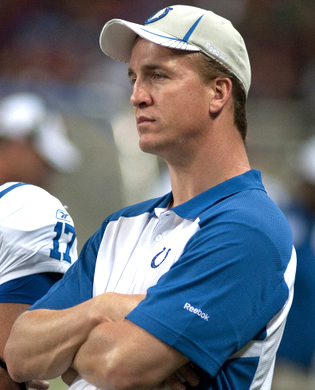 Manning's risk is too great for many fantasy owners.




(ADP: 4.06)





Risk:

The usually steady Manning was still a top-ten QB last year, but his stats dipped considerably compared to those of years past. Is it age (35) catching up to him or perhaps his injury, or maybe both? Now comes word that Manning may not even be ready by Week 1, and when he does get back, how long before he returns to form, if he ever does? Even when he returns, the running game in Indy is non-existent. And between Wayne's age and declining skills, Collie's health, and Garcon's questionable hands, it must be asked: Is Peyton Manning an elite fantasy quarterback anymore?



Reward:

For the better part of a decade, Manning was the first QB taken in fantasy drafts. And up until the end of last year, he was as consistent as they come at the position. Even last year, much of the blame could be put on injuries to Collie and Clark and subpar offensive line play. Those players should return to health this year, and the Colts have tweaked the line in hopes of protecting Manning even better—although he is already the best at getting the ball out quickly. If the offense stays healthy, there is an excellent chance that Manning regains his elite status, but this time at a pretty bargain price.



Buy or Sell:

I'm selling Manning this year for two reasons. First, his health scares the heck out of me because it sounds as if there is a slight chance of him missing significant time. Even if he only misses a few weeks it may take him half the season to get back into a good rhythm. Second, there are easily seven other QBs that I could see putting up similar or better stats than Manning, even if he does not miss any time. Save yourself the indigestion and draft a different QB to run your squad.




(ADP: 6.02)





Risk:

Grant was a first-round pick in many drafts last year but tore ankle ligaments in Week 1 and missed the entire season. Besides the question of whether he can fully recover from his injury, there is also significant competition in the backfield this year, with last year's playoff hero, James Starks, and rookie Alex Green, who has looked great in the preseason and projects to one day be an NFL starter. Grant was very good two years ago but was never considered an elite back, so Green Bay would have no problem sitting him on the bench if he does not produce early.



Reward:

The Packers offense is one of the best in the league, so Grant, who should get the first shot at being the feature back, has a chance to put up top-12 RB numbers at a discount price. He is also in a contract year and should be highly motivated after a season of watching from the sidelines. Even if he loses a few touches to the other backs, Grant should be a lock for 18-20 touches a game, meaning he has the potential to be a low-end RB1 at an RB3 price.



Buy or Sell:

I'm buying Grant this year as a motivated guy who I can get at a bargain price with the potential to exceed his ADP by at least two rounds. If you can snag him as your third or even second RB, you should have a leg up on the competition.




(ADP: 5.05)





Risk:

Just a few years ago, Williams looked like he would join the elite club of fantasy backs, but injury and competition issues derailed that notion pretty quickly. This year he has three things going against him: injury history, competition, and bad quarterback play. Williams has missed 13 games over the past two years and played in another handful of games where he was tagged with the dreaded 'game time decision' label. Williams also has competition from Jonathan Stewart and even Mike Goodson, who have both played well when Williams has been out. Even if Williams stays healthy, the Panthers will find ways to get all three of these guys touches, eating into all of their fantasy values. Finally, with either Clausen (Ugh!) or the rookie Newton (Eek!) at quarterback, the Panthers offense may very well lead the league in three-and-outs.



Reward:

In 2008, Williams scored 20 touchdowns and certainly has the raw talent to come close to that number again. On top of that, the Carolina offensive line is among the league's best units, and everyone knows they will lean heavily on the run game to power the offense. As far as competition goes, Stewart has also had his share of injuries, and by giving Williams a huge contract this offseason, it is clear that the Panthers want him to be their starter and workhorse. If Carolina can get just a little improvement at the quarterback position (which theoretically should not be hard to do) to take some heat off the run game, Williams has a chance to flourish and perhaps even approach the fantasy elite once again.



Buy or Sell:

With too many "if" factors, I am selling Williams, especially when there are several other backs around his ADP that look like better picks. If you do decide to take the plunge on Williams, make sure you grab Stewart a round or two later.




(ADP: 2.03)





Risk:

Jones-Drew was the model of consistency before last year, when knee issues hampered his play and eventually led to his missing vital time during the fantasy playoffs. Offseason knee surgery followed, and while he claims to feel great, Running Back + Knee Surgery doesn't always add up. At this point, MJD has not played in a preseason game and likely will not take the field until opening day. Rashad Jennings showed he can play and, even if MJD is healthy, chances are Jennings will take over some of the workload to keep Jones-Drew fresh. Add all this to the fact that the Jaguars offense is not the most dynamic and may possibly be run by a rookie at some point in the year, and you have a recipe for big worries.



Reward:

Everyone knows that MJD can dominate when he is running on all cylinders. Even with a bum knee last year, he managed six straight 100-yard games and wound up as a top-ten RB—despite missing two full games and parts of several others. Regardless of down and situation, Jones-Drew does it all and is still in the prime of his career. Despite his size and a lack of good weapons around him, MJD has shown year after year that he is capable of being a top-five back. To get him at the very end of round one or the beginning of round two might be considered a steal.



Buy or Sell:

At his current ADP of 2.03, I believe MJD has to be a buy. While I would not consider him in the top eight picks, he may just turn out to be the draft's best bargain if you are able to pair him with another top-13 overall pick. I believe MJD when he says he feels healthy, and I see no reason to believe that another top-10 performance is not on its way.




(ADP: 4.03)





Risk:

Last year at this time, Greene was many people's fantasy sleeper darling, poised to run wild as the workhorse in the Jets' ground attack. Then LaDainian Tomlinson decided he was not going to act his age, and Greene became nothing more than an over-drafted handcuff. Tomlinson is still around this year, and while Greene has shown flashes of brilliance in his short career, nothing really screams "elite back" about him. Even if Tomlinson begins to show his age, as he did at the end of last year, Greene will still likely be pulled on third downs and very possibly even at the goal line. Someday Tomlinson will fade away and Greene will have the job all to himself, but do you want to take the gamble on 2011 being that year?



Reward:

With a ball-control offense, decent skill players, and a stout defense, in theory the Jets are set up to be one of the best situations for a fantasy running back to thrive in. With three years in the system and fresh legs, Greene should be poised to put up at least top-20 RB numbers, with an upside to sneak into the top 12. Even if Tomlinson eats up all the third-down touches and most of the goal-line carries, there should be plenty of room for Greene to get about 18 touches a game behind an offensive line that knows how to run block.



Buy or Sell:

I'm selling Greene this year, especially at his current ADP, where you could wait at least a round and get a running back in a similar or better situation. Tomlinson remains a great talent. And even if his role diminishes, by taking away third-down and goal-line duties he really limits Greene's ceiling this year. In addition, I actually believe the Jets will throw a bit more this season, which takes Greene out of the mix since he is not a great receiver out of the backfield.




(ADP: 4.09)





Risk:

Best had the injury-prone label attached to him before he played a single down in the NFL, and so far that label is sticking like glue. While he only missed one game last year, he was hobbled most of the season and was productive from a fantasy perspective in only four or five games. Recently Best suffered a mild concussion—a problem he also faced in college—and who knows how long the effects may linger. Add this up with the fact that the Lions are among the league leaders in pass attempts, and Best has quite the uphill climb to be a real force this year.



Reward:

All you had to do was watch Best's performance against the Eagles last year to get a sense of what this man can do in the right situation. Not only is he lighting quick and agile, but he can catch the ball quite well and explode from any area of the field. The guys behind him on the depth chart (with Mikel Leshoure now out for the year) are nothing special, so the opportunity is there to become a feature three-down back. Add this to the strong passing attack led by all-world receiver Calvin Johnson and strong-armed Matthew Stafford, and you have the makings of a dynamic offense that should give Best the chance to get into space and create a lot of long runs.



Buy or Sell:

I really want to believe in Best, but in this case the risk slightly outweighs the reward, so he is a sell for me as a fourth-round pick. For a team that will still air it our more times than not, this seems like a situation where no RB will be better than an RB3 on a consistent basis. If Best is healthy, he will certainly have a few explosive games, but games of 10 touches for 40 total yards will likely be the norm.




(ADP: 5.08)





Risk:

Colston is coming off his third knee procedure in the past 15 months, and at 28 years old, he has the medical history of a player several years older. If this in itself is not enough, the Saints spread the ball around better than almost any other team, and with the drafting of Mark Ingram in the first round, they may even run the ball more this year. At one point in his career, Colston may have been considered an elite fantasy WR, but those days are gone. There are now many games each year where Colston would barely be considered a WR2.



Reward:

The Saints still have one of the best quarterbacks around in Brees, and Colston usually gets the first look on many of their pass plays, especially around the goal line. With other talented wideouts around him, and now a power run game to bring the safety's up, Colston might actually have less defensive pressure on him this year than any year before. Even if he does have a spotty injury past, the truth is, he only missed one game the past two seasons. While his days of being a top-five guy are past, there is a good chance he can perform as a low-end WR1 at a low-end WR2 price.



Buy or Sell:

As a WR2 in the early to mid fifth round, I am selling Colston. Sure he may gut it out through most games, but he simply does not put together many big games anymore, and he may be living off of his name more than any real value. With the Saints' receiver depth being pretty deep this year, wait a round or two and chances are likely you'll find a guy similar to or better than Colston.




(ADP: 7.10)





Risk:

It would be bad enough that Britt has a hamstring issue this year—the same issue as last year—but that is just the tip of the iceberg. Britt has been in trouble off the field more often than Brett Favre has retired. His latest issue will most likely earn him a suspension from the commissioner, and by that time, he may be too out of shape, still gimpy from his hamstring injury, or perhaps even in jail.



Reward:

If you look at pure talent at the WR position, there are only a few guys in the league that outshine Britt. He is big (6'3'', 215) and fast and has excellent body control and leaping ability. In the Titans' new offense, Britt should be featured not only on long bombs, but also in the red zone where he can use his frame to shield away defenders. Add into this a slight improvement at quarterback and a very strong running game to keep the defense busy, and you have the makings of a top-ten WR just waiting to explode in that magical third year of his career.



Buy or Sell:

It's hard to argue with pure talent, but I'm selling Britt this year and not regretting it one bit. To me, the situation just looks like a boulder rolling down a steep hill, out of control and getting more and more dangerous. Britt would really need a lot of luck this year to even be worth drafting in the first ten rounds.




(ADP: 4.05)





Risk:

Gates was on pace for a career year last season before foot and toe problems finally did him in, causing him to miss six total games. That toe injury has stuck with him the past few years and most likely is something he will have to deal with for the rest of his career. For a guy who relies on his speed and cutting and jumping ability, a foot injury should not be taken lightly. He is also not a young guy anymore, and Vincent Jackson will surely take away many of the enormous amount of targets that Gates got last year.



Reward:

He is without a doubt the best fantasy tight end of this decade, and having him on your team gives you a clear advantage over your opponents at the tight end position. When he was healthy last year, Gates not only outscored every other tight end, but almost every wide receiver as well. With an elite quarterback throwing him the ball, a healthy Gates should easily be among the top tight ends again this year. Having him as your tight end is like having the scoring potential of an elite WR or a decent RB2.



Buy or Sell:

Gates is great, but at his current ADP, I am selling him based on the fact that you can get similar production from the tight end position one to three rounds later, without quite as much injury risk.


Suggestions, comments? E-mail me.