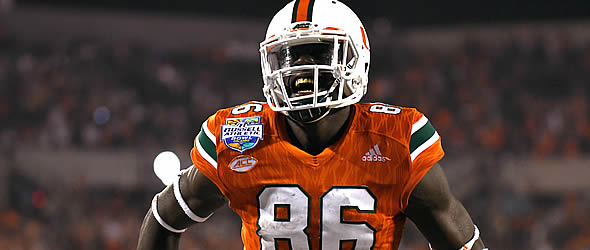 Talented players like TE David Njoku (CLE) can be had late in first round of your rookie draft.


For those of us immersed in the dynasty fantasy football world the rookie draft is a big event. Much like the real NFL draft, the rookie draft signifies not only the beginning of a new season, but also the chance to improve your team for this year. While players in the rookie class turn out being busts more often than studs, the eternal hope for landing a future star or a diamond in the rough always gets the juices flowing for hardcore fantasy managers like you and I.

This year's class was heralded for a long time as one of the best classes in years. While some would argue it is over-hyped, I would point out the depth, especially at the RB and TE positions make it an excellent year. While the landing spots of some players have made it difficult to gauge their true value, it also makes for some interesting long term investments that could pay off down the road.

I am part of several dynasty leagues, each with a little different scoring system and makeup, but I wanted to highlight one of the rookie drafts I was recently a part of. This particular league is fairly traditional (No PPR, 12 teams, 2 RB, 3WR, 1 TE, 1 Flex) EXCEPT it is a 2 QB league, which obviously changes some strategy.

Whatever your personal thoughts on this draft are, I hope this real-life draft example can be used as a tool for your upcoming drafts. Enjoy!



Round 1



1. Leonard Fournette (RB Jacksonville)
2. Christian McCaffrey (RB Carolina)
3. Joe Mixon (RB Cincinnati)
4. Corey Davis (WR Tennessee)
5. Dalvin Cook (RB Minnesota)
6. O.J. Howard (TE Tampa Bay)
7. Mike Williams (WR San Diego)
8. Kareem Hunt (RB Kansas City)
9. Samaje Perine (RB Washington)
10. John Ross (WR Cincinnati)
11. Deshaun Watson (QB Houston)
12. David Njoku (TE Cleveland)



Best Pick of the Round:

Depending on your league setup I think the first four picks of the draft could be in just about any order. The best pick in this round was David Njoku at No.12. Njoku has the most fantasy appeal of any tight end in this yearís class, especially long term, so to get him six picks after O.J. Howard is excellent value. Njoku is just 20 years old and has all the measurables of an elite tight end, in addition to solid production at the University of Miami. Everyone knows it takes a bit of time for tight ends to adjust and Njoku probably will be no different but given his age and his freakish athletic talent, he could easily be a top ten fantasy tight end before he reaches 24 years old, making dynasty owners salivate with that kind of long term value.

While some quiver at the thought of Cleveland as a landing spot, I see it oppositely. In Cleveland, Njoku has the chance to be the focus of the offense, as there are no proven skill players currently on the team. With the draft capital they spent on Njoku I could easily see the team building around him and creating an offense that highlights the position, much like Greg Olsen in Carolina, who Njoku has drawn comparisons to. With DeShone Kizer also being drafted this year, the rookies should get plenty of reps together, building chemistry. Short-term, I think Njoku could make some noise this season, as the team released Gary Barnidge and has no real red-zone threats at the moment. A 2016 Hunter Henry-esque season could well be in the cards for Njoku, with much more production long term.



Worst Pick of the Round:

I know opinions (and where he is taken) seem to vary wildly on Kareem Hunt, but count me in the group that thinks he is an average prospect. Hunt has adequate size and measurables and has proven to be a solid contributor in the pass game. The problem is, while he projects to be a solid NFL contributor and maybe even an eventual starter, he lacks elite skills to make him a true difference maker. When Iím drafting rookies, who often bust anyway, I want to shoot for the stars. Although he is thickly built, does not seem to run to his size, choosing rather to dance or spin outside rather than using power to finish a run. Once he gets to the next level he has adequate, but not game-breaking speed, and looks like a ďtweenerĒ, too slow to outrun the defense but not powerful enough to run through them either. As far as his landing spot, Iím a fan of Spencer Ware as he showed very well last year before getting hurt and wearing down in the second half of the season. Ware is the starter until (if) he gets hurt and Hunt is more of a complimentary piece to keep Ware fresh. Even if Hunt were to take over as starter he wonít be anything more than a flex play. There are more players, even at the RB position, with more fantasy appeal (and value) than Hunt.



Round 2



13. Evan Engram (TE New York Giants)
14. JuJu Smith-Schuster (WR Pittsburgh)
15. Alvin Kamara (RB New Orleans)
16. Jamaal Williams (RB Green Bay)
17. Zay Jones (WR Buffalo)
18. Curtis Samuel (WR Carolina)
19. DíOnta Foreman (RB Houston)
20. Marlon Mack (RB Indianapolis)
21. Joe Williams (RB San Francisco)
22. Kenny Golladay (WR Detroit)
23. Mitchell Trubisky (QB Chicago)
24. ArDarius Stewart (WR New York Jets)



Best Pick of the Round:

The Alvin Kamara pick was solid and I am also a big fan of DíOnta Foreman at No.19 overall but the pick I think I like the most here was Zay Jones at No.17. While Jones is not an elite physical specimen, he does have adequate size, speed, and strength, and certainly has the college production that should translate well to the NFL. The Bills are not exactly an offensive powerhouse but I think things are setting up nicely both short and long-term for Jones to be an impact player. First off, the Bills receiving corps is lacking depth giving Jones a path to playing time. I will be shocked if Jones does not open the season as the number two receiver and this alone should get him 5-7 targets per week. If Sammy Watkins stays healthy, Jones will have the advantage of defenses paying attention to Watkins, which should lead to more efficient outcomes for Jones. If Watkins gets hurt, which is not a stretch at all, Jones could be the number one receiver and see 7-10 targets a week. No rookie receiver, outside maybe Corey Davis could see the targets Jones gets this year in most scenarios.

The Bills did not pick up Watkins option for next season, and may be willing to let him walk due to his injury history. Jones, with a year under his belt could be the main receiving option next season, and while he does not have the traditional elite No.1 WR physical makeup, I could easily see a Jarvis Landry type production level or even a poor manís Antonio Brown type career going forward. Jones runs great routes all over the field and despite his average size, plays bigger than he looks. According to many sources, Jones has great character, focus, and work ethic and looks like someone who will get the most out of his natural ability.



Worst Pick of the Round:

I liked most picks in this round but the one that stood out to me as being poor value was Jamaal Williams at No.16. Williams reminds me of Hunt in that I believe he is an all-around decent prospect but more likely destined to be a career backup than a superstar. Williams is a nicely built back who does not fumble and hits the hole fairly hard, but his athleticism is below average for the position and shows little to no ďspecialĒ qualities as a runner. I get why people are excited about him, as Green Bay has an explosive offense and theoretically just Ty Montgomery, a converted WR, ahead of him on the depth chart. But, Green Bay doesn't have to use their backs in a traditional way to be successful, as they did with Montgomery last season, who, by the way, managed 5.9 yards per carry last year. As a compliment to Montgomery, I can see value in Williams, as a grinder and a between-the-tackles guy who could be the answer to closing out games when the team has a large lead. But as a feature back in this offense, I do not see a lot of upside and part of me prefers Aaron Jones - who the Packers drafted after Williams Ė for long-term upside at the position. Bottom line: Williams will fill a useful role this year and might even get a handful of garbage time touchdown runs, but there are much better options for week-to-week value, even at this point in the draft.



Round 3



25. Gerald Everett (TE Los Angeles Rams)
26. Wayne Gallman (RB (New York Giants)
27. Chris Godwin (WR Tampa Bay)
28. James Conner (RB Pittsburgh)
29. Taywan Taylor (WR Tennessee)
30. Jeremy McNichols (RB Tampa Bay)
31. Patrick Mahomes (QB Kansas City)
32. Cooper Kupp (WR Los Angeles Rams)
33. Jake Butt (TE Denver)
34. DeShone Kizer (QB Cleveland)
35. Carlos Henderson (WR Denver)
36. Adam Shaheen (TE Chicago)



Best Pick of the Round:

Iím a fan of the Gerald Everett pick at No.25 but the steal of the round, and perhaps the entire draft was Chris Godwin at pick No.27. As I mentioned at the top of this article, landing spots can potentially camouflage a playerís true value and I think this is the case for Godwin. Coming into this rookie draft Godwin was my number three overall wide receiver. Yes, ahead of Williams, and ahead of everyone else but Davis and Ross. The landing spot is not ideal as Godwin will start the season no better than third on the depth chart and may be as low as 4th or 5th in targets if you include the solid tight endís that the Bucs employ. The value with Godwin is more long-term if you have faith in his talent, and I clearly do. Godwin can beat you in multiple ways, on down-field routes using his speed (4.42 40 at the combine), and on shorter routes, including the red-zone using his toughness, size, precision, and box-out ability to shield defenders. Throw in the fact that heís a solid run blocker and a smart player with solid work ethic and it adds up to a guy that the Bucs will be hard pressed to keep off the field. While Godwin will probably not make much of an impact this season (barring an injury), I could see him eventually being the second most targeted player in this offense (behind Evans of course), and with the defenses attention on Evans, Godwin could be one of the most productive No.2 receivers in the NFL in 2-3 years. In dynasty leagues Godwin is a great investment, especially if he falls past the mid-second round as he did here.



Worst Pick of the Round:

Since this is a two-QB league I canít fault owners for taking quarterbacks in Round 3, and I think most of the other players in the round have some argument for upside, but the pick I liked the least was Carlos Henderson. Henderson is a project that ties up a roster spot, in all but the deepest of dynasty leagues. He was a one-year wonder against sub-par competition at Louisiana Tech, where he used pure athleticism and little else to overwhelm less gifted players. As the most talented player on his team, he racked up impressive stats but seems to be a raw prospect with upside capped as a WR3. As a returner, Henderson should see the field fairly soon and perhaps make a nice impact for the Broncos on special teams, but will be buried on the receiver depth chart on a team with a shaky quarterback situation, Henderson checks almost none of the boxes I want when evaluating a prospect for dynasty purposes. There were easily 6-8 players that went undrafted that I would have chosen ahead of Henderson for their upside and/or landing spot.



Post-Draft Overview



Overall I like the depth at a number of positions, especially RB and TE where a guy like Everett, for example, who went in Round 3, might have gone in the early second round in the past couple of years. There is a tier drop after the first four picks and then again after about pick 12 or 13. If Iím sitting with a top-4 pick Iím ecstatic, and if itís a pick in the 5-12 range Iím also pretty happy. I think the worst spot to be in this year is in the 13-18ish range where players are very similar. If I held picks in that range, Iíd be looking to either trade up a few spots to maximize talent or trade back a few spots to maximize value. Best of luck in your drafts!