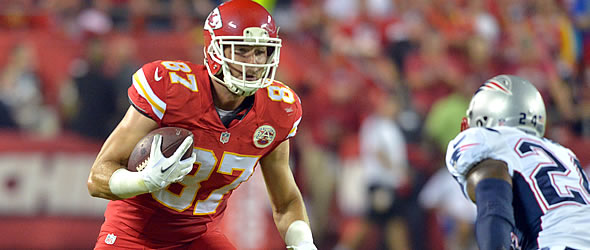 An expected increase in targets has pushed Travis Kelce inside the top five of tight end rankings.
QB Alex Smith
(2014 QB Rank – No. 19, 17.8 FPts/G)
A perennial "safe but not spectacular" fantasy quarterback, Kansas City's Alex Smith finished 19th among QBs in fantasy scoring in 2014, down three spots from 2013. One of the biggest reasons for that drop-off in production was Smith did far less with his legs a season ago than he did in 2013. No longer considered much of a threat to run, Smith now relies heavily on being a dink-and-dunk passer who rarely turns the ball over and keeps his team in games. This is good enough for the Chiefs, who have one of the best running games in the league and a defense that has taken significant strides forward since Andy Reid's arrival, but it does not do much for fantasy owners who would rather see offensive shootouts involving their quarterback.
With long-time Chiefs receiver Dwayne Bowe now out of the picture, Smith will throw to almost an entirely new set of pass-catchers in 2015. This could lead to good things over time, as the previous unit did not live up to expectations, but it could also spell trouble in the early part of the season if the chemistry is slow to build. Smith notably did not throw a single one of his 18 touchdown passes to a wide receiver in 2015, which gives his receivers some serious bust potential and really limits their cap, but the way Smith is able to distribute the ball to a variety of targets keeps defenses on their heels and can lead to some nice games from the quarterback himself. Look for Smith to be a late-round QB2 in most formats with the potential to be on the waiver wire in some leagues. He's not likely to give you many monster games, but he could be a valuable plug-and-play quarterback if he's in a favorable matchup.
RB Jamaal Charles
(2014 RB Rank – No. 7, 14.5 FPts/G)
Once again in the conversation to be the top overall pick in fantasy football drafts, Jamaal Charles has to be considered one of the safest picks that can be made going into 2015. Charles finished seventh among running backs with an average of 14.5 points per game in 2014 and should be a good bet to continue that type of production this season. The best part about Charles is he has so many games with high-end production. This past season, he contributed 20 or more fantasy points in six games and scored at least 10 points in 10 games. This is even more impressive when you consider he essentially missed two full games due to a high ankle sprain he suffered early in the Chiefs' Week 2 game against the Broncos. So in the remaining 14 games, Charles only finished with fewer than 10 points in four contests.
If there's anything to be worried about with Charles, it's that he did see significantly fewer passes come his way in 2014 than he did in 2013, when he led all running backs in fantasy scoring. In 2014, Charles caught an acceptable 40 passes on 59 targets, good enough to make him a valuable but not overwhelmingly great asset in PPR formats. This was a far cry from his 70 receptions on 104 targets in 2013, however. Still, if Charles can stay healthy, there's no reason to believe he won't again be one of the elite fantasy football running backs this season. He'll get the lion's share of the Chiefs' running back touches, and that makes him an obvious early first-round target for fantasy.
RB Knile Davis
(2014 RB Rank – No. 33, 6.9 FPts/G)
Primarily known for his fantasy value as Charles' handcuff in the Kansas City backfield, Knile Davis showed up and impressed when given the chance in 2014. When Charles went down with a high ankle sprain early in Week 2 , Davis jumped right in and took over the duties as the Chiefs' primary ball carrier, racking up 28 total touches for 105 total yards in that game. The next week, he continued to roll as he rushed for 132 yards and a touchdown. Charles returned in a Week 4 blowout win over the Patriots, but Davis still got 16 carries for 107 yards. From that point on, Davis primarily saw the field as Charles' backup, but it's that type of step-in-and-dominate skill that makes Davis one of, if not the most valuable handcuff in all of fantasy football. Expect more of the same from Davis this season, but understand that Charles does have a long injury history and Davis owners could be one injury away from having a fantasy RB1 on their hands.
WR Jeremy Maclin
(2014 WR Rank – No. 9, 12.1 FPts/G)
After suffering through perhaps the worst receiving group in the league a season ago, Kansas City fans have to be excited about the addition of former Philadelphia Eagles wideout Jeremy Maclin. Maclin signed with the Chiefs during the offseason and will be reunited with head coach Andy Reid, the man who made him a first-round NFL draft pick back in 2009. Maclin was an absolute monster for the Eagles in 2014, as he finished ninth at wide receiver, shocking just about everyone in the process as he made Philadelphia fans completely forget about DeSean Jackson. Maclin missed the entire 2013 season with a torn ACL, so most believed he would need a season to not only get his legs back under him, but also to get acclimated to the new Chip Kelly offense in Philadelphia. That wasn't the case, though, as Maclin seemed to pick things up quickly and he fit right in, catching 86 passes for 1,329 yards and 10 touchdowns.
Obviously Kelly's offense is worlds different than what Maclin will play in this season in Kansas City, but it's worth noting that Maclin has performed well in Reid offenses in the past. Maclin has never finished a season with fewer than 750 yards, and with Smith at the helm, Maclin could be in line to surpass the 86 receptions he made a season ago. Still, the downside of Maclin this season is Smith just has not been able to find his wide receivers for touchdowns. He went the entire 2014 season without throwing a single touchdown pass to a wide receiver, which has to be terrifying for those who will rely on Maclin in 2015. Nevertheless, even if he only finishes with a handful of touchdowns this season, Maclin should make enough receptions and have enough yardage to be a reliable WR2, particularly in PPR formats.
WR Chris Conley
(2014 WR Rank – N/A)
Currently penciled in as the WR3 in Kansas City, rookie Chris Conley might not be ready to make a fantasy impact early in the season but could end up being a player to watch late in the year once he develops some rapport with Smith. Conley is a highly athletic prospect who, at 6'2" and 213 lbs., fits more into the mold of an elite NFL wide receiver than any other on the roster. One red flag regarding Conley, however, is he really wasn't productive in college. In his junior and senior seasons, Conley caught just 12 total touchdown receptions and failed to reach even 700 yards in either season. Some of that has to be attributed to the fact that his school, Georgia, had one of the best rushing attacks in the nation, but it's still a bit concerning that he wasn't able to exploit opposing defenses a bit more often than he did. Conley isn't likely to be drafted in most leagues, but he does have some value in dynasty leagues, where he could carve out a niche as the Chiefs WR2 in years to come.
WR Albert Wilson
(2014 WR Rank – No. 113, 3.7 FPts/G)
The only other Chiefs receiver who has any real value heading into the season, albeit minimal, is Albert Wilson. Wilson caught 16 passes for 260 yards in his rookie season in 2014, but that really wasn't enough to make much of a splash in fantasy. At 5'9", Wilson is a bit undersized to be a WR2, which is where he's currently expected to play opposite Maclin, but with some route-running improvements, he could certainly develop into a valuable underneath slot receiver. It is worth noting that Wilson did most of his damage late in the 2014 season when he finally got an opportunity to play, including three straight games where he had more than 50 yards receiving. Still, he will likely go undrafted in most leagues, and it'd be surprising to see him become more than a low-end bye week fill-in in PPR formats given the Chiefs' lack of overall production in the passing game.
TE Travis Kelce
(2014 TE Rank – No. 8, 7.3 FPts/G)
One of the lone bright spots in an otherwise dismal 2014 fantasy season for Chiefs players, tight end Travis Kelce burst onto the scene in his sophomore season, catching 67 passes for 862 yards and five touchdowns. Tight end is a position the Chiefs have been looking to fill for years now, ever since the departure of Tony Gonzalez, and they might have finally found their man. Kelce's numbers a season ago are even more impressive when you consider he was limited in snaps early in the season and he only started 11 games. It's believed he will see much more work in 2015 now that he has bulked up his frame a bit during the offseason, but that, of course, might cause him to lose a step as a pure receiver.
Currently going off the board as high as the No. 3 fantasy tight end in drafts, Kelce will need a substantial increase in production to justify that type of draft position. He's capable of doing it, but now that the team has a new high-end receiving target in Maclin, Kelce might not be the apple of Smith's eye quite so often in 2015. Another cause for concern is the Chiefs did select a tight end, James O'Shaughnessy, in the fifth round of the NFL draft. While O'Shaughnessy is a bit raw in his skills, he does possess solid pass-catching skills that saw him make nine touchdown receptions as a senior. O'Shaughnessy himself isn't worth selecting in fantasy drafts at this time, but he could cut into Kelce's numbers, as he may see looks in the red zone that would otherwise have gone to Kelce.