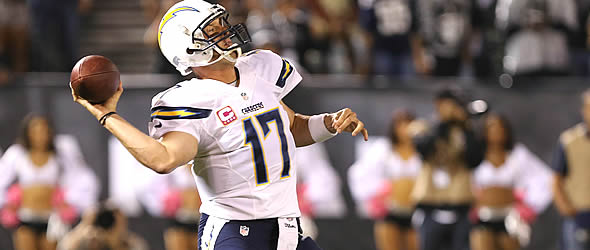 Philip Rivers has ranked inside the top ten at the quarterback position in each of the last two years.
QB Philip Rivers
(2014 QB Rank – No.9, 21.8 FPts/G)
It's never a good thing when the biggest story surrounding an NFL franchise isn't the team's draft from April and isn't the potential of a deep playoff run in the upcoming season. What's worse is when the story involves the franchise potentially being relocated, especially when the franchise quarterback has made it clear that he has little to no interest in remaining with the team if the move does happen. That kind of frustration and general apathy toward the team rarely breeds fantasy success, but it's the exact scenario that is playing out in San Diego right now with quarterback Philip Rivers.
Rivers, who has not missed a start since becoming the team's top signal caller back in 2006, enters the 2015 season with a whirlwind of speculation surrounding the team and must somehow figure out a way to match, if not exceed his 2014 output if he wants to be a top 10 fantasy option.
Although he is coming off of back-to-back seasons where he exceeded the 30-touchdown mark, Rivers also threw an uncharacteristic 18 interceptions this past season – the second-highest total of his career. Much of this was due to inconsistencies in the offense, injuries across the board and a general lack of blocking from his offensive line. The team did make moves to address the offensive line by bringing in free agents Orlando Franklin and Joe Barksdale. While both players should be positives in the running game, Barksdale was atrocious as a pass protector for the Rams in 2014. If Barksdale doesn't make major improvements to his game, Rivers could be seeing plenty of pressure from the right side of the offensive line which could again translate into an abnormally high number of turnovers.
Still, Rivers remains the most important piece of the puzzle in San Diego. The team should have a more consistent, if not more productive running game this season which should give the team more opportunities to score. With a plethora of decent receiving options but no one elite, Rivers could be the one player who provides consistent, high-quality fantasy production in this offense.
RB Melvin Gordon
(2014 RB Rank – N/A)
Rookies are almost always the toughest players to evaluate coming into an NFL season because while they may have looked amazing in college, the transition into the NFL doesn't always happen smoothly and in today's NFL, it doesn't always happen right away. Such could be the case with San Diego's rookie running back Melvin Gordon, who was certainly one of the top prospects that the position has seen over the past few seasons, but still has some holes in his game that make him a potentially dangerous fantasy pick in 2015.
Gordon possesses top-end quickness with good pure speed and great power, but his vision has been a question mark. Once he hits the hole, he can make good things happen, but he does not always seem to find the hole right away. Improvements to the San Diego offensive line should give Gordon more running room than the Chargers backs saw in 2014, but chemistry could be a problem for the unit out of the gate. If they gel quickly and Gordon becomes comfortable with the offense, he could be one of the best value picks of the entire fantasy season. However, if the unit struggles and Gordon does not trust that the holes will develop, he could be just another name on the long list of disappointing former first round running backs.
Perhaps the biggest concern with Gordon heading into this season is his ability to play on third down. Most believe that he will be the team's primary ball carrier on first and second down, but third mid-or-longer could see him head to the bench in exchange for the likes of Danny Woodhead or even Branden Oliver. If he can develop his pass-catching skills while showing high effort in pass protection, Gordon could end up being a top-10 fantasy running back this season, even in PPR formats. Even if he doesn't, however, it would be hard to imagine that he won't break into the top-20 for the season given his expected workload.

RB Danny Woodhead
(2014 RB Rank – No.132, 2.4 FPts/G)
Reports out of Chargers camp are that running back Danny Woodhead is ahead of schedule on recovering from the broken fibula injury which cost him the majority of his 2014 season. This bodes well for the team as his skill set was sorely missed, particularly in the passing game where he had carved out quite the niche for himself in 2013.
Woodhead's 2013 season was the stuff of PPR legend. The 5'8", 200 lb. back caught 76 passes – second most among all running backs – and became one a prototypical Flex starter in fantasy circles due to consistent production. It is worth noting, however, that Woodhead caught just five total passes and carried the ball only 15 times, with no touchdowns, before being injured in 2014.
While most believe that his usage would have increased as the season went on, the possibility that the offense may be going in a different direction is worth considering before selecting him in fantasy drafts. Branden Oliver, who started seven games for the Chargers in 2014, may be in line for more total work than Woodhead given his more balanced skillset.
RB Branden Oliver
(2014 RB Rank – No.30, 7.8 FPts/G)
Chargers running back Branden Oliver was almost completely unknown to fantasy owners heading into the 2014 season, but could have been a major stop-gap for some teams as he put up some big numbers for a few weeks before fading back into irrelevance toward the end of the season.
Oliver, another small-framed back who drew comparisons to Darren Sproles when he broke out in Week 5 against the Jets, compiled a total of 447 yards, three touchdowns and 17 receptions over four-week span from Week 5 through Week 8. Oliver returned to a complementary role upon the return of the then-injured Ryan Mathews, but still showed signs of explosiveness and playmaking ability from time to time.
With Melvin Gordon now on the roster, look for Oliver to again play a complementary role in the running game while competing with Danny Woodhead for snaps on third down. The possibility of an injury to Gordon could give Oliver fantasy draft precedence over Woodhead as the primary handcuff as he is better equipped to handle a larger workload.
RB Donald Brown
(2014 RB Rank – No.75, 3.3 FPts/G)
When both Ryan Mathews and Danny Woodhead went down to injury in early 2014, most believed that it would be former first round draft pick Donald Brown who stepped in and took over as the team's primary ball carrier. Although Brown was given a chance, his 2.6 yards per carry on the season were a major disappointment and led the way for Branden Oliver to get the lead back role until Mathews returned.
Now entering his seventh NFL season, Brown is essentially a non-factor for fantasy leagues. Stuck on the depth chart behind two players who have already proven to be more-trusted by the team and a rookie who will be given every opportunity to succeed, Brown is at best the fourth option in the running game and really can only be considered a potential fantasy acquisition if at least two of the players ahead of him on the depth chart get injured.
WR Keenan Allen
(2014 WR Rank – No.46, 7.3 FPts/G)
After a monster rookie season that saw many analysts proclaiming him as the next big thing, wide receiver Keenan Allen took a big step back in 2015. Although he actually caught more passes in his second season than he did in his rookie campaign, Allen finished 263 yards and four touchdowns behind his 2013 totals.
Now entering his third season as a pro, Allen still has a chance to become a legitimate every week starting fantasy receiver, but may never live up to the expectations of being a top 10 player at the position. Reports indicate that there is a real chance that Allen will spend plenty of time playing out of the slot this season, which could mean more receptions but will likely mean an even further decreased YPC and could even mean fewer touchdowns.
Still, for PPR formats, the move to the slot might not necessarily a bad thing. Eddie Royal, who left in free agency this offseason, thrived out of the slot in 2014 when he caught 62 passes for 778 yards. Although Royal may be a more prototypical slot receiver, Allen has far more pure talent at this point in his career and could inch back closer to the 1,000-yard mark for the season.
Look for Allen to be the team's best fantasy receiver in 2015, but that will likely only make him a WR2 in most formats. Be careful of over-drafting him, but do look for an opportunity to select him if he slips because he could provide some nice, consistent fantasy numbers this season.
WR Steve Johnson
(2014 WR Rank – No.78, 4.7 FPts/G)
Once considered a viable every week fantasy starter, new Chargers wideout Steve Johnson may be one of the biggest boom-or-bust receivers on the fantasy market in 2015.
Johnson eclipsed 1,000 receiving yards for three straight seasons as a member of the Bills in 2010 through 2012 before an injury-plagued 2013 saw him fail to get to 600 yards. Johnson looked to revitalize his career as a member of the 49ers in 2014, but could never get on the same page with quarterback Colin Kaepernick and ended up finishing fourth in snaps at the position behind Anquan Boldin, Michael Crabtree and Brandon Lloyd.
A new offense and a more traditional quarterback could do wonders for Johnson, who will look to get back to where he was in 2010-2012 which made him one of the more valuable fantasy receivers in the game. Expect him to start as the team's WR2 and potentially be a big player in the downfield passing game. If he and Rivers get off to a quick start, there is no reason why Johnson couldn't return low-end fantasy WR2 numbers while costing significantly less than that to acquire in your draft.
WR Malcom Floyd
(2014 WR Rank – No.29, 7.6 FPts/G)
At one point, fantasy owners were looking at Malcom Floyd as the potential "twin tower" complement to then-Charger Vincent Jackson in the passing game. When that didn't happen, hopes became that he would eventually become a big play receiver who, despite inconsistency, could give the Chargers some huge games from time to time. Now entering his 10th season as a pro, Floyd has become only a bit more than a big body role-player in the San Diego offense.
Although he did enjoy his best fantasy season as a pro in 2014 when he caught 52 passes for 856 yards and six touchdowns, Floyd was never really on the fantasy radar for most owners as he eclipsed 90 yards just twice on the season and never caught more than five passes in any one game. It's very hard to trust him as a fantasy receiver and with the addition of Steve Johnson as a potential downfield threat and Allen possibly moving into the slot, there will likely be fewer balls that head Floyd's way in 2015.
Look at Floyd's 2014 numbers as a ceiling for what he can do this season, which makes him a WR3 at best, but more likely a bye-week fill-in when the Chargers have a good matchup.
WR Jacoby Jones
(2014 WR Rank – No.132, 1.2 FPts/G)
Super Bowl hero Jacoby Jones was once highly-touted as a big play threat that could develop into a WR2 next to a high-quality WR1, but it has never quite panned out that way. Still an excellent returner, Jones has never quite become a reliable player in the passing game.
Now on his third team, Jones is unlikely to finally break out. Although quarterback Philip Rivers has revitalized the careers of players like Eddie Royal and brought players like Danario Alexander into the fantasy conversation, it's unlikely that Jones is going to suddenly become a fantasy stud as he enters his ninth season.
TE Antonio Gates
(2014 TE Rank – No.2, 9.6 FPts/G)
Once the premier tight end in all of fantasy, Antonio Gates has stuck around and still remains one of the top players at the position even at age 35. Gates' 821 yards put him seventh in the league at the tight end position, but it was his 12 touchdowns – tied for most among tight ends – that made him an elite fantasy option once again.
As Philip Rivers' most trusted target, Gates gets plenty of looks in the red zone and there's no reason for that to change. Among all tight ends in league history, only Tony Gonzalez has more touchdowns over the course of his career than Antonio Gates. Look for Gates to close the gap, which is currently 12, and potentially threaten to overtake that record in 2015 if he gets out to a hot start.
While backup Ladarius Green appears to be the potential tight end of the future, Gates is still the man in this passing game and with the Chargers defense still struggling, look for plenty of passing from San Diego again this season. Gates isn't Rob Gronkowski or Jimmy Graham, but there's no reason to think that he can't once again be in the conversation to lead the pack among the second-tier of fantasy tight ends, while costing significantly less than many of the other options at the position.
TE Ladarius Green
(2014 TE Rank – No.53, 2.3 FPts/G)
At 6'6" and 240 lbs, Ladarius Green has the size and speed combination that make him a real threat to be a big time fantasy producer in the future. The key word there, however, is "future."
Too many fantasy owners fell into this trap in 2014 and still others will fall into it in 2015. As it stands right now, Green is not a fantasy option. His lack of usage in the San Diego offense means that he will not see enough targets to be a weekly starter even if he does show up with a nice game here or there. At this point, Green is the tight end version of a fantasy handcuff. If Antonio Gates goes down, he could be great. But if Gates stays relatively healthy again, Green isn't going to see nearly enough targets to make him fantasy relative.