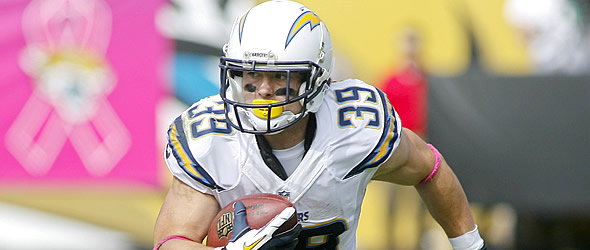 Danny Woodhead has been a top-25 fantasy running back in three out of the past four seasons.


QB Philip Rivers


(2015 QB Rank – No. 10, 22.4 FPts/G)



He's not the sexiest name on the board, but Philip Rivers quietly had another excellent fantasy season in 2015, throwing for nearly 4,800 yards along with 29 touchdowns and just 13 interceptions. It was his eighth straight season of throwing for at least 26 touchdowns and while the Chargers continue to flounder in mediocrity as a team, their leader behind center continues to put up numbers that should one day give him a chance at enshrinement in Canton.

There doesn't seem to be any reason why San Diego would change their offensive gameplan, but don't look for Rivers to match his pass attempts from a season ago. Last season was the first time in his career that Rivers attempted 600 pass attempts and he blew by that number with ease (661). Even with a downtick in attempts, Rivers projects to be among the league leaders in the category as long as he stays healthy, especially if Melvin Gordon struggles in the running game, which could lead to more playing time for Danny Woodhead whose skill set is much more in line with a pass-first offensive attack. Rivers has averaged 4519 yards and 30 TDs over the last three years with a QB Consistency ranking of QB8 during that time. Early drafts see Rivers going off the board as a low-end QB1 in some deep leagues, but typically as a high-end QB2. Rivers' upside is a bit limited with him being one of the least-mobile quarterbacks in football, but he is an ideal streaming option in good matchups whose high floor makes him a safe late-round pick.

RB Melvin Gordon


(2015 RB Rank – No. 51, 6.0 FPts/G)



2015 rookie running back Melvin Gordon was among the most disappointing fantasy picks this past season as he failed to produce high-end numbers even in great matchups. A first round NFL draft pick, most believed that Gordon would immediately step into a solid San Diego offense and drastically improve the team's dismal per-attempt numbers from 2014 where they averaged just 3.4 yards per carry as a team. While the team's YPC did improve, Gordon and the team averaged just 3.5 yards per carry on the season. Most disappointing, however, was that the team scored just four rushing touchdowns on the entire season – none of which came from Gordon. Gordon's 184 rushing attempts without a touchdown puts him on pace to compete for the highest number of attempts in the history of the league without hitting paydirt. Of course, one has to assume that Gordon will eventually fluke his way into a touchdown even if his skills haven't improved from a season ago, but the second-year back seems focused on boosting his production this season after a rookie year which even he has described as "terrible" in interviews.

After an offseason spent recovering from a knee injury which ended his season back in Week 15, Gordon will have to re-convince fantasy owners that he is worth consideration as a potential high-end fantasy back. Even though he was terrible, the Chargers stayed committed to Gordon for the most part, giving him an average of 16 touches per game. In today's NFL, that's hard to come by. It'll be difficult to forget his horrendous rookie season, but Gordon could offer tremendous value for fantasy owners who opt to take a chance on him. The skills are there, the opportunity is there. He just needs to put it all together.

RB Danny Woodhead


(2015 RB Rank – No. 12, 10.2 FPts/G)



If you were naming off the top 12 fantasy running backs in the NFL from 2015, chances are that you would stop for a moment after reading Danny Woodhead's name. Did he really finish 12th at the position in Non-PPR leagues? He did. Very, very quietly. Perhaps more surprisingly is that it's nothing new for Woodhead to be ranked high in fantasy production at the position. With the exception being a 2014 season which was ended early by injury, Woodhead has been a top-25 fantasy running back in three out of the past four seasons. But even with that kind of a track record, Woodhead not only fails to get the praise he should, but he is often completely forgotten about on fantasy draft day.

2015 was perhaps the time when Woodhead was most disrespected by the fantasy industry, primarily because of the addition of his teammate, Melvin Gordon. Woodhead didn't get nearly the amount of carries that Gordon did, but his production in the passing game simply cannot be overlooked. He finished the season as the only running back in the league to be targeted more than 100 times (107) and his 81 receptions and 756 receiving yards led all players at the position.

While Gordon is being drafted ahead of Woodhead once again in standard fantasy leagues, don't be surprised if Woodhead once again sneaks onto the field more often than Gordon owners would like to see, especially on passing downs. The high number of receptions that Woodhead can produce gives him a nice floor most weeks, but his lack of touchdowns doesn't often allow him to be one of the high-end scorers very often. Woodhead is one of the players who is most affected by scoring systems, so be aware of how your league scores receptions before your draft and then make your decision on Woodhead accordingly.

WR Keenan Allen


(2015 WR Rank – No. 47, 12.1 FPts/G)



One of the most forgotten stories of the 2015 season was the dominant start of wide receiver Keenan Allen. Through eight games, Allen was lighting up the fantasy scoreboard with 725 yards and four touchdowns on 67 receptions with an incredible 75.3 percent catch rate. These numbers put him on pace to finish with 134 receptions, 1,450 yards and eight scores. That would've put him in the top three in the league in both receptions and yards along with a respectable touchdown number, making him a surefire top 10 fantasy receiver for the season. Unfortunately, that didn't happen. Allen's season was cut short by a freak injury – a lacerated kidney.

With half of a season and an entire offseason to recover, Allen is expected to be fully healthy by Week 1, which should allow him to get back to producing WR1 numbers, especially in PPR formats. Certainly it would be difficult to imagine Allen producing quite what he did in 2015 on a per-game basis, but quarterback Philip Rivers seems to be very comfortable throwing him the ball in any situation. This gives Allen a nice, high floor. Unfortunately, Allen hasn't shown that he has the ability to score at the pace of a top-tier WR1. Because of that, he'll be drafted as a low-end WR1 in standard formats and just a mid-level WR1 in PPR formats.

With the addition of Travis Benjamin, one of the best players in the league at stretching a defense, the Chargers should have more opportunities to throw the ball underneath and complete more of the efficient, short-to-mid-range throws that are right in Allen's wheelhouse. If he can stay healthy – which he hasn't been able to do often in his career – Allen should be a consistent source of fantasy production for those who give him another chance.

WR Travis Benjamin


(2015 WR Rank – No. 28, 8.0 FPts/G)



It would've been almost laughable to project Travis Benjamin as a top-30 fantasy wide receiver heading into the 2015 season, but by the halfway point in the year, it would've been even more laughable to leave him off the list. As it turned out, Benjamin blew away all expectations as he led the Browns wide receivers with 68 receptions for 966 yards and five touchdowns – nearly doubling the next closest Cleveland wideout, Brian Hartline, who finished with just 523 yards on the season. Benjamin's breakout season came in a contract year allowing him to capitalize on his latest accomplishments. The fourth-year wideout eventually decided to sign with San Diego, a team that threw the ball as much as anyone in 2015. Benjamin is expected to start opposite Keenan Allen, taking over where Malcom Floyd left off when he retired this past off-season. Floyd was one of the best deep threats in the league over the course of his career and while Benjamin doesn't have the same type of physical height and weight measurables, he is a burner capable of making huge plays down the field. Benjamin's surprising outburst in production in 2015 was primarily due to his big play ability. Only three wide receivers – Antonio Brown, Odell Beckham Jr. and Sammy Watkins – had more receptions of 40 or more yards than Benjamin.

While his production did tank in the final five games, suggesting that his numbers may have been a bit more of a fluke than an actual representation of his skill set, there is still plenty to like now that he is in San Diego. Cleveland's quarterback situation was about as bad as they come and a veteran passer like Rivers should lead to more consistent fantasy numbers from this young wideout, even if his overall numbers don't increase much.

WR Steve Johnson


(2015 WR Rank – No. 67, 7.5 FPts/G)



Once considered one of the most promising up and coming talents at the position, Stevie Johnson has now been relegated to an afterthought in most fantasy drafts. Following a disappointing first season in San Diego, Johnson's numbers have now fallen below 600 yards in three straight seasons, for three different teams. Johnson will get another chance to play in this high-powered San Diego passing game, but the high-end upside he once showed seems to be a thing of the past, especially given his recent injury history which has kept him off the field or fighting through nagging injuries in each of the past three seasons.

While Johnson's career body of work is certainly more reliable than that of newcomer Travis Benjamin, it's Benjamin whose skill set is more in line with being an outside receiver, thus meaning that Johnson is likely to play most of his snaps out of the slot again. The slot receiver position in San Diego has produced some nice fantasy numbers over the years and with Rivers likely to push 600 pass attempts again, there should be plenty of opportunities for Johnson to put up some decent fantasy numbers this season. Unfortunately, his production could be quite streaky, just as it was a season ago when he failed to catch more than five receptions in five straight games before catching seven passes in three straight contests. Those three games, of course, came right before his season-ending injury in Week 13.

Johnson is going to go undrafted in many leagues, but given the injury history of Keenan Allen, he is someone to keep an eye on throughout the season. Don't be afraid to roll the dice on him when he starts to get hot. It'll probably happen at some point this season.

WR Dontrelle Inman


(2015 WR Rank – No. 69, 5.6 FPts/G)



The only other San Diego wide receiver who should give fantasy owners any interest heading into the season is third-year wideout Dontrelle Inman. Inman hasn't been spectacular throughout his short career, but he did finish the 2015 season with a few decent games, including an eight-reception, 82-yard game with a touchdown against the Raiders in Week 15. This is mostly noteworthy because it came in a game where the Chargers were without both Keenan Allen and Stevie Johnson.

Inman became the default WR1 option late in the season and that could potentially happen again if the team gets bit by the injury bug as they have been in recent seasons. Still, even if he does see the field as the team's WR1 at some point, Inman hasn't shown the skills to be a highly efficient fantasy option. The production could come in certain games, but it's unlikely to be with much consistency.

TE Antonio Gates


(2015 TE Rank – No. 11, 8.5 FPts/G)



Ever since he joined the team back in 2003, Antonio Gates has been one of the most productive fantasy tight ends in all of football. In fact, Gates was one of the first players at the position who started to give credence to the idea that a tight end could be a first round fantasy selection. Of course, those days are long in the past for Gates, but at age 36, he is still very much an option for fantasy owners. Gates missed the first four games of the 2015 season due to a drug suspension, but still finished as the No. 11 fantasy tight end on the season as he caught 56 passes for 630 yards and five touchdowns. His 8.5 fantasy points-per-game were good enough for seventh at the position.

Tight end is very top-heavy this season, but even in his old age, Gates presents substantially less downside than most of the other tight ends being selected around him. He's barely being drafted as a starter in most leagues and could even be selected as a backup in some formats. At that price tag, it'd be hard to miss with Gates. Even if the wheels finally do come off, it shouldn't cost fantasy owners much with him being selected so late in drafts.