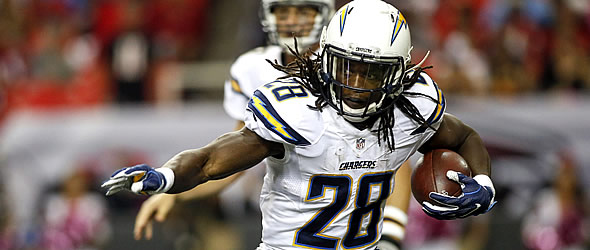 Mid-First Round Pick: Mevlin Gordon's volume rule should continue in 2017, but will health be an issue?


QB Philip Rivers


(2016 QB Rank – No. 6, 22.2 FPts/G)



One of the league's best leaders, Philip Rivers has never missed a start in the 11 seasons since becoming the Chargers' starting quarterback. Not only that, but he's been a monster fantasy asset, having passed for at least 4,000 yards in eight of his past nine seasons while passing for anywhere between 26 to 33 touchdowns in all nine of those seasons. Rivers has one of the safest jobs in all of football with the Chargers having not spent significant money or draft equity on the quarterback position in quite some time, but there is some concern that his skills are deteriorating.

Rivers threw a career-most 21 interceptions in 2016 and his offensive line has allowed him to take some pretty serious licks in recent years. He's also one of the league's least-mobile QB's, having not rushed for a touchdown since 2011. Still, if the team can get back to health remain that way, this may be the deepest group of pass catchers that Rivers has ever played with. Rivers finished sixth at quarterback in 2016 and there's little reason to believe that he won't again finish around that range this season.

RB Melvin Gordon


(2016 RB Rank – No. 8, 16.4 FPts/G)



After a terribly ineffective rookie season (833 total yards, 0 TDs), Melvin Gordon turned it around with a huge sophomore season where he totaled 1,416 yards, 12 TDs and 41 catches. This excellent fantasy performance came despite an offensive line that was far below average across the board. Much of Gordon's success was volume-based as he rushed for just 3.9 yards per carry, including 58 total red zone touches which put him at No.5 among running backs in that category, but there doesn't seem to be any indication that the Chargers will be looking to lighten his workload in 2017. The team replaced head coach Mike McCoy with Anthony Lynn, who has spent most of his coaching career as a running backs coach for various organizations. The Chargers also drafted guards Forest Lamp and Dan Feeney in Rounds 2 and 3, while signing tackle Russell Okung, who should improve the o-line performance in 2017.

Gordon is a very safe option due to the lack of talent behind him now that Danny Woodhead is gone. It's rare to find a "bell cow" back these days, which should mean he's locked in as a mid-first round pick in most fantasy drafts. Gordon is not without risk however, as he has dealt with injury issues in both of his two NFL seasons, having not played a snap in Weeks 16 or 17 in either season.

RB Branden Oliver
(2016 RB Rank – N/A)

After missing the 2016 season with an Achilles tendon injury, most believe that it's Branden Oliver who has the inside track to be the primary backup for Melvin Gordon heading into the 2017 season. Oliver has drawn praise from quarterback Philip Rivers who raved about his explosiveness in OTA's, noting that it's great to have two backs (Gordon and Oliver) who have similar skill sets and can do many of the same things.

Oliver has performed relatively well when he's been given the chance, particularly in 2014 when he had back-to-back 100-yard rushing performances. Oliver himself is unlikely to have much fantasy value while Gordon is healthy however it's the nature of being an NFL running back that injuries are always just a play away. Oliver is the most tenured of the backs on the Los Angeles roster despite being just 26 years old. While the team did have a turnover at many of the coaching positions, Ken Whisenhunt will remain the team's offensive coordinator heading into 2017, which should mean that Oliver has a good grasp of the playbook. He certainly hasn't locked up the backup running back job, but his skill set seems to be closest to that of Gordon, which would seem to indicate that he'd be the player who would transition most smoothly into a starting role should Gordon go down this season.

WR Keenan Allen
(2016 WR Rank – No. 171, 6.3 FPts/G)

It's been a tough two years for wide receiver Keenan Allen. Allen played one half of football in 2016 and spent the rest of the year rehabbing a torn ACL. He also missed half of the 2015 season with a freak kidney injury, which was crippling to many fantasy owners as he was on pace for monster totals of over 130 catches, 1,400 yards and 8 TDs.

Reports indicate that Allen is progressing well and should be fully ready for the regular season, if not the preseason, which should be music to the ears of Philip Rivers. Allen will likely be Rivers' most trusted target out wide as the duo has built solid chemistry over the last four years. There are concerns that Allen might concede some red zone looks to rookie Mike Williams, but Allen himself is the type of receiver who can produce quality fantasy numbers on a week-to-week basis even if he doesn't get into the end zone. Touchdown potential is a major concern for all pass catchers in this offense due to the physical size of the receivers and the quality of tight ends on the roster, but Allen is easily the safest of the bunch even with his recent injury history.

WR Mike Williams
(2016 WR Rank – N/A)

Rookie Mike Williams (6'4", 218) has a frame perfect for a quaerterback like Philip Rivers who loves to give his players a shot in one-on-one coverage. Williams joins the team with a similar athletic makeup to former Chargers receivers Malcom Floyd and Vincent Jackson, but with seemingly more upside. He scored 11 touchdowns in Clemson's National Championship season this past year, proving that he is one of the most dominant red zone threats to come into the league in quite some time.

Williams does need to work on his route running which could cause him to be more volatile and thus less valuable especially in PPR formats, but the big concern about him at the moment is his health. He's already dealing with a herniated disc in his back which has not allowed him time to acclimate himself with the offense, and particularly with Rivers. Be careful if he is still missing significant practice time in late-July or August. The talent is here, but the injuries are worrisome as he also suffered a neck injury in college that caused him to miss most of the 2015 season.

He's arguably the top option among dynasty wide receivers this season, but Williams enters into a crowded offense with quite a few mouths to feed. He's likely the most physically skilled pass catcher in the offense, but he may struggle to show that early in his career until other players in this offense move on.

WR Tyrell Williams
(2016 WR Rank – No. 13, 9.2 FPts/G)

It's astonishing to think that Tyrell Williams finished 13th overall at wide receiver in fantasy production in 2016 - ahead of the likes of Amari Cooper, Larry Fitzgerald and Julian Edelman - but it's true. That type of production from a relatively unknown receiver is exactly what Philip Rivers has been orchestrating throughout the majority of his career.

Much of Williams' production was due to the lack of options around him, especially with injuries to Keenan Allen, Antonio Gates and Danny Woodhead; but there's still a role for him in this offense in 2017. It's looking like he could begin the season in the starting lineup as Mike Williams is missing valuable practice time. Tyrell doesn't have the upside that he flashed in 2016 but he's a sneaky late-round pick who could provide WR2 numbers if either Allen or Mike Williams continue to struggle with injuries, and WR3 numbers even if everyone stays healthy.

TE Hunter Henry
(2016 TE Rank – No. 11, 7.4 FPts/G)

Hunter Henry finished as a top-12 fantasy tight end as a rookie despite competing for playing time with a future Hall of Famer. Of course, much of Henry's production came when Antonio Gates was out of the lineup or hindered by injury early in the season, but he did catch five touchdowns in the second half of the season as well. Henry's upside is limited by Gates being on the roster as both are big touchdown threats, and there are a lot of mouths to feed in this offense, particularly in the red zone.

An injury to Gates would immediately catapult Henry into the high-end TE1 conversation. He performed at that level when Gates was out and with the lack of true high-end talent at the position, Henry is likely to finish in the top 12 even if he and Gates are competing for playing time. Henry did deal with a minor knee injury and a concussion a year ago so he is not necessarily an iron man himself, but he's a young, talented player who can get on the field in both running and passing situations which is going to be a big asset on a team coached by Anthony Lynn.

TE Antonio Gates
(2016 TE Rank – No. 10, 6.9 FPts/G)

It's been a historic and a remarkably consistent career for Antonio Gates, who has now finished as an overall top-12 (TE1) fantasy tight end in 13 straight seasons. Not only that, but Gates finished in the top five in eight of those 13 seasons, most recently in 2014 when he finished No. 2 at the position. Of course, Gates' best days are far behind him and he's even noted that the passing game now goes through Keenan Allen, but both Gates and the Chargers seem to think there's still some gas left in his tank.

Gates is expected to take a backseat to the younger, healthier Hunter Henry who had a productive rookie season both with and without Gates in the lineup. This means that Gates will likely be relegated to passing down work with an emphasis on the red zone, where he currently sits tied with Tony Gonzalez as the NFL's all-time touchdown leader among tight ends. He'll have some TE1 weeks, but Gates will also likely be a complete bust in a number of games. The lack of depth at the tight end position overall will make him a decent bye week replacement-type player who still has TE1 upside if Henry goes down.