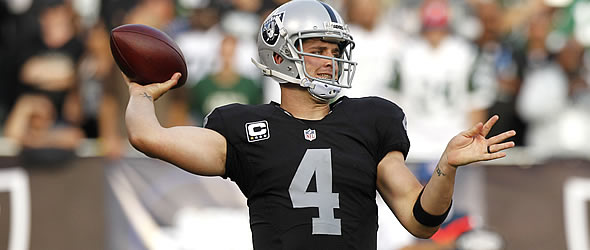 Overvalued: Derek Carr is a fringe QB1 but being drafted as mid-range QB1 according to early ADP.


QB Derek Carr


(2016 QB Rank – No. 16, 21.0 FPts/G)



Progressing in each season of his career so far, the hype continues to grow for 26-year-old Derek Carr. His impressive 2016 season had him firmly in the NFL MVP conversation and his value was extremely noticeable in his team's Week 17 loss against the Broncos and subsequent first round playoff defeat at the hands of the Texans – both games in which Carr was unable to suit up. Now entering his fourth season, Carr will again have the opportunity to throw to arguably the league's best one-two punch at wide receiver, Michael Crabtree and Amari Cooper, and he will also add a big-bodied and physically talented tight end in Jared Cook to the mix.

The addition of Marshawn Lynch to the running back committee should give fantasy owners some pause as Lynch has been one of the more productive red zone runners in the league throughout his career. That could potentially lead to fewer passing attempts near the goal line for Carr. In addition, Carr's struggles against his divisional competition have to be a big concerning. He threw for an average of just 211 yards per game and just four touchdown passes in the five games he started against AFC West opponents in 2016. None of those teams should take a significant step back defensively in 2017, so Carr is not necessarily a no-brainer every week starter for fantasy purposes at this point in his career. Still, the Oakland offense has tremendous upside overall and there's little reason to be worried that his seasonal numbers will take a dramatic dip down.

RB Marshawn Lynch


(2016 RB Rank – N/A)



It's not often that a player retires from a perennial Super Bowl contending team, then returns over a year later to play for a franchise that has mostly been a basement dweller for the better part of 20 years. But that's the situation we have with Marshawn Lynch, who now finds himself as a Raider for the 2017 season. Lynch is well known for being one of the most bruising tailbacks in recent history, bringing the kind of grit to the field that isn't common in today's NFL. On paper, his style matches perfectly with the Oakland offense, specifically due to the team's recent efforts to revamp and rebuild their offensive line. The Raiders now boast one of the league's most dominant front fives, which makes for an extremely interesting fantasy situation. Lynch was highly productive even behind a largely mediocre Seattle offensive line, but he may now have the opportunity to break off even more big runs. Lynch's situation isn't without concern, however.

While Derek Carr might not be quite as established as Russell Wilson was, he and the passing game were certainly the focal point of the Oakland offense in 2016 - a reality that is not expected to change much even with Lynch on the roster. But even beyond the concerns of the passing game taking carries from Lynch is the reality that Lynch is not necessarily a shoo-in to get all of, or even the large majority of carries. Second-year backs Jalen Richard and DeAndre Washington both had moments where they looked very good as rookies and with Lynch having spent a year away from the game, there are some who believe that his age (31) and general wear and tear will lead to him needing to concede carries to other backs anyway. The Raiders certainly didn't bring Lynch into the fold in order to sit him on the bench, but keep an eye on the other tailbacks on the roster during the preseason and training camp. If Washington or Richard begin to separate themselves from the other, it might be a wise idea to handcuff one of them to Lynch, which would go a long way to securing yourself a potentially elite running back situation.

RB Jalen Richard


(2016 RB Rank – No. 42, 5.4 FPts/G)



An undrafted rookie seemingly stuck behind two other young tailbacks on the Oakland roster, few could have predicted that Jalen Richard would provide the pop as he did in 2016. Richard finished the season with a whopping 5.9 yards per carry average - good enough for second in the NFL among running backs - and was also a productive receiver out of the backfield. While he never carried the ball more than 10 times in a single game and only scored three total touchdowns on the season, Richard was able to provide six double-digit PPR days to his fantasy owners. It appeared as if Richard may have a significant role increase in 2017 when Latavius Murray left in the offseason, but the addition of Marshawn Lynch certainly hurts the upside of both Richard and fellow second-year back DeAndre Washington. Richard's role in the offense shouldn't change substantially, however, as Lynch has never been a great pass catcher. Look for Richard to approach 40 catches this season which, combined with a handful of carries each week, should give him some low-end flex appeal in PPR formats, especially in games when the Raiders fall behind on the scoreboard.

RB DeAndre Washington


(2016 RB Rank – No. 55, 5.4 FPts/G)



Prior to the signing of Marshawn Lynch, the DeAndre Washington hype train for 2017 was in full effect. The 5'8" back was effective as a rookie, rushing for an impressive 5.4 yards per carry while entrenched in a running back by committee fantasy nightmare alongside Latavius Murray and Jalen Richard. Murray was the lead dog in that backfield but did miss some time in the middle of the season. During that time, it was Washington who saw his snaps increase most significantly, nearly out-snapping Richard by a 2-to-1 ratio while Murray was out. Lynch will almost certainly see the lion's share of the early down snaps for the Raiders in 2017 and while Richard is better suited to handle passing down duties, it could be Washington who is really the "handcuff" to Lynch if there is one to be had. This means that while Richard will likely outscore Washington on the season, Washington's upside might actually be higher. Either way, this situation is unpredictable and there's a good chance that both Washington and Richard will go undrafted in many leagues.

WR Amari Cooper


(2016 WR Rank – No. 14, 9.1 FPts/G)



Now entering his third season as a pro, Amari Cooper continues to establish himself as one of the league's premier pass catchers and it seems to be clear that he has not yet met his full potential. Cooper's 1,153 yards in 2016 led the Raiders and he dropped just four total passes in his second season. What's interesting is that while Cooper started the season red hot with four games of 125-plus yards in his first eight contests, he failed to eclipse even 80 yards in a game over the second half of the season. He remained productive enough to not be a complete flop due to some timely touchdowns, but there is some concern that the 23-year-old will continue to be frustratingly inconsistent. The talent is certainly there, however, and he was really only a few missed targets away from a near double-digit touchdown season, which would've made him a top-10 player at his position in 2016. The nice thing about Cooper is that there isn't a whole lot of competition for targets outside of Michael Crabtree in the Oakland offense, so as long as he's healthy he should continue to provide enough big games mixed in with some duds that fantasy owners will be happy selecting him as a low-end WR1.

WR Michael Crabtree


(2016 WR Rank – No. 12, 9.3 FPts/G)



While it's the budding superstar Amari Cooper who has been the recipient of most of the hype, the wide receiver who has quietly led the Raiders in both targets and receptions – as well as fantasy points – for the past two seasons is actually Michael Crabtree. Crabtree's production in each of his first two seasons in Oakland has been almost a copy-and-paste, but it's been good enough for him to finish as a borderline WR1 in both seasons. While he gave fantasy owners zero games of more than 110 receiving yards, Crabtree was substantially more consistent in 2016 than his counterpart, Cooper. Crabtree caught multiple passes in every game and finished with four or more receptions in each of his final six games of the season. He sees a tremendous amount of red zone targets which has allowed him to score 17 times over the past two seasons, which is certainly helpful during weeks when his yardage totals might not be quite as high. He may not possess the upside that Cooper does and most believe that he's going to take a bit of a backseat to the young playmaker in 2017, but there's still a great chance that Crabtree produces numbers good enough to make him a quality WR2 in most formats.

WR Cordarrelle Patterson


(2016 WR Rank – No. 80, 3.9 FPts/G)



It'd take some serious noise in the preseason and/or injuries to Crabtree or Cooper for another Oakland wide receiver to get into the fantasy conversation, but if there's a player to keep an eye on early in the season, it might just be former Minnesota Vikings wideout Cordarrelle Patterson. Patterson flashed tremendous playmaking ability at times for the Vikings, but never generated consistency, which led to the team not resigning him this offseason. Minnesota's trash might end up being Oakland's treasure however, as OTA and minicamp reports have analysts raving about Patterson's play. Even offensive coordinator Todd Downing spoke highly of Patterson's abilities, making it clear that the team will look for unique ways to get the ball into his hands even if he's not able to latch on as a consistent target in the passing game. Think Tavon Austin with size. Patterson should find himself handling many of the return duties which does give him a bit of additional fantasy potential, but it'll be up to Downing and the coaching staff to find ways to get him into open space on offense. He's still young and the physical tools are certainly there, so don't count him out just yet.

TE Jared Cook


(2016 TE Rank – No. 36, 4.4 FPts/G)



A physical beast who runs with blazing speed, it's almost shocking that it took this long for tight end Jared Cook to land in Oakland. The Raiders have been looking for a quality tight end for quite some time and while Cook has certainly been a disappointment elsewhere, there's little question that he'll be an upgrade from what the team saw in 2016 with Clive Walford. The tight end position overall is a bit of a crapshoot after the top seven or so players, so at least half of your league will be scrambling to find quality at the position. In those situations, it makes a lot of sense to look at upside. While Cook's career has been marked with letdowns, there are few situations that are better for fantasy purposes than the one that he finds himself in with the Raiders. Crabtree and Cooper are clearly the top two targets, but Cook could very well find himself as the third option in one of the league's better offenses.