QB Brian Hoyer


(2016 QB Rank – No. 33, 15.9 FPts/G)



The 49ers' starting quarterback job has not yet been completely determined, but most team experts seem to believe that it'll be free agency acquisition Brian Hoyer who takes snaps for the team in Week 1. Hoyer is new to San Francisco but actually has more knowledge of the Kyle Shanahan offense than other players on the roster as he spent a year with Shanahan on the Browns in 2014. Hoyer is coming off of a shortened 2016 season where he threw for 300-plus yards in all four of his starts before breaking his non-throwing arm. Hoyer also avoided throwing an interception despite the team going 1-5 during that span.

While he should be an upgrade from what the 49ers had in 2016, Hoyer is not a draftable asset himself in most formats, especially given that he hasn't locked up the starting role and likely won't make it all the way through the season as the starter if the team has poor results. He'll have some weeks where he does perform well, which does make him a potential bye week replacement-type player, but there's a good chance that he'll struggle to produce fantasy starting-caliber numbers in most weeks.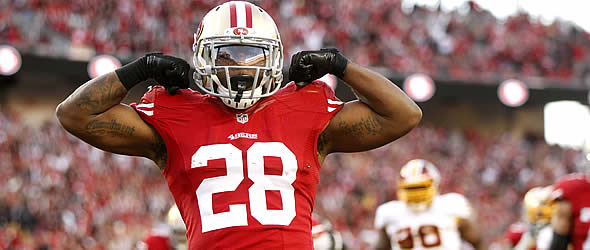 Carlos Hyde: A new coach, offensive system and injury concerns are giving fantasy owners pause.


RB Carlos Hyde


(2016 RB Rank – No. 14, 13.0 FPts/G)



Now entering his fourth season as a pro, it's put up or shut up time for former second-round NFL Draft pick Carlos Hyde. Hyde has struggled with injuries throughout his career and has never played a full 16-game slate, including 2016 when he suffered both MCL and shoulder injuries which caused him to miss time. The introduction of a Kyle Shanahan offense may look good at first glance but Hyde doesn't exactly fit the mold of the backs who have been successful in this offense in the past. He's more of a bruiser and volume back whereas Shanahan has recently seen success with players who have more of an ability to get to the outside and break off big runs.

Hyde did rush for just under 1,000 yards a season ago, but he did so with only two 100-yard games and he did not score a single rushing touchdown after Week 5. Hyde's three receiving touchdown passes from Weeks 12 to 17 would indicate that maybe he is becoming a more significant piece to the passing game, but he caught just 27 passes in 13 games. Hyde's value is higher in standard scoring formats as Tim Hightower will likely end up being the team's third-down back. competition will come in the form of Joe Williams who is gaining in popularity among the fantasy community , but the new coaching regime did draft Joe Williams in the 4th Round… it's more likely Williams could end up getting opportunities late in the season if the 49ers are not succeeding with Hyde. Hyde is still easily the top fantasy option in this offense, but that's not saying a whole lot as the 49ers might be the league's worst fantasy offense this season.

RB Joe Williams
(2016 RB Rank – N/A, N/A FPts/G)

It's still early so the hype train hasn't yet left the station, but rumblings about Joe Williams are starting to get louder as we head into his rookie season. Williams flashed tremendous speed and big play ability in college which will delight many fantasy owners who are bored of what we've seen in recent years with the San Francisco offense. His size and speed combination would seem to indicate that he'd be a late-down back, but what we've seen from him on the field has been quite the opposite. Williams is not a good, or even a decent pass protector at this point which will certainly hurt his potential to be on the field on obvious passing downs. Not only that, but he doesn't catch passes particularly well. In fact, Williams caught just nine total passes in his senior season at Utah and dropped a whopping five of the 30 total passes that went his way throughout his college career.

Unless he completely transforms from the type of player he was in college, Williams' road to playing time will likely have to come in early down relief of the team's starter, Carlos Hyde. Hyde does have an injury history that could give fantasy owners some hope, but the likelihood is very low that Williams touches the ball a significant number of times in a game where Hyde is healthy. Williams does have some long-term upside in dynasty leagues due to Hyde being in a contract year, but he'll need to make the most of the few touches he does get in order to be seriously considered as the long-term answer for the team at running back.

WR Pierre Garcon


(2016 WR Rank – No. 32, 7.6 FPts/G)



Newly acquired wide receiver Pierre Garcon tops the list of acquisitions for the 49ers heading into the 2017 season. Statistically one of the three most sure-handed receivers in the league from 2016, Garcon reunites with head coach Kyle Shanahan who was the Redskins' offensive coordinator when Garcon led the team in receiving yards in 2013. Garcon has never been a big time red zone threat, but the 49ers just don't have many better options. Garcon is going from two teams (Indianapolis and Washington) with a plethora of red zone threats to a team where he might be the only receiver who will score five or more touchdowns this season.

The name Brian Hoyer doesn't scream confidence for fantasy production, but Hoyer has actually utilized his top receivers quite well in the past, particularly when he was with DeAndre Hopkins in Houston. Hopkins is certainly more skilled than Garcon at this point in his career, but Hopkins' disastrous 2016 season proved that Hoyer isn't just some terrible QB who happened to get lucky by having Hopkins to throw to. Unfortunately Garcon is going from a high-powered passing game in Washington to a team that does not have many offensive weapons, which will almost certainly mean that opposing teams will key in on him on passing downs. Look for a slight uptick in red zone production, but a lower yards-per-reception which should translate to Garcon having a fairly similar season - at least points-wise - to what he had in Washington in 2016.

WR Jeremy Kerley


(2016 WR Rank – No. 59, 5.3 FPts/G)



A seemingly forgotten man heading into the 2017 season, Jeremy Kerley will once again be back in the mix after leading the 49ers with 64 receptions for 667 yards in 2016 while scoring three touchdowns. Kerley benefited from having ton of targets (115), but was not particularly efficient with them. Kerley was the only wide receiver in the league who was targeted 100 or more times that did not break 700 yards. It's true that bad quarterback play had a lot to do with that, but while Hoyer is certainly an upgrade from what the 49ers had a season ago, we're not talking about a monumental leap in skill at the QB position.

Kerley will likely take a bit of a backseat in the passing game to off-season acquisition Pierre Garcon who is more built to be a WR1. Kerley could also have some competition for snaps out of the slot as rookie Trent Taylor, the team's 5th round draft pick, projects almost exclusively as a slot option. Still, the team opted to re-sign Kerley to a three-year deal, so they're not ready to move on from him yet. He should finish second at worst in targets on the roster, which makes him a player to consider drafting in deep PPR formats.

TE Vance McDonald


(2016 TE Rank – No. 25, 6.3 FPts/G)



San Francisco tight end Vance McDonald set career highs in both receiving yards (391) and touchdowns (three) in 2016, but there's simply not a lot to love at the tight end position for the 49ers this season. McDonald is not a great route runner or pass catcher and tight ends in Shanahan offenses have not been volume options in the past. Even players like Jordan Cameron only scored two touchdowns in Shanahan's 2014 Browns offense.

There just isn't much upside here at all for McDonald. Not only was he was the subject of trade rumors earlier this off-season, which would seem to indicate that the 49ers are not particularly interested in keeping him, but there are even rumors that he might still not make the team's final roster. Other options include Logan Paulsen, Garrett Celek and rookie Greg Kittle who is far from a polished pass catcher. None of these players offer much fantasy value even if McDonald does not end up making the team.