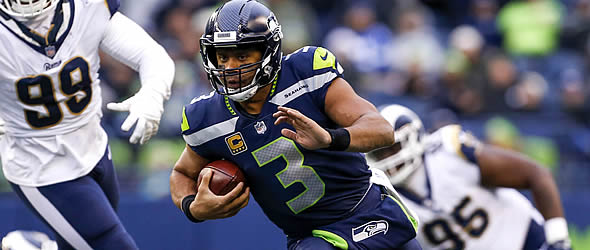 Russell Wilson has been a QB1 since 2012. A fantasy star every year he's been in the league.
QB Russell Wilson
(2017 QB Rank – No. 1, 25.7 FPts/G)
Seattle's leader, quarterback Russell Wilson is back for his seventh NFL season and is the reigning points leader from the 2017 fantasy football season. Wilson exceeded expectations, tying his career high with 34 touchdowns. While he also tied a career high with 11 interceptions, that's still extremely low and he's among the least turnover-prone quarterbacks in the history of the game.
While he's still considered a high-end option at the position, there are some concerns heading into 2018. Wilson lost two of his top targets this offseason, most notably tight end Jimmy Graham, but also wide receiver Paul Richardson. The loss of Graham will likely be seen in the red zone where he was the most-targeted player (26) in all of football in 2017, which he converted for an impressive 10 touchdowns. Unfortunately Seattle hasn't added much of consequence to replace those players. Former third-round pick, tight end Nick Vannett will be entering his third season as a pro and his 6'6", 261-pound frame does give him the possibility of being a red zone weapon, but he's still very raw and hasn't proven much on the field. The team also added Brandon Marshall, who has historically had excellent red zone efficiency, but there's a real chance that he doesn't even make the 53-man roster.
On the positive side, Seattle has lost a lot on defense while the rest of the division appears to be passing them by, and the Seahawks will almost certainly be in more pass-heavy situations this season than they have been throughout the early part of Wilson's career. Wilson also continues to have a high weekly floor due to rushing numbers. He has averaged 34.1 yards per game rushing over the course of his career and actually exceeded that with 36.6 yards per game rushing in 2017. It's worth considering that many quarterbacks begin to slow down rushing as they get older, but Wilson is still quite mobile and his experience has helped him become smarter about when to run the ball, as opposed to just taking off and running as soon as his first option is covered.
Wilson is a very safe option to finish as mid-to-high-level QB1 but he's being drafted as the fourth, fifth or even sixth quarterback off the board in many drafts, which could make him a value, particularly in drafts where quarterbacks slide down the board overall.
RB Rashaad Penny
(2017 RB Rank – N/A)
Seattle shocked many when they made Rashaad Penny the second running back taken off the board in April's NFL Draft, ahead of the likes of Derrius Guice, Sony Michel, Nick Chubb and others. While he didn't grade as highly as those backs on some expert boards, it's worth considering that Seattle made a strong investment in him with a first round pick, which almost certainly guarantees that he'll be given every opportunity to succeed in this offense.
Penny dominated in his senior season at San Diego State as the leading rusher in all of college football, rushing for a whopping 2,248 yards with a 7.8 yards per carry average. He finished his college career averaging 7.5 yards per game, albeit in a weak Mountain West Conference. Penny shows upper-percentile straight line speed and has also shown that he can make an impact catching the ball, although that is something he'll need to improve on to be an elite fantasy back in the NFL.
Seattle's offensive line issues continue to be a major concern. They did finally make a move during the season in 2017 to acquire left tackle Duane Brown, who quickly became their best offensive lineman, but the team really did not address the other positions across the line this offseason. That could be a problem for a player like Penny who, while explosive when given a crease, can struggle when holes don't open up quickly in front of him.
Another area that is a bit of a concern is that Penny does lack experience and technique in pass protection. This can often be a reason why rookie running backs are kept off the field, even when they are producing counting stats when given the ball. This could lead to more of a split backfield than many want to believe.
Still, Penny has first-round draft capital which is often enough to warrant a decent enough workload for him to be a valuable fantasy asset this season, particularly in dynasty formats where a case could easily be made for him to be the No. 2 overall player off the board.
RB Chris Carson
(2017 RB Rank – No. 84, 8.2 FPts/G)
Some reports are that second-year running back Chris Carson has been the most impressive player at Seahawks OTAs. Carson was also considered by many to be the team's best runner in 2017, as he rushed for 4.2 yards per carry prior to getting injured. Injuries have plagued him throughout his college and now professional careers but Carson reportedly added 10 lbs of muscle this offseason which should help with the durability issues.
He could've been in line to be the team's primary early down back had Seattle not invested a first round pick in Rashaad Penny. It shouldn't be all that surprising that Carson is giving his all at OTAs, considering he will likely need to put on a show to make the case that he should be given an opportunity over Penny. As things currently stand, Carson will likely start the season splitting early down carries with Penny as a best case scenario.
While not truly a "handcuff" due to the nature of the backfield, Carson would likely be the primary beneficiary should Penny go down this season and that could make him a worthwhile stash in deeper leagues as he could slide in as an every week RB2 if given a decent workload.
RB C.J. Prosise
(2017 RB Rank – No. 110, 2.8 FPts/G)
Now entering his third season as a pro, former third round draft pick C.J. Prosise has yet to live up to the hype that has followed him throughout his young career. Much of the reason for Prosise's lack of production has come from the fact that he simply cannot stay on the field. Prosise has suffered numerous injuries to his right ankle, a pulled hamstring, a pulled groin, a hand fracture, a concussion and a fractured shoulder which ended his 2016 rookie season. While past injuries don't always mean that a player will continue to get hurt, he's only touched the ball 64 times in the NFL regular season and the concern around Seattle seems to be that he simply does not have the durability to play a significant role in the offense.
A report from head coach Pete Carroll noted that Prosise has, "really jumped out" in camp but that he also, "knows he's competing for a roster spot." Prosise's fantasy value hinges firmly on him beating out J.D. McKissic for the team's passing down work and that is certainly far from a sure thing.
RB J.D. McKissic
(2017 RB Rank – No. 61, 5.3 FPts/G)
Now entering his third season as a pro, J.D. McKissic will have to earn his roster spot by beating out the likes of C.J. Prosise and Mike Davis. A college wide receiver who converted to running back in the NFL, McKissic is easily the most polished pass catcher in Seattle's backfield and that could be enough to earn him the role as the team's primary back in passing down situations. McKissic was impressive as a pass catcher in limited snaps in 2017, catching 34 balls for 266 yards and two touchdowns. He also rushed for 4.1 yards per carry, albeit on just 46 attempts, with one touchdown.
With Seattle likely to be in passing down situations more than ever this season, McKissic could actually see his role increase this season, especially if he makes the roster and Prosise does not. Still, he's only a fantasy option in very deep PPR formats right now, at least until we see the final roster cuts.
WR Doug Baldwin
(2017 WR Rank – No. 14, 9.1 FPts/G)
Doug Baldwin didn't come into the NFL with much hype but he has blossomed into one of the league's most consistent pass catchers. While he fell nine yards short of his third-straight 1,000-yard season, Baldwin has now caught 75 or more passes in three straight seasons and looks to be in line to be targeted more heavily than ever now that both Paul Richardson and Jimmy Graham are gone.
He's the only player on the roster who has shown consistent chemistry with quarterback Russell Wilson and that will certainly play a role when deciding who he's going to throw the football to, particularly early in the season when he's getting acclimated with his new pass catchers. Baldwin lacks the physical presence to be a true elite WR1 for fantasy purposes but he's a very safe WR2 who has weekly WR1 upside.
WR Tyler Lockett
(2017 WR Rank – No. 56, 4.6 FPts/G)
Aside from Doug Baldwin, the only other pass catcher on the Seahawks roster who has played more than two seasons with Russell Wilson is Tyler Lockett. At 25 years old, Lockett will be entering his fourth season as a pro in what could be a make-or-break year. While he's never fallen short of 500 receiving yards in a season, Lockett has also never eclipsed 700 receiving yards in a season and he has only scored a total of three touchdowns over his past two seasons combined.
Many believed that Lockett was heading for a breakout season heading into 2016, but he fell short of expectations and found himself behind Paul Richardson on the depth chart, leading to some ugly fantasy numbers. With Richardson now gone, however, Lockett should be in line to see consistent playing time alongside Baldwin this season. Richardson and tight end Jimmy Graham's 175 targets from 2017 have now been vacated which certainly makes things interesting heading into 2018. While we shouldn't expect that all, or even most of those targets will go to Lockett, it's worth considering that if he even adds 50 of those 175, he'd be looking at 120-plus total targets this season. Only 14 wide receivers saw that many targets in 2017 and every one of those players finished as a top-25 WR on the season - even Dez Bryant, who was among the least efficient players in the league on a per-target basis.
Lockett dealt with injuries in both 2016 and 2017 which held him back from showcasing his extraordinary speed, but he appears to be getting back to full strength and could be in line for a breakout season in 2018. Lockett is currently being drafted in most leagues as a WR4 or even WR5 which makes him a great target late in fantasy drafts as he costs almost nothing and could legitimately finish as a WR2 should things finally fall into place.
WR Brandon Marshall
(2017 WR Rank – No. 132, 3.1 FPts/G)
It was this time last season when football analysts were raving about how difficult it would be to slow down the New York Giants offense after they acquired veteran wide receiver Brandon Marshall. An injury to Odell Beckham Jr. led to Marshall taking over duties as the team's top wide receiver and it quickly became apparent that he was no longer capable of shouldering that type of workload. Marshall played nearly every passing down for the Giants in the five games prior to spraining his ankle which required surgery and ended his season.
Released by the Giants this offseason even after reportedly volunteering to take a pay cut, Marshall now finds himself in Seattle in what could be the final landing spot of his career. The Seahawks signed him to a one-year, incentive-based contract which they can easily get out from under if they don't see enough for him to warrant a roster spot this season. That does make him a risk for fantasy owners who have been drafting him as a WR5.
There is still potential fantasy production to be had for Marshall, however, if he's fully recovered from his ankle and toe injuries. He's a big-bodied receiver who never had great straight line speed but won with his superior size and strength. He's been among the most efficient players in the league when it comes to red zone target conversion and that's something Seattle is going to be looking for as they lost Jimmy Graham who actually led the entire league in end zone targets in 2017.
Marshall isn't likely to approach 1,000 receiving yards this season but his upside is double-digit touchdowns if he's given the opportunity. Of course, he has to make the team first.
TE Ed Dickson
(2017 TE Rank – No. 28, 3.6 FPts/G)

Making the move from the Carolina to Seattle this offseason, Ed Dickson looks to be in line to take over as the primary tight end in 2018 now that Jimmy Graham has left for Green Bay. Dickson has been praised by the Seattle coaching staff as being a great blocker and a great athlete but they stop short of calling him a great pass catcher, and for good reason.
While Dickson did shock fantasy owners when he filled in for the injured Greg Olsen by logging a monsterous 175-yard receiving day in Week 5 of the 2017 season, it was the first time in his career that he had ever gone over 80 yards receiving in a game. The very next week he was back to 36 yards receiving and he never eclipsed even that number in any game for the remainder of the season. He scored just one touchdown all season and has scored just 12 receiving touchdowns in his eight-year NFL career.
Seattle is certainly looking for pass catching options and he's is not completely incompetent as a receiver but Dickson is only a streaming option at best in great matchups and should not be drafted other than in deep formats that require two tight ends in weekly lineups.
TE Nick Vannett
(2017 TE Rank – No. 61, 2.3 FPts/G)
The name might not sound familiar, but Seattle's leading pass-catching tight end this season might end up being third-year player Nick Vannett. Vannett has just 15 receptions over his first two NFL seasons but with only blocking specialists Ed Dickson and rookie Will Dissly alongside him on the depth chart, Vannett is likely the only player at the position who could even potentially produce TE1 numbers if given an opportunity.
While he doesn't have great short-yardage speed or agility, Vannett actually led all tight ends in both the 20-yard and 60-yard shuttles at the 2016 NFL Combine. That could make him a nightmare for linebackers and safeties to cover deep as he's deceptively fast down the field and could use his physical stature to out-jump defenders.
At 6'6" and 261 lbs, Vannett also possesses the size to be a red zone weapon of consequence - something which Seattle desperately needs now that they will be without Jimmy Graham and Paul Richardson. There's a real possibility that Vannett will be given a decent number of end zone targets this season, which could lead to some big weeks despite a high likelihood of inconsistency.