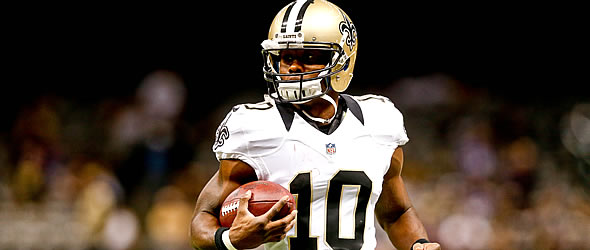 Cooks goes from being a 1-1A receiver in New Orleans to being a potential No.3 in New England.
Back in 1984 Rod Stewart released the album "Camolague". On it was a little track called "Some Guys Have All the Luck", and it's the song that's been buzzing around my head since the blockbuster trade involving Brandin Cooks to the Patriots went down on Friday. Cooks, the fourth-year player from Oregon State, goes from catching passes from one hall of Famer in Drew Brees, to the possible GOAT and reigning Super Bowl MVP in Tom Brady. So while I'm fairly confident Stewart didn't have Cooks in mind when he penned that song, it's certainly fits the situation.

The Saints made Cooks their first round pick in 2014, and while the end of season numbers don't jump off the page (53-550-3), consider that those totals came in only ten games. Make no mistake, Cooks has been a big part of the offense the day he took the field for New Orleans. His sophomore campaign was dynamic, as he went off for an 84-1140-9 line, good enough to finish as fantasy's No.12 overall receiver in standard leagues. There was a slight statistical regression, and some consistency issues last year, but Cooks actually rose to the No.8 overall receiver when the season finally came to an end.

I guess the biggest question is, why would the Saints move a great player entering the prime of his career? The answer lies somewhere between money and attitude. After a triple zero line in Week 12 against the Rams, Cooks was very vocal about his role on the offense. There were rumors that Cooks wanted out and with the ascendance of rookie Michael Thomas eating into his looks, from the Saints perspective, he was becoming expendable. The New Orleans front office knows that their competitive window is closing along with Brees's career, and flipping a position of strength for an area of need actually makes plenty of sense. They will nearly recoup the value of Cooks's original draft position, and can avoid the big payday he was sure to ask for after his rookie contract expires. Basically they took a page out of the New England personnel playbook.

Fantasy Impact

Speaking of the Pats, what does his acquisition mean for the offense, and more importantly, his fantasy value? Well clearly there is no drop-off in quarterback play. Cooks fits the mold of receiver this offense covets. He's quick, and precise in his routes, but at the same time has big play potential despite his 5'9'' frame. He's suddenness out of his breaks, and had great chemistry with Brees were his strengths and things I expect to continue with Brady.

He's an outstanding talent and fit for this offense, but I wonder just how big of a role he will play. The Patriot offense morphs from week to week, and Cook's spot in the rotation remains uncertain. With Rob Gronkowski back healthy, and Julian Edelman being a fixture, Cooks goes from being a 1-1A receiver in New Orleans to being a potential No.3 in New England. Knowing how the Patriots do business with an eye to the future, this feels like a move more for 2018 than 2017. Granted, Cooks is an immediate upgrade on Danny Amendola and Chris Hogan, and a hedge bet for the health of Gronk, but I have a sneaky suspicion this trade was made with Edelman's contract ending next offseason. Their games are very similar, but Cooks is seven years younger than Edelman, and come contract time makes for a much better investment.

In the short term, I see a regression for Cooks's fantasy value. With Gronk and Edelman healthy, and a duo of solid pass catching backs on the roster, I'm having a hard time finding 100 targets for Cooks, the threshold I believe he'll need to reach to have a hope at repeating his WR1 finish. I think it's more likely he ends up as a decent WR2 that occasionally breaks out when he's a big part of the game plan.