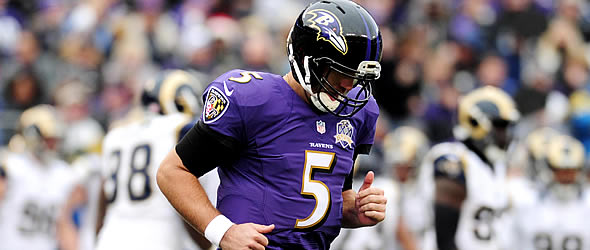 Mediocre at Best: The last time Joe Flacco finished as top 12 fantasy quarterback was 2010.


QB Joe Flacco


2016 QB Rank - No.18, 19.6 FPts/G



Joe Flacco has turned one fortunate Super Bowl run and a series of mediocre seasons into a highly lucrative career. Maybe because itís his quiet nature, or humble beginnings as a Blue Hen from Delaware, but Flacco seems to dodge much of the criticism of other highly paid quarterbacks are subjected to. He throws a pretty deep ball, but turns the ball over too much compared with how many touchdown passes he adds.

He was the same ho-hum quarterback heís been most of his career last year, throwing 20 touchdown passes to 15 interceptions, even though he set a career high in yardage with 4,317. Iíve said for years that Flacco is a better quarterback when his pass attempts are limited. Unfortunately low volume generally means low production for fantasy. Compounding his general malaise is an early season back injury that has cost him the first few weeks of camp. It doesnít look to be a long term concern, but back injuries are notoriously fickle, especially ones that are happening to 6í6íí statues in the pocket. Even with the addition of Jeremy Maclin, Flaccoís receivers donít jump off the page, and the upside in his game just isnít there. Outside of two-quarterback or very deep standard leagues, Flacco isnít worth much roster consideration.

RB Danny Woodhead


2016 RB Rank - N/A



The plan for Danny Woodhead has likely changed greatly from the day he was signed by the Ravens in the off-season. Coming off a torn ACL in Week 2 of the 2016 season, Woodhead was brought in to spell young runners Kenneth Dixon and Terrance West, and provide a reliable 3rd down target. Since then, Dixon has been lost for the year with a torn up knee, and the road to meaningful snaps only goes through a guy who was dumped by the Cleveland Browns.

During his entire career, teams intend for Woodhead to only be a role player, but when coaches see the kind of consistency and ability he provides, he ends up being a big part of an offense. Take 2015 for example. The Chargers took Melvin Gordon with a high draft pick, but Woodhead out-touchdowned him 9-0 and had over 1,000 total yards to Gordonís 813. Even in the one full week he played last year, Woodhead scored a touchdown and had over 100 total yards while Gordon was barely noticeable.

John Harbaugh is a coach who respects veterans who can get the job done, even if they donít provide game breaking ability. Terrance West is a better running back than Woodhead, but the little dynamo from Chadron State is a better football player. In standard leagues Woodheadís lack of rushing attempts will hurt, but in PPR leagues I think he provides tremendous value. The big knock on Woodhead is age, and the fact he's missed most of the games in two of the last three years, but Iíll be more than happy to snap him up in my drafts and have a high floor guy at a low price.

RB Terrance West


2016 RB Rank Ė No.24 Ė 8.6 FPts/G



During his second year in Baltimore, after being cast off from Cleveland, West became a surprising borderline RB2 in fantasy last year. West has been part of the multi-year turnover at the position for the Ravens, as they havenít been able to find a franchise runner in quite some time. It was a mild surprise that the Ravens didnít add a runner in the draft, and their only meaningful move at the position was adding Danny Woodhead. West enters 2017 firmly atop the depth chart, something no one saw coming. After a decent first half of the season, he seemed to lose favor with the coaching staff, and it seemed like Kenneth Dixon would take over. Well, Dixon is gone for the year, West has had a good off-season, and suddenly the 4th year back out of Towson is someone fantasy owners have to pay attention to. Someone has to run the ball in Baltimore, and with Woodhead more of a receiver, and only disappointments and mediocre talent behind him, West could be on track for a repeat of his standard league RB2 finish. He should surpass 200 carries, so 800 yards and 6 touchdowns isnít outside the realm of possibility.

WR Jeremy Maclin


2016 WR Rank - No. 75, 5.5 FPts/G



After an injury slowed 2016, the Chiefs decided that Maclinís production/pay ration simply wasn't good enough so in a move that surprised many, they released him. The Ravens, in dire need of legit offensive threats, signed him to a two-year deal. Maclin has also been a bit of a fantasy mystery in his career. He had two back-to-back big seasons in his last year with the Eagles and first year with Kansas City. But for most of the remainder of his career heís struggled to truly live up to his 1st round pick status. He joins a Ravens receiver group that has one dimensional players (Wallace) and a third-year guy still finding his way in the league (Perriman).

The Ravens lost a ton of targets when Steve Smith retired and Dennis Pitta suffered to what amounts to a career ending injury. Perriman and Wallace are purely outside players, so it looks like Maclin will find most of his work in the slot. Assuming heís over his 2016 injury, Maclin has a real chance to lead this team in receptions, but Iím not excited about his yardage and touchdown potential. I donít think the Ravenís offense will be very good, and Flaccoís back injury hasnít helped the chemistry building process. I see Maclin as nothing more than a low ceiling WR3, and not someone Iíll be overly excited to add to my team, but someone who could anchor the back end of your fantasy receivers.

WR Mike Wallace


2016 WR Rank - No. 25, 8.1 FPts/G



I really missed on my analysis of Wallace last off-season. I didnít think heíd have enough chances in this offense to have much fantasy appeal, but low and behold, he ended up with a strong 72-1107-4 line, good enough for a Top 25 finish at his position. These numbers were the best for Wallace since his time in Miami, and heís definitely a better fit in Baltimore than any of his previous stops outside Pittsburgh. But while Wallaceís final numbers look strong, a closer look at the stats reveal that most of his production came in the first half of the season. After Week 9 he failed to find the endzone, surpass 62 yards, or even approach double digit fantasy points. After being a strong WR2 in the first 9 games, Wallace was cut bait down the stretch. Inconsistency has always been a problem with Wallace, so heís the perfect WR3 to pair with low floor guys. I think the addition of Maclin takes a little shine off of Wallace, and if Perriman can develop the way the Ravenís hope, Wallace could really struggle to find much fantasy value.

WR Breshad Perriman


2016 WR Rank - No. 71, 4.5 FPts/G



Outside of Kevin White, no young receiver has had the start of his career derailed more than Perriman. After missing all of his rookie year, and most of camp last year, he had a very quiet first season. Buried behind a mountain of veteran pass-catchers, Perriman was hardly part of the weekly game plan. With two big targets gone, the Ravens desperately need Perriman to be more reliable, as he should have more chances to produce this season. By most accounts his off-season has been fantastic, but Perriman needs to stay healthy, something that's already been a problem in camp so far. Although he may not finish with gaudy numbers, Perriman still has a ton of upside. If he can gain and keep the trust of Flacco, Perriman has a chance to surprise. Maclinís addition obviously hurts his value, but right now heís a very low risk pick, and if the moons align right, has the chance to provide value.

TE Ben Watson


2016 TE Rank – N/A



I'll save you some time... look elsewhere for a fantasy tight end. The Ravens are in such dire shape at the position that they are currently relying on 36 year-old coming off a season ending Achilles injury. Baltimore has used up all it's good will when they were able to get production out of another veteran (Steve Smith) who was coming off an Achilles injury of his own. The chances lightning strikes twice is minimal, and although Watson had a resurgent season the last time he was healthy, I have to assume that before too long the Ravens add a veteran (Gary Barnidge) to compete at the position.