QB Andy Dalton


2016 QB Rank - No.12, 20.3 FPts/G



A few things stuck out to me as I prepared this write-up about Dalton. The first tidbit was that he actually finished in the top 12 of overall quarterback scoring despite not having a game with more than 2 touchdowns and only 18 total passing scores. This is probably more of an indictment of injuries hitting some major young stars, but I digress. The second was that his finish came with top targets, A.J. Green, and Tyler Eifert missing a combined 14 games last season. Dalton was white hot out of the gates with two straight 360-plus yard games, and eventually piled up a near career high 4,206 yards passing.

Even if his touchdown numbers donít pop off the page, Dalton has underrated arm strength and athleticism. He should have Green and Eifert healthy and ready to go starting in Week 1, and the Bengals added a dynamic back in Joe Mixon and blazing receiver in John Ross. Dalton is going to possibly have the finest set of skill position players heís had since heís been in the NFL which should translate into better overall numbers.

Despite the improvement in final stats, I think Dalton is due for a regression in overall finish. He was able to get into the top-12 due to injuries to young guns like David Carr, Cam Newton, and Marcus Mariota. He was also harassed and sacked 41 times last season (7th worst in the league) behind an offensive line that seems to have gotten worse on paper. If Iím waiting to draft a quarterback late, Iím simply going to go with players with a higher ceiling than Dalton. Cinci is going to lean on the running game and a young aggressive defense to stay in games and that leads to a much lower attempt total. Other than elite top tier quarterbacks, fantasy signal callers need volume for production, and I just donít know that Dalton is going to get it. Consider The Red Rifle a fine fantasy back-up that wonít kill you if youíre forced to start him but wonít give you a match-up advantage either.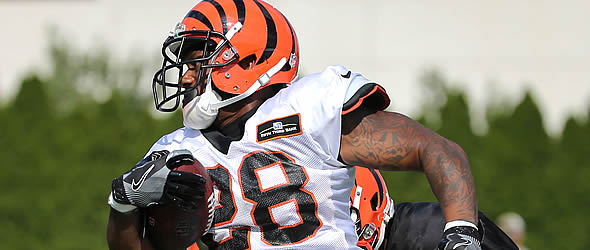 Thinking of drafting Joe Mixon as your RB2? There are some serious roadblocks to consider.


RB Joe Mixon


2016 Rank - N/A



If you have Mixon off your board for personal reasons, much respect to you. I have a more cynical view when it comes to fantasy football. If a playerís off-field behavior wonít affect their weekly availability (i.e. suspensions), Iím interested. And when it comes to Joe Mixonís talent and on-field potential, Iím very interested. Mixonís blend of power, speed, and versatility made him possibly the most gifted running back in the draft this spring. His actions off the field led to his fall. Can the Bengals and fantasy owners benefit?

As runners like David Johnson and LeíVeon Bell become the new hotness, many owners want to find their own versions of game-changing dual threat backs. Mixon has this kind of potential, finishing with 1,900 total yards from scrimmage last season at Oklahoma. Thereís been news out of camp that Mixon is going to get the bulk of the work right from the get-go, but as much as I want to believe Mixon has that potential in 2017, there are some serious roadblocks to consider. The first are fellow teammates Gio Bernard and Jeremy Hill. Bernard has been the Bengalsí resident dual threat. Heís coming off a torn ACL, and was expected to miss much of camp. But heís been on the field since the start and has apparently surprised coaches and teammates with his recovery. Hill has been a huge disappointment since his tantalizing rookie year in 2014. With that said heís still only 24, and has the support of the coaching staff. With Hill likely to steal goal line work, Mixonís upside is limited.

The 2nd and possibly bigger problem for Mixon is the state of the Bengals line. They werenít world beating last year, and theyíve lost their two best starters in the off-season. Despite being a need area, the line was hardly addressed in the draft or with an impact free agent. One knock on Mixon in the pre-draft process was vision, and finding the holes when the offensive line isnít mauling people is vital.

Iíve devoted this much space to Mixon because I believe he could be the next game changing fantasy runner, but I just donít believe it will be in 2017. With Bernard and Hill still having roles and Mixon a controversial rookie, the Bengals might ease in their newest asset. Mixon has RB1 talent, but as things stand in early August, and until I see the coaching staff back up the chatter, I think a low end RB2 finish is more realistic.

RB Giovani Bernard


2016 RB Rank - No. 44, 8.5 FPts/G



Bernard was having trouble holding a ton of value even before going down in Week 10 with a torn ACL. Outside of a huge 9-catch, 100-yard receiving day in Week 2, Bernard wasnít producing his typical numbers in the air, failing to surpass 50 yards or 5 receptions. Seeing as much of his value in standard leagues (and especially PPR leagues) came via the air, this was a letdown for fantasy owners. Cincinnati seems to have never seen Bernard as a lead back, and with the addition of rookie Joe Mixon, this is more evident than ever.

The good news for Bernard is that his recovery from ACL surgery seems to have been flawless, and heís making noise in camp. I donít think the Bengals anticipated having Bernard for meaningful snaps to start the season, but now that they do, this will change the backfield rotation significantly. Look for Jeremy Hill to remain the goal-line back, and for Bernard to be the 3rd down and no-huddle option. At least early on, look for Mixon to be sprinkled in, and Bernard to be good for 8-10 touches a game. I don't know that this changes much as the season goes on, so I have real trouble finding a place for Bernard in standard leagues. Itís simply not enough volume for a guy who averages around 4 yards-per-carry for his career. So while the injury risk isnít as big as it once was, the development of Mixon weighs more heavily on Bernard's value. Add Gio as one of the last runners on your roster and hope Mixon gets off to a slow start I guess.

RB Jeremy Hill


2016 RB Rank - No. 21, 10.4 FPts/G



Hillís career arc has trended way down since his glorious rookie season. In recent years his utter lack of big play ability and role in the passing game has held the offense back, and combined with the injury to Gio Bernard, led Cincinnati to take the risk of adding Mixon in the 2nd round of the 2017 draft. Ball security and confidence has seemed to sap Hill or his effectiveness, this despite the Bengals sticking with him through thick and thin. And thatís the rip. This coaching staff has maintained staunch support for the 4th year back, so heís going to have a role. Letís not forget that Hill has scored 30 touchdowns in his career and has averaged 10-plus fantasy points per game all three seasons. I know heís struggled mightily and Mixon was added to the mix, but Hill is barely being drafted as one of the top-50 running backs currently and I think thatís criminally low. I donít see the huge regression in carries that most do, and heíll still be the preferred option at the goal line. His PPR value is dreadful, but in standard leagues Iíd be more than happy to add a 24-year old runner that has finished as the RB21, RB14, and RB10, despite ďunder producingĒ. Cincinnati will stick with Hill until Mixon forces their hand. Watch this backfield closely this preseason. Hill could provide some huge value compared to where you can get him in drafts.

WR A. J. Green


2016 WR Rank Ė No.34, 12.0 FPts/G



Before going down with a serious hamstring injury in Week 11, A.J. Green was having a career season. In only 10 games, Green had racked up 66 receptions and nearly 1,000 yards. Among the ten games he played in, Green went over 150 yards three times, and was well on his way to being the overall WR1.

Injuries have been a part of the Green story two of the past three years. Heís missed ten games in that span, but when heís been on the field heís been easily a top 5 player at his position. His size/speed combination is nearly on par with Julio Jones, and heís demonstrated some tangible chemistry with Andy Dalton over the years. Green is still in the prime of his career, and has several guys around him that will help keep the defense from focusing too much of their attention on him. Green will continue to be peppered with targets, but the addition of Mixon should mean the Bengals will have an improved running game, so getting past 130 targets might be stretch. Conversely, if the running game doesn't gel, Green has the highest upside out of any receiver not named Beckham or Jones. Heís one of a handful of guys with the talent and opportunity to be the highest scoring player at his position.

WR Brandon LaFell


2016 WR Rank Ė No. 33, 7.6 FPts/G



Brought in to replace the departed Marvin Jones, LaFell had a surprisingly productive first year with the Bengals. It was a solid bounce-back effort after a poor final year in New England. He had a few strong games down the stretch, and helped to stem the bleeding after the Cincinnati offense became ravaged by injuries.

With the return of A.J. Green, and the drafting of John Ross in the 1st round and Mixon in the 2nd, LaFell has a near zero chance to repeat his WR3 finish from 2016. He figures to drop to 4th or 5th in the pecking order, and probably will revert to the early career numbers he put up in Carolina. If Ross doesnít develop, and there are more injuries to the core of pass catchers it might be worth adding LaFell as a waiver add, but for now, I donít think heís worth the draft pick.

WR John Ross
2016 WR Rank Ė N/A

A DeSean Jackson clone from head to toe, Ross, the 9th overall pick in the 2017 draft provides the Bengals offense with the true vertical threat they have been missing. One of the fastest players in the draft, Ross had medical red flags coming out of Washington and missed most of off-season workouts recovering from a shoulder injury. Still not 100%, Ross has been cleared to practice and that should put him on track to make an impact. Unfortunately for fantasy owners, that impact may not be much this season. Ross has the speed and quickness to play a number of receiver roles, but I have the feeling that Ross will serve as the lid lifter and kick returner during his rookie year. He may hit a few homeruns this year, but simply wonít be reliable enough on a weekly basis to be anything better than an end of the roster gamble.

TE Tyler Eifert
2016 TE Rank - No. 24, 8.7 FPts/G

Decimated by ankle and back injuries the past several seasons, Eifert is one of the biggest risk/reward picks in all of fantasy. Eifert has the role and ability to be a top-3 scoring tight end, something he did when he scored 13 touchdowns in 13 games in 2015. He proved his touchdown scoring was no fluke, as he piled up 5 scores in 8 games last season. He was so good during the half season he played, that his 8.7 standard fantasy points per game was tied with Jordan Reed for 2nd best at the position.

Eifert is a huge injury risk, but the reward is just too good to pass up. If he can play a full season he's a near lock for double digit touchdowns. I'm not going to reach for him in drafts, but I don't think you'll be able to wait too long either. Just make sure you grab some insurance later on!