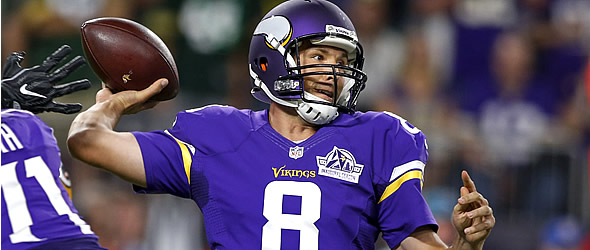 Perennial QB2: Sam Bradford has yet to throw for more than 4000 yards or 21 TDs in a single season.


QB Sam Bradford


(2016 QB Rank – No.23, 18.6 FPts/G)



The Vikings 2016 season was an absolute calamity. Still reeling after kicking away a sure post-season win, the Vikings lost their franchise quarterback, Teddy Bridgewater to a devastating knee injury late in training camp. The team was forced to make a trade for Bradford just prior to the season. And while the team got off to a white hot 4-0 start, future HOFer Adrian Peterson was lost for the year with a knee injury in Week 2, while injuries piled up on the offensive line, contributing to the team losing 8 of their final 11 games to finish at 7-9.

Considering the fact he joined the team a few scant weeks before making his debut, Bradford had a fine statistical season. He played in 15 games, racking up a 20-8 touchdown to interception ratio, and career highs in yardage (3,877) and completion percentage (71.6). He helped to make Adam Thielen and Kyle Rudolph fantasy assets, and at the very worst kept the franchise afloat while injuries ravaged the roster around him. Despite the decent numbers, Bradford and the Vikes had serious trouble putting up points consistently, scoring 20 or fewer in half of their games. During a mid-season four game losing streak their offensive coordinator bailed, the run game remained in the witness protection program, and their defense showed cracks.

With the dark cloud of the 2016 season moving on, things do look brighter for Bradford and the offense. They've added three new starters on the offensive line, added explosive talent in the backfield, and should get more production (it's nearly impossible to get less!) from former 1st round receiver Laquon Treadwell. Bradford with have a full offseason to get more comfortable with the system as well. This will probably be the most talented team Bradford has led, but the fact remains he's never surpassed 21 touchdown passes in a season, and this Vikings still have a "run the ball and play defense" mentality. If the line can gel, and Bradford can improving the timing with his receivers, I do think he can hit 25 touchdowns and 4,000 yards which would put him squarely in the QB15-20 territory as a mid-range QB2.

RB Dalvin Cook


(2016 RB Rank - N/A)



A projected 1st round pick after a stellar career in the ACC, Cook scored 38 times in his final two years at Florida State, capping his career with a 145 yard night against Michigan in the Orange Bowl. On draft night, Cook tumbled into the 2nd round because of multiple shoulder injuries and a concerning off-the-field record. The Vikings were happy to snag Cook after trading down with the Bengals (who took Joe Mixon). Cook has some flaws to his game which he'll have to overcome in the pros (13 career fumbles), but he represents a serious upgrade in production and talent for Minnesota. He's drawn rave reviews from none other than head coach Mike Zimmer, who rarely puffs his players up with smoke, calling his rooker runner "special" at several points this offseason. Cook has benefitted from Latavius Murray missing time due to an ankle injury, and has made the most of it. But, while he is currently the de facto early down workhorse, the Vikes invested a decent chunk of change in Murray, and still have 3rd down specialist Jerick McKinnon in need of touches. It's certainly possible Cook's talent wins out in the end, but I get the sick feeling that this situation is headed for a three-headed monster scenario. In Dynasty leagues, Cook is a fantastic pick, but he definitely loses value in redraft leagues. Without a majority of touches on a limited offense, Cook could struggle to turn out anything better than RB3/FLEX value. Draft him with upside in mind.

RB Latavius Murray


(2016 RB Rank - No.13, 12.7 FPts/G)



Signed to a big off-season deal to help fill the gaping hole left by the release of Adrian Peterson, Murray was, for about a month, at the top of the Vikings running back depth chart. But after his recovery from ankle surgery went slower than expected, the Vikings couldn't pass up nabbing Dalvin Cook in the 2nd round. Murray quickly went from having a shot at 200 carries to being the goal line back in a flat three-way timeshare.

Murray was money in the redzone last season for the Raiders, scoring a career high 12 touchdowns. The rest of his stats were a supreme disappointment after his strong 2015 season. Despite playing for one of the league's best offensive lines, Murray failed to generate big plays in the run game, topping off at 4.0 yards per carry in both 2015 and 2016. Even before getting hurt early in the year, he was beginning to cede passing down work to a young duo of back-ups. Murray simply didn't give Oakland a consistent big play threat in the run game, and they felt he was a replaceable talent. Minnesota seemed like a great landing spot, but now with the off-season a virtual wash, Murray will be in an uphill battle with Cook and McKinnon to grab the lion's share of touches. Murray might be best suited for work inside the 20s, as he lacks the elusiveness of McKinnon and Cook, and doesn't get many yards after contact. I really do think Cook and Murray are going to cancel each other out if they both remain healthy, and therefore can't see drafting Murray as anything better than an RB4/FLEX.

RB Jerick McKinnon


(2016 RB Rank – No.34, 8.0 FPts/G)



The clear odd-man out of the Vikings backfield, McKinnon is the sole returning starter from the 2016 Minnesota backfield. Oozing athletic ability, McKinnon fell flat last season in his bid to replace AP. Constantly dodging defenders who had broken through the sieve-like line, McKinnon had a hard time flashing the speed and playmaking ability he had shown his first two seasons. His 3.4 yards per carry average was down nearly two yards from 2015, and was a nonexistent part of the passing game before compiling 28 receptions over the final five games of the season. McKinnon now sits squarely behind Cook and Murray for touches in this backfield, and is going to need an injury to one, or both to return any fantasy value. At present he's a late round flier as a handcuff for Cook/Murray owners and nothing more.

WR Stefon Diggs


(2016 WR Rank - No.43, 8.4 FPts/G)



For all intents and purposes, Diggs had a fine follow-up to his surprising 2015 rookie season. Last season Diggs paced the team in catches with 84, and fell just below Adam Thielen for the team lead in receiving yards. He started off the season on fire, compiling 16 catches for 285 yards and a touchdown, but the great start faded quickly after a groin injury in Week 4. Diggs gutted it out, only missing one game, but his quickness and explosion was clearly affected, and other than a huge Week 10, Diggs was mostly a desperation fantasy option from Week 11 on.

This is largely a spread the wealth offense in both the passing and running games, so I don't expect any Vikings offensive player to lead fantasy teams to victory by themselves, but if Diggs can stay healthy he's could max out in 90-1000-5 territory, which would be mid-tier WR2 numbers. I do think the Vikings will run the ball more efficiently, and Laquon Treadwell is sure to leach some targets away, so Diggs' upside is limited by scheme. Make no mistake, this is a talented player who's entering just his third season and is only 23 years old. If he can be more consistent, and avoid some of the nagging injuries, he could be an excellent value selection.

WR Adam Thielen


(2016 WR Rank - No.26, 8.0 FPts/G)



Thielen was such a darkhorse that I didn't even feature him in this column last year. Prior to a breakout 2016, Thielen had combined for just 20 catches over his first two years. But injuries to Diggs and Treadwell forced Thielen into a primary pass catching role, and he came up huge with a 69-967-5 line over the course of the season. Stepping up when his team needed him the most earned him a nice new contract and a chance to again be a major contributor in the passing game. The problem is that Thielen offers much more value to the Vikings than he does in fantasy. He's unlikely to reach or surpass his 2016 numbers, as the entire offense should function more efficiently, meaning Thielen won't be relied upon as much. He had a few monster games last season, and he won't be sneaking up on defenses anymore. If everyone stays healthy, Thielen falls back into WR4/5 territory and becomes much more of a complementary player.

WR Laquon Treadwell


(2016 WR Rank – N/A)



Treadwell had exactly one more reception than I did last season, and that's all you need to know. I said in this spot last year that 2016 would be a developmental year for Treadwell, and that's exactly what it was. The fact that he didn't factor into the game plan at all, despite the Vikings offense being desperate for playmakers, says volumes about his readiness. Treadwell possesses elite physical tools, but doesn't seem to be in a position to be anything better than the 4th option in this passing offense until he learns the NFL game. I think the Vikings will continue to bring him along slowly, and unless there are a mass of injuries to the guys above him, should remained buried on the depth chart for the foreseeable future. I'd steer clear in redraft leagues, and maybe hope to snag him during the season as a late season stash.

TE Kyle Rudolph


(2016 TE - Rank No.3, 7.9 FPts/G)



I pegged Rudolph as a likely TE1 last year at this time, but never imagined he'd lead all tight ends in targets and finish as the No.3 overall. Rudolph can thank his strong season to several factors that worked in his favor. First, the Vikings dreadful offensive line and non-existent running game meant Rudolph was the ultimate dump off target for Sam "checkdown" Bradford. Rudolph also stayed healthy for the entire year, something he's struggled with at times in his career. Although he's an athletic, sure-handed athlete, Rudolph is a miserable blocker, and ran routes a majority of the time he was on the field. He was the de facto slot-receiver for much of the year, and a clear favorite of Sam Bradford.

While the stars aligned for Rudolph's success in 2016, I foresee it being quite difficult to do so in 2017. First off, the Vikings offense should be more balanced and operational than it was last year, and Rudolph shouldn't have to be the security blanket for Bradford as much as he was last year. While he still presents mismatches at times, he doesn't possess elite physical tools to dominate a defense. He reminds me a lot of former Steelers tight end Heath Miller; solid pass receiver, but not someone who's going to jump off the page. Rudolph should remain active in the redzone, but more talent in the backfield, and healthier passing game options, I think Rudolph falls back into the pack and sets up more as an uninspiring low-end TE1 option.