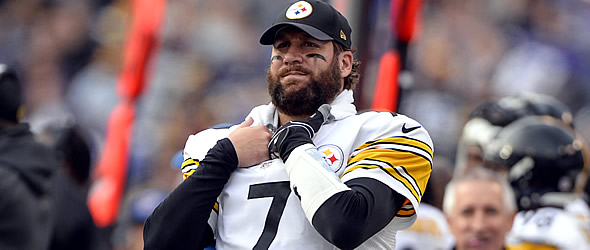 Roethlisberger is a top 10 fantasy QB when playing but his injury history limits his full season value.


QB Ben Roethlisberger


2016 QB Rank - No.17, 22.5 FPts/G



Itís either suspensions to high impact skill position players, or lower body injuries that conspire to wreck Roethlisbergerís fantasy upside. His annual injury cost him three games last season which contributed to a very mediocre fantasy season.

Despite finishing as the 17th overall scorer in standard leagues, Big Ben was 7th overall with a 22.5 fantasy points per game average. His monster games in Weeks 4, 5 and 10 show that heís capable of winning weeks by himself, but his poor 2nd half (16.5 FPts/G) likely killed his fantasy owners in the long run.

After lightly entertaining retirement thoughts, Ben is back to captain what should be one of the most explosive offenses in the NFL. For the first time since 2014 (barring something goofy in the next few weeks), Pittsburgh is going to open the season with all of their Killer Bís (Brown, Bryant, and Bell) healthy and ready to roll. Heís playing behind one of the best offensive lines in his career, and once again, his finish relies greatly on his ability to stay healthy. Heís got an easy top-5 ceiling if he plays 16 games, or a QB2 floor if he misses time. With the return of Martavis Bryant, Iím more willing to gamble as Roethlisberger as my starter. Bryant gives the Steelers another big-play threat, and monster red-zone target. Heís being picked as the 9th quarterback off the board in early drafts, and thatís a spot Iíd be happy to land him. Just be aware youíll have to prioritize your QB2 to protect from the injury thatís likely to come.

RB LeíVeon Bell




2016 RB Rank - No.4, 20.2 FPts/G



A long commentary on Bell is hardly necessary. He is in the mix as the top overall fantasy player, and this will remain the case even if he holds out into training camp. After a smashing 144-yard 2016 debut against Kansas City in Week 4, Bell struggled on the ground in the next five games, as he was able to top 4.0 yards-per-carry only once. But his role in the passing game easily made up for it, as he caught 40, yes, 40 passes over that stretch. He started his dominant tear in Week 11 against Cleveland, culminating in a mind boggling 38-236-3 line on the ground against Buffalo.

There are two reasons why Iíd hesitate to take Bell over David Johnson in any format. First, the lack of touchdown consistency is concerning. Sure, he ended up with 9 total scores in only 12 games, but he went a five-game stretch without sniffing the endzone, and only has one season in his career where he scored in double digits. Even though he and Johnson are both 25, Bell has much more wear on his frame, suffering several serious injuries to his lower body. Foot, ankle, knee, and groin injuries have ended his season early in recent years, and itís been quite some time Bell hasnít had to recover from off-season surgery of some sort. Extrapolated out to a full season, Bell would have had nearly 2,500 total yards and 12 touchdowns; simply ridiculous numbers. But those numbers were nearly matched by Johnson, AND he accounted for 20 scores. The bottom line is you really canít go wrong if get ďstuckĒ with Bell, and heíll provide the centerpiece to many fantasy winning teams in 2017 if things go according to plan.

RB James Conner


2016 RB Rank Ė N/A



Terminator jokes aside, Conner not only is an amazing story of cancer survival, but a testament to spirit, hard work, and dedication. Conner joins his hometown team, and should soak up plenty of off-season reps with the first team while Bell holds out.

Conner isnít just a feel good story, heís a hell of a football player. A former ACC Player of the Year, Conner possesses a heart of a lion to go along with a physical running style. His agility and speed donít jump off the tape, and heís much more of a thumper than anyone else on the roster, so this certainly limits the upside he can have in this offense. Heís a capable pass catcher, but had only 30 receptions in his college career. If the Steelers donít end up signing a veteran to back up Bell, Conner makes for an acceptable possible handcuff option. Heís more than the sum of his parts, and could return value playing in that explosive Pittsburgh offense.

RB Fitzgerald Toussaint


2016 RB Rank Ė No.117, 1.8 FPts/G



Toussaint, the 4th year back out of Michigan is probably best known for his work in the 2015 playoffs when he filled in for an injured Bell and had a few decent games. The running backs in this offense are high volume players, and Toussaint, despite being less talented than rookie James Connor, does have the advantage of experience. I donít think Toussaint is draftable, unless heís the clear cut No.2 coming out of camp, but he could be a priority free-agent should Bell go down for a length of time.

WR Antonio Brown


2016 WR Rank - No.3, 13.4 FPts/G



Iíve come to learn that the Steelers fantasy preview is the lowest hanging fruit in the land of pretend football. Antonio Brown joins his teammate Bell as some of the most no-brainer picks in our hobby. Brown has been a dynamo, easily finishing as the highest scoring player in PPR and Standard leagues alike. His numbers were due for a regression after his mind-blowing 2015 season, but even losing 30 receptions and 600 yards kept him near the top spot.
I know there might be a little trepidation with the return of Martavis Bryant, but they made magic during the 2014 and 2015 seasons when they were on the field together. Bryantís deep play ability actually helps Brown work on the underneath routes. There is no better bet in fantasy football at the receiver position making Brown a shoe-in as the first pass catcher off the board.

WR Martavis Bryant
2016 WR Rank - N/A

Long on talent and (up till now) short on common sense, the mercurial Bryant returns from his one-year drug related exile. Bryant is nothing short of a game-breaking talent, and the time away from the game has apparently cleared his head, and steeled his focus to football. Heís the rare receiver in the back end of the WR2 area that can win you games, and I expect this is the sort of value heíll provide to fantasy owners this season. Heís always been a big part of the offense when heís been active, and his 6í5íí frame makes him Pittsburghís best option in the red zone. Bryant has a shot to approach 10-plus touchdowns in this offense, and thatís why heís much more valuable in standard leagues as a strong WR2. I worry sometimes about his roller coaster numbers, but the upside is too much to ignore for long as your drafts roll along.

WR Eli Rogers
2016 WR Rank - No.63, 6.0 FPts/G

Because LeíVeon Bell can serve as the slot receiver in this offense, the No.3 wide receiver on the Steelers doesnít get much love. Although Rogers had a few sprinkles of fantasy success last year, the return of Bryant and the continued health of the offense means Rogersí role on the team will certainly dip from last year. He certainly will have a weekly role in the teamís success, but short of a spate of injuries, heís fantasy outlook is dim at best.

TE Jesse James
2016 TE Rank No.31, 3.2 FPts/G

Unfortunately there isnít much to see here. James is a solid player who can run, block, and catch, but doesnít really do anything special. His size gives the offense a big target on 3rd downs and in the red zone, but I suspect heíll be little more than a blocker this season. His touchdown potential never materialized last year, and without a shot at 6-plus touchdowns, he just isnít worth a look. I expect an uptick in playing time for the intriguing second-year player Xavier Grimble, but this version of the Steeler offense just doesnít feature the tight end enough to make the position fantasy relevant.