Last Week's Question: What do you like about smaller leagues?

In my column for Week 3, I came to the defense of smaller leagues, but a reader named Mike was unconvinced:
The deeper the league, the more skill is involved in winning. We used to have a 15-team league. The hard core fantasy players loved it because the guys who did it more for fun had no chance to win. Of course that's the reason it disbanded. It was no fun for the casual players to forfeit $125-$200 every season. In an 8-team league, luck rules.
Maybe Mike's right, but his point would have been stronger if, instead of theorizing about why a 15-team league disbanded, he had provided an example of an 8-team league falling apart because the participants felt winning boiled down to luck. Of course, he can only speak from his experience, and many readers share a similar perspective on smaller leagues. One such reader (Gary) emailed me just to say, "I cannot come to the defense of smaller leagues."

A reader named Will was more receptive to my argument about basing decisions on abundance instead of scarcity. Most of us experience this at the quarterback position in larger leagues, but Will remarked on the abundance of wide receivers in leagues that only permit owners to start 2 WRs each week "because you can always find a good one on the free agent list."

Other readers attested to the weird fun associated with the all-stud approach of smaller leagues. "Frustrated Teacher" says, "3 friends and I did a 4-team auction league one year just for fun. Picking which stud will have the better week is always tough and we had competitive fun even in that odd format." Four teams is extreme—and sounds like a quirky blast to me.

Interestingly, I heard from two different devotees of the 8-team model who both participate in 16-team leagues broken into separate 8-team conferences, each with its own draft. Bill's league is now in its 26th year:
We agree [that smaller leagues can be fun]! Since we expanded to 16 owners we've always had 2 separate drafts like conferences and yes they play each other with the same guys. Our opinion has always been it's better to lose because of a 2nd tier guy or stud decision mistake than some idiot picking a lucky break on a WR you never heard of! We've always loved it [because] it's harder to manage.
Jim's 16-team league also divides owners into two groups of 8, and it's even older—going back 38 years. In fact, Jim tells me that the very first pick in this league's very first draft was Kenny Stabler (which is so awesome that I don't even want to fact-check it because I prefer a universe in which it's true):
The South Hill Football League has been in existence for 38 years. We started with 16 teams and continued that way for 6 years. It was a struggle to field a team, keep a quarterback, find a tight end, replace a hurt player etc. After the 6th year, we decided to split into two 8-team divisions that cross over on the schedule, meaning you can match up against your own player(s). The benefit was immediately obvious... more points and then the next benefit... more player pickups. We charge $5.00 per transaction and spread that money out amongst the winners at the end of the year. The usual number of transactions has been 200+! [Owners are] always able to find a guy during byes, injuries etc. We only allow one backup at each position, [which ensures more free agent transactions].
Jim included a lot of great info about his league that I lack the space to reproduce here, but one point warrants our attention: "There is one original franchise that has never won our league." If 8-team drafts really do boil down entirely to luck, that one team is having a 38-year run of bad luck. Yikes.
I was surprised to discover just how many older FFers have resorted to this model of two smaller draft conferences within a single league. Bob's league is even smaller than the ones described by Bill and Jim:
We are a 12-team league with two 6-team divisions. Each division has a separate draft. We play each team in our division three times and each team in the other division once. Yes, in the interdivision games, you play against one or two of your own players. In order to do this schedule, we have doubleheaders. We are a touchdown-only league: 6 points per TD, 3 points per FG, and 1 point per XP. We are a TD-only league because we've always done it this way. This is our league's 34th year. We've been doing this before most of you were born. We use TD's only because there were no computers when we started in 1984; no Fantasy Football Today; no FF magazines, only Street and Smith's existed. . . . We sometimes didn't know who scored a late West Coast touchdown until the afternoon paper came out the next day. We have 2nd generation coaches in our league, sons of original league members. We love our league this way. Most of us are also coaching in more modern PPR leagues, but the ANFL (the Armchair National Football League) is what we love and is one-of-a-kind.
All of these perspectives are interesting, but Sean's point is probably the best one to end on:
I play in a 10-team dynasty league which I started back in 2000. Doesn't matter to me how many teams are in a league, as long as owners are active participants. That, to me, is the most important issue for a successful league. I would rather play in an 8-team league full of sharks than a 16-team league where half the owners are deadbeats. It takes more skill to win in that 8-team league than in the larger one where people quit playing halfway through the season.
I couldn't have said it better myself, Sean. I won't even try.



This Week's Question: How long should players remain locked on waivers?



The question for Week 4 comes from a reader named Dan, who writes:
One owner in our league was perplexed because he couldn't pick up a player in the same week he was dropped. Our league only runs waivers once per week, and anyone dropped stays locked until the next week's waiver run. Anyone who passes waivers is a free agent up until games start on Sunday. The other owner insists that our settings are wrong and that the majority of fantasy leagues allow dropped players to be picked up in the same week they were dropped, after clearing a second waiver run. My rationale for the settings we have is that most owners do not have the time to do repeated waiver wire runs each week; doing so would give a definite advantage to those who have the most time to dedicate.

I am curious what everyone else does with waivers and when dropped players can be added back to rosters.
Short answers are obviously welcome here; please feel free to post your response in the comments below or by emailing me. If you care to explain why your league has developed whatever timeline it uses, that may be helpful to other readers (even if it goes beyond the scope of Dan's question).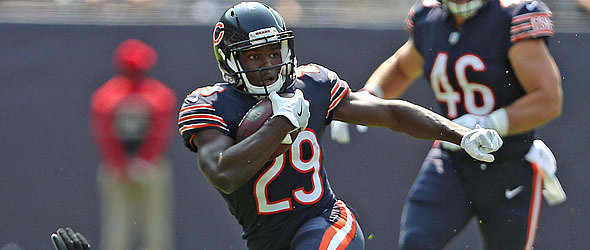 This seems like an easy pick on paper but the Bears RBs could pose problems for the Pack. Stay away.
Survivor Pool Picks - Week 4 (Courtesy of Matthew Schiff)

Trap Game: Green Bay over Chicago

The Packers are hard to figure. They handily won their first game against the Seahawks, and yet barely pulled off a last-minute comeback against the 0-3 Bengals. The Bears are even harder to figure. Are they the no-shows who barely got on the scoreboard vs. a Tampa Bay team with its primary running back on suspension? Or are they the midway monsters who just beat a Pittsburgh team with (surprise!) neither Le'Veon Bell nor Martavis Bryant suspended. Rookie sensation Tarik Cohen is balanced with Jordan Howard to take Chicago's eighth-ranked rushing attack even higher into the stat-o-sphere. While it's usually automatic to take the Pack at home, you probably don't have as clear a read on either of these teams as you think. This one should make you nervous.

#3: New England over Carolina (2-1, BUF, TB, CLE)

I include this game simply because it is the best "line bet" available, but there's something that "smells" in New England—and it ain't the clam chowder. Cam Newton is struggling; this week is his best chance to get his offense straightened out. The New England defense is last in the NFL against the pass and should help a Panthers team that is a paltry 30th in overall passing offense. As such, while Vegas likes this bet, and it stands out as a solid Survival Pool pick, I have far less confidence in this pick than your bookie does, so I recommend focusing on my top two choices for Week 4.

#2: Atlanta over Buffalo (1-2, NE, SEA, PIT)

The Buffalo defense is sixth overall and will face a fierce Falcons offense that is surprisingly productive despite the departure of Kyle Shanahan. But even if Atlanta is held to field goals instead of touchdowns by Buffalo's defense, it's hard to see how the Bills' anemic offense can keep up. Jordan Matthews is definitely a downgrade from Sammy Watkins, and except for LeSean McCoy, the Bills don't really have any offensive firepower. While Matt Ryan and company may not run away with this game, they should safely win by more than a field goal in their new stadium.

#1: Seattle over Indianapolis (3-0, ATL, OAK, NE)

Jacoby Brissett has made a name for himself after being traded from the Patriots in Week 2. This week he plays a reeling Seahawks team that is looking up in the NFC West and desperate for a win. The Colts are definitely improving and finding an identity without Andrew Luck. But winning in Seattle on this particular Sunday, when Pete Carroll has his team in a must-win situation, is just too much for the Luck-less Colts to do against the Seahawks and their 12th man.

---
Mike Davis has been writing about fantasy football since 1999--and playing video games even longer than that. His latest novel (concerning a gamer who gets trapped inside Nethack after eating too many shrooms) can be found here.