Last Week's Question: Have you drafted with the season underway?

In my column for Week 2, I reported that my brother spent his 8th-round draft pick on Alex Smith. He wasn't predicting great things for Smith; he knew exactly how many fantasy points he could expect in Week 1 from Smith (50) because the QB had already played.

My brother's draft took place, as usual, on the morning of the first Sunday of the NFL season. He and his fellow owners always draft with the first Thursday night game in their rearview mirror. This year, the impact was a bit higher than usual thanks to stellar performances from Smith, Kareem Hunt, and Mike Gillislee. (Hunt went fourth overall in that draft.)

They don't have any special rules governing the drafting of players who have already played, and maybe they don't need any such rules. After all, anyone who valued Smith's Week 1 performance more highly than my brother could have taken him in the 7th round. Figuring out how heavily to factor in a single known performance in the context of the rest of an unknown season presents a challenge, but it's a challenge that most people in similar circumstances seem to handle without additional rules.

I heard from a couple of readers in leagues that still have their draft parties on the Saturday night before Sunday kickoff in Week 1. Their fantasy traditions are older than Thursday Night Football, and they aren't willing to change. As Carter put it, "We have jobs, so we can't realistically move our draft party to Wednesday night. And we have families, so we can't draft on Labor Day weekend. Our draft has always been the Saturday before Sunday kickoff, and we'll continue to do it that way no matter how many early games the NFL decides to schedule." He didn't mention any special rules about drafting players who have already played, so I assume his league handles them the same way my brother's does—i.e. with no special provisions at all.

In fact, I only heard from one reader whose league has instituted rules governing the drafting and starting of players that have already played when the draft occurs. Since that reader was Mike Krueger (founder of FFToday), I have assessed this response as "highly credible":
One of my local leagues routinely conducts our draft the night before all the Sunday games of Week 1. As you might expect, values for some Chiefs and Patriots changed significantly. Kareem Hunt was drafted No.1 overall. Tyreek Hill went at 2.06. Tom Brady lasted until 8.04 in a 12-team league.

Our rules for the draft specify that any players drafted from the Thursday night game must start unless the player is drafted as a backup, outside the starting lineup requirements. For example, I drafted Chris Hogan as my 4th WR, but didn't have to start him because we only start 3 WRs in our league, with no flex position.

The rule seems to work well, and as a league, we haven't had any issues with drafting after the first Thursday night game. Every owner can weigh the risk/reward of drafting a player who blew up or had a dud in the Thursday night game, and I think it actually adds a bit more intrigue and strategy to the draft.
My thanks go out to Mike for sharing that one simple rule and to the other readers who don't seem to think any special rules are necessary. The main point here is that having a draft after the Thursday night game and before Sunday kickoff doesn't have to ruin anything about a league. I was actually envious of my brother and of Krueger as I learned about their drafts because I think it only makes sense to choose players as close to the beginning of the season as possible—even if that means drafting a day or two after the season has begun.

The advantages of this approach include 1) having as much information as possible (as opposed to drafting half-blind in mid-August); 2) taking the pressure off Labor Day weekend; 3) minimizing the delay between the draft and the beginning of the season; and 4) adding a bit of "intrigue and strategy" as Krueger suggests. With all those benefits, it seems like drafting after the Thursday night game should be a bit more commonplace than it is. Maybe it will become more popular with time.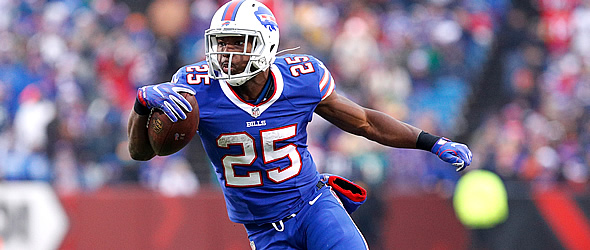 Weekly lineup decisions in small leagues can be just as intriguing as whether or not to start Ted Ginn Jr.




This Week's Question: What do you like most about smaller leagues?



For more than a decade now, I've been an elitist when it comes to small fantasy leagues. I don't know where the contempt comes from, but it's always been there. I can't even type "8-team league" without sneering.

How about you? Have you ever looked at somebody's roster, seen an alarming amount of top-flight talent, and thought, "That jackass must be in an 8-team league to have all those studs"?
I get questions emailed to me every Sunday morning from people in tiny leagues who are considering benching the likes of LeSean McCoy or Keenan Allen. I have rolled my eyes and shaken my head at such questions in the past. Sometimes I've even been tempted to reply, "Stop deciding between Julio and Odell—and start looking for a bigger league."

But this year I have an old friend who has just started playing fantasy football. He's in an 8-team league. When he first told me about it, I groaned and did a facepalm. But now that I've gotten questions from him about his particular team in that particular league, I must admit I'm becoming fascinated by the Cadillac problems he faces.

For example, at running back this week, he can only start 3 of the following: LeSean McCoy, Kareem Hunt, C.J. Anderson, and Christian McCaffrey. If you own McCoy in a 12-team league, you might be reluctant to start him against the Bronco defense that just handed Ezekiel Elliott the worst game of his career, but what kind of RB are you likely to roll out in Shady's place? Maybe Hunt or Anderson or McCaffrey—but not all three. And unless you went RB heavy, you're more likely to be looking at an Isaiah Crowell or even a Jacquizz Rodgers.

I can't remember how long it's been since I played in a league with fewer than 10 owners, but helping my friend manage his team is making me think about the wildly different perspective appropriate for small leagues.

I have always thought of fantasy as a game of scarcity. Workhorse RBs are far more valuable than QBs not because they score more points than QBs (they don't), but because they separate themselves by a wide margin from the RBs who only play on first and second down or exclusively on third down. My notion of scarcity drives almost all the decisions I make in larger leagues (including the decision to stream quarterbacks instead of burning a lot of draft or auction capital on them).

But my friend's 8-team league operates from the principle of abundance. The question isn't "How can I get another stud WR on my roster?", but "Which of my stud WRs should I bench this week?"
I finally figured out (just this week!) that wondering which of your stud WRs to bench is just as interesting a question to ponder as any of the lineup decisions I customarily make. Questions based on abundance can be every bit as complex as questions based on scarcity; it's just that having an embarrassment of riches makes such questions alienating for those of us who have always operated from the scarcity model.

So I want to apologize to everyone whom I've mocked or belittled over the years for playing in smaller leagues. It's not what I'm used to, but I see how it can be interesting. I figure there are other benefits of participating in smaller leagues as well—benefits that I've simply been too contemptuous to notice over the years. If you enjoy playing in smaller leagues, please set me straight by posting a comment below or emailing me. I hope to have some interesting responses to feature in Week 4.

Survivor Pool Picks - Week 3 (Courtesy of Matthew Schiff)

Trap Game: DIVISIONAL OPPONENTS

I thought about singling out one of four tricky divisional matchups this week (Rams at 49ers, Saints at Panthers, Giants at Eagles, and Dolphins at Jets), but I couldn't. The more I thought about it, the less difference I could see between these contests, since all four games have the same "fleas": 1) These teams know each other too well; 2) It's too early in the season to know who is going to show up; 3) the lines for all 4 contests are either small or suspect; & 4) Never ever ever ever risk your survival on a divisional game in the first half of the season (GOLDEN RULE). In most survival pools, only about 20% of the population is out. Don't be part of the 5-10% that will be eliminated this week with a divisional opponent screw up. Choose wisely.

#3: Cleveland over Indianapolis (2-0: BUF, TB)

To my faithful readers, I offer you a fantasy "jewel." Why is this a jewel? Because how many times in 2017 will the Cleveland Browns be FAVORED by Vegas bookies to win a game? Don't mistake the Browns for a great NFL team, but they are definitely going in the right direction. With Andrew Luck out again this week, the Colts are likely to continue looking terrible. Poor Jacoby Brisset will make his second start after his recent trade from New England—this time against a Cleveland defense that has been surprisingly effective in its first two weeks. Everyone seems to agree that the Jets are the worst team in the league, but are they really worse than Indianapolis without Luck? Maybe not—so maybe some readers will dare to gamble on Cleveland this week and save the two picks below for later in the season. If you are a long-term planner trying to navigate the perfect path to your survival pool win, then this pick may be your best option. But don't go this route without understanding that you had easier and better choices available – if only for this week.

#2: Pittsburgh over Chicago (1-1: NE, SEA)

To call Mike Glennon a "serviceable" quarterback is to damn him with faint praise. It's also fair, which is more than can be said of the injuries to Chicago's receivers. With former Titan Kendall Wright as the #1, the Bears aren't likely to stretch the field for their inconsistent running game. And while Chicago struggles in both the passing and rushing departments, the Steelers will probably continue firing on all cylinders in this inter-conference contest. It's true that Big Ben struggles on the road, but for the Bears to outscore him (and Bell) (and Brown) (and Bryant), they'll need to win with something—and it's hard to imagine what that something might be.

#1: New England over Houston (2-0, ATL, OAK)

The only pick I've gotten wrong so far this year was New England over Kansas City in Week 1, so you might expect me to steer clear of the Pats. But this isn't Week 1, when New England is notoriously unreliable (as I pointed out when I picked them back in Week 1; so yes, the irony is obviously there, but no, it's not relevant anymore). This time, you can take my faith in Belichick and Brady to the bank. Why? Mainly because you have a rookie quarterback in Deshaun Watson, who, despite his talents, is about to discover that inexperienced QBs are GUARANTEED to lose the first time they ever play in Foxboro. Watson's odds of winning might improve slightly if he travelled back in time to play against the Packers at home under Vince Lombardi. Combine that with that fact that New England is truly a much more talented team on both sides of the ball, and this is the ONLY game you should be thinking about.


---
Mike Davis has been writing about fantasy football since 1999--and playing video games even longer than that. His latest novel (concerning a gamer who gets trapped inside Nethack after eating too many shrooms) can be found here.