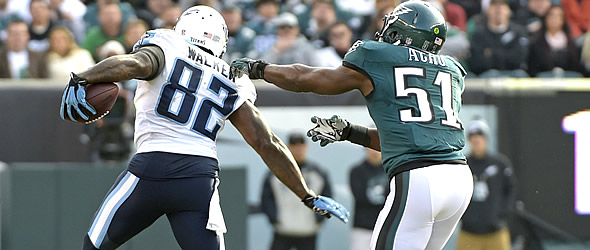 Delanie Walker has been a top-10 tight end the last three seasons. Is this the year he takes a slide?
QB Marcus Mariota
(2016 QB Rank – 10, 21.5 FPts/G)
The Titans' vastly improved offense in 2016 won't sneak up on fantasy owners this season. Tennessee's remade offense ranked them in the top half of the league in scoring and yards per game last year after placing in the bottom five in both categories following the 2015 season. One of the biggest factor's to the newfound success is Marcus Mariota's development as a quarterback. Playing off a superior ground game, Mariota has become an efficient sniper by picking apart defenses and being effective when forced to scramble. Whether or not fantasy owners want to put faith in a guy who has passed for over 300 yards just three times in two years is the real issue. The Titans are going to be a run first team again in 2017 so any increase in passing attempts will be the result of more snaps on offense rather than a decision to throw more often. Similarly, the addition of Eric Decker adds more floor than ceiling to Mariota's projections. Tennessee's franchise quarterback is progressing well from a broken leg suffered at the end of last season and has taken part in drills during OTAs and mini camp. He should be taking reps with the first team when training camp opens so health shouldn't be an issue. Consider him a favorable backup fantasy quarterback that could become quality trade bait during the year.
RB DeMarco Murray
(2016 RB Rank – 6, 14.9 FPts/G)
The Titans knew they needed a true horse to run their "Smashmouth" scheme last season and they got just that when they added DeMarco Murray. They rode him hard too. After seeing 240 touches in 2015, the Titans leaned on Murray 346 times in 2016. The wear and tear did take its toll on the beastly running back causing him to slip from being a top three fantasy running back to playing like a RB2 over the last month of the season. Reports this off-season have noted Murray's desire to remain in a true workhorse role as well as HC Mike Mularkey's intent on working Derrick Henry into the mix. It's hard to imagine the Titans keeping the talented (and younger) Henry in a true backup role again this year so expect Murray's touches to settle in closer to the sub-300 mark. A reduced workload shouldn't deter fantasy owners from trusting Murray to reach double-digit touchdowns and over 1,200 total yards as a RB1. Murray did have surgery on his finger recently but it shouldn't have any impact on his performance in 2017.
RB Derrick Henry
(2016 RB Rank – 56, 6.6 FPts/G)
Opportunity is all that stands between Derrick Henry and fantasy accolades. The rest of the league seems to use a RBBC with lesser talent, but in Nashville the Titans prefer only one guy plucking on the fiddle. The team knows it has a true workhorse type runner in DeMarco Murray but they also want to get some return on their investment from last year's second round selection, Derrick Henry. He caught 13 of his 15 targets and maintained an YPC of 4.5 on his 110 carries so it's no secret he has the ability to be a true difference maker in the fantasy game. It's a good situation for the Titans but it's a bad situation for fantasy owners looking to invest in Henry because he remains a true backup who needs more touches to be a weekly fantasy starter in most formats. In his rookie campaign, following Week 7, Henry was able to post double-digit fantasy scoring four times but failed to score more at least five points in any of the other games he played during that time. His five touchdowns with limited touches may fool some to believing he can be used as a flex option in 2017 but his role says he won't be consistent enough to trust. That doesn't mean there isn't value to be had in drafting a talented running back on a run heavy team. Henry represents one of this season's best lotto tickets to buy and he will likely get scooped up in the middle rounds as a result.
RB Khalfani Muhammad
(2016 RB Rank – N/A)
The Titans don't offer much depth at the running back position, let alone anything close to a potential diamond in the rough. At five-foot nine-inches and 175 pounds, Kalfani Muhammad won't be expected to run between the tackles as a pro. Tennessee will utilize their rookie running back more on special teams where he will offer very little to fantasy owners. Fullback Jalston Fowler is seldom used as a rusher so the team will likely add another running back before the season begins.
WR Rishard Matthews
(2016 WR Rank – 15, 9.3 FPts/G)
When Rishard Matthews was signed last season via the Dolphins he felt more like a fantasy WR4 masquerading as his team's best receiver. The situation couldn't have been any better for Mathews to have a career season in 2016. Without a consistent threat opposite him in the passing attack, sans Delanie Walker, Matthews received 108 targets and made the most of them. So much so that it seems rather unlikely that he will be able to repeat them in the upcoming year. Despite the spike in targets, his 60-percent catch rate is far from elite and his chances of scoring another nine touchdowns with Eric Decker in town are not likely either. He remains a good option for Marcus Mariota and will be effective for Tennessee but he is no longer the best receiver on the team and his window is closing now that the team drafted Corey Davis. He will be a depth option in most formats as a WR3/WR4 in redraft leagues.
WR Eric Decker
(2016 WR Rank – 11, 10.5 FPts/G)
Health is the biggest question mark surrounding Eric Decker. The 30-year-old wideout inked a one-year deal with the Titans after missing all but three games in 2016. He finds himself in an offense that doesn't place a huge emphasis on the passing game but does just enough to make the receiver position fantasy relevant. Most of Decker's value resides in his higher than average scoring output so expect Tennessee to use him near the goal on a regular basis. The move to a run orientated team limits Decker's upside but he should have more red zone opportunities with Tennessee than he would have with the Jets. If Decker can take over as Mariota's preferred receiver to get consistent catches he has a real opportunity to be a sneaky good WR2 this year. However, if the injury bug hits or there is a lack of chemistry, Decker could be a touchdown dependent boom or bust WR4.
WR Corey Davis
(2016 WR Rank – N/A)
Tennessee selected Corey Davis with the fifth overall pick with every intention of making him a franchise player to help Marcus Mariota and the Titans advance to the next level. His outlook in dynasty leagues is promising as the Titans build a core of talent at the skill positions. In 2017, however, the expectations of Davis making an immediate impact remain lower than some fantasy owners may want to believe. The team's choice to bring in Eric Decker moves Davis down the depth chart where the youngster has a chance to develop without being relied on as a starter. He's going to be exciting to watch develop but being buried on the depth chart for a team that runs the ball more than almost every team in the league won't translate into success. The ankle injury appears to be behind him so fantasy owners should expect a healthy Davis when training camp arrives. He's a late round flyer in deep formats where an injury (or two) may give him enough opportunity to be a short term fantasy asset in his rookie season. Last year's rookie receiver, Tajae Sharpe, struggled after a solid start to his pro career and is now recovering from foot surgery. With more competition on the roster and health concerns, he may struggle to stay with the team.
TE Delanie Walker
(2016 TE Rank – 5, 8.2 FPts/G
Since joining the Titans in 2013, Delanie Walker has been a stalwart performer in real life and in fantasy. He has scored at least six touchdowns in all but one of his four years with the team and he has built great chemistry with QB Marcus Mariota and should once again be a key contributor on third downs. Walker saw at least six targets in all but four games last year but failed to post at least 8 fantasy points in nine of his 15 games played. The twelve year vet will be 33 this year and the new reinforcements will likely eat into his targets, especially near the goaline. There is some fuel left in the tank, but just how much is left, but it may not be enough to be viable starting option for much longer. The team selected Jonnu Smith out of Florida International in this year's draft. Although he isn't going to be a factor this year, he holds plenty of appeal in keeper and dynasty formats where he could see the field as quickly as 2018.