It's getting late on draft day. The jokes are getting stale, the beer is getting scarce, and the available talent is getting downright scary. Naturally, your mind drifts toward…insurance? With the possible exception of those in the business, the amount of time we spend thinking about insurance is roughly equivalent to the amount of time we think about needing it. That would be never if you're anything like me. Similarly, the amount of time we think about NFL backups, professional football's personification of insurance policies, is more or less equivalent to the amount of time we think about requiring their services. That would be somewhere north of "never," due to the rugged nature of the sport, but still rarely and only when the player pool has become dangerously shallow on draft day.

Traditionally, risk-averse fantasy GMs have insured against lost production by means of the "handcuff," drafting their stud starter's backup in the event he suffers an injury at some point during the season. Your stud goes down, you insert his backup in your lineup, and off you go. The problem with this strategy, in my opinion, is that you're rarely getting replacement value (another stud) despite the high premium (a draft pick and a valuable roster spot). For instance, I could certainly spend a draft choice on Vince Young to insure against the loss of Michael Vick. However, I'm not really indemnified. When my car gets stolen, I get a new car. When Michael Vick gets injured, I get…Vince Young.

A more enterprising GM could, alternatively, elect to spend late-round picks on players with higher ceilings who insure against the loss of other GMs' studs, a type of insurance that has no real world corollary. They don't, after all, let you take out a policy on your neighbor's car, do they? You must have an insurable interest in the asset, a stipulation that doesn't apply in the world of fantasy football. Nothing, in other words, prevents me from drafting Vince Young even though I don't own Michael Vick. Sure, the cost is potentially higher (Vick stays upright and my signal-caller goes down), but so is the potential benefit (an extra starter/bargaining chip instead of a fill-in I'm hoping never plays a down).

To be fair, this latter strategy isn't so much a form of insurance as it is asset speculation. Moreover, it would be disingenuous to suggest Vince Young is necessarily a stock worth speculating in. Nevertheless, I believe there are NFL backups worth drafting based on upside alone, regardless whether you own the men ahead of them on the depth chart. Thus, once you've accumulated a decent crop of fantasy backups, it might be time to start focusing on actual NFL backups who, in the event of injury or demotion, could potentially outperform an average or marginal starter sitting on your bench. If you wait to pluck them off the waiver wire later in the season, the competition will be fierce and the cost potentially prohibitive. Get them with a later-round draft pick and you could be sitting on a potential fantasy goldmine.

What follows is my list of 2011 backups standing on the corner of Opportunity and Preparedness, waiting to be picked up by the more risk-tolerant GM hoping to capitalize on a league mate's misfortune.

(Note: All rankings are based on FFToday's default league scoring.)



Quarterbacks



1. Shaun Hill, DET: We typically evaluate three variables when attempting to peg an NFL reserve's upside:


How susceptible the #1 guy is to injury?

How likely the #1 guy is to be demoted on account of poor performance?

The potential performance value of the backup himself

Hill, the most valuable QB backup, ranks highly in two of these three measures. For starters, the guy in front of him, Matthew Stafford , has been a one-man M*A*S*H unit his first two seasons, playing only half of a possible 26 starts. Hill, on the other hand, who replaced Stafford most of last season, has performed surprisingly well as a sub. Here's a partial list of the men who ranked below him for fantasy points per game in 2010: Jay Cutler, Joe Flacco, Matt Cassel, Sam Bradford, and Mark Sanchez. Surprised? So was I.

Of course, the Detroit brain trust (and I use the term loosely) has invested an awful lot of time and money in the younger, more ballyhooed, Stafford. Thus, the likelihood of Hill gaining the spot due to a demotion, the second of our aforementioned variables, is very low. Accordingly, you'd be incurring a fair amount of risk should you choose to draft Hill as there's always the outside chance he never sees the field. Still…did you miss the part about Stafford missing half of his first 26 starts? For every Brett Favre, there are three kids like this who can't manage to stay out of the whirlpool. In fact, if you're still doubting the wisdom of spending a late-round flier on Stafford's backup, Google "oft-injured quarterback." I'm just sayin'.

2. Colin Kaepernick, SF: Quarterback jobs in the NFL are never shared. They're either won or lost, maintained or squandered. Kaepernick, an unusual and impressive physical specimen for the position, makes this list primarily because the man currently blocking his road to the starting gig, Alex Smith, has done only one thing consistently through five NFL seasons: squander opportunities. Actually, the best thing that can probably be said about Smith is that he's still holding onto a starting job, albeit tenuously. The fact he's seemingly in a competition for the spot should indicate how confident the new regime is in his ability to steer the Niners. Not very. Bear in mind Coach Harbaugh and his staff have almost no significant investment in the former #1 overall pick as they weren't around when the organization opted for him instead of…. Yeah, that's one they'd probably rather forget.

As for Kaepernick, this much can safely be said: he's got a long ways to go in order to be a legit starting QB. He's inexperienced (duh), will struggle to diagnose NFL defenses (assuredly), and is also having to make the transition from the gimmicky "Pistol" offense to the more traditional pro set favored by Coach Harbaugh (steep learning curve). However, speed, as they say, never takes a day off. And, man, can this kid run like the wind! If he ever gets the opportunity to start, and Smith's checkered past suggests he might, he almost instantaneously becomes the second most dangerous running threat at the quarterback position in the league. If you're a sucker for running quarterbacks like me, file his name away for the later rounds.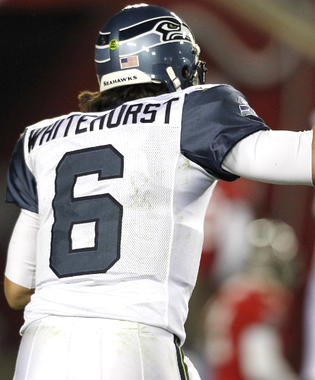 It's an exciting time to be a Charlie Whitehurst fan.

3. Charlie Whitehurst, SEA: I'm close enough to Seattle that I can practically hear the groaning. Simmer down, Seahawks fans. All the guy did last year was take your lousy team to the NFL playoffs! Well, kinda. He also managed, in his first career start, to make many people wonder why the 'Hawks brass shelled out so much coin to nab him in the first place (12 for 23 with one TD and two picks). Still, facing a tough New York Giants front seven minus two offensive line starters isn't exactly an ideal scenario for a first-time starter. Whitehurst was better in later action, spotting Matt Hasselbeck in two critical games and even starting the final and most critical game, a season-concluding, playoff-clinching W over the Rams.

Exit Hasselbeck and enter Tarvaris Jackson. The former Viking, currently listed as the starter, was brought over because he has a firm grasp of the new offense being installed by new offensive coordinator, Darrell Bevell. How firm that grasp is, though, could certainly be questioned. It's Whitehurst, and not Jackson, who looks more comfortable running the show through two preseason games. Moreover, Jackson's career numbers (76.6 career passer rating) suggest he's really never been a great fit for the offense (or any offense, for that matter). Finally, Seattle is not completely bereft of weapons. Mike Williams and Sidney Rice are proven targets at wide receiver and Zach Miller/John Carlson form one of the best tight end duos in the league. I wouldn't spend too much for Whitehurst, but in deeper leagues or two-QB leagues, he'd certainly be worth a late-round look.



Running Backs



1. Michael Bush, OAK: For the purposes of this exercise, I'm focusing on backs who, though firmly entrenched in a subsidiary role, will likely be around in the latter stages of your draft and could potentially carry the load should injury befall the main man. In other words, I'm ignoring the job-share guys (e.g. Brandon Jacobs, Mike Tolbert, Jonathan Stewart). Bush, who I've already lauded in a previous article, looks to be the most capable of these potential load-carriers because…well, he is a load (6'1", 245 pounds). Befitting a man that size, he can deliver a blow, can move the pile, and can withstand the rigors of a 25+-carry outing (which he's actually done several times already). He's also surprisingly athletic/nimble for a bigger back and an above-average pass receiver. Or maybe it's not all that surprising when you consider he came to Louisville to play quarterback! Simply put, there aren't many guys with his combination of size and skill in the league, starter or backup. For this reason, Bush has proven to be a wonderful complement to Darren McFadden in Oakland.

Naturally, his chances of playing more than a supporting role rely almost entirely on Mr. McFadden. Many are predicting big things for the former Razorback in this, his fourth season, but I'm not especially optimistic. He's never played a full season (not even close, actually) and he's already missed the first two preseason games this summer. McFadden flew off the board in my most recent draft (Round 1 of a keeper league) and I could hardly wait to nab his backup in Round 8. Even if DMC defies the laws of running back gravity, Bush is an above-average bye week replacement and TD poacher I'm glad to have on my squad.

2. Ben Tate, HOU: Is it odd I'm suggesting you draft guys backing up two of the most valuable fantasy assets, Darren McFadden and Arian Foster, and not necessarily for the purposes of handcuffing them to those studs? A fair point, yes, but consider that during the early stages of training camp last year, Tate and Foster were running neck and neck and looked, for all intents and purposes, like a burgeoning running back tandem. Alas, the second-rounder broke his ankle, the undrafted free agent grabbed the spotlight all to himself, and the rest is recent fantasy football history.

Tate is back and though he's currently listed third on the Houston depth chart, you wouldn't have known it by watching his first game action in over a year this past weekend (nine carries for 95 yards and a touch). He looked blazingly fast (still), shifty, and every bit the part of a starting-caliber running back against the Saints. More importantly, should he assume a more prominent role, he'd be running behind one of the best offensive lines in the entire league. I'm obviously not privy to what Coach Kubes and company have in store for the Auburn product this year, but they surely want to protect their meal ticket and, in Tate, they may have found their guy. I have a sneaking suspicion he'll supplant Derrick Ward as the #2 option behind Foster by opening day, if not sooner, and could be in line to grab some touches right out of the shoot come September.

3. DeMarco Murray, DAL: Like Tate, Murray was drafted to compete almost immediately for carries. Unlike Tate, he may actually get the chance to do so in his rookie season, though he hasn't seen the field yet thanks to a nagging hamstring injury. Nevertheless, when he does, I suspect he'll confirm why the Cowboys were so high on him to begin with and why they were so quick to part ways with Marion Barber III this past off-season.

The former Sooner is roughly the same size as his counterpart, Felix Jones , although slightly taller. He's also, believe it or not, just as fast if not a hair faster. He isn't likely to be the human battering ram MBIII was but that's probably a good thing. If it's true a running back's body has only so many hits in it, Barber has been living on borrowed time for a couple seasons now. Actually, Murray may be too—the one warning sign—as he was consistently dinged up in college and, arguably, overused by an Oklahoma staff that didn't have a lot of other weapons at the position. In fact, Bob Stoops et al. were so intent on getting Murray the ball, he caught a staggering 71 passes his senior year. The dude's a running back, I'll remind you.

Murray's ability as a receiver means he'll probably see the field plenty on third downs. The other way he'll prove his worth is if Jones proves incapable of handling an increased workload, something he's basically never demonstrated in college or the NFL. In fact, he's only carried it more than 20 times in an NFL game once in a three-year career (Week 13 last season). Just something to think about if you're high on the other former Razorback.



Wide Receivers



1. James Jones, GB: Most predicted Jones to be starting by now and he certainly would be if he'd flown the Lambeau coop for another opportunity this past off-season. Alas, he literally couldn't due to the lockout and then a post-lockout glut of free agents softened the demand for his services almost overnight. Thus, Jones returns to Green Bay in 2011, much to the delight of Aaron Rodgers, where he'll continue to play third fiddle to Greg Jennings and the ageless Donald Driver. Or is that fourth fiddle?

I was perusing the ADP numbers this past week and noticed Jones was being selected a full three rounds later than his teammate, Jordy Nelson (13.05 v. 10.05). Uh, you're all aware Jones outperformed Nelson by a significant margin in the regular season last year, right? That means more receptions, more yards, and over twice as many touchdowns. Sure, Nelson trumped him (and every other Pack receiver) in the playoffs, but if I had to bank on one of them replacing Driver should the grizzled vet reach the end of the line sometime this season, it would be Jones. Yes, he dropped too many passes last year, several of them sure touchdowns. He also managed, despite playing a secondary role, to rank in the top 20 for red zone targets. When you can get a favorite red-zone target of Green Bay's ace hurler roughly three rounds later than a statistically similar or even inferior player…well, what are you waiting for?

2. Dezmon Briscoe, TB: I'm probably cheating a bit here since Briscoe is currently running with the first string due to Arrelious Benn's slow recovery from a torn ACL. Nonetheless, Benn is projected to be ready by the start of the season and will most likely assume the role of #2 man behind Mike Williams in the Tampa passing game sooner rather than later. That leaves Briscoe on the outside looking in…

…but not as far outside as you'd think. The Bucs did something highly unusual with the former Jayhawk when he was released by the Bungles last season, signing him to their practice squad but paying him the league minimum, something they weren't required to do. That speaks volumes about how highly they value the young wideout. Moreover, thanks to the emergence of young triggerman, Josh Freeman, the once moribund Bucs offense is now more balanced and, potentially, a lot more dynamic. Since third wide receivers typically only matter when they suit up for teams capable of moving the football, Briscoe appears to be emerging at precisely the same time his offense is emerging. He's prepared, in other words, and the opportunity is simultaneously presenting itself.

Sure, his six total NFL grabs will be difficult for more risk-averse GMs to overlook. And while I agree it's too small of a sample size upon which to base grand expectations, Briscoe has already demonstrated above-average route-running skills and a precocious ability to go get the football, especially in jump-ball situations with smaller defenders. If Benn struggles upon his return to live action, don't be surprised to see Briscoe running with the first team for an extended period of time. Not bad for a guy that, by all accounts, isn't even being drafted in standard leagues.

3. Dexter McCluster, KC: Is he a backup receiver, a backup running back, or a little bit of both? Does it matter? McCluster was hampered by a high ankle sprain his rookie season but appeared, even before he got hurt, to be criminally under-utilized by outgoing offensive coordinator, Charlie Weis. No, he's not big and probably can't handle the punishment of 20+ touches consistently. The guy's 5'8" and weighs 175 dripping wet, after all. Still, he's an electrifying player who probably should have been given more of an opportunity in 2010.

Fast-forward to 2011. The Chiefs have moved him back to his more natural running back spot and intend to get him "four or five" touches in the running game and the passing game, according to Coach Haley. I'm no math whiz, but…wouldn't you be happy with ten touches from an NFL backup who qualifies at the receiver position? Actually, I'm just now trying to figure out why I didn't take a late-round stab at McCluster myself! This has long been an exploitable loophole in the college fantasy world (think Randall Cobb or Michael Robinson) but very rarely at the NFL level. Unless your league has strict positional eligibility requirements, you may be able to sneak one by your league mates. Also, if the ADP numbers are any indication, it isn't going to cost you much more than a very late draft pick.