Bye Weeks: Atlanta, Denver, Kansas City, Miami, Philadelphia, San Diego

Grab a Helmet


Alex Green @ STL: I love the Packers. I don't love Packer running backs. They're a sideshow on the best of days and a complete afterthought on the worst of them. This guy intrigues me a little, however. He's bigger than you'd think (6'0", 225 pounds), has a decent burst and above-average agility, and has pretty soft hands (which shouldn't surprise anyone since he played at the University of Hawai'i). Oh, and he also hails from the Shot Caller's very own hometown of Portland, Oregon (bonus points!). Ced Benson is on the league's new short-term injured reserve list and Brandon Saine will be out for the year, so the job is clearly Green's for the foreseeable future. He carried the rock 22 times in the surprise blowout at Reliant Stadium last Sunday night and he's probably good for at least 18-25 totes in games the Pack controls. I expect them to control this Sunday's matchup against the Rams so get Green in your lineup.

Vick Ballard v. CLE: Unfortunately, I was asleep at the wheel in most of my various leagues and failed to secure the services of Mr. Green. Accordingly, I set my sights on the other favorite waiver wire pickup from last week, Mr. Ballard. Though not exactly smitten by him (he's a rookie, after all), I reasoned he'd be facing two of the league's worst run defenses in his first two starts. That's not a bad way to break in a noob if you ask me. Just one problem, however: Somebody forgot to tell Rex Ryan his boys are lousy at stopping the run. The Jets were practically in Ballard's hip pockets from the get-go last weekend, swarming him at every opportunity and limiting the rook to just 25 yards on eight measly carries. So much for that sneaky start, eh? I'm willing to give the Mississippi St. product one more chance this weekend because, on paper, Cleveland isn't a whole lot better at stopping opposing running backs. The Browns are surrendering 4.6 yards/carry and over 130 yards/game on the ground and though I wouldn't expect quite so much from Ballard, he's got a decent chance at 75 yards and an outside shot at triple digits. And yes, I'm a very wishful thinker.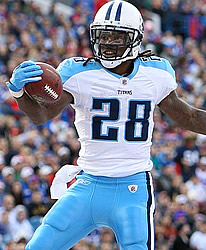 Someone still believes n CJ2K.

Chris Johnson @ BUF: I separated my shoulder in a single-bike accident cruising around Rip City earlier this month (bicycle + streetcar line = ER visit), but if I had full use of my wing, I'd be using it to wave a white flag about right now. You win, Chris Johnson. You. Win. I simply have no idea how productive you'll be on a week-in, week-out basis. I do know this, however, since I spent a fair amount of time trying to solve this riddle of a running back during my convalescence: He's faced 6 of the league's 12 best run defenses to start the season. Hmmm. Could it be we've ignored the most obvious reason why Johnson has been so staggeringly uneven thus far, that he's simply faced some of the league's best run defenses? I wasn't going anywhere in my "big" money league, anyway, so I did what any reasonable Packer fan who likes to gamble would do in that circumstance: I traded the farm to my kid brother for Aaron Rodgers and C2K. Ha! You heard that right: I actually TRADED FOR HIM! Talk about your wishful thinking. I'm insane, by the way.



Grab a Gatorade

Shonn Greene @ NE: If I wasn't totally insane before last Sunday, Shonn Greene nudged me a whole lot closer to the edge with his 32-carry, 161-yard, THREE-touchdown performance against the Colts, for which he earned a colorful (and off-color) new middle name in my household that rhymes with…oh, never mind. I was irritated because I faced him, of course, but there were probably a lot of other folks out there irritated for a slightly different reason: They sat Greene and his 34.1 fantasy points on the bench. The former Hawkeye is unlikely to cause so much consternation in Week 7 as he squares off against an angry Patriots crew, no doubt made angrier by Sexy Rexy's predictably blustery boasts. New England is giving up just 3.4 yards/rush (82.7 yards/game) and stoned Marshawn Lynch in Seattle. Moreover, Greene has only scored once against the Pats in five career meetings and has averaged barely 50 yards per tilt. Sit him down with confidence this weekend.

Marshawn Lynch @ SF: If ever there was a time to sell high on the aforementioned Lynch, now is the time to do it. He's been arguably the league's most productive workhorse through six games but now faces a veritable murderer's row of run defenses (San Francisco, Detroit, Minnesota, Miami, and Chicago are five of his next six opponents). That's ghoulish, folks, and just in time for Halloween. Should you manage to navigate that minefield, you're staring at a rematch with the Niners in Week 16, likely your league's championship week. Ugh. If the prospect of tougher run-stopping units doesn't frighten you, by the way, take a look at last Sunday's boxscore. The Pats were actually the first tough matchup of this rough stretch for Lynch and he only managed 41 yards on 15 carries. That's a preview of things to come, I fear, so either trade him or lower your expectations.

Frank Gore v. SEA: Not that the Seahawks are any slouch against the league's best running backs, mind you. A Facebook commenter questioned my recommendation of Stevan Ridley last Sunday, calling the Seattle defense "legit." Yeah, I think that's a pretty accurate assessment. (And yeah, that was another of my lousy recommendations.) At this point of the season, only three qualifying backs have averaged more yards per carry than the Niners' Gore: C.J. Spiller (27 fewer carries), Robert Griffin III (he's not a running back), and Kendall Hunter (he's Gore's backup). Clearly, San Francisco's running attack is similarly "legit." So what happens when Seattle's immovable object meets Frisco's irresistible force? I guess we'll find out for sure on Thursday, but you already know how I think it'll go down. Sit Gore if you've got some other options on your bench.

Wide Receivers