Bye Weeks: Atlanta, Denver, Kansas City, Miami, Philadelphia, San Diego

Grab a Helmet

James Jones @ STL: Greg Jennings' future with the Pack is already pretty cloudy (he wants a long-term deal), but if he doesn't hurry back soon, it may be non-existent. Jones has been nothing short of brilliant in relief of the perennial Pro Bowler, scoring six times in the past three games. You read that right: SIX times! He's always been a favorite red-zone target of Aaron Rodgers due to his unique combination of size, strength, and athleticism. However, he's frequently been betrayed by some suspect hands in the past. This year, he's putting it all together for a Packers team that seems to be hitting its stride. Oh, and holding onto the pigskin. I wouldn't start him over Jordy Nelson, necessarily, but there are plenty of WR1s in the league I WOULD start him over. Go get Jones from the guy who owns him and don't be afraid to pay a fair amount more than you would think he'd be worth. I don't think he's going anywhere and neither is Mr. Rodgers.

Kenny Britt @ BUF: Britt tried his darnedest last Thursday night to drop everything in sight but, in spite of himself, managed to snare 4 of Matt Hasselbeck's 11 targets for 62 yards and an "adventurous" six-pointer (he did a hilarious juggling routine). I don't consider him a butterfingered wideout and it doesn't appear his signal-caller does either (since he kept throwing him the ball). More likely, Britt is just struggling to get back in his groove after playing a mere seven games since the start of the 2011 season. If 12.2 fantasy points is struggling, I'd like to see what not struggling looks like. We're going to find out this weekend, I suspect, when Britt and his Titans head to Orchard Park for a showdown with the Bills. I'm expecting a bunch of points in this one as both defenses will be overmatched. Get Britt in your lineup or keep him there, as applicable.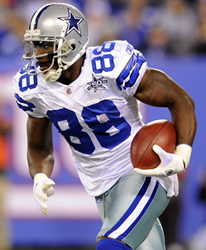 Is Dez Bryant on a hot streak?

Dez Bryant @ CAR: Nobody's case of the dropsies was more devastating last weekend than Dez Bryant's. Down two late in the game, Tony Romo looked Bryant's way on the crucial two-point conversion and…watched the ball sail right through his receiver's outstretched hands in the corner of the end zone. Even though the Cowpokes got a miraculous chance at redemption (also squandered), the drop is what most focused on after the game. That is a total shame in my opinion. Yes, he should have caught the pass but he did pretty well to even get open on the play. Moreover, he had EASILY his best game as a pro, snagging 13 of Romo's 15 targets for 95 yards and two scores. Coupled with his numbers from the week prior (8 catches, 105 yards), Bryant's stock is clearly on the uptick, drops notwithstanding. Expect a similar, though hopefully less uneven, performance against the Panthers on Sunday.


Grab Some Wood

Greg Little @ IND: Like the aforementioned trio, Little has boatloads of talent and has struggled to hang onto the football. Unlike them, he's had the problem since he entered the league (Bryant was actually very dependable last year) and doesn't seem to be improving (a la Jones). Simply put, he's becoming more known for the dropped passes than for anything else he does on the field…which he won't actually be seeing much if he doesn't start fielding some passes cleanly. Since a critical bobble against the Ravens in Week 4 – a game in which he was targeted 10 times – Little has seen only 7 targets in the succeeding two games. He's also watched rookie Josh Gordon usurp his position as Brandon Weeden's primary man in the Browns' young passing attack. Yes, the Indianapolis matchup is an enticing one. Little is too risky to count on, however, until he gets this particular problem ironed out. Steer clear.

Michael Crabtree v. SEA: He plays for one of the league's elite squads. He sees a very steady diet of targets. He tallied a 113-yard, one-TD performance just two games ago against the Bills. Nevertheless, I couldn't be less excited about Crabtree as a starting option. For starters, he's only scored that one time this season and doesn't put up the reception or yardage totals to overcome the paucity of six-pointers. Also, he's not close to the primary receiving option on his team despite being the #1 wideout (that would be tight end Vernon Davis). Most importantly, he draws Seattle's super-sized and, apparently, super-competitive corners this Thursday, Richard Sherman and Brandon Browner. Who trash-talks Tom Brady and lives to tell about it? These guys have been shutting down some really good opposing receivers, namely Dez Bryant, Jordy Nelson, and Steve Smith. Crabtree isn't in that class.

Emmanuel Sanders @ CIN: The last leg of this year's Mancation (think sibling road trip with a football theme) takes us from Ann Arbor to the Queen City, where we'll take in Sunday night's matchup between two desperate AFC North squads at Paul Brown Stadium. Here's what I expect to see Sanders do in living color: not much. He was a sleeper pick back in August when Mike Wallace was still a stubborn holdout but, through the first six games, Sanders hasn't done a whole lot to justify that designation. Yes, he's on pace for career numbers. However, when you've only caught 67 career passes in two-plus seasons, that's not saying a whole lot. If you're looking for a stopgap solution who can net you four or so grabs and 40 yards, have at him. I suspect that's not enough to interest you, even with many, many good receivers sitting on the sidelines this weekend.
Good luck, folks!

Quarterbacks