Bye Weeks: N/A

Grab a Helmet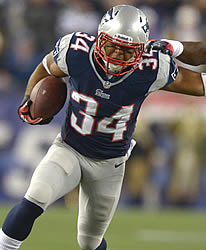 The only Patriots RB you can trust.
Shane Vereen @ MIA: Vereen's a tailback only in the strictest sense of the term (he wears #34 and is listed as such on the Patriots' official roster), but he makes his true living out on the perimeter, turning quick-hitters and extended handoffs into huge chunks of yardage. Who knew Wes Welker's true replacement would actually play a different position? Since returning to the New England lineup in Week 11, the former Cal Bear has averaged over 11 targets per game and just turned in a 17-target, 22.2-point performance in the miracle Week 14 win against Cleveland. That's pretty amazing for a "running back." He should be in your top 10 in standard leagues, no question, and should be no worse than a top 5 candidate in PPR leagues, especially now that Gronkowski will be sidelined the rest of the year. Think of him as a receiver but start him as a running back and watch the numbers pile up this Sunday.

DeMarco Murray v. GB: All is not well in Big D after a Monday night thrashing at the hands of Chicago's Bears, but don't blame that on Murray. An injury-ravaged front seven has made the Dallas D easy pickings for opponents and asking Tony Romo et al. to score 40 points per game might be asking a bit much. I say "might" because, in theory, the Cowboys have the weapons to play score-for-score football with almost anyone…when Murray's not watching in street clothes. The former Sooner hasn't been the most durable back in the league his first two-plus seasons, but he's on pace to play in a personal record 14 games this year and is absolutely making the most of his increased opportunities. He's posted double-digit fantasy points in four consecutive games and has averaged 18 per in the past five weeks. Only LeSean McCoy and Jamaal Charles can top that. Keep starting Murray and hope this newfound durability persists throughout your fantasy playoffs.

Eddie Lacy @ DAL: You should also keep starting any RB who's lucky enough to face the Dallas defense the rest of the way. Monte Kiffin may have the public backing of his employer, but anyone with two eyes and a pulse can see the Cowboys simply don't have the manpower up front to keep opposing offenses in check right now. They're ceding a league-worst 24.7 points/game to opposing RBs through 14 weeks and, if that's not bad enough, they're also giving up the most points to opposing QBs (27.2). Can't stop the run + can't stop the pass = can't keep Kiffin from being unemployed in the very near future. Maybe he and his son can reboot their careers somewhere out of the spotlight? Say, the AFL? OK, now I'm just being mean. Make sure Lacy's good to go this Sunday and then get him in your lineup.


Grab a Gatorade

Chris Johnson v. ARZ: He's only recorded two or three explosive performance this season, about par for him these past few years, but Johnson is still on his way to a top 10 finish in 2013. That's primarily because he A) hasn't missed any significant game action; and B) hasn't accumulated the low single-digit clunkers he was throwing up regularly last year and the year prior. Put another way, you could be doing a lot worse than Tennessee's main man and he could, in theory, have propelled you into primo playoff position. Now's the time to make sure he doesn't pull the rug out from under you, though. Arizona has allowed just three double-digit days to RBs so far and one of them, Frank Gore in Week 6, barely did it (10.1 points). Gore also happens to be the only 100-yard rusher the Cardinals have permitted this year. Sit Johnson down.

DeAngelo Williams v. NYJ: About this time last year, Williams caught fire, tallying three huge performances in his final four games, capped by a 33.3-point monster against the Saints in the season finale at the Superdome. Another Jonathan Stewart injury (where have we heard that before?) seemingly positions him to finish 2013 with a similar flourish…except for just one tiny problem. The Jets are coming to Charlotte this Sunday and they'll be bringing with them one of the league's most suffocating run defenses. Only one team has allowed fewer rushing yards this season (Williams plays for them), but nobody has been better on a per-rush basis (just 3.1 yards per carry allowed). Moreover, only one team has been better against RBs from a fantasy standpoint. The Jets are yielding 12.9 points per game to opposing ball carriers and should be able to contain the Panthers' diminutive meal ticket this weekend.

Bobby Rainey v. SF: Rainey seemed to be on everyone's must-start list heading into Week 14 and the unsung rock toter from Western Kentucky didn't disappoint, galloping for 127 yards and a score in Tampa's 27-6 dismantling of Buffalo. Newsflash: The Niners are just a wee bit better than the Bills. San Francisco surrendered six rushing touchdowns through the season's first six weeks, but have only given up three more in their seven games since and are starting to look like the Super Bowl contender most figured them to be when the season began. Fresh off a huge win over Seattle, it's tempting to think they'll relax a bit in Week 15. Don't count on it. Arizona's breathing down their necks for that final wildcard spot and the Week 17 showdown between those two NFC West rivals will be played in the desert. In other words, the 49ers will bring it on Sunday and starting Rainey could endanger your championship hopes.

Wide Receivers