Nobody needs to be told starting Aaron Rodgers, Adrian Peterson, or Calvin Johnson is a good idea. Duh, right? You can't have studs at every position, though, unless you're in the shallowest of leagues. This is where the Shot Caller comes in. Need help deciding which bargain basement QB to use and which to ignore on Rodgers' bye week? Let's talk. Looking for solutions at running back because Peterson is a game-time decision? Look no further. Need to know which of your unproven targets to start and which to sit since you ignored Megatron and went RB-QB-Jimmy Graham in your first three rounds? I'm your huckleberry. Past results may not guarantee future success, but I believe ignoring them entirely can ruin your Sundays in a hurry. Read on for a little history and, hopefully, a little sage advice..

Note: Fantasy points based on FF Today's default scoring system.
Bye Weeks: Atlanta, Miami

Grab a Helmet

Jay Cutler v. NYG: His Grumpiness kicked off the 2013 campaign with a trio of solid performances as the Bears raced out to an undefeated start and an early NFC North lead. This was good news for Cutlerís owners since his value typically correlates strongly with Chicagoís success (almost seven more fantasy points per game in wins than losses since 2010). The Bears have been laying eggs since that 3-0 start, but Cutlerís numbers have been anything but foul. In fact, he averaged 26.7 points in the most recent two losses to Detroit and New Orleans, significantly more than he averaged in the three initial victories (20.7). Marc Trestman may not be making Cutler a more successful quarterback, in other words, but heís certainly making him more a more consistently viable fantasy option. Start him against the consistently atrocious Giants defense this Thursday night.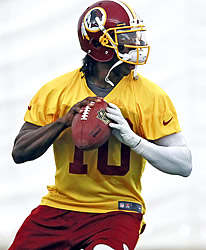 Defense will not be on display when WAS and DAL meet in Big-D.

Robert Griffin III @ DAL or Tony Romo v. WAS: Was that Baylor v. A & M at Cowboys Stadium last Sunday? Holy smokes! Romoís 506-yard, five-TD explosion against the Broncos was certainly Bryce Petty-esque, but ended the way it always seems to end for Tony Romo, with a late, defeat-sealing pick in his own territory. He gets a chance for redemption this coming Sunday night against Baylorís most famous QB, RGIII, who brings his well-rested Redskins to Big D for one of the NFLís primo rivalry games. If Washington hasnít spent the bye week figuring out how to play some pass defense (a league-worst 9.2 yards/attempt yielded), another Romo explosion could very well be in the offing. That might actually be the best thing for RGIIIís owners, as heís been much more valuable in garbage time. Thereís no reason to expect a defensive struggle here, folks, so you know what to do.

Andrew Luck @ SD or Russell Wilson v. TEN: These two super sophs waged an equally thrilling war on the Lucas Oil fake fur last Sunday, combining for nearly 50 fantasy points as Luckís Colts finally put a dent in Seattleís previously unblemished record. The Indy franchise was his usual steady self (fourth 20+-point effort in five outings) while Seattleís triggerman was nothing short of sensational, throwing for 200+ yards, tossing two TD strikes, and rushing for triple digits. If you were starting to worry about the dreaded sophomore slump for Mr. Wilson, it appears you can stop doing that. This week, both youngsters draw favorable matchups, Luck tangling with the Chargersí soft pass defenders (a league-worst 112.4 passer rating for opponents) and Wilson squaring off against a better Titans unit that will, nevertheless, be visiting Seattle, the most difficult place to play in the NFL. I think both qualify as great starts in Week 6.


Grab a Clipboard

Colin Kaepernick v. ARZ: Houston, you have a problem, but taming opposing QBs doesnít seem to be one of them. If Kaepernick hadnít connected with Vernon Davis for a meaningless 64-yard catch-and-run on his final throw of the evening last Sunday, his totals would have looked like this: five completions on 14 attempts for 49 yards and a single 14-yard run. Yes, you read that right: 63 total yards. And yes, he played the entire game. Only Brian Hoyer (who played less than a quarter) and T.J. Yates (who played exactly one quarter) threw for fewer yards in Week 5. That, my friends, is what an actual sophomore slump looks like. Despite Kaepernickís paltry production, the Niners are on a two-game winning streak and the formula appears to be simple: run it twice as often as you pass it and play a whole lotta defense. Itís time to start thinking about an exit strategy for Kaepernick if he doesnít start doing more running and passing. Lots more.

Matt Schaub v. STL: Usually, when a head coach feels the need to publicly affirm his quarterback is still his quarterback, said quarterback is dangerously close to not being his quarterback. Schaub was yanked in favor of the aforementioned T.J. Yates after he gained the dubious distinction of being the only post-merger QB to throw a pick-six in four consecutive games. Unless your league has a special penalty for such turnovers (it should, IMHO), you shouldnít be terribly concerned about that streak. He has, after all, topped 26 points in two of those four games. Hereís the thing about pick-sixes, however: Coaches donít like them. If Schaub canít figure out how to stop scoring points for his opponents, he wonít be in a position to score anymore for his own squad. Be very, very careful with him as heís clearly at a career crossroads.

Thaddeus Lewis v. CIN: After losing out on Josh Freeman, Buffalo looked under every rock this past week in an effort to replace the injured E.J. Manuel, it seems, stopping just short of an open casting call. Ultimately, they resorted to elevating Thad Lewis from their own practice squad. Unless you're a diehard Duke Blue Devils football fan and/or a Cleveland Browns backer, you likely have no idea who Thad Lewis is. That means he'll be starting a game on Sunday against the Bengals despite being basically unknown to 99.9% of American football fans. Doug Marrone had this to say about his new field general: "He has experience. He has played in games. He knows the system." I think Marrone meant "game," as in one single game. That's how many regular season NFL appearances Lewis has made and he'll only be playing the most important position on the field come Sunday. This can't end well, I wouldn't think.

Running Backs