Bye Weeks: Arizona, Denver, Detroit, Jacksonville, N.Y. Giants, San Francisco

Grab a Helmet

Marvin Jones @ MIA: Way too easy, right? Believe it or not, Iím not putting Jones on this list because he tallied an unconscionable 122 yards and four touchdowns last Sunday vs. the Jets. Iím recommending him because it was the culmination of a really strong three-week stretch, one in which he scored more fantasy points than every other NFL receiver not named Megatron. One good game we can dismiss as an anomaly. Three good games in a row, though? Thatís starting to sound like a trend. Heís already been snatched off your leagueís waiver wire, but if you were the one who snatched him, get him on the field posthaste. The Dolphins canít afford to double him (only A.J. Green deserves that kind of attention) and that means the former Golden Bear could be in for another solid night this Thursday in South Florida.

Terrance Williams v. MIN: If Iíve said it once, Iíve said it a thousand times: Conventional wisdom is usually way too much of the former and way too little of the latter. Dallas got predictably conservative on their final drive last Sunday in Detroit, electing to run it several times before a final field goal attempt, and then paid the ultimate price by employing a prevent defense in the closing seconds that only prevented what should have been an easy W. Ouch. Williams and the Dallas offense werenít really to blame, of course, but better production from the get-go may have put the game out of reach. Iím expecting a spirited bounce-back performance from the Cowboys this Sunday against Minnesota, a team that was absolutely embarrassed by Green Bay in Week 8. Expect Williams and his volatile running mate, Dez Bryant, to have huge days against the overmatched Vikingsí secondary.

Myles White v. CHI: If youíre a way-outside-the-box thinker or just really hard-up for a receiver in Week 9, go see if White is available. Iím guessing he probably is since heís owned in only 0.1% of ESPN leagues. Nope, I didnít make that number up and yes, it means only 1 in 1,000 owners have added Green Bayís temporary Randy Cobb replacement to their rosters. Thatís surprising when you consider only Jordy Nelson was targeted more than the unheralded Louisiana Tech product last Sunday night. Granted, White didnít do a lot with those seven targets (just five catches for 35 yards), but seven targets from Aaron Rodgers isÖseven targets from Aaron Rodgers. Iíve watched enough football to know guys come out of the woodwork all the time and itís not that difficult to imagine a guy catching Rodgersí bullets being one of them. If youíre desperate, look into him.

Grab Some Wood

Greg Jennings @ DAL: Jenningsí increasing obsolescence was driven home for me personally earlier this week when a league mate of mine (who also happens to be my cousin) dropped the former Packer star and picked up Ted Ginn in his stead. I actually did a double-take when the transaction crossed the wire, but the reality is I saw it coming from quite a ways away. Jennings was never going to produce like he did in Green Bay (nobody ever does) and his days as a relevant pass-grabber were probably over the minute the Packís powers-that-be decided they could get by with cheaper alternatives like James Jones, Jarrett Boykin, and the aforementioned White. I didnít anticipate the fall being quite so precipitous for Jennings (Ted Ginn?), but his fate is probably sealed for 2013, so you should start looking for more reliable options immediately.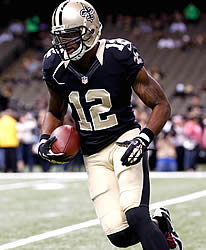 Colston: Where have you been?

Marques Colston @ NYJ: Your guess is as good as mine, folks. Heís the #1 wideout for one of the leagueís most explosive offenses and yet youíd still have to scroll all the way down to #65 in order to locate him in the FF Today wide receiver rankings. Put another way, even in a really deep 16-team league that employs four WR slots (is there such a thing?), he would have to be considered no better than a bye week replacement based on current performance. Wow. Adding injury to insult, Colston has been added to the Week 9 injury report, meaning he may end up being the dreaded game-time decision against the Jets. Iím not sure you should even make it that suspenseful. Unless youíre really hard-pressed to come up with bodies at the receiver position, pass on Colston until further notice. He simply isnít getting it done.

Dwayne Bowe @ BUF: Neither is this former stud. Bowe ranked second overall at the position just four years ago, but now barely merits consideration come lineup-setting time. The Chiefs under Andy Reid have become a run-oriented and defensive-minded outfit and it's impossible to argue with the results through eight weeks. Just one year removed from a dismal 2-14 campaign, they're the talk of the football world and the league's only remaining undefeated team. That hasn't done much for anyone's fantasy value outside of Jamaal Charles and (occasionally) Alex Smith, but coaches don't take fantasy upside into account when they're drafting up game plans last I checked. Unless you've got a personal pipeline to Coach Reid and know something the rest of us don't, steer clear of Bowe and the rest of the Kansas City receivers this coming weekend in Orchard Park.
Good luck, folks!

Quarterbacks