Bye Weeks: Baltimore, Kansas City, Oakland, Philadelphia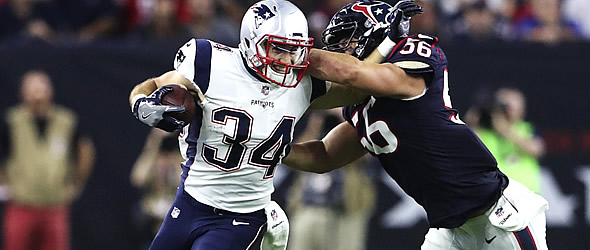 Risky RBBC: If you want to gamble on a Patriots running back this week give Rex Burkhead a look.
Grab a Helmet

Rex Burkhead @ DEN: I'm inviting all sorts of comments by recommending a Patriots RB (especially this one), but I have a hunch Burkhead could be busy come Sunday night. The Pats actually possess the fourth-most prolific fantasy rushing attack (23.3 points/game), but how those points get distributed week-in/week-out relies largely on opponents and game planning. This week, New England draws one of the league's very best run-stopping units, meaning the rush-reliant Mike Gillislee (literally zero targets this season) could be marginalized. Same goes for Dion Lewis, who's only been targeted about once per game on average. Enter James White and/or Rex Burkhead, who excel as pass-catching options out of the backfield or, if the need arises, out of the slot. Chris Hogan's injury means the need may arise. I like the versatile Burkhead and could even see him getting a sneaky goal-line look or two. Heard it here first.

Carlos Hyde v. NYG: It's been a rough first season for Kyle Shanahan, who's still looking for his first win as an NFL head coach. He inherited a team mostly bereft of talent and then upped the degree of difficulty by installing a rookie QB to run the show several weeks back. The Niners were reasonably competitive before C.J. Beathard took the reins, but have been getting routinely bombed ever since (93-30 the last three weeks). That's not necessarily Beathard's fault (he doesn't play defense) but it's definitely not Hyde's fault. The one foundational piece of the San Francisco offense has averaged over 21 touches/game since Week 6 and has become especially useful as a check-down option in the passing game. Only Christian McCaffrey has been targeted more this year, actually. Hyde looks to be a really good play, especially in PPR leagues, against a disinterested Giants squad this weekend.

Christian McCaffrey v. MIA (Mon): McCaffrey's on pace for 128 targets this season, putting him within sniffing distance of the unofficial league record for running back targets in a season (Matt Forte had 130 in 2014). I say "unofficial" because our FF Today target stats only go back to 2004 and I can't find any reliable source of target info, especially for running backs, prior to that season. Regardless, the Panthers are throwing the football to him a ton and finally started using him for his true intended purpose last weekend when they handed him the rock 15 times against Atlanta. He rewarded them with 66 yards and his first NFL rushing touchdown. The trade of Kelvin Benjamin seems to have hastened McCaffrey's arrival as the true centerpiece of the Carolina offense, so plug him in again v. the Fish this coming Monday. Career high yardage could be in store.
Grab a Gatorade

Ameer Abdullah v. CLE: If Abdullah was hoping to convince Detroit's shot callers he should be the team's goal-line option, he sure has a funny way of showing it. The Lions' primary ball carrier has been clamoring for more work of late, specifically on third down and in the red zone, but coughed the football up twice against Green Bay, one within a football's length of pay dirt. If that wasn't bad enough, he blithely dismissed the miscues by saying "it happens." If he played for Bill Belichick, I guarantee it wouldn't happen again because he'd be standing next to Bill Belichick for the rest of the season or until he got traded, whichever came first. There's no telling how the inscrutable Jim Caldwell will respond, but I'd be suspicious of Abdullah heading into a sneaky tough matchup against the Browns' top-notch run defense. Sit him down if you can.

Doug Martin v. NYJ: Short-term trends can certainly be misleading, but Martin's trajectory since a Week 5 return from suspension is foreboding. He tallied 14.2 points against the Patriots that Thursday night and has scored progressively fewer points in every game since, bottoming out last week with 0.7 in New Orleans. He was so uninspiring, in fact, that coach Dirk Koetter finally replaced him with Peyton Barber, who proceeded to tally 54 all-purpose yards on 13 touches, a respectable enough output that could earn the former Auburn Tiger more work in Week 10. It's unlikely Martin has completely lost his grip on the starting job and it's at least refreshing Jacquizz Rodgers, his fill-in Weeks 1 through 4, was MIA. Nevertheless, things are going from bad to worse in Tampa and Koetter's seat is getting pretty warm. Coaches on the hot seat tend to do drastic/desperate things. You've been warned.

Mike Gillislee @ DEN: Gillislee sure looked like a worthy replacement for LeGarrette Blount when he tallied three rushing touchdowns in the season opener against Kansas City. Who could have guessed at that time he would only add one more since and become a virtual afterthought in the New England offense (just 13 snaps each of the last three weeks)? It's taking a village to replace Blount's value, it seems, but replace it they have done. New England backs scored 23.4 points/game in 2016 and, as previously mentioned, have only dipped to 23.3 this season. Where Blount did most of the heavy lifting last year, however, three Patriots backs have shared the wealth this season and now a fourth, Rex Burkhead, is healthy and back in the mix. Gillislee's a TD-dependent back who doesn't score enough TDs and shares the rock with too many other hungry mouths. Sit him down.


Quarterbacks | Running Backs | Wide Receivers