Bye Weeks: Baltimore, Denver, Houston, Minnesota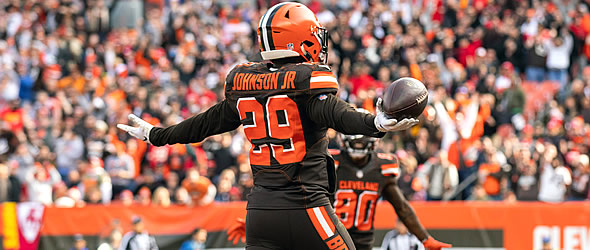 Duke Johnson faces another defense that gives up bunches of receiving yards to running backs.
Grab a Helmet

Duke Johnson v. ATL: The "Free Duke Johnson" movement looked like a lost cause through eight weeks as Hue Jackson and Todd Haley, despite pronouncements to the contrary, continued to ignore the Browns' most versatile offensive weapon. Then, mercifully, the Cleveland brain trust (I use the term VERY loosely) pulled the plug on the Jackson/Haley regime and replaced them with Gregg Williams and running backs/associate head coach, Freddie Kitchens. And, wouldn't ya' know, Johnson finally busts out to the tune of nine receptions (on nine targets), 82 yards, and two receiving touchdowns. Game script definitely favored Johnson as the Browns chased the juggernaut Chiefs in Week 9, but it should again this weekend v. Atlanta. It's worth noting the Falcons have already surrendered 15-catch and 14-catch performances to Alvin Kamara and Christian McCaffrey, respectively, this season. Moreover, conditions could be gusty at FirstEnergy Sunday, making the short passing game critical.

David Johnson @ KC: New Arizona OC Byron Leftwich was taking notes during the Cards' Week 9 bye and couldn't have failed to notice how successful Baker Mayfield was throwing the rock to his backfield mate v. the Chiefs. Leftwich has an even better D. Johnson lining up next to HIS rookie signal caller out in the desert and has to be thrilled by the possibility of unleashing him on the porous Kansas City defense. The Chiefs have yielded 634 receiving yards and five TD receptions to opposing backs thus far, both league highs. Game script probably won't favor Arizona in this one, but Johnson doesn't come off the field on passing downs. In fact, he becomes, arguably, even more utilitarian. Vegas got killed last week and has installed KC as 16.5 favorites on the road. Vegas doesn't get killed very often. Swallow hard, take the points, and start Johnson.

Aaron Jones v. MIA: NFL schedule makers didn't do the Pack any favors this season, sending them on a zig-zagging, coast-to-coast-to-coast stretch that included trips to Los Angeles (Rams), Foxboro, and (next week) Seattle. Sandwiched between these tough roadies is the only potential gimme, a home date with the downward-trending Dolphins this coming Sunday. If Aaron Rodgers et al. have any hope of making a legitimate playoff push, they'll need to firmly establish that other Aaron the rest of the way. It took Coach McCarthy far too long to realize how dangerous Jones makes the Pack, but an A+ matchup v. the Fish (most rushing yards against so far) gives him an opportunity to start making amends in a game the Green and Gold simply must have. I think Jones shakes off a costly Week 9 fumble, rushes for 100+ yards, and finds the end zone on Sunday. Start him.
Grab a Gatorade

Peyton Barber v. WAS: Tampa Bay's de facto RB1 had a nice little breakout going with Jameis Winston back at the controls, tallying 16.6 and then 14.5 points in Weeks 6 and 8, respectively. Winston's turnover-marred outing v. the Bengals in Cincy forced another QB change, however, and Barber was back to being an afterthought last Sunday in Carolina with Ryan Fitzpatrick at the helm. I'm not sure why it matters who's under center, but there's no denying it does. In Winston's three starts, the Auburn product has averaged a nifty 11.4 PPG. In Fitzy's five starts, he's averaged only 4.0 PPG. A home date with Washington would seem to offer some hope, but the boys from DC have been pretty stout against the run (89.4 yards/game, fifth best overall) and Tampa doesn't seem to be able to avoid digging huge early holes, making Barber a risky play. Sit him.

Kerryon Johnson @ CHI: Johnson continues to operate as part of an RBBC that effectively squeezes him out of precious goal-line opportunities (LeGarrette Blount) and passing game looks (Theo Reddick). That means we have to live with his between-the-20s rushing production and hope for a few big-gainers in the second half of the season. That could certainly happen as he clearly has the game-breaking ability to hit some home runs. I'm not convinced it is likely to happen in Week 10, however, against a Chicago defense that has allowed just a single rushing touchdown this season. The author of that rushing touchdown, BTW? It was none other than Nathan Peterman, the worst quarterback (starting or otherwise) in several generations and possibly of all time. Johnson scoring in Chicago would be similarly fluky, so if you can't live with 12-15 carries and modest yardage, keep him on your bench this Sunday.

LeSean McCoy @ NYJ: You didn't need a reminder to steer well clear of the toxic Buffalo "offense" (trying to be charitable here), but a recap of McCoy's recent production should serve that purpose anyway. Since the start of Week 7, Shady has run the ball a mere 24 times, 5 times fewer than his backup, Chris Ivory, has. That's probably because he's managed to gain just 24 yards on those limited carries, dropping his season-long per-carry average to 3.1, lower than all but one of the qualified running backs. That other back is aforementioned goal-line specialist, LeGarratte Blount (2.7), and at least HE has three scores to boast of. McCoy has none. Until Buffalo moves Terrelle Pryor under center or resorts to the Wildcat, there's simply no reason to carry a Bills player on your roster, let alone start one. This has been a Shot Caller public service announcement.


Quarterbacks | Running Backs | Wide Receivers