6/20/12



Fantasy footballers are a fickle bunch. One offseason a player is a "stud," and a year later after a disappointing season that player is "trash," or at least a fantasy afterthought. Here is where a smart drafter who doesn't necessarily follow the "what have you done for me lately?" philosophy when assessing a player's talent and potential can find a draft day bargain. There are many reasons for a player having a down year, and unless that player is at an advanced age, it's likely just a blip on the radar and not a sign of things to come. The following seven players will likely fall further than they should in your upcoming drafts based on their poor 2011 seasons. They should, however, find themselves back in fantasy owners' good graces following this season as they hopefully build that goodwill back up while producing for squads at a discounted price.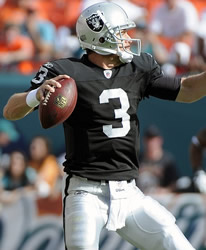 Palmer is a potential QB1 that is currently being drafted as a QB2.
QB Carson Palmer
2011: 2753 yds, 23 TDs, 16 INTs
There are still many in the fantasy football community who feel that Carson Palmer has been finished since tearing a ligament and tendon in his elbow during the 2008 season. Palmer chose not to have surgery on the elbow and decided to instead let it heal on its own, which many experts claimed was a mistake. He did end the 2010 season very strongly and also had the benefit of resting his throwing arm during his "retirement." Many will look to his poor 2011 touchdown-to-interception ratio (13:16) and unimpressive, on its face, end-of-season final numbers and once again dismiss his chances in 2012. However, Palmer basically came in "off the couch" in the middle of last season and averaged an impressive 293 yards per game in his nine starts. He also sported a very healthy 8.6 YPA. While quarterbacks like Drew Brees (33), Tom Brady (35), and Peyton Manning (36) are still considered studs, Palmer at 32 is unfairly thought of by many in this hobby as a broken-down old man.
New offensive coordinator Greg Knapp is installing his version of the West Coast offense, which will better suit Palmer's strengths, as he's a smart and accurate quarterback that can exploit the short to intermediate routes, while still being able to go deep when called upon. The best thing Palmer may have going for him, however, is his supporting cast. He'll line up in the backfield with a healthy beast of a running back and a talented receiver out of the backfield in Darren McFadden (who missed most of 2011). Palmer also has a young and promising wide receiver corps at his disposal, featuring Denarius Moore, Darrius Heyward-Bey, Jacoby Ford and rookie Juron Criner. These wideouts have as much upside as any unit in the AFC and have shown to be playmakers despite limited experience. With a full offseason to learn an offense and jell with said receivers, Palmer, who was the 10th-ranked quarterback down the stretch, is a potential QB1 that can be drafted late in the game for your fantasy team.
2012 Projections: 4,175 yds, 27 TDs, 14 INTs
QB Philip Rivers
2011: 4624 yds, 27 TDs, 20 INTs
Rivers threw a career high 20 interceptions last season, but otherwise his statistics weren't all that far off from his career averages. It took a hot final month and a half of the season to get him close to those numbers after an exceptionally slow start, by his standards. Through the first seven games, he had only seven touchdown passes with 11 interceptions. Rumors swirled that he was covering up an injury, a claim which Rivers denied. Because of a slow start that buried many fantasy teams, Rivers was considered a bust in 2011 by many in this game, and some stopped paying attention to the rest of his season as a result. It's silly to write him off for 2012, which based on early ADP numbers is happening to some extent. Rivers has been a starting quarterback for six years and has never missed a game. He is one of the most accurate pocket passers in the game and is the type of quarterback that will throw to whoever is open. He doesn't need top level targets to excel, as highlighted during the 2010 season when Vincent Jackson, Antonio Gates and Malcolm Floyd all missed significant snaps. Rivers has eclipsed 4,000 passing yards in each of the last four seasons, and prior to last season he was never really prone to turning the ball over. While he lost the talented Vincent Jackson to the allure of big money in Tampa Bay, former Saint Robert Meachem should be an adequate replacement as a downfield threat, and Rivers has shown the ability to thrive without Jackson before.
2012 Projections: 4,550 yds, 30 TDs, 11 INTs.
RB Chris Johnson
2011: 1047 yds, 4 TDs; 57 rec, 418 yds receiving, 0 TDs
Last offseason Chris Johnson famously held out of team activities in a contract dispute and came in out of shape after the parties finally reached an agreement right before the start of the season. As a result, Johnson ended the season with the worst numbers of his young career: 1,047 rushing yards and four touchdowns after breaking the 2000-yard rushing mark only two seasons before that. Johnson looked far less explosive early in the season, and the Titans offensive line didn't do him any favors. Losing star wide receiver Kenny Britt early in the season also hurt the Tennessee offense in general.
This offseason CJ2K has been a regular participant in OTAs and is said to be in excellent shape. Britt has suffered a set-back in his recovery but is expected to be ready during training camp, and the Titans also added former Baylor Bear wide receiver Kendall Wright in the first round of the NFL draft. From an offensive line perspective, the Titans should be much improved and in fact could be one of the league's better units. They already have two All Pro tackles and they added Steve Hutchinson, who is still a dominant player even at this late stage of his career. It also can't hurt that their OL coach is Bruce Matthews and their head coach is Mike Munchak, two Hall of Fame offensive linemen. All of this is good news for Johnson, whose final eight games of last season put him on a pace for 1,362 rushing yards and six touchdowns, with 52 catches for 414 yards and another six touchdowns through the air. His confidence is back as well. "I want to go for another 2,000 yards," Johnson has said. "I want to be the first back to go for 2,000 yards twice, and I think it can be done. It doesn't matter what anybody else thinks. I think it can be done." It likely cannot, but that doesn't mean Johnson still can't be a valuable fantasy asset that will fall further in your fantasy draft than he should, due to his worst season as a pro in 2011.
2012 Projections: 1,280 yds rushing, 8 TDs; 47 receptions, 385 yds receiving, 4 TDs
RB Jahvid Best
2011: 390 yds, 2 TDs; 27 rec, 287 yds receiving, 1 TD
The risks associated with Best are well known. His concussion history dating back to his days at California will surely place him on many people's "Do Not Draft" list this summer, and his current ADP is late sixth round as a result. Last year he managed to play in only six games after a serious concussion ended his season; but bear in mind, Best was a Top 10 running back on a points-per-game basis in 2011. There may be no bigger boom or bust on draft day. All signs this offseason point to good health for Best, and recently GM Martin Mayhew predicted a breakout year for the third-year back. Best is explosive in space and should be used in a Darren Sproles type role in the high-powered Lions offense. If Best is able to stay healthy, which isn't as unlikely as most people think, the sky is the limit.
2012 Projections: 685 yds rushing, 4 TDs; 51 rec, 545 yds receiving, 3 TDs
WR DeSean Jackson
2011: 58 rec, 961 yds, 4 TDs
Jackson infamously played at less than full effort last season while expressing dissatisfaction with his contract situation. He wanted long-term security after taking a big shot going across the middle the previous season, and frankly he embarrassed himself on the field at times in 2011. Earlier in his career, however, Jackson was one of the most explosive and exciting players in the league when he had the ball in his hands. He has the speed and quickness to get behind any defensive back, and big plays are his specialty. He ended last season on a much better pace (15 catches for 263 yards and two touchdowns in his final four games) than he started it, and he was paid well by the team this offseason. His focus should be all about football this summer. Jackson may be the ultimate boom/bust player in this draft, but my money is more on the "boom". His ADP should allow owners to get him as a late WR2 or even a WR3, and that isn't bad for a player that can score anytime he touches the ball.
2012 Projections: 71 rec, 1,235 yds receiving, 7 TDs; 85 yds rushing, 1 TD
WR Brandon Marshall
2011: 81 rec, 1214 yds, 6 TDs
Burdened with less than stellar quarterback play after being traded to Miami, Brandon Marshall fell from being a perennial 100-catch wide receiver to averaging "only" 83 receptions per season. He also scored just nine touchdowns through the last two seasons with Miami. In his two previous years with Jay Cutler, Marshall had over 205 receptions and 16 touchdowns. Now that Marshall has been reunited with his former quarterback, expect the big numbers he put up earlier in his career. His talent level has not decreased and neither has Cutler's. It was, at least in part, the lack of the other's talents that hurt both of their numbers over the last two seasons. Marshall is the No. 1 target that the Chicago Bears have been seeking for years, and he should thrive in the NFC North where pass defense is not a thing that is talked about highly.

2012 Projections: 98 rec, 1,295 yds receiving, 9 TDs
WR Mike Williams (TB)
2011: 65 rec, 771 yds, 3 TDs
Williams had one of the top rookie seasons for a wide receiver, catching 65 balls for 964 yards and 11 touchdowns. But he followed that up with a disappointing sophomore season, where he caught the same amount of balls but his yards per catch dropped markedly as he finished with only 771 yards and three touchdowns. Rumor has it that Williams did not take football seriously last season and spent many late nights out with teammate LeGarrette Blount. It didn't help that his quarterback, Josh Freeman, regressed in 2011 as well. This offseason, the Buccaneers fired "players coach" Raheem Morris and replaced him with disciplinarian Greg Schiano. Schiano has already shipped out one malcontent, tight end Kellen Winslow, and will need to light a fire under the former Syracuse product. Williams presents a huge target and has tremendous body control, allowing him to make difficult catches. His disappointing 2011, and the fact that the Buccaneers signed Vincent Jackson to a big-money contract this offseason, will turn many owners off on draft day. Jackson has never been a big target hound however, and his presence as a big-play threat should help open up some underneath routes for Williams, while also helping the team move the ball down the field more. While Williams could lose some targets to Jackson, those should be made up for by the high number of Winslow's targets that are now up for grabs. With the addition of Jackson and rookie running back Doug Martin, the Tampa Bay offense should be in better shape, helping Williams get his touchdown totals closer to the 11 of his rookie year and further from the 3 of last season.
2012 Projections: 70 rec, 1,005 yds receiving, 9 TDs