Do Not Draft List
8/23/09

Before we begin, let me make something clear: in the end, there is not a single player going in the first six or so rounds of normal drafts that I can guarantee won't find a place on my roster. It's all a matter of value.
There are, however, plenty of guys that I won't draft around their current average draft position (ADP), and plenty of 'sleeper' late round fliers that I can say with certainty won't find a place on my teams.
Quick plug: Speaking of sleepers, take a look at Eli Mack's sleepers article – definitely worth your time.
Without further ado, here are a nine players generally going early in drafts that I will be avoiding like the plague on draft day.
Note: ADP data from mockdraftcentral.com
Quarterbacks
Tony Romo, DAL
Current ADP: 5.05
Admittedly, I am a diehard Giants fan, but Romo's presence atop this list has nothing to do with personal bias. In a year where quarterbacks are as deep as ever, there is absolutely zero justification for selecting Tony Romo in the middle of the 5th round.
It's my opinion you should generally wait and be one of the last couple of owners to select a QB. This year, you certainly should, and Romo is the poster boy for why taking a QB early is a terrible idea. There are so many talented signal callers being selected far later than Romo - Donovan McNabb, Matt Schaub, and Carson Palmer all come to mind.
In Romo, you have a QB with limited upside and a whole lot of risk. He has by far the worst receiving corps of his career, an aging offensive line, and frankly, is prone to making stupid mistakes. Sure, when T.O. was streaking down the sideline, 5 steps ahead of the safety, Romo thrived. As much as Owens was a distraction and a head case, talent wise he dwarfs Roy Williams.
Romo throws his share of interceptions, fumbled 13 times last year in 13 games, and is unlikely to approach his gaudy 2007 numbers (4200 yards, 38 total TDs). More likely, you are looking at 3500 yards, 28 TDs, and a slew of turnovers. With his injury risk climbing each season (finger, rotator cuff), the likely increase in sacks, lack of upside, and a passing attack that ranks second toughest against the schedule, I won't be touching Romo with a ten-foot pole this year.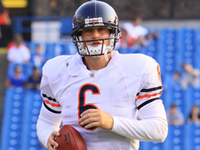 Cutler and his move to the windy city may not be the best move for your fantasy team.
Jay Cutler, CHI
Current ADP: 6.12
I really don't dislike Cutler. He is an unbelievable talent – a franchise quarterback. I thought Chicago was very smart to trade for him, even though they gave up some very important draft picks (1st-rounders in 2009 & 2010).
That being said, franchise quarterbacks don't necessarily make stud fantasy signal callers. Troy Aikman was a bit before my time, but he certainly fits the mold of a great NFL QB that wasn't a dominant fantasy force. Cutler very well could fall into that same category – the category that doesn't justify a 6th-round fantasy draft slot.
Cutler has all the physical tools to be a dominant fantasy QB – he just doesn't have the talent around him or the right offensive system to do so. Devin Hester is his best wideout, which speaks volumes. Hester is fine for what he is – a speedy receiver that is developing an ability to run routes well – and a decent WR3 or solid WR4 with upside. He's not the kind of uber-talented WR that almost all top fantasy QBs have at their disposal. (Drew Brees in 2008 is the only exception that comes to mind).
Yes, Cutler does have a running back with good hands and a solid young TE in Greg Olsen however, to expect him to improve on or even match last year's numbers is foolhardy, especially in the Bears' conservative offense and in the cold, wind, and rain of Chicago.
Last thing – As I mentioned above, the Cowboys passing attack ranks second toughest against the schedule. There are actually two other teams tied with Dallas in this fantasy category… Yep, you guessed it, Chicago is one of them..
Ben Roethlisberger, PIT
Current ADP: 8.11
Here is the first guy on the list that will not find a home on any roster of mine this year. Regardless of the seriousness of his Achilles injury, there are too many QBs with more upside than Big Ben that are still left on the board in round 9. Trent Edwards, Jake Delhomme, Kyle Orton, and Matt Hasselbeck are all significantly more likely to be found on my team than Roethlisberger, and all are being selected well after the Pittsburgh QB.
To put it simply, there is absolutely no upside here. Roethlisberger had one – count it, one – solid fantasy season. In 2007, he scored 34 total TDs. In his other four years as a starter, he scored 19, 20, 20, and 18 TDs. In my mind, 2007 is a clear anomaly.
Roethlisberger's fumble numbers have gone from awesome to average to terrible. He had two fumbles in 2004, two in 2005, five in 2006, nine in 2007, and fourteen in 2008. A possible cause for all of those fumbles – Roethlisberger has been sacked 18 times more than any other QB in the last two years. That Pittsburgh O-line does a great job run blocking but can't seem to allow Big Ben to stay on his feet. In 46 games the last 3 seasons, he was sacked 139 times.
To top it all off, he plays in one of the most conservative offenses in football, and is coming off of one of the worst years of his career throwing 17 touchdowns and 15 interceptions. There is no way I would be comfortable with Ben as my starting fantasy QB. Stay away.
Running Backs
Thomas Jones, NYJ
Current ADP: 4.01
Thomas Jones had a great 2008. In fact, I'll shamelessly pat myself on the back a little - I liked him a lot going into last season, drafted him in the 4th round of drafts and was handsomely rewarded.
This year, I am not so optimistic. Last year, we knew we would rush more than one touchdown (2007), so he was undervalued. Fast forward to 2009 – He'll be 31 next week, with now two explosive backs behind him on the depth chart, and he is coming off the best season of his career. That's a recipe for an overvalued back if I have ever seen one.
Never mind that Shonn Greene is likely to vulture some (if not many) TDs and never mind that Leon Washington is going to spell him on third downs – I have doubts that Jones is going to move the ball on first and second downs. Whether Mark Sanchez or Kellen Clemens is behind center, Jones is going to see a steady diet of 8-man fronts. Is a 31 year old back with 1800 carries over the last 9 seasons really going to hold up over 16 games and be productive? I sincerely doubt it.
Reggie Bush, NO
Current ADP: 4.07
Reggie Bush is not a featured running back. I repeat – Reggie Bush is not a featured back.
So, why is he drafted as such?
Sure, Bush is extremely talented, and yes, he can take it to the house any time he touches the ball. But people, its time to look beyond the hype and look at the numbers.
He has never averaged 4.0 yards per carry. He has never rushed for more than 600 yards in a season. In the past two years, he hasn't hit 425 yards receiving, while missing 10 games and an additional 3 more starts over that span. Over his three year NFL career, he has scored an average of 7 TDs rushing/receiving.
At the risk of sounds like Rainman – Reggie Bush is not a featured back.
His rookie year, I understand why he was drafted so high. Even last year, I understand, because there was no clear featured back in New Orleans and we still thought Bush might be the guy.
He's not. He can't run between the tackles, can't carry the ball more than a dozen times a game, and can't seem to stay healthy for a full season. You know it, I know it, and Sean Payton knows it. In a PPR league, Bush is a fine option – if he plays 16 games he's probably good for 80 catches and 1000 yards from scrimmage. In standard leagues, it's just not worth the risk or the aggravation.
As a quick note – this pessimism about Bush should be a clear statement about how optimistic I am about Pierre Thomas. Anywhere in the 3rd round – you cannot go wrong with Thomas.
Willie Parker, PIT
Current ADP: 6.06
What is there to like about Willie Parker? Yes, he took the league by storm in 2006, running for over 1400 yards and scoring 16 total TDs. Since then, we have learned who the real "Fast Willie" is. He is a scrawny, fragile, undersized, slower-than-expected, running back with an inability to pass block or catch the ball. Awesome, huh?
Last year, he missed 5 games due to injury and caught a total of 3 passes. In the past two years, he has found the end zone a grand total of 7 times. If that weren't bad enough, he has two solid backs close (very close) behind him on the depth chart. The up and coming Rashard Mendenhall and Mewelde Moore, who performed admirably last year during Parker's absence.
Bottom line: if he's lucky, FWP starts 12 games, rushes for 1100 yards and scores 6 times. If he's not lucky, Parker could find himself parked squarely on the bench – both yours and Pittsburgh's.
Wide Receivers
Dwayne Bowe, KC
Current ADP: 3.04
There is no denying that Dwayne Bowe is a man-child, an absolute beast with near unlimited upside, if…
He is in the right system

He has a stud quarterback throwing him the ball

He is not facing double coverage

His team's running game is a credible threat, and

His quarterback will have adequate protection
Unfortunately, not a single one of those things exists in Kansas City. Last year, people still thought Larry Johnson could run the ball productively and Tony Gonzalez was the one drawing double coverage. This year, opposing teams will be skeptical about the Chiefs' ability to run and without Tony Gonzalez around, Bowe is going to draw double coverage on every single passing down.
Moreover, you can count me among those that are extremely skeptical of Matt Cassel's ability to succeed in Kansas City. I think he benefitted significantly from Belichick's system, the Patriots' O-line, and the dynamic duo of Randy Moss and Wes Welker. Cassel is likely to struggle; making it mighty hard for Bowe to produce for your fantasy team.

Roy Williams, DAL
Current ADP: 4.08
Between Detroit and Dallas last year, Williams played 15 games, averaging 2.6 catches and 26 yards per game. Make all the excuses you want – the fact of the matter is that there is very little reason to be optimistic about Roy Williams' productivity this season in Dallas.
Clearly, there is a major question if Williams fits in the Cowboys' offense. He didn't score a touchdown in the last nine weeks of 2008. In the last 4 weeks of the season, he had 8 catches for 37 yards… total. Of course, it is unreasonable to expect Williams to be productive in a brand new offense right away, but after thow-thirds of a season, one would like to see significantly more than Williams showed.
Another concern is the departure of Terrell Owens. Williams is going to get plenty of attention from opposing defenses, particularly with unproven talents like Patrick Crayton or Miles Austin lining up opposite him.
Frankly, is Williams a legitimate #1 receiver? He has always had talent and promise, but for the most part hasn't lived up to the expectation. It 's time to start questioning whether he ever will.
Antonio Bryant, TB
Current ADP: 4.12
Last year, Bryant came out of nowhere and posted career highs in about every category measured, including receptions (83), receiving yards (1248), and TDs (7).
I would give Bryant a one in six chance of approaching those numbers this year, and for one glaring reason. Last season, he had an adequate Jeff Garcia throwing him the ball. This year, an unproven Luke McCown (try not to puke) or a mediocre Byron Leftwich will likely be on the throwing end of Bryant's targets. Color me skeptical, but I don't think McCown or Leftwhich can even approach Garcia's effectiveness, which will certainly hurt Bryant's production.
Furthermore, Tampa Bay expects to return its focus on the running game that went by the wayside last year. In 2008, the Buccaneers QBs threw the ball 562 times. As a frame of reference, only four teams attempted more passes: New Orleans, Denver, Arizona, and Philadelphia. Put the Bucs in that list and they stick out like a sore thumb. You've got to think that Raheem Morris brings back the attention back to the running game, hence the acquisition of Derrick Ward. If we assume something like 466 passing attempts, (Tampa's 2007 total) there will be significantly less throws going Bryant's way in 2009.
In addition to the lack of opportunities, Bryant is going to be on every defensive coordinator's radar this year, which is a recipe for regression. Don't waste your time.
Questions, comments, disagreements, gripes, or any other feedback – feel free to email me, I would love to hear from you. Happy drafting!