Ignorance Can Be Bliss - Part 1




11/27/09



Aggressiveness is a characteristic that tends to reward fantasy owners more times than not. In the NFL, an offensive line will sometimes hold up long enough to give the quarterback enough time to beat man coverage down the field and make the defense look foolish against a fierce pass rush. More often than not, though, when a defense brings the heat and forces the action, crisis management becomes the name of the game for the opposing team.

In that same vein, I hope to apply that same kind of pressure to the owners in all of my leagues by beating my opponents to the punch in regards to personnel moves. Sometimes, reaching a conclusion about a player too quickly is much like trying to blitz Peyton Manning – dangerous and painful. However, coming to a correct conclusion two weeks or two minutes quicker than your opponents is considered foresight. Fantasy owners can be a uneasy lot, knowing that one two-or-three-game losing streak can wreak irreparable damage to his/her team's chances to make a visit to the fantasy postseason. But just as it is in the NFL and in life, it's hard to land the big prize by playing scared. Thus, I will strive each week to help each of you become a smart blitzer, so to speak.
---
Remember what we knew at the start of the season? Adrian Peterson was a no-brainer #1 overall pick and Matt Forte was a close #2. Tim Hightower and Joseph Addai had starting jobs, but it was only a matter of time before a couple of hot-shot first-round rookies were going to steal their jobs...

What did we know after Week 4? Darren Sproles was on the verge of making LaDainian Tomlinson nearly irrelevant, if only because San Diego had no clue when it came to run blocking. Pierre Thomas was on the verge of becoming a RB1 while fantasy draft afterthoughts Cadillac Williams and Willis McGahee were emerging as a viable RB2s in all fantasy leagues. Steven Jackson was going to be the latest example of a talented RB going to waste because he was on a team that had no supporting cast. Many fantasy owners were likely scrambling to see what the trade value of Michael Turner and DeAngelo Williams was after each got off to rough starts, with some of those same owners hoping they could get their hands on Julius Jones (of all people).

Remember what we knew after Week 8? Despite poor rushing numbers, Steve Slaton was soaring up the PPR charts due to his numbers in the passing game. Chris "Beanie" Wells was shaping up to be one of fantasy's biggest disappointments in recent memory. Jamaal Charles and Jason Snelling were barely worth keeping on a roster, much less worth using as even a flex option in 12-team leagues.

As we enter Week 12, what do we know now? Chris Johnson is now being mentioned as the best RB in the league, Addai has become a model of consistency despite averaging 4.0 YPC in just four of his 10 games and Slaton becomes one of many RBs in fantasy football history to be named the starter after a one-week demotion...only then to not start later that week.

There's a saying about the weather in the Midwest (and the same could probably be said about fan reactions to just about anything sports-related, especially in New York): "If you don't like it, wait five minutes and it'll change." Using the above examples, "five minutes" works out to about four weeks during a fantasy football season. Due to a whole host of factors, the running back position is by far the most volatile position on the fantasy market. Certainly, quarterbacks and wide receivers go through peaks and valleys, but all things considered, what we think we know by around Week 6 or Week 7 will pretty much hold true - barring injury (known or unknown) - for the rest of the season at those positions.

Another saying in football lore that applies to fantasy RBs comes from ex-Saints and Colts coach Jim Mora, "You think you know, but you don't know...and you never will." And the truth is that about every four weeks, we need to re-evaluate what exactly is real and what is fiction. In all honesty, Chris Johnson could wilt under his new workload in December and make LenDale White a late-season superstar, Donald Brown could break off two long TD runs and make the Colts reconsider their stance on Addai or Slaton could turn back the clock to 2008 and make the Ryan Moats-Chris Brown debate a non-issue.

With the plethora of running back committees and in the era of roster specialization, it would seem as if there would be more RBs who could be consistently productive, but in smaller doses than what many of us veteran fantasy football owners became accustomed to back in the "olden days". The reality of the it, though, is that because of injury, game situations or change of personnel/philosophy (among many other possibilities) fantasy owners are often left with roughly 5-8 RBs who warrant weekly RB1 consideration each year and about 8-10 RBs who should be used as a RB2. When one considers - in any league with 12 or more teams - that leaves only 13-18 RBs who should be used weekly, it should come as little surprise that a handful of fantasy teams don't even a RB1 on their roster and a few more who may have a RB2 at best.

I've long been a proponent of having each player on my team "know their role" and play up to that level. In other words, I believe any team with a realistic shot at winning a fantasy championship must have a RB1 performing like a RB1, a WR2 performing like a WR2 and so on. In this case, it's not enough if a player is averaging 20 fantasy points/game for me; it's how often he's performing up to the level I have in mind for him. (The Crank Score Calculator provided on this site does a great job with measuring this kind of consistency and go beyond a player's average, which can often be a misleading number.) In my opinion, true fantasy title contenders often need at least one player who is exceeding his targeted role, such as a RB2 performing like my lead RB.

It's with all this in mind that I thought I would check the pulse of all 32 teams and their RB situations. We'll get through half of the league this week and the other half next week. In the spirit of the lead, I thought I would go with what we knew before the season (past), what we know now (present) and what it all means (future). Let's get started...

ARI | ATL | BAL | BUF | CAR | CHI | CIN | CLE
DAL | DEN | DET | GB | HOU | IND | JAX | KC



Past: Tim Hightower was named the starter, mostly because Beanie Wells missed a significant portion of the preseason with an injury. However, it was only a matter of time before the rookie stole the job outright from him.

Present: Amazingly, Hightower has not only held onto the starting job, but has nearly doubled his fantasy points-per-game average from 2008. Wells has been more consistent of late because Arizona has jumped out to the lead and used the rookie to chew up the clock.

Future: Given the Cardinals' remaining schedule, expect more of the same. Arizona should own the lead in the majority of games going forward, so Wells should continue to be useful. However, as long as the Cards continue to treat Hightower as Wells' equal in the running game (by splitting up the carries almost equally), the two-year veteran will continue to be the more valuable RB of the two because of the trust Arizona has in him in the passing game and at the goal line. But Wells appears poised to steal his share of the goal-line work with his performances over the last two weeks.

Fantasy role for the remainder of the season: Hightower (RB2 in PPR; RB3 in non-PPR), Wells (RB3 in both formats)

Past: Michael Turner was slated to see a slight decrease in carries but remain one of the league's few RBs who was a lock for 300+ carries barring injury. Jerious Norwood would assume the third-down work and fill in for Turner when he needed a rest. In the event Norwood suffered another injury, Jason Snelling would fill his role.

Present: Norwood hasn't played since Week 6 and Turner succumbed to the dreaded high ankle sprain in Week 10, so the fantasy world quickly became familiar with Snelling prior to Week 11. While Snelling lacks the explosion and suddenness of the "Burner", he has shown to be a more-than-capable fill-in and may have pushed Norwood down the totem pole.

Future: This situation will remain cloudy for as long as Turner is sidelined. If Norwood returns before Turner, Snelling will probably continue seeing the majority of the work in the running game while Norwood gets the love in the passing game, even though both backs are fine receivers. When Turner returns, the only likely change from the preseason setup is that Snelling will likely see more touches than Norwood.

Fantasy role for the remainder of the season: Turner (RB1 in both PPR and non-PPR), Snelling (RB2 in both formats while Turner is out; RB3 in both formats when Turner returns), Norwood (RB3 in PPR; RB4 in non-PPR)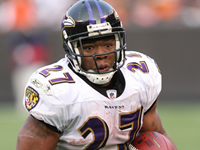 Ray Rice has acheived feature-back status.
Past: Ray Rice would receive a slight edge in work over Willis McGahee, with the former Bill taking most - if not all - of the goal line work. OC Cam Cameron stated several times that Le'Ron McClain would stay at RB instead of being moved to FB as rumored.
Present: After McGahee started out the season making the most out of just about every touch he got, Cameron decided that Rice had done enough to warrant feature-back status. McClain has almost become an afterthought (mostly because he was moved to FB) and McGahee wasn't far behind for about a six-game period, but Baltimore has followed through on its promise of working McGahee a bit more after weeks of failing to do so. Meanwhile, Rice just continues to churn out one productive fantasy game after another.
Future: Much like Tiki Barber late in his career, Rice is pretty much a lock for at least 100 total yards and about 5-8 catches every week. He has also become one of those rare fantasy RBs who seems to be more productive when his team is trailing, which is a different way to say he is pretty much matchup-proof. McGahee may vulture another goal-line score or two this season, but Rice is the man going forward and will be a fantasy stud for years to come, certainly as long as Cameron is calling the shots.
Fantasy role for the remainder of the season: Rice (RB1 in PPR and non-PPR) McGahee/McClain (RB4s at best)
Past: Capable reserve Fred Jackson would fill in as the starter while Marshawn Lynch served his three-game suspension to open the season. Any chance of Jackson being productive in Lynch's absence appeared to disappear when the Bills were one of three teams to dismiss their OC about two weeks before the start of the season.
Present: Fortunately for Jackson owners, he ran, ran and ran some more with his 12-quarter feature-back audition, turning the Bills' backfield into more of a RBBC than it was supposed to be. Owners who thought they may have drafted Lynch at discount this summer as a RB2 have since been treated to a season-long lineup headache. Combining the lack of a consistent offensive approach, a number of injuries to the Bills' young offensive line and the committee approach in the backfield has been way too much for either back to overcome. However, Jackson's owners may have caught a break if Lynch's shoulder injury keeps him out for a week or two.
Future: Assuming Lynch's Week 11 injury turns out to be no big deal, it looks like we have yet another split backfield with the team willing to ride the "hot hand" (that phrase when used in regards to RBs or WRs absolutely drives me crazy). Given their RB talent and lack of a decent QB, Buffalo may want to consider some plays out of the "Wildcat" formation. However, that will have to wait until at least the offseason because new OC Alex Van Pelt is neither creative enough nor on solid enough footing as a play caller to implement that package into his weekly game plan.
Fantasy role for the remainder of the season: Lynch and Jackson (borderline RB2s in PPR and non-PPR)
Past: DeAngelo Williams was a trend top-five pick in all formats coming off a 20-TD season while Jonathan Stewart was an injury-prone second-year RB who could not seem to get healthy at any point during the offseason or preseason. While many knew better than to expect another 2,500+ rushing yards and 30 TDs from "Double Trouble", those same folks expected Williams to make Stewart somewhat irrelevant and continue his second-half domination from a season ago.
Present: Lo and behold, all of the factors that made some owners pause - including yours truly - when considering D-Will (lack of OL depth, the presence of Stewart, a tougher schedule and an injury-ravaged defense to name a few) reared their ugly heads. Just as expected, Williams' YPC is among the best in the league once again, but Carolina's insistence on giving both RBs equal opportunities at the goal line have suppressed each back's fantasy impact.
Future: The Panthers have this annoying habit of forgetting who they are - a physical running team with an elite talent (Williams) and another back capable of starting for several NFL teams (Stewart). Thus, counting on Williams to guide your team to fantasy glory in 2009 is going to ride an awful lot on how often OC Jeff Davidson remembers this offense's identity. The Panthers' fantasy playoff schedule is treacherous, but Carolina has shown it can run on anyone so long as it doesn't stop running the ball.
Fantasy role for the remainder of the season: Williams (RB1 in PPR and non-PPR), Stewart (RB3 in both formats)
Past: Matt Forte was a near-unanimous top-three pick in PPR and non-PPR leagues due to his certain workload, contributions in the passing game and the fact that a franchise QB (Jay Cutler) was replacing a QB (Kyle Orton) who many critics still believe is little more than a journeyman-caliber QB.
Present: On-field confidence is more important in fantasy football than most owners realize. When the Bears run the ball, neither Forte nor the Chicago o-line appears to have any confidence in the RB's ability to find the hole. Defenses have also come to realize that Forte is not an explosive runner or someone who is a perimeter threat, but rather a physical glider who makes his yards by exploiting creases in between the tackles. The problem with that in 2009 is that the offensive line isn't creating the holes about half the time and Forte is showing no ability to find them the other half of the time.
Future: Forte built up a lot of good will with his huge rookie year and will continue to be the unquestioned featured back for the foreseeable future. Perhaps realizing that it doesn't currently have the answer to its running game woes on the roster yet, Chicago has made sure to include Forte heavily in the passing game over the last month, saving his value in PPR leagues. The Bears would benefit greatly from upgrades (or renewed confidence) all across the offensive line because there is not a single starter up front that is winning in the trenches consistently. OC Ron Turner probably will not be back as the offense has actually regressed in 2009 despite a talent upgrade at QB and a pair of playmakers at WR and TE (Devin Hester and Greg Olsen) who are starting to emerge as above-average options at their position
Fantasy role for the remainder of the season: Forte (RB1 in PPR, RB2 in non-PPR)
Past: As "feature backs" go, Cedric Benson received very little respect in fantasy drafts this summer, primarily due to owners who remembered the way in which he treated their faith as a member of the Chicago Bears, much less some of his questionable off-field antics. The fact that he was supposedly "a new man" mattered little because the Bengals would inevitably fall back on Carson Palmer's right arm each time Cincinnati's defense was unable to come up with a clutch stop. With longtime LT Levi Jones gone and first-round RT Andre Smith holding out, it didn't matter if Benson was going to see 300+ carries because he wasn't going to much with them anyway. Making matters worse, rookie Bernard Scott appeared ready to overthrow Benson at some point after turning heads in offseason and preseason workouts.
Present: Up until straining his hip in Week 10 and against all odds, Benson became an absolute rock of fantasy consistency. The team followed through with its commitment to the running game and asked Benson to shoulder most of the load. The defense became one of the best overall units in the league, which allowed the Bengals to relentlessly pound opponents all game long, almost relegating Palmer to game manager most weeks. Benson did his part as well, showing the quickness and vision that made him the No. 4 overall pick in the 2005 draft.
Future: Benson signed a two-year deal prior to the start of the season, so it will be interesting going forward if Cincinnati continues to give him 23-25 touches/week throughout the duration of his deal or if try to give Scott a long apprenticeship before making him a featured back near the end of the 2010 season. For now, however, Scott has apparently earned a more significant role in the offense following his 151-total-yard outburst in his first career start vs. Oakland in Week 11. It's hard to believe after seeing what the rookie has to offer that the Bengals would continue to force-feed Benson the ball at the same rate they were pre-injury, so expect a slightly smaller workload for the veteran going forward.
Fantasy role for the remainder of the season: Benson (RB1 in PPR and non-PPR), Scott (RB3 in both formats)
Past: If there was one RB situation that just didn't seem right almost from the start, it was this one. Just about everyone predicted a poor season for Jamal Lewis and believed it was only a matter of time until preseason sensation James Davis took the job and ran with it. Behind a new and more physical run-blocking offensive line, the Browns hoped it would bully teams with their power running game in much the same way the Jets did for then-coach Eric Mangini in 2008. When Cleveland needed to pass, it would look frequently to Jerome Harrison, who was being hailed by the coaching staff as a Leon Washington clone.
Present: Lewis has endured the kind of year just about everyone expected and is leaning toward retirement, but Davis was lost for the season before he could take advantage. Harrison shined in his one chance as a starter under the new staff, but has apparently lost the trust of Mangini due to "pass protection issues" and appears to be deep in his coach's doghouse.
Future: In Harrison's place comes undrafted rookie Chris Jennings, who has a shot at some sort of fantasy relevance before the end of the season if Cleveland decides to give up on Lewis before he decides to hang 'em up. Up until Week 11, this offense showed no creativity or any ability to be worth any kind of fantasy consideration, so buyer beware. That would appear to still be the case through Week 14, but with games vs. the Raiders and Chiefs to close the fantasy season, an owner investing in Jennings now could see a bit of a payoff when it matters the most.
Fantasy role for the remainder of the season: Lewis (RB4 in PPR and non-PPR), Jennings (RB4 in both formats with the ability to move up to RB3 at some point), Harrison (no role)
Past: In their attempt to make their offense a bit more "Romo-friendly", the Cowboys decided it was in their best interest to use their incredible depth at RB. Marion Barber would start and close games while Felix Jones would serve as a big-play specialist who could work his way into more work. Tashard Choice would see some third-down work but was clearly third on the priority list.
Present: Technically, Dallas has followed through on its plan on becoming more of a running team (that's only if you consider 1.3 carries/game a significant bump.) If there is a RB who is living on his name value in fantasy leagues this season, it may be Barber. His YPC is currently a tenth of a yard off his career high and his carries are in line with the past two seasons, but his receptions and touchdowns are nowhere close to what we have come to expect from one of the game's best closers, making him a slight disappointment for his owners. Jones has become a slightly healthier version of Reggie Bush (in terms of overall touches) but the Cowboys choose not to use him a receiver despite his explosive speed. Choice has proven on a few occasions already that he can handle the entire load when needed but he is almost always the one back left out of the gameplan when all three RBs are healthy.
Future: There are a handful of RBBCs that continue to confuse and confound me - and this is one of those. Some games, the Cowboys opt to turn to Choice in the "Wildcat" at the goal line even though Barber is the GL back and Jones is the first option as a "Wildcat" RB. Other times, Barber is featured in the first quarter and not a factor thereafter. Still other times, Jones is noticeably absent when Dallas needs a big play. This backfield is one of those rare cases where addition by subtraction may be a good idea. In an effort to get every RB involved, Dallas isn't getting what it could get out of any of them. In my opinion, Choice encompasses most of Barber and Jones' best traits and is the best bet to stay healthy, but sees the least amount of time, so the Cowboys should consider dealing him in the offseason. Otherwise, Jones and Barber complement each other well and will see about 90% of the backfield work for the rest of the season barring injury. In the event either back is sidelined over the final five weeks of the fantasy regular season, Choice could easily become the most valuable fantasy RB of the bunch.
Fantasy role for the remainder of the season: Barber (RB2 in PPR and non-PPR), Jones (RB3 in both formats), Choice (RB4 in both formats with the ability to move up to RB2 if Barber/Jones is hurt)
Past: Of all the rookie RBs, Knowshon Moreno seemed the most certain to put a stranglehold on his team's lead-back role early in the season. After all, it didn't seem likely that Correll Buckhalter would stay healthy all season long. LaMont Jordan was an early threat for goal-line duties, but the most serious threat for Moreno's playing time entering the season appeared to be Peyton Hillis. However, the rookie's biggest hurdle in the early going was a knee injury suffered in his first preseason game.
Present: Jordan and Hillis have been virtually non-existent, which should have opened the door early on for Moreno in theory. However, Buckhalter's 31-year-old legs found their fountain of youth in the thin air, which has kept the rookie from really delivering on his true fantasy potential. Moreno appears to be slowly gathering more and more of the work, but his increasing role is more likely due to his talents in the passing game, which have been needed over the last month as the Broncos' offense has stalled and Denver has often found itself behind late in the game. Moreno has lost four fumbles this season, which isn't helping his push to increase his touches down the stretch.
Future: Theoretically, the Broncos should be able to get their ground game on track in at least a pair of games down the stretch against the Chiefs (Week 13) and Raiders (Week 15), if not the Antonio Pierce-less Giants on Thanksgiving night. Part of the Broncos' demise since their 6-0 start stems from their inability to run against some of the league's better run defenses and the lack of a consistent downfield passing game. Unfortunately, the defense has taken its cue from the offense in terms of effectiveness, giving up the same kind of big plays that it was so good at handling through six games. As for the RBs, Moreno will continue to see the most work, but we aren't likely to see his awesome talent on full display until 2010 at the very least. Buckhalter may have another useful year left, but expect Denver to commit more to Moreno next season, leaving the veteran as little more than a handcuff.
Fantasy role for the remainder of the season: Moreno (RB3 in PPR and non-PPR), Buckhalter (RB3 in both formats)
Past: Kevin Smith was a trendy RB2 pick this summer, a rather significant fact considering he was coming off a rookie season in which his team became the first team in NFL history to ever go 0-16. The reasons for the hype were legit: no more sharing carries with Rudi Johnson for a RB who could also contribute as a receiver, a new OC who believed in the run and a rookie QB who would like nothing more than to lean on the running game while learning on the job.
Present: Of the many "sure things" entering the season at the RB position, Smith and his fantasy numbers are one of the few things that has worked out about as expected. But after scoring eight times in a part-time role last season, fantasy owners are probably a bit disappointed with four TDs through Week 11. Curiously, Smith has not exceeded 16 touches in a game since Week 8 despite going over that mark in all but one of his first seven games in 2008. Mo Morris and Aaron Brown have spotted Smith intermittently, but represent no threat to him now or anytime in the near future.
Future: While Smith's long-term future is still pretty bright, his prospects in the short term appear bleak for him and his fantasy owners. Each of the Lions' next five opponents currently rank in the top 10 against the run, making it unlikely he will add to his single 100-yard rushing performance vs. the Redskins back in Week 3.
Fantasy role for the remainder of the season: Smith (RB2 in PPR and non-PPR)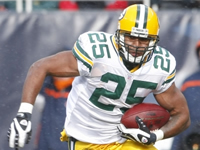 Grant is a serviceable RB2.
Past: Much like the Lions' Smith, Ryan Grant knew he didn't really need to look over his shoulder in training camp. Certainly, he was coming off a disappointing injury-plagued campaign, but reserves Brandon Jackson and DeShawn Wynn were fighting for the spot behind Grant, not the starting job. Fantasy owners looking for some sort of combination of average production and predictable consistency had a good feeling that Grant could be their man.
Present: Jackson and Wynn both got hurt early on, leading the Packers to turn to former Packer Ahman Green as Grant's complement. Currently, Green is battling an injury and now Jackson appears to primary receiving threat. Based on his TD pace and YPC numbers, Grant is almost smack dab in between the great back he was in 2007 and the injured back he was in 2008. There are several reasons for the contrast in seasons, primarily the turnover on the offensive line and the emergence of Aaron Rodgers as a running threat. As a result, Grant hasn't delivered the huge numbers he did in 2007, but the attention the passing game draws enough attention that Grant rarely ever has to face a loaded box.
Future: Fantasy owners sometimes mistake flash for production. Grant isn't the most gifted runner, so with the line he runs behind and the Packers' strength lying in the passing game, he isn't going to post the jaw-dropping numbers of some other feature backs. However, since he averaging a shade below 21 touches per game, Grant will continue to serve as a RB who may not win a title for his owners by himself, but certainly won't hurt his owners in their quest either.
Fantasy role for the remainder of the season: Grant (RB2 in PPR and non-PPR)
Past: Of all the incredible rookie RB contributors the 2008 draft produced, perhaps the most surprising impact came from Steve Slaton. So impressive was Slaton as a rookie that his fantasy owners almost knew whatever plans HC Gary Kubiak had to turn to Chris Brown as his goal-line back would fall apart at some point, either due to another Brown injury or ineffectiveness. After all, Slaton's talent dwarfed that of any other RB on the roster.
Present: What a mess this seemingly simple situation has become. Almost from the start, Slaton's ability to hold on to the ball - a non-issue as a rookie – became a huge question mark. Add to that the Texans' inability to get their most explosive RB going on the ground and Slaton's firm grasp on the starting job started to loosen. As time went on, it became fairly obvious Slaton was more concerned with hanging onto the ball than he was finding an alley to run through. The ultimate slap in the face came in Week 8 when Slaton was benched early on after fumbling yet again against the league's worst rush defense (Buffalo), allowing backup Ryan Moats to go crazy and become a waiver-wire sensation. Despite his fumbling woes, Slaton had apparently worked himself back into the Kubiak's graces during the team's Week 10 bye and was named the starter prior to Week 11's MNF showdown vs. Tennessee.
Future: Slaton's owners newfound enthusiasm was short-lived as Brown ended up starting Week 11. Brown saw 14 touches to Slaton's 10 while Moats saw zero. Two games is a very small sample, but my best guess at this point at this moment is that Kubiak will use Moats against quicker teams like the Colts and Brown against more physical teams like the Titans while Slaton gets 10-12 touches either way. It will likely stay this way until Slaton explodes again (without fumbling), at which point Kubiak will hand the majority of touches back to him.
Fantasy role for the remainder of the season: Slaton (RB2 in PPR, RB3 in non-PPR), Moats (RB4 in both formats), Brown (RB4 in both formats)
Past: Much like Arizona, this seemed like a situation where the rookie (Donald Brown) wouldn't need a great deal of time to steal significant time away from the veteran (Joseph Addai). Unlike the Cardinals, though, the common thought was that the Colts would work in the durable Brown, eventually opting for his straight-ahead, no-nonsense style after growing tired of Addai's dancing in the hole and inability to stay healthy.
Present: Just another RBBC that didn't work out like we expected. Lo and behold, it was Brown who ended up getting hurt and Addai who has played every game, scoring at least one TD in all but two of those contests. Addai has been so impressive and durable, in fact, that he has pretty much relegated Brown to the role of observer. The same Addai who, in previous years, used to pull himself from the game when the team moved down by the goal line has morphed into a red-zone animal, scoring all 10 of his receiving and rushing TDs from inside the 20.
Future: This job will be Brown's at some point, but if Addai continues to play this well despite ineffective run blocking, it won't be until the veteran becomes a free agent in 2011. Brown lost a bit of the momentum he was building toward an even timeshare when he missed a couple games earlier in the season. However, because the Colts are three games up on the entire AFC right now, it is conceivable Brown's value may approach the level it reached in the first half. Of course, this time it will happen only because Indy will be opting to preserve Addai more than it will be trying to identify who the best runner is in their backfield.
Fantasy role for the remainder of the season: Addai (RB1 in PPR and non-PPR), Brown (RB4 in both formats)
Mercifully, there are a few situations that play out just about the way you expect. There was some thought that rookie Rashad Jennings or FB Greg Jones would steal some goal-line work, but Maurice Jones-Drew has evolved into the kind of every-down RB that Jacksonville and fantasy owners alike thought he could. He is arguably the most consistent and desirable fantasy RB in football this season.
Past: Despite a considerable dropoff in productivity from his glory years, Larry Johnson was pretty much assured by the new coaching staff that he would be featured as the main runner behind the Chiefs' porous offensive line. Much like Jamal Lewis in Cleveland, fantasy owners had a good feeling LJ wasn't going to be overly productive no matter how many carries he received. Jamaal Charles, meanwhile, was cast as a third-down back that couldn't be trusted with some of the finer points of the running back position to start the season.
Present: Fantasy owners were rewarded for their faith (or lack thereof) in Johnson as he not only failed to score a single TD in seven games with the Chiefs, but he also berated just about every coach and minority group he could following the team's Week 7 blowout loss to the Chargers. These antics, along with his past indiscretions, led to his suspension and departure from Kansas City. Apparently the feature back role LJ left behind has suited Charles just fine, because he has scored in each of his last two starts. This is quite a departure from early in the season when Charles was inactive for a game due to a supposed lack of effort and ball security issues.
Future: At 5-11, 200 pounds, Charles doesn't fit the mold of a NFL RB who is bound to become a true lead back. However, he is an explosive player (on the field) on a team that lacks playmakers, especially now as WR Dwayne Bowe serves his four-game suspension. Charles does fit the profile of the kind of player that goes from first-half afterthought to second-half sensation - especially in PPR leagues - because he is a threat to break a big gainer at any point of the game. Kansas City seems destined to address its running back issues fairly high in the 2010 draft, but until that time, Charles could easily make his case for an extension of his newfound role. With the Broncos, Bills and Browns on the schedule in weeks 13-15, it is possible that he could have another dominating performance or two.
Fantasy role for the remainder of the season: Charles (RB3 in PPR with a fair shot of becoming a RB2 by the end of the season; RB3 in non-PPR)

e-mail me with any questions/comments.